Imagine this. You're riding into the sunset on a hillside road using a classic, old-school motorcycle. If that's not appealing to you, try picturing yourself as part of the local biker gang with leather sleeves and driving a cool and sleek classic motorcycle.
Fun right? Those types of motorcycles are where the Yamaha Bolt belongs.
The Yamaha Bolt has been around since 2013 and up to the present, they're still rocking it. The 2020 Yamaha Bolt features a definitive "bobber" look that all people love, along with a 942cc V-twin engine.
Combining class and performance, the Yamaha Bolt 2020 is the perfect ride for commuting, bar hopping, and the likes.
This line of motorcycles has a pretty huge aftermarket too, especially for exhaust systems. So if you're looking for an exhaust system replacement, then you've come to the right place.
We've made this guide to help you in finding the best Yamaha Bolt exhausts.
#1 Vance & Hines Twin Slash Staggered Exhaust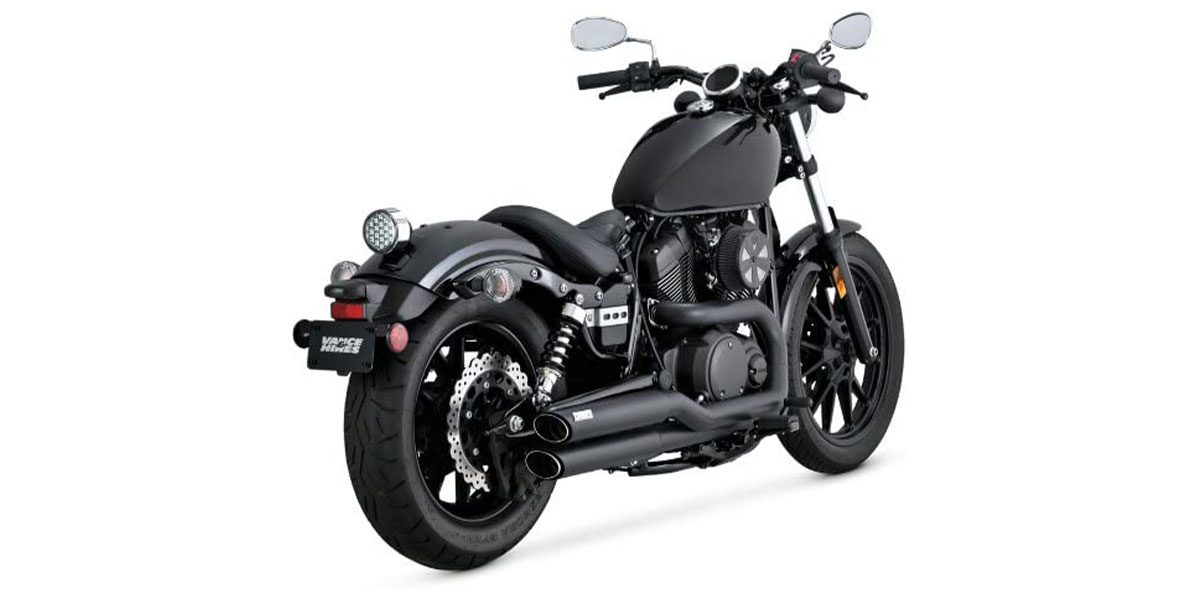 The Vance & Hines are well known for taking cruiser motorcycles very seriously. Their attention to detail and taste for class and aesthetics just puts your motorcycle to a whole another level.
hey're good with performance too! Their Twin Slash Staggered Exhaust is such an example. There's more than meets the eye when talking about this full system exhaust.
What do you get when you purchase a Vance & Hines Twin slash staggered exhaust? A Power Chamber technology that utilizes 2 into 1 exhaust system to both mufflers to make scavenging more effective, thus more efficient combustion.
You also get the looks of a 2-in-2 drag pipe which keeps your Yamaha Bolt more intimidating than ever. The result? More power, torque, and that deep, regurgitating sound from a cruiser that everyone loves.
You also get full coverage of heat shields that'll help you keep the heat from your engine from slipping out and damaging other components.
Having a matte black finish is one of the unique features of the Twin Slash Staggered Exhaust. Just look at that! Imagine riding around with those cool exhaust pipes showing out.
The only downside to this is it the noise it produces can be too loud for most people but don't worry, they have optional baffles that you can look at.
#2 Bassani Xhaust Exhaust Sweepers Bolt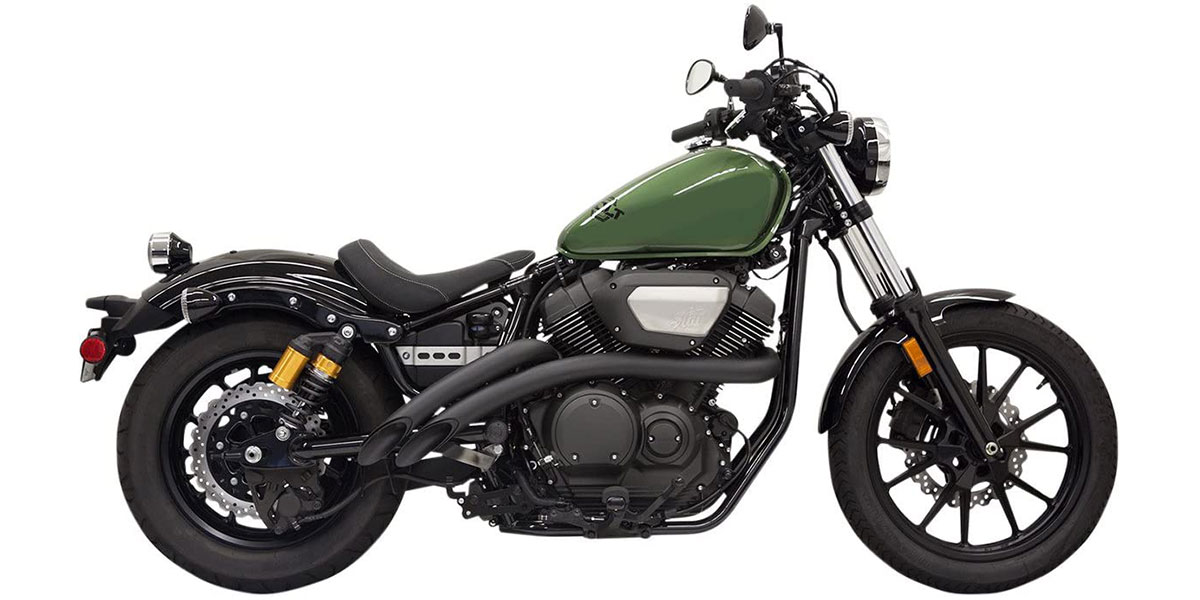 Bassani Manufacturing loves their Yamaha Bolts. That's why they've created the Bassani Xhaust, a mean-looking exhaust system with 2″ sweeper pipes with fully functioning heat shields to keep the excess heat away from the other motorcycle part.
Along with removable baffles, it also has O2 ports where you can connect your O2 sensors. This fits the Yamaha Bolt models 2014 and 2016 only.
What comes with the Bassani Xhaust? Along with the exhaust system itself, a bunch of awesome parts such as black headpieces, black heat shields, and installation parts is included as well.
Mind you, this exhaust system cannot be used with Passenger pegs. To do so, you must purchase a Relocator Kit first and use it to install the exhaust along with the passenger pegs.
#3 Delkevic Aftermarket Slip-On Exhaust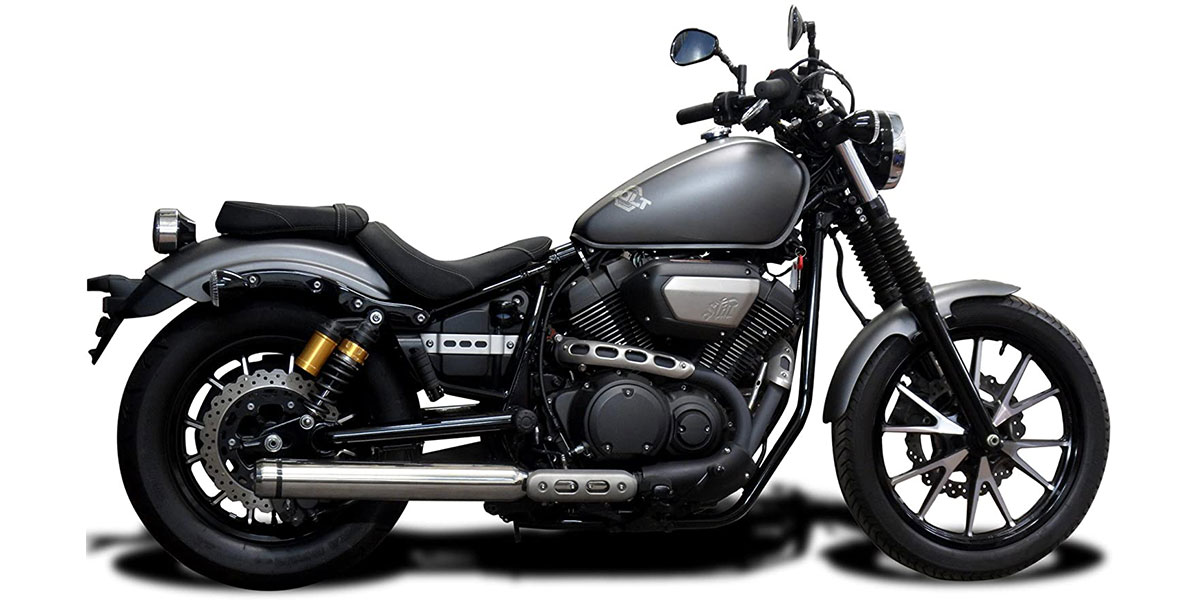 Coming up as the third on this list we have a Delkevic Aftermarket Slip-On. As mentioned earlier, the Yamaha Bolt, regardless of its year model, has a vast array of aftermarket parts available. This slip-on is compatible with Bolts from 2014 to 2019.
Delkevic has a knack for manufacturing race-quality parts, but it seems like they've adapted their mastery of quality products to their cruisers as well. The Delkevic Aftermarket Slip-On for Yamaha Bolt comes as a stainless steel muffler in the shape of a bullnose.
A mean-looking slip-on exhaust like this does not just offer aesthetics, but also performance as well.
What's with the Delkevic Aftermarket Slip-On for Yamaha Bolt? It has a polished 21″ 304 stainless steel to resist rust and corrosion. They've also used tungsten to weld their components, making sure that the welding finishes are strong and of high-quality.
They are far more superior compared to the stock exhaust because they hand weld the components using TIG (Tungsten Inert Gas). Along with the slip-on comes the muffler, a baffled tip in the shape of a bullnose, clamps, and mounting brackets.
Overall, the muffler weighs only 2.5lb. That's pretty light!
What's awesome about this aftermarket slip-on is that it has a 3.1″ diameter chamber that offers two sounds: a deep sound when cruising, or that biker gang motorcycle loud sound when you're revving up in the open. Neat!
#4 Cobra Slip-On Exhaust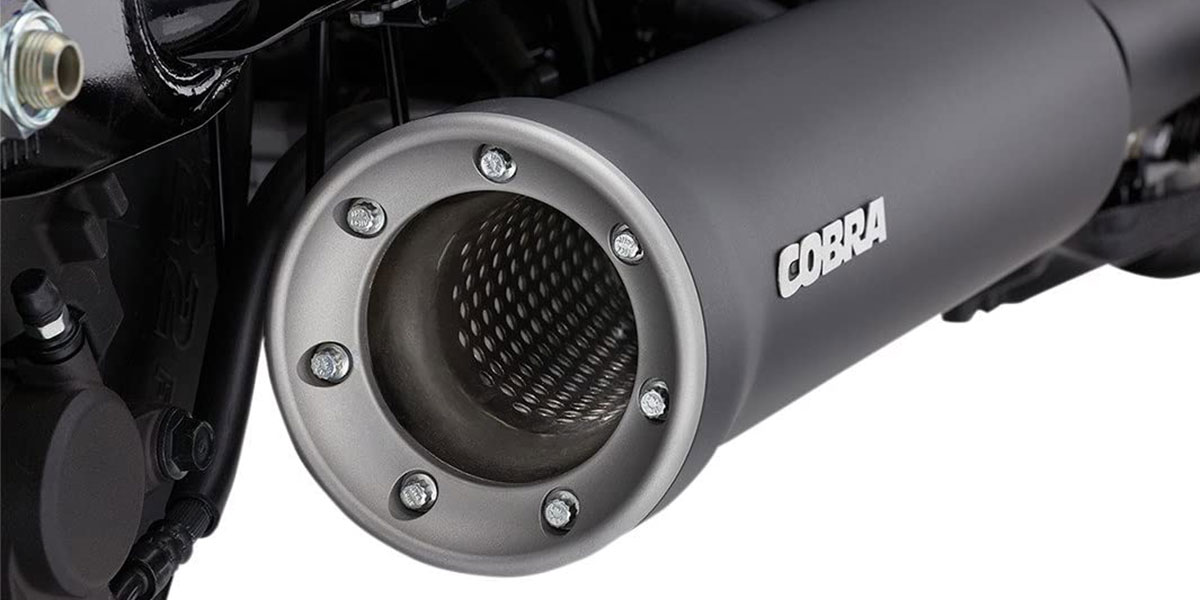 The fourth on our list is the Cobra Slip-On Exhaust. This Southern-California brand offers a great alternative for your stock exhaust. The Cobra Slip-On is powder-coated to ensure a satisfying finish that the factory exhaust can't give.
Its design weld is also heavy-duty so that you can cruise and ride away your years without fear of getting a new slip-on exhaust.
The black color with a touch of titanium finish of the motorcycle slip-on exhaust components set the mood for this bike: the heat shields are black, the muffler is black everything is black!
The Cobra Slip-On also uses seven pieces of 12-point bolts to get that aircraft aesthetics on that Bolt.
What's unique about purchasing a Cobra Slip-On is that it comes with replaceable baffles and billet tips found on the different cuts: slash down, one in between, and a slash-cut.
The Cobra Slip-On exhaust is available for the Yamaha Bolt models 2014 to 2016.
The Yamaha Bolt, regardless of its model, is a truly capable cruiser motorcycle. It is fit for beginner riders since it has a comfortable seating position.
It is a great motorcycle by itself, but once you add an exhaust system to your bike, things will spice up pretty quickly: the sound will be better, the performance will be improved, and the overall riding experience will truly be memorable.
Grab your chosen aftermarket exhaust now and experience what it is like to have a more powerful Yamaha Bolt.