One of the greatest joys in life is having your first motorcycle, and eventually, getting attached to it. This type of entry-level motorcycles, the type of bike you get as your first ride, is where the Yamaha FZ07 belongs.
Also known as Yamaha MT07, this bike, in a nutshell, is a cheap, light, and aesthetically pleasing beginner motorcycle. This bike is suitable for different types of journeys, whether it be a casual ride around town or a long cross-country ride.
Installing a new exhaust for your Yamaha FZ-07 is a great idea. Want to know why? Driving around the city with a slightly powerful bike and seeing people turning their heads when they hear your bike roar thunder is a great feeling, and it's a plus if they can see the aesthetically pleasing style of your FZ-07.
Not only that, but it also improves your bike's performance.
If you're considering purchasing a new exhaust, whether a full system or a slip-on, to replace your stock exhaust, then you've come to the right place. We've created a guide specially made for people like you who's interested to know the best exhaust for Yamaha F7-07.
#1 Yoshimura R-77 Full System Exhaust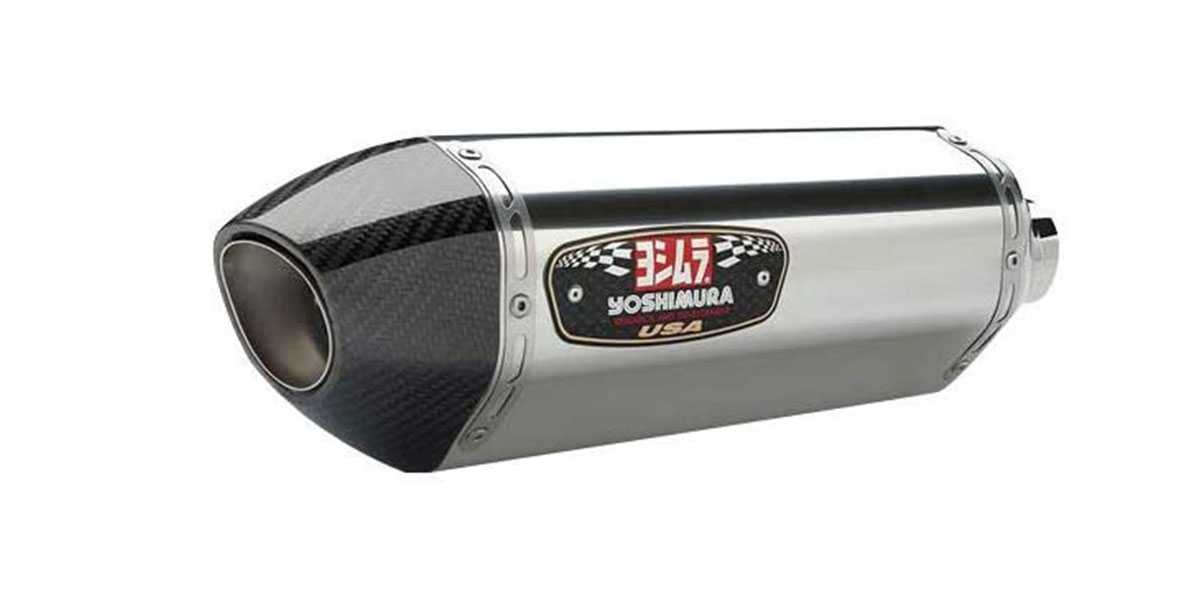 The Yoshi's are known for their drive to beat the competition by manufacturing high-quality exhaust systems. They constantly evolve, season after season, until one day, they're ready to produce a top-tier product.
Here's one of their exhaust, the Yoshimura R-77 Full System Exhaust. What is it?
It's a full system exhaust that belongs to one of their race-grade exhausts. It is manufactured from materials light enough to significantly reduce the weight of the exhaust compared to the stock exhaust.
Stainless steel head pipes and mid-pipes help the muffler to produce more power. Their iconic trapezoidal-shaped sleeves help a lot in producing that iconic loud sound without being so obnoxious.
What's unique about it is the end-cap. At first glance, you'll know that it's a Yoshimura exhaust. The majority of the reviews about the Yoshimura R-77 Full System Exhaust are pretty impressive.
It just goes to show what type of quality the Yoshimura R&D put in their products.
#2 M4 RM1 Full System Exhaust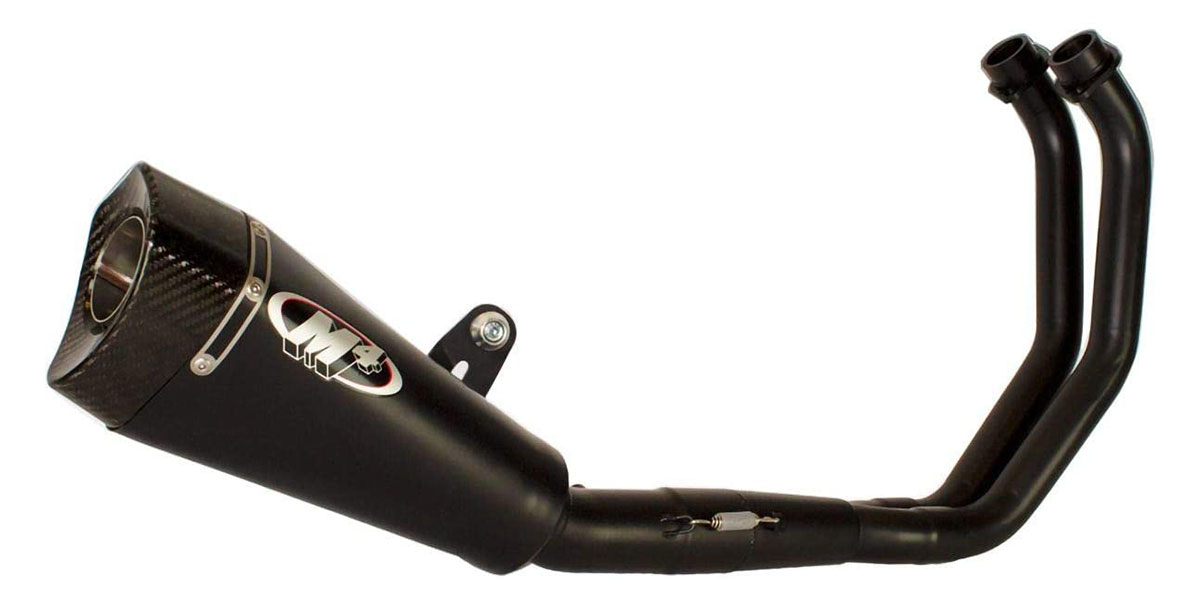 M4 Exhausts produces quality exhausts that are sure to give your motorcycle the additional power you need. Plus, the sound their exhausts produce is race-inspired, so you'll know that they mean business when you hear the bikes that wear their exhausts growl!
The package includes a mid-pipe that promotes optimum exhaust gas flow (which in turn improves power), head pipes tapered and cut into equal lengths to help out the merge collector to scavenge more efficiently.
The tubing is made of .304 stainless steel coated with a high-temp ceramic.
This exhaust system is fairly easy to install. According to reviews, the M4 RM1 Full System Exhaust is indeed a worthy investment. You'll break necks just by driving around!
#3 Leo Vince Underbody EVO 2 Full System Exhaust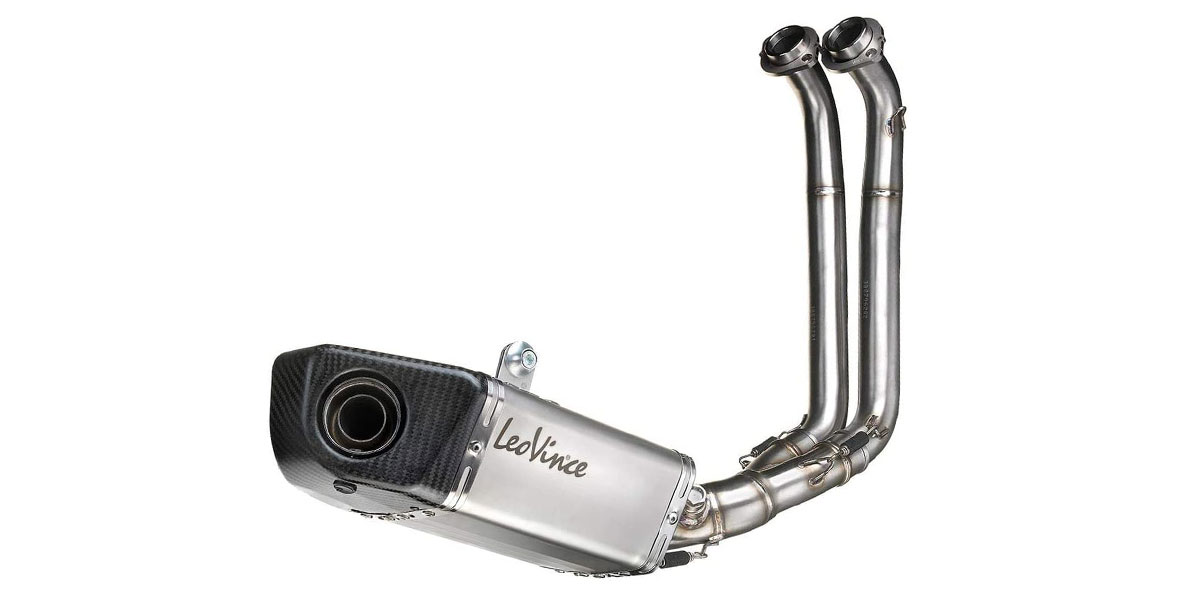 Primarily made for racing, Leo Vince made the Leo Vince Underbody EVO 2 Full System Exhaust, which is applicable for road use. So don't worry if you're planning to rev up on the highway: just watch out for the cops!
What's up with the Leo Vince Underbody EVO 2? This particular exhaust system is made for motorcycles that have under-engine exhaust systems. These kinds of motorcycles have a low center of gravity, and that's what the EVO 2 specializes in.
It has a muffler sleeve made of stainless steel that has a titanium finish. Overall, the components are made to be durable, light, and powerful.
The unique thing about the Leo Vince Underbody EVO 2 Full System Exhaust is that it's an underbody exhaust. By replacing the stock exhaust with this exhaust system, there will be a dramatic drop in weight and improvement in exhaust gas flow.
Reviews consist of people satisfied with the performance improvement and the deep, growling sound it creates. A great buy indeed!
#4 Toce Razor Tip Full Exhaust System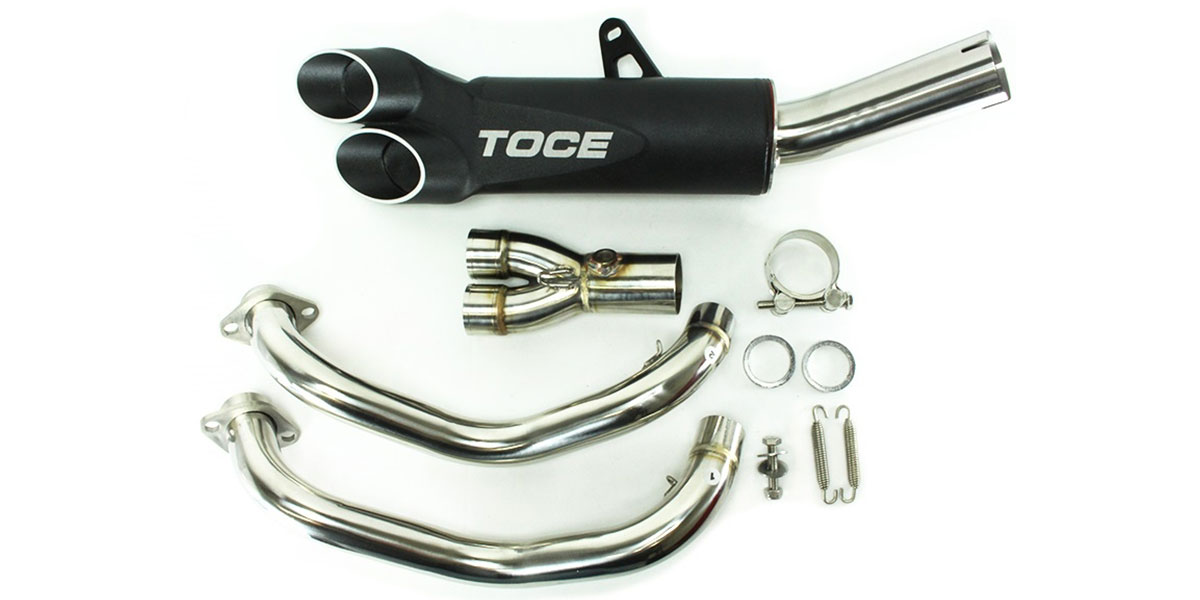 The last one on our list is perhaps the most expensive and premium buy for your Yamaha FZ-07. Meet the Toce Razor Tip Full Exhaust System.
What makes the Toce Razor Tip Full Exhaust System so expensive? Well, if you're a manufacturer that produces handcrafted exhaust systems that sit at the top of the exhaust hierarchy, then you'll probably price your products as expensive as they did.
The Toce Razor Tip is manufactured using aerospace-grade aluminum, with the baffle assembly made from .304 stainless steel that is welded in a spiral. The header and mid-pipes are made from Mandrel-bent stainless steel, which increases the horsepower and torque significantly.
Aside from the optional bolt in the decibel killer, all the needed hardware is included in the exhaust system.
What's unique about this expensive exhaust system is the sound improvement that it introduces. Reviews about the Toce Razor Tip Full Exhaust System are mostly about how great the sound is, and how they break necks when driving: it's hard to resist paying attention to a Toce exhaust!
If you're looking for the premium buy for your stock exhaust system replacement and money is not a problem for you, then you need to check this out.
If you're in the mood to make an exhaust system upgrade, whether you like a full system or a slip-on, you have to consider some factors first before making a purchase.
These three things are: how expensive it is, how satisfied you are with the looks, and how awesome the sound is for you. At the end of the day, your satisfaction with the product is the most important thing to consider.
Choosing a replacement exhaust system for your Yamaha FZ-07 is stressful. If you're having doubts about a product of your choice and you want a second opinion, check out the exhaust system's review to get other people's perspectives.
Not only does it show you potential issues you may encounter, but it also shows you how popular the particular product is to the buyers.