The Yamaha YZF-R3 is the cream of the crop when it comes to beginner sports bikes. It's light, fast, powerful, and very easy to handle, especially for the people who are fairly new to motorcycles.
This 368lb bike is a great choice for beginners primarily because of its manageable power: it fulfills your need for speed and at the same time, it is pretty easy to tame.
Regardless of being a beginner or a veteran rider, upgrading your bike is indeed a pleasurable experience. One of the things you can do to spice up your Yamaha YZF-R3 is by upgrading your exhaust system.
If you're in the market for a quality exhaust system, whether a slip-on or a full system, then this article for you. We've scoured the internet to give you the best guide for Yamaha YZF-R3 exhaust.
#1 Yoshimura Alpha T Full System Exhaust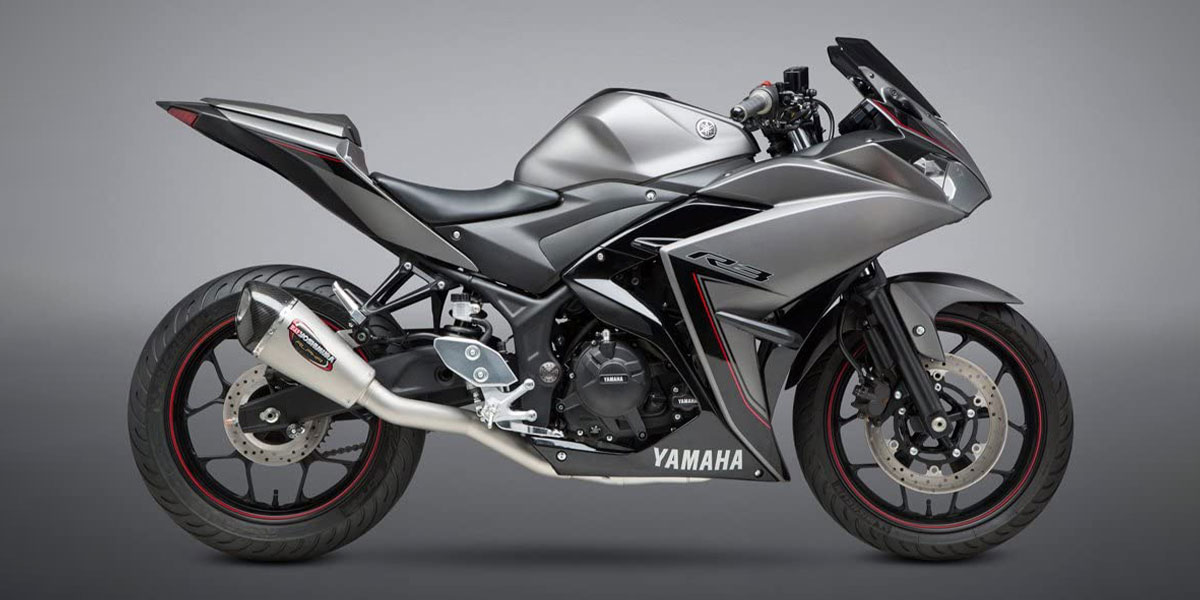 The first one on our list is the Yoshimura Alpha T Full System Exhaust. This one is made for those who want to feel like they're a professional racer. The Yoshi Alpha T is specifically designed to prioritize one thing in mind: power.
This full system exhaust weighs 16.6 pounds; for a lightweight motorcycle like the Yamaha YZF-R3, it offers a significant weight reduction. It also brings in to play a tapered conical sleeve which produces a Grand Prix vibes to the bike.
The muffler finish comes in different variants, specifically stainless steel, carbon fiber, and Work Finish.
What's unique about the Yoshi is its Work Finish. It is not your typical stainless steel: it looks like one of those components that factory racers produce. Purchasing one doesn't just improve the looks of your bike, but it also dramatically increases the power torque of your Yamaha YZF-R3.
#2 Two Brothers S1R Black Series Full System Exhaust
Another full system exhaust has made its way into our list. The Two Brothers S1R Black Series Full System Exhaust. Intended only for closed course competitions, this full system exhaust is made from millions of carbon tow integrated with high-temperature resin.
The S1R Black Series' price is slightly expensive, but the trade-off is worth it.
The exhaust canister comes in two variants: the carbon fiber and the T6 aluminum. Both are highlighted with an aluminum outlet and a spring-mounted inlet to ensure peak durability.
The S1R Black Series takes its aesthetics and performance pretty seriously.
What's distinctive about this full system exhaust is its parts made carbon infused with epoxy resin, a material resistant to high temperature, and is used for aerospace purposes.
When it comes to racing performance, the S1R exhaust is a true state-of-the-art addition to you Yamaha YZF-R3.
#3 Two Brothers S1R Black Series Slip-On Exhaust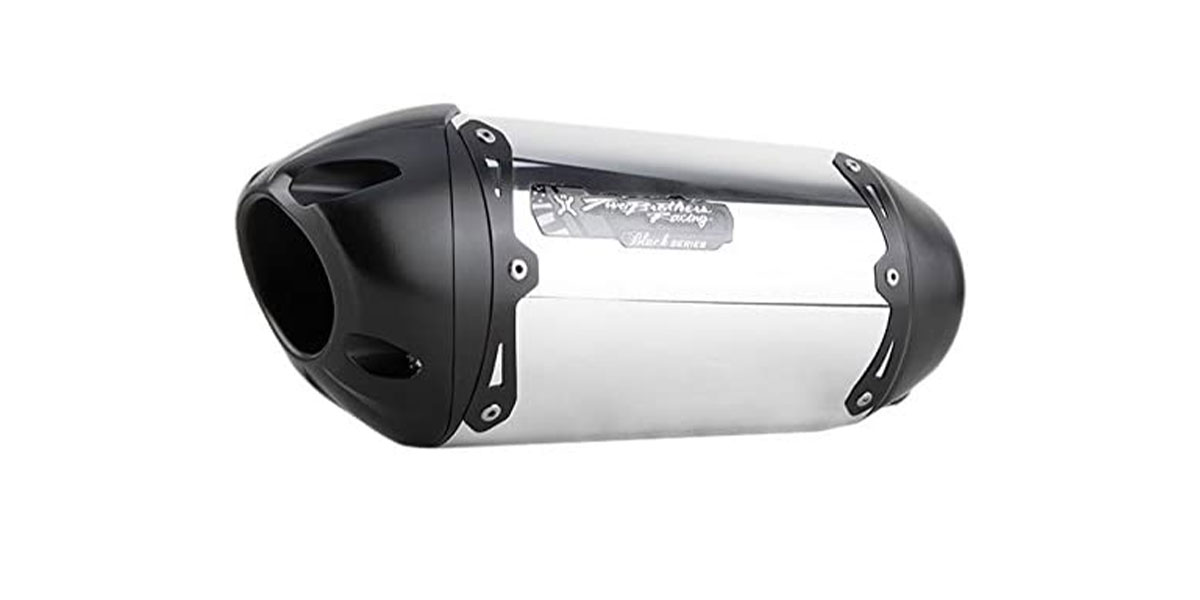 The Two Brother S1R Black Series offers not just a full system exhaust – it has a slip-on exhaust as well. Its price is fairly lower than that of the full system exhaust. But make no mistake – this slip-on provides superior attributes just like its full-system counterpart.
Designed with black aluminum inlets, Two Brothers Badges, and a with a trademark carbon fiber weave, the S1R looks like a stealthy exhaust used in action movies. The mid-pipe is manufactured using 304 stainless steel that is 0.35″ thick.
After subjecting the mid-pipe into several heat-cycles, a distinctive golden amber hue is produced – evidence of high-quality stainless steel. There is also a significant weight reduction for your YZF-R3 when you purchase this one, all thanks to its aluminum muffler clamps.
Aggression is an important factor when it comes to the aesthetics of a slip-on exhaust. That's the distinguishing aspect of the S1R slip-on; the aggressive look made by its angular designs and that sweet, deep, and baritone sound that the Two Brother Racing is known for.
#4 Yoshimura Alpha T Slip-On Exhaust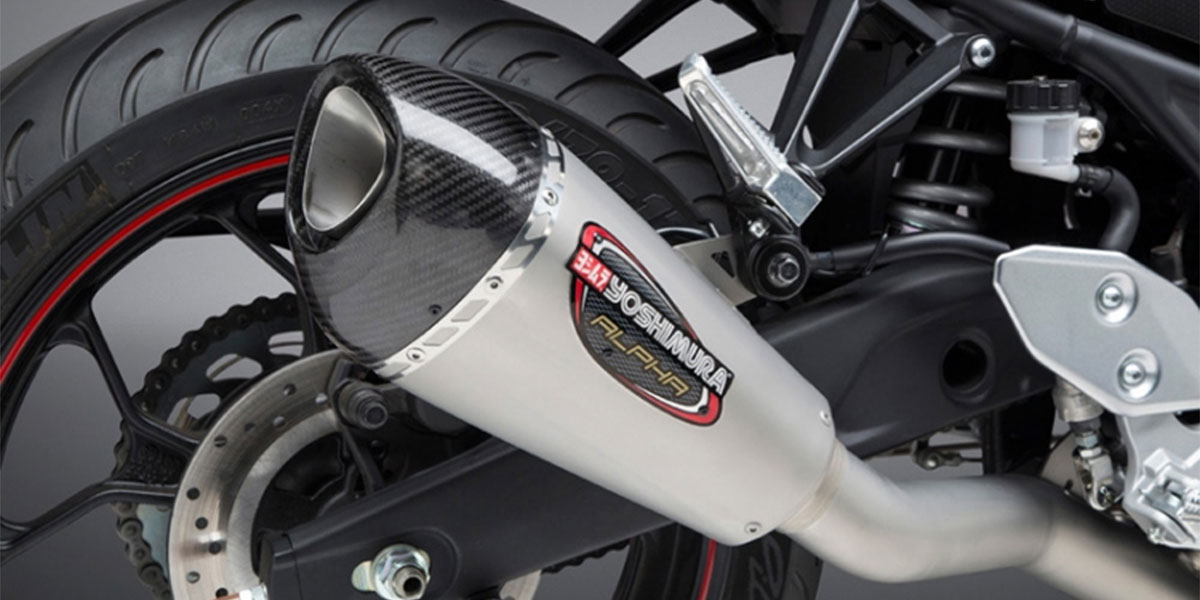 Fourth on our list is the Yoshimura Alpha T, again, but this time it's a slip-on. We all know that slip-on is the option one would go for if someone has a limited budget.
Yes, it doesn't offer what a full exhaust system has, but if you just want that deep, regurgitating sound upgrade without any need for components like fuel controllers and jet-kits, then the Alpha T Slip-on is for you.
What's with the Yoshi Alpha T? Well, it features a tri-oval design unique to the Yoshimura family. Tolerances made in the production process ensured that the slip-on exhaust's fit and finish is high-quality.
Yoshimura is famous for its magical sound. The shape and the volume of the Alpha T slip-on are specifically designed to send a chill to anyone near your bike. The only downside about it is its weight, which is 11.05lbs. A fair trade!
#5 Hotbodies Racing MGP Stinger Slip-On Exhaust
The Grand Prix is famous for the aggressive-looking bikes that are racing against each other around the lap over and over again. Those bikes also have sick and aggressive exhausts!
Now, if you're into those kinds of exhaust, this slip-on exhaust is perfect for you.
Whether it's aesthetics, sound, or performance, the Hotbodies Racing MGP Stinger has it all. Its black checkered finish is eye-catching, it's deep and unearthly tone is spine-chilling, and performance is riveting, thanks to its honeycomb outlets and stainless steel end caps.
The Yamaha YZF-R3 is a rider-friendly motorcycle suited for beginners and veterans alike. The riding ergonomics provides a comfortable sitting experience, making it a great choice for casual strolls in the city and capable enough to snake your way through cars in the freeway.
Investing in an upgrade for one of Yamaha's best-seller is a worthy investment.
When considering an exhaust system upgrade, whether a full-system or a slip-on, put these four things in mind: price, performance benefits, aesthetics, and sound.
To get a better real-life perspective when purchasing exhaust systems, be sure to check out the reviews: those guys know first-hand what's it likes to buy an exhaust that you seem to like.