If you've read some of my personal automotive stories, you may have noticed I tend to own super cheap cars. But, that all changed yesterday (Jan. 19) when I got my first nice car.
Why Did I Get a New Car?
Before we dive further, I would like to tell you on why I needed a new car. I love my Jeep to death, but in a few weeks, I will begin attending school for web development. The school is about 30 minutes from my house, and work is about 20 minutes from my house.
I don't really mind spending extended periods of time in my Jeep, but my wallet does.
My Jeep average about 10 mpg. Plus it breaks all the time, it's loud, doesn't have heat or a/c, and is basically a POS. Like I said, I love my Jeep to death, but it's time for me to be a responsible adult and purchasing something practical and (sort of) grown up.
Finding The Right Car
There were a few things that this new car needed. It needed to get good gas mileage, be around $17k after all taxes and fees, it needed to be fun to drive, and it needed to be decently fast. My options were pretty much narrowed down to Fiesta ST, Subaru BRZ, and Hyundai Genesis Coupe.
Picture I took of a Fiesta ST at the Phoenix International Auto Show in 2014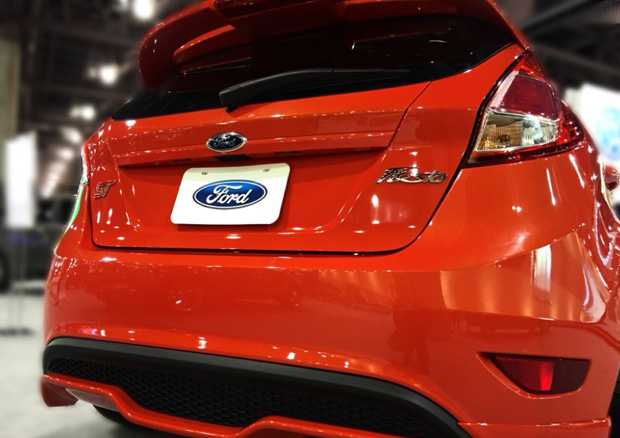 I already knew the BRZ would feel too slow for me, so I ended up ruling that out. I went and test drove a 2013 Genesis Coupe 2.0T, but it felt horribly slow to me. Plus finding a 3.8L Genisis R-Spec with low miles in my price range was impossible.
I've been interested in the Fiesta ST ever since it came out, and I've sat in a few at the Phoenix International Auto Show. I was browsing through Auto Trader and found a silver 2015 Fiesta ST with 16k miles, and at a pretty good price.
Test Driving The Car
I showed up at the dealership and there wasn't a silver ST anywhere that I could see. I walked in and asked for the salesman I had talked to on the phone and he took me out to the car. SUPRISE! The car was actually Molten Orange.
I was totally okay with this surprise because I really like the Molten Orange color.
We spoke for a second, and he took a copy of my driver's license and insurance. He gave me the key fob and told me to be back by 9 pm. I drove it around for a bit, dropped my mom back off at home, and picked up my buddy to show him the car.
He didn't believe me that the car felt way faster than it actually was. So, he jumped on his motorcycle and we raced. I then picked my mother back up, showed my girlfriend while she was at work, and headed back to the dealership.
At this point, I was in love with almost everything about the car and was ready to take it home. But, I was ready to walk away if they tried to jerk me around.
Purchasing The Car
I came back from the test drive and began the paperwork process. They took a quick look at my credit score, which is very good for a 21-year-old, and said I'll qualify for it. Signed a huge amount of papers, put $3k down, and also got an extended warranty.
The purchasing process was smooth as butter, and they didn't at any point try to push anything on me. Now here I am typing this article, and I'm about five minutes away from going to pick the car up!
Summary
I'm so used to my $1k – $2k cars that purchasing a near $20k car was absolutely terrifying for me. I'm still scared and the deal is done. But, the process of purchasing my first new(ish) vehicle went surprisingly smooth!
I brought my mother along for the whole thing, but I ended up not needing her for anything. Look for future articles on my long term review for my Fiesta ST.