Congratulations! You've finally decided to lower your C6 Corvette. After a long time of thinking, you've finally convinced yourself that a lowered domestic sports car is what you want after all.
A lowered Chevrolet Corvette C6 is indeed a sight for sore eyes. With those wheel gaps gone, your car can finally achieve a lowered stance, befitting of a performance car that has rocked the domestic market and even the world for years.
The problem is, you don't know how to. Unlike other cars, you can quickly lower with mods like lowering springs and air suspension. Corvettes have other means to achieve a lowered stance.
Instead of coil springs, the most common Corvette project cars (C5 to C7) still use transverse leaf springs.
This technology, first developed for horse-drawn buggies, may sound ancient, but it does serve the Corvette pretty well.
If you can't lower your C6 Corvette through the typical means, then how can you achieve a lowered stance that you've always wanted for your car? The methods below will help you slam your Chevrolet Corvette C6 to the ground.
The information below will help you get rid of the nasty wheel gaps that haunt your car.
Slam Your Car to the Ground With Lowering Bolts
Have you ever heard of the phrase "lowered on stock bolts?" Yeah, that saying is famous in the Corvette community, as it is the simplest way to lower a Corvette. General Motors, for some reason, doesn't want the Corvette to have coil springs.
We believe General Motors did that because transverse leaf springs are much cheaper alternatives to coilovers. And with the Chevrolet Corvette having the image of a "bang for the buck American sports car," it's understandable why they arrived at such a conclusion.
Anyways, enough of the transverse leaf springs talk, and let's get back to the topic at hand: lowering a C6 Corvette using lowering bolts. The phrase "lowered on stock bolts" means that you can significantly reduce the ride height of your Corvette by using OEM bolts already present in the car
Adjusting those stock bolts is the cheapest and easiest method you can do to lower your C6 Corvette finally.
10 Steps To Follow If You Want to Lower Your C6 Corvette on Your Own
Here are the steps on lowering a C6 Corvette on stock bolts:
Park your car properly on a flat surface. Make sure that the parking brakes are set to ensure safety while working on the vehicle.
Height matters. Before you proceed on working on your car, be sure to measure the car's ride height first. To do so, take measurements starting from the center of the wheel upwards.
Work on the front of your C6 Corvette first. Using a jack, you can raise the front side of your car until you see that the wheels are lifted off the floor. TAKE NOTE: You must do this properly to ensure that wheel adjuster pressure is relieved and avoid any accident.
Start the engine and carefully turn the steering wheel to the right. Afterward, you can turn off your engine.
Proper lubrication of the adjuster bolts is a must if you want a hassle-free bolt adjustment. You can do so by thoroughly lubricating the bolts from top to bottom. In some cases, the adjuster bolts might be too stubborn even to move.
If that's the case, you can soak those bolts with penetrating oils like Liquid Wrench overnight.

Reach for the adjusting bolt behind the steering wheel. Once you locate the bolt, loosen the bolt by using a 10mm ratcheting wrench. (Of course, you can use a socket wrench, but it's not advisable because you'd have to loosen the shocks first.)
Be sure to get the ratcheting wrench all the way to avoid damaging the adjuster bolts. And also, be sure to use a pair of gloves to protect your hands.
Turn the adjuster bolt counterclockwise to lower the C6 Corvette. Doing the opposite would raise the car, and that's not the objective here. Remember this tip: turning the bolt by half an inch counterclockwise is equivalent to lowering the car by an inch. Turn the bolts as hard as you can, but still exercise caution. A broken adjustment bolt is gut-wrenching to see.
When you're done, turn the engine on again and turn the steering wheel to the left. Afterward, repeat the same process mentioned in steps 5 to 7.
Once you've finished adjusting the front wheels, you can now lower the car and remove it off the jack. Roll the wheels for a little while and let the suspension settle in and feel at home.
Repeat Step 2. If the adjusted ride height doesn't satisfy you, you can re-adjust it again by repeating steps 3 to 9.
If you want to lower the rear wheels, you can follow the same steps. Adjusting the bolts on the rear follows the same process.
Lowering a C6 Corvette on stock bolts will usually take ½" off of the car's height. Such a deduction is enough for some, but understandably, others aren't satisfied with such a meager reduction. If you think that half an inch off of your car's ride height is terrible, then you should opt for aftermarket bolts instead of the stock bolts.
Setting Your Car Up With Aftermarket Lowering Bolts
Let's admit it: slashing off ½" off of the height of a C6 Corvette is not enough. Most car enthusiasts would want their 'Vettes as low as possible to maximize the benefits of a lowered car, like better handling due to a lowered center of gravity and everything else.
Solving such a problem would require a third party: the help of aftermarket support.
There are aftermarket auto parts manufacturers that made some quite exceptional lowering bolts for the Chevrolet Corvette C6. These kinds of lowering kits offer as much as 1" of ride height reduction, or possibly even more.
Below are some of the best aftermarket lowering kits you can get for your C6 Corvette.
Eibach PRO-KIT Lowering Hardware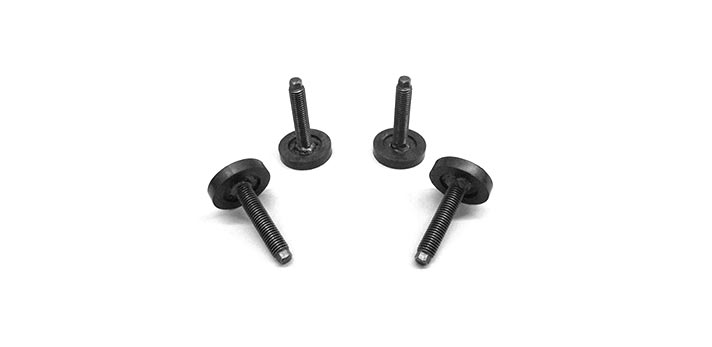 Manufacturer: Eibach
Part Number: 38126.510
Ride Height Reduction: 2.0" (Front and Rear)
Vehicle Fitment: Chevrolet Corvette C6 (2005-2013)
If you're familiar with the aftermarket world or modified some cars in the past, then you might have heard of Eibach. They're one of the most popular suspension mod providers for car owners who want their vehicles to have the best handling and ride quality.
Usually, they offer products like lowering springs and coilovers for JDMs like the Honda Civic Type R, Toyota MK5 Supra, and even the USDMs like the Ford Mustang and Dodge Chargers. But since the Chevrolet Corvette C6 is unique, they have something equally remarkable: the Pro-Kit Lowering Hardware.
To keep things short and straightforward, the Eibach PRO-KIT Lowering Hardware can lower your C6 Corvette by two inches, both on the front and the rear side. This will give the car a nice aggressive stance, perfect for a European-inspired sports car-like.
And since Eibach makes them, you can be assured that they are durable enough to give you a good time for the years to come.
Eibach PRO-KIT Lowering Hardware Features:
Ride height reduction of up to 2.0" for both the front and the rear

Comes with height adjustment bolts and urethane pads
Does not fit C6 Corvette Z07
Backed by Eibach Limited Million-Mile Warranty
aFe Control PFADT Series Lowering Kit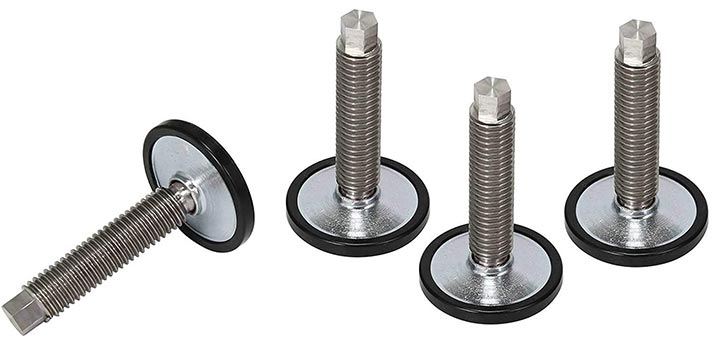 Manufacturer: aFe Power
Part Number: 410-401001-A
Ride Height Reduction: 1.25" (Front and Rear)
Vehicle Fitment:

Chevrolet Corvette C6 (2005-2013)
Chevrolet Corvette C6 Z06 (2006-2013)
Chevrolet Corvette C6 ZR1 (2009-2013)
Aside from Eibach's PRO-KIT Lowering Hardware, you can also get the aFe Control PFADT Series Lowering Kit to finish the job of eliminating the nasty wheel gaps on your Chevrolet Corvette C6.
The PFADT Series lowering kits are for those who want to drop their cars to the ground without going overboard with the height needed to be removed.
aFe Power made these bolts work exceptionally well with the 'Vette's transverse leaf springs, so no need to worry about any significant issues regarding the fitment and the ride quality once you get these components on your car.
It can lower the 'Vette's height by around 1.25" for both the front and the rear of the car.
The bolts are made from stainless steel and come with a nylon footpad. What's more, each bolt is mated to an articulating foot. And also, the bolts are resistant to corrosion.
Partner those bolts with other features such as smooth suspension articulation and quiet operation, and you'll be set for a long time. If you want to solve your C6 Corvette's stance problem without spending much, and you want something that'll decently lower it, then this lowering kit is for you.
aFe Control PFADT Series Lowering Kit Features:
Ride height reduction of up to 1.25" both for the front and rear of the car
Made from stainless steel
Comes with necessary tools like CNC machined adjuster and wrench flats
Comes with nylon foot pads
Backed by aFe Power 1-Year Warranty
Getting the Job Done With Coilovers
Here's a disclaimer: the C6 Corvette's chassis wasn't meant for suspension modifications like coilovers. The car exists to work accordingly with transverse leaf springs, and changing its suspension system without the proper know-how can be detrimental to the vehicle's state.
But hey, since when did such claims stop dedicated car enthusiasts from tinkering with their Corvette project cars?
Eventually, many Corvette owners realized how great coilovers are. A coiled-up C6 Corvette is far better on the track than leaf springs because it handles so much better. This is the reason why most performance-oriented cars opt for coilovers because they're optimized for tuning and track-based handling.
And oh, did we say tuning? Yes, we did. Coilovers offer car enthusiasts something that leaf springs can't provide; adjustability. With coilovers, you can adjust the suspension's damper setting to fit whatever your driving style is.
Moreover, coilovers often come with other arrangements such as ride height and camber adjustability.
The caveat with these coilovers, however, is that they are expensive. A well-engineered coilover setup will cost you around $1500 or even more. Not to mention how costly installing them would be.
But if you're an avid track fanatic who wants to make their C6 Corvettes track-ready, expensive coilovers are just a small price to pay for perfection.
Below are what we think are the best C6 Corvette coilover kits you can get your hands on these days.
LG GT2 Adjustable Coilovers
Manufacturer: LG Motorsports
Part Number: LG6GT2
Vehicle Fitment: Chevrolet Corvette C6 Corvette (2005-2013)
If C6 Corvette owners in the community would be given a chance to pick the best coilovers they can get for their car, we're sure that most of them would point to the LG GT2 Adjustable Coilovers.
More so, the reputation of this coilover in the forums is respectable, judging from how many C6 Corvette owners have expressed their delight with using it. A lot of them have no issues whatsoever with the coilover. Don't you believe us? Check out this forum discussion.
So let's talk about what this mod can do to your beloved 'Vette. It's got 12 levels of the damper setting adjustment, which is great for track use. Spherical bearings are also present in all mounting locations, intended to make operation as smooth and precise as it possibly can.
Most importantly, the coilover's construction is pretty impressive too. With the adjustability, convenience of use, and performance gains you can get from this LG GT2 C6 Corvette coilovers, we're confident that you can transform your vehicle into a high-performing race-ready track car.
LG GT2 Adjustable Coilovers Features:
12 levels of damper setting adjustment
Spherical bearings in all mounting locations
Comes with a remote rear cable adjuster
A Quick Note Before You Lower Your C6 Corvette
Whenever you tinker with your car's suspension, be sure to do some realignment work afterward. Every time you lower your car, you inevitably mess up its camber. Tearing up your tires because your camber is off might be tempting, but you already know that it's not a pleasing sight to look at.
Since the C6 Corvette still uses transverse leaf springs, you can lower its ride height to adjust the stock bolts. You can also buy aftermarket lowering bolts if you prefer a slightly lesser wheel gap.
Moreover, you can also use coilovers on a C6 Corvette. Even though it's not intended initially to cater to coilovers, many C6 Corvette owners employ such mods to make their track driving experience more memorable and exciting.