Can't seem to decide on which octane booster to choose? Don't waste time! We came up with the top 7 best octane boosters available today. Octane boosters function by helping improve the performance of a vehicle in different ways. We've narrowed down your search by coming up with the best options. Check out our list of the top 7 best octane boosters.
#1 Royal Purple Max Boost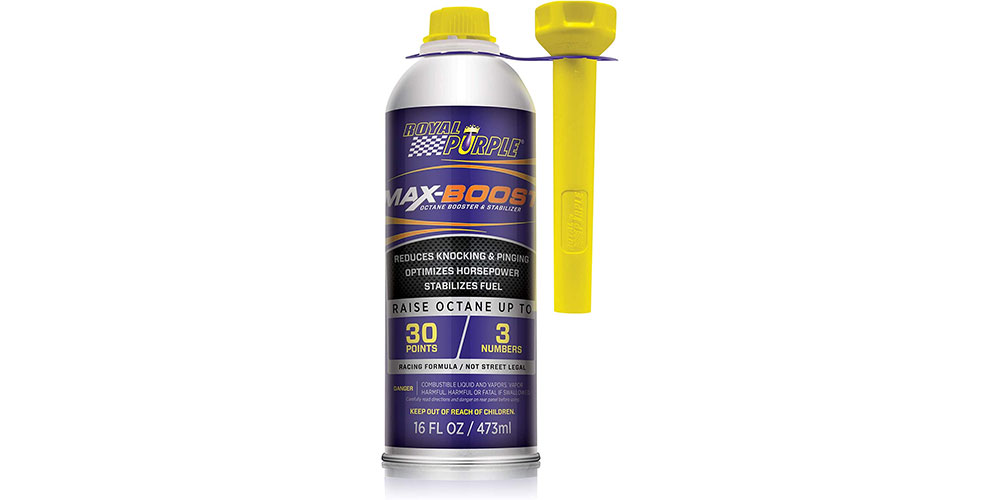 Brand: Royal Purple
The Royal Purple Max Boost is one of the best octane boosters on the market today. It helps in increasing horsepower and stabilizing fuel while eliminating pinging and knocking. This impressive racing formula improves octane rating as high as 30 points or three numbers. This product replaces lead additives and cleans deposits caused by fuel injectors. The Royal Purple Max Boost also helps in reducing power loss brought forth by knock-retard.
This product is formulated with MMT, which helps produce the ideal octane enhancement and assists in eliminating pre-ignition, engine detonation, and pinging or knocking. The Max Boost is designed for different types of engines, making it the premier choice for octane boosters. It's safe to use in unleaded and leaded gasoline.
The downside is it's not street legal. Nevertheless, we still love how this octane booster comes with impressive features, especially when it comes to efficiently increasing octane levels and stabilizing fuel.
#2 STP Octane Booster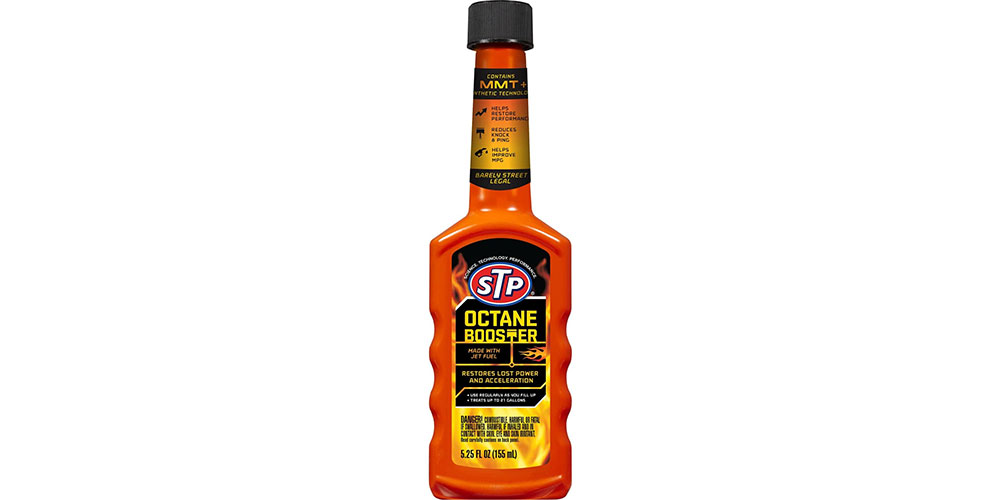 Brand: STP
If you have a limited budget for an octane booster, this product from STP should be your go-to option. The STP Octane Booster is affordable and comes in a 5.25-ounce bottle that can treat a maximum of 21 gallons of gas. This product not only boosts octane but also assists in cleaning the fuel intake system. It helps restore acceleration and power to your car. This product is similar to its competitors, as it helps lessen knocking and pinging. It's worth noting that cap-less gas systems are compatible with this octane booster.
According to STP, it would be best to utilize this octane booster regularly when filling up with gas. The brand STP has been one of the most reliable names regarding automotive care. With more than 60 years in existence, they know how to produce efficient products.
We just noticed that this octane booster does not increase octane levels like other products. Nevertheless, we highly suggest car owners with a limited budget get the STP Octane Booster. It comes from one of the highly-trusted brands in the auto industry, plus its dual purpose of increasing octane levels and cleaning the fuel intake system make a great case.
#3 Lucas Oil 10026-PK12 Octane Booster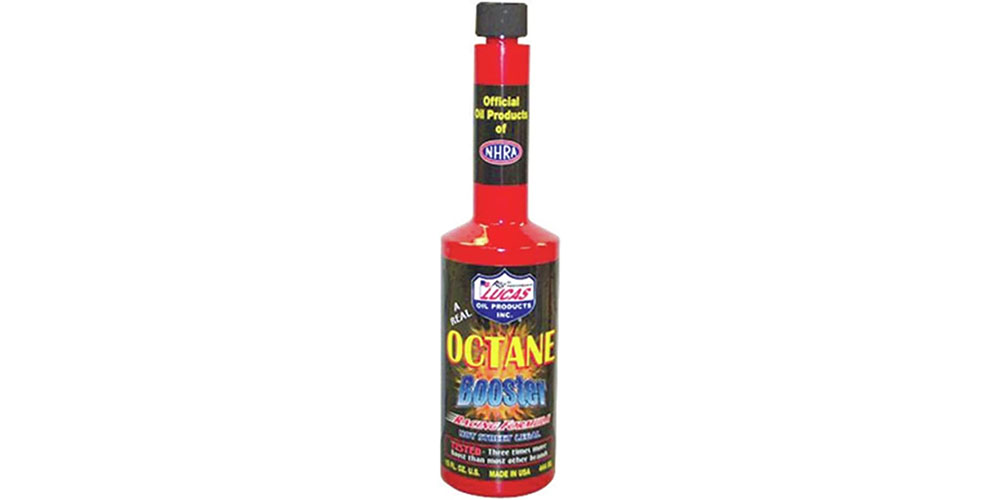 Brand: Lucas Oil
The Lucas Oil Octane Booster offers to promote clean fuel burn for fewer emissions. It can be utilized on the carburetor and fuel-injected engines. It's also safe for oxygen sensors, catalytic converters, and turbochargers. Lucas Oil has pointed out that this octane booster can deliver up to three times compared to what other brands can offer. The proven and tested product can stop knocks even in high compression engines.
One 15-ounce bottle of this Lucas Oil Octane Booster can help treat fuel of up to 25 gallons. This product is usually sold in bulk; a 12-pack can last for months. It depends on how often you use your vehicle.
We recommend this octane booster because it performs great in keeping spark plugs and oxygen sensors in better condition. The only negative thing that we noticed is that it has a thick neck design. This might offer more of a challenge to squeeze into particular gas tanks. Despite this, we highly recommend Lucas Oil Octane Booster because the pros outweigh the cons. It's definitely one of the best octane boosters available today.
#4 BOOSTane Professional Octane Booster
Brand: BOOSTane
The BOOSTane Professional Octane Booster really lives up to its name. We were impressed when we learned that it could raise fuel octane up to 116. It also helps provide protection against ethanol's side effects. BOOSTane comes with a smartphone app where you can customize fuel for your specific engine tune. That's a huge plus as most of the products on this list do not come with an app.
The BOOSTane Professional Octane Booster not only delivers on performance but also provides assistance in restoring lubricity. This product also helps prolong engine life and prevents flakey sediment, corrosion, and deposits. It's a huge plus to know that this product is safe for all gasoline engines. Just like with other octane boosters on this list, it helps eliminate knocking. According to the company, this octane booster is the only one in the market that provides independent third-party testing results.
The only negative thing that product users have noticed is that it has some minor inconsistencies with the product calculator. Nevertheless, that is just a small factor, and all the other advantages are great. Indeed, the BOOSTane Professional Octane Booster is one of the best octane boosters on the market today.
#5 Torco Unleaded Fuel Accelerator
Brand: TORCO
The Torco Unleaded Fuel Accelerator uses a mixture of components to transform premium pump gas to resemble race fuel. It can boost the octane level of premium fuel from 91 octane up to 102 octane with a 32-ounce bottle. This works with 10 gallons of gas. For 5 gallons of gas, the 32-ounce bottle can raise the level to 105 octane. This race fuel concentrate is highly effective and does not harm catalytic converters or oxygen sensors.
Due to the Torco Unleaded Fuel Accelerator being in a 32-ounce bottle, the price point of this product is quite higher than others. Despite this, you can get your money's worth because it delivers on performance.
The downside that we noticed about this product is its short shelf life. We highly recommend that you utilize it as soon as you can. In addition, it somewhat leaves a reddish residue on spark plugs. Overall, we highly recommend this octane booster because of its performance efficiency.
#6 Klotz Octane Booster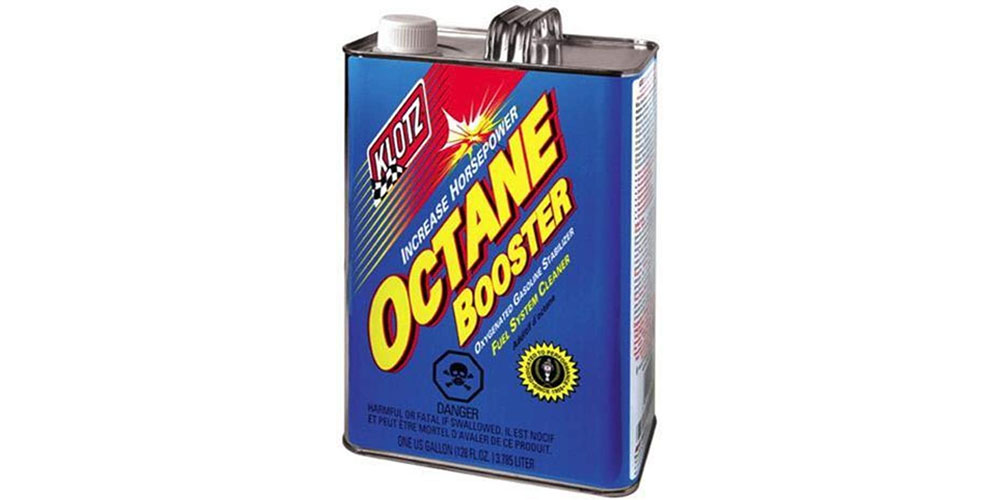 Brand: Klotz
The Klotz Octane Booster works to improve gasoline octane up to 10 numbers. It works to add lubricity and stabilize the flame front while it helps control burn speed. In addition to this, it also helps to clean the fuel system and helps keep carburetors and injectors fresh.
The Klotz Octane Booster comes in one-gallon or one-pint sizes. The only downside with this is you have to be extra careful when handling and using it. It can discolor plastic, fiberglass, and paint if you spill it onto your vehicle.
Overall, we highly recommend the Klotz Octane Booster because it's not only for cars, but you can also use it for motorcycles and different vehicles that use gasoline. It's also E85-friendly. This is one of the best octane boosters today. You need to handle it with extra care.
#7 RACE GAS Race Fuel Concentrate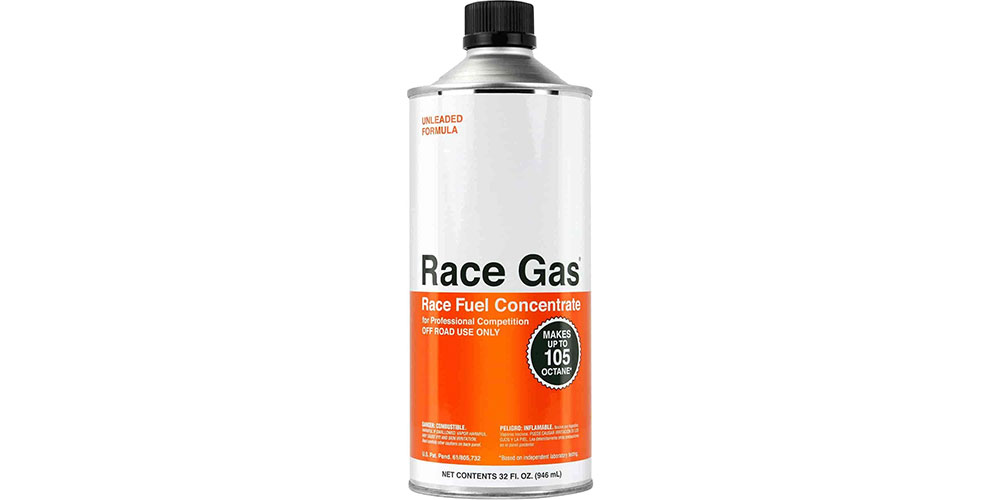 Brand: RaceGas
The RACE GAS Race Fuel Concentrate is one of the best octane boosters because it offers an unleaded formula that is patented to raise the octane level up to 105. You won't have to worry because it will not damage your fuel system components, oxygen sensors, and catalytic converters. According to the company, it has been proven and tested in engines that need high octane fuel, including E85 and two-stroke engines. This product does not contain any alcohol. According to RACE GAS, road race cars, snowmobiles, motorcycles, ATVs, rally cars, boats, and tractors were already tested using this race fuel concentrate. This product usually comes in a 32-ounce bottle and can be purchased in bulk of 6 or 12.
There are downsides with this product, such as oxygen sensors might get activated if utilized in an excessive amount. The fuel injector tips may result in being covered in light residue over a period of time.
Overall, this product is so efficient, and we would recommend this to not just car owners but also to those who have different types of vehicles.