If you take your dog along on trips frequently, you certainly want to keep them as secure as possible in your car. You'll want to ensure your dog is secured while you're driving, just like people should always wear seat belts in a car. There are obvious reasons, such as preventing your dog from leaping out the window or flying inside your car due to sudden braking. But more significantly, an unrestrained dog could suffer serious injuries in an accident or endanger other people in the car. While your dog is riding in your car, a dog seat belt will safeguard it, and since you know your dog is secured, it will also assist you in avoiding distracted driving.
If you're looking for an ideal item to help secure your pet inside your car, we came up with a dependable list of the best dog seat belts available today. Check it out below.
#1 Blueberry Pet Seat Belt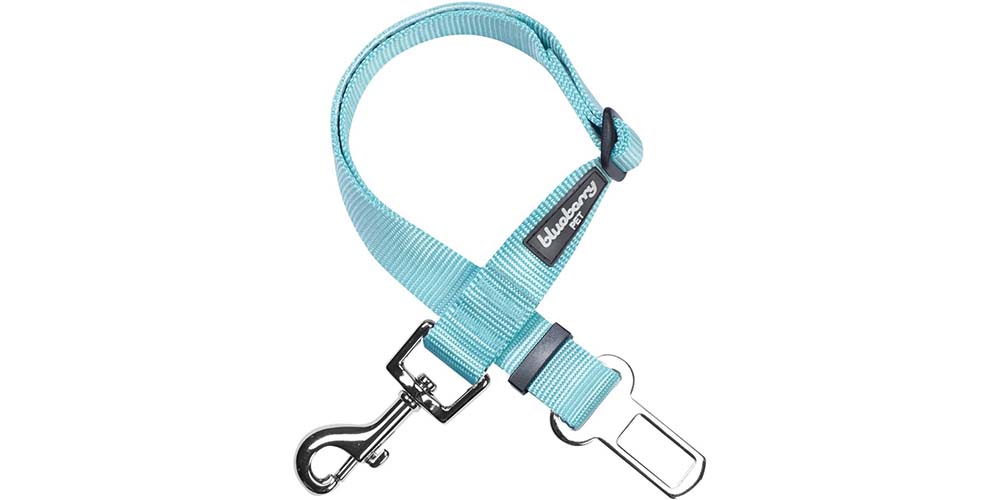 Blueberry Pet's seat belt is offered as a single item or as a pair. Baby pink, dark orchid, yellow, medium turquoise, emerald, orange, pink, neon green, mint blue, and royal blue are only a few of the colors available to buyers. This seat belt is 1 inch wide and has an adjustment range of 16.5 to 25.5 inches. Although Blueberry Pet notes that the product is not compatible with Volvo cars, it is made to fit the majority of vehicles.
Plugging the seat belt into your seat belt receptacle is all that is required for installation. It is designed to be used with a harness, not a dog collar, like other dog seat belts. This item is made of nylon and may be washed in a washing machine using a gentle cycle and cold water.

#2 Pawaboo Dog Safety Vest Harness with Car Seat Belt Lead Clip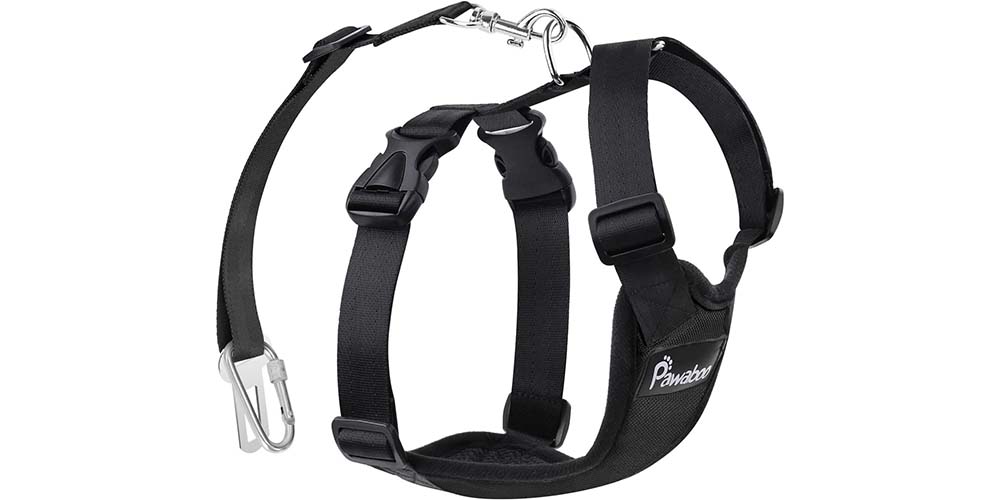 Pawaboo features a safety vest harness with an adjustable car seat belt if you're seeking a versatile option. Depending on your dog's size, the product is offered in four sizes, from small to extra large. Additionally, you have a wide array of options to pick from, such as black, red, blue grid, navy blue and white, rose red grid, red and white, red with U.K. flag, pink with U.S. flag, gray with U.S. flag, and blue with flags. The harness is sturdy, light, and soft because it is composed of oxford fabric, which is 100 percent polyester. In addition, a big sponge-padded breastplate offers your dog more security and comfort. It can be easily attached to seat belts using the seat belt attachment loop hook.
Chevrolet Spark, ATV Ranger,1992 Chevrolet Caprice Station Wagon, 1993 Ford F-150, 2012 Ford Focus, 1994 Ford Explorer, 2014 Honda CR-V, 2013 Honda Odyssey, Kia Forte, Kia Niro, Kia Soul, 2013 Honda Pilot, and Lexus RX350 are among the vehicles in which this product is not compatible with.

#3 Vastar 2-Pack Adjustable Pet Car Seat Belt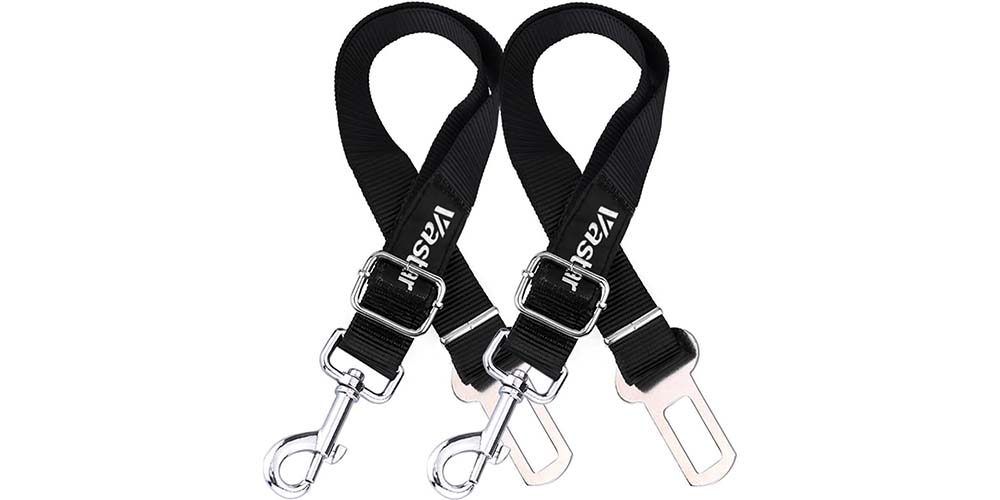 If you don't need a pair, Vastar's adjustable pet seat belt is also offered as a single item and is made of high-quality nylon fabric. These seat belts include a durable solid zinc alloy swivel snap plus metal buckles, and the simple seat belt clip design latches onto your car with ease. Black, blue, fluorescence orange, fluorescence green, pink, and red are just a few of the colors that are offered. This dog seat belt from Vastar can be adjusted from 19.68 inches to 32.28 inches.
Sadly, not all vehicles will be compatible with these dog seat belts. The 1989 Ford F-150, 2015 Acura RDX, 1989 Ford Ranger, 2016 Honda CR-V, 2013-2014 Honda Pilot, and 2012 Kia Forte are among the vehicles that Vastar listed as being incompatible. The front seats in the 2012 Toyota Tundra are not compatible with the seat belt. The seat belt only functions for the front seat in the 2014 Honda Odyssey, 2016 Acura RDX, and 2012-2014 Honda CR-V. If you want to make sure this seat belt is compatible with your vehicle, verify with the manufacturer before making a purchase.

#4 Kurgo Dog Seat Belt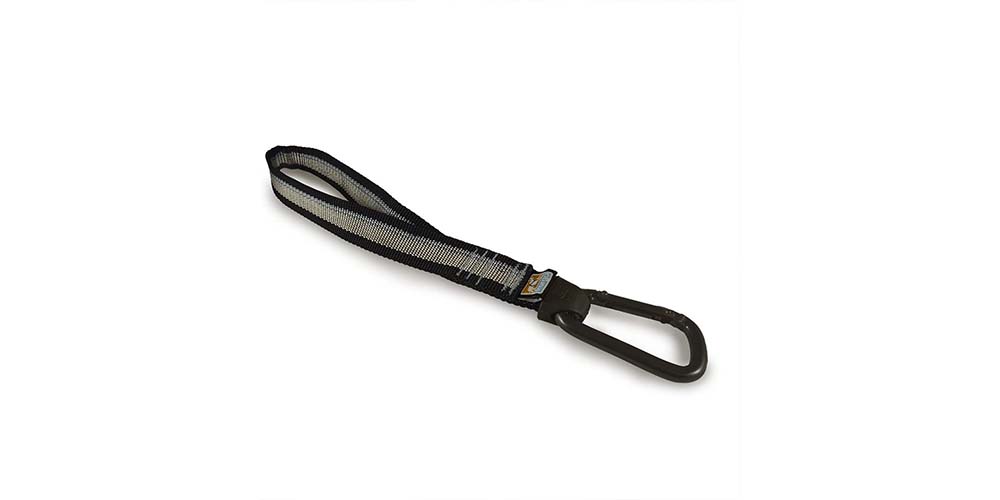 The Kurgo dog seat belt, which comes in black/orange, black/grey, blue, and red, is a more basic choice. This tether may be used with just about any harness and is made to keep a dog stable in place with little movement without tiring it out.
The manufacturer acknowledges that it is incompatible with Volvo vehicles and is not advised for Ford trucks, but the seat belt extends from 15 inches-22 inches. This dog seat belt clicks into your vehicle's seat belt attachment for simple installation, just like other dog seat belts. When purchased brand-new from an authorized dealer, this seat belt offers a lifetime warranty versus manufacturer defects. This product attaches to your dog's harness using a carabiner.

#5 SlowTon Dog Car Harness
There are six sizes of this harness and seat belt combination from SlowTon: XXX-small, XX-small, small, medium, and large. Black, burgundy, bottle green, purple, red, dark blue, grey, purple, red, seat belt purple, canvas wine red, canvas blue, canvas dark grey, red and white, green and black plaid, new black, blue and black plaid, and grey and black plaid are some of the available colors.
For your pet's comfort, the harness and straps are composed of double mesh fabric with a flannelette edging to absorb perspiration. Two buckles on the chest straps make the harness simple to put on and adjust for comfort. Although SlowTon doesn't specify which vehicles it doesn't operate with, the seat belt itself is claimed to be compatible with the majority of vehicles. Since it utilizes a belt buckle that is identical to those used by other items on the list, expect it to face the same compatibility difficulties as the cars listed on those options.

#6 URPOWER 2-Pack Dog Seat Belts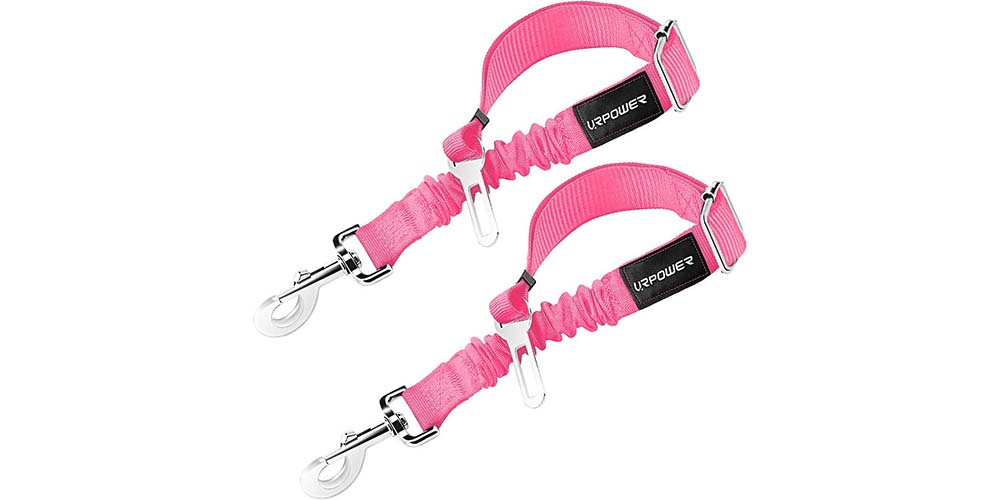 Another budget-friendly 2-pack choice is the strong nylon fabric alternative from URPOWER. These dog seat belts have an anti-rust hook and clip, a zinc alloy swivel snap, and a swivel snap that lets your dog to spin around without the seat belt getting twisted. The elastic buffer in the strap helps to protect your dogs from sudden braking. Additionally, it can be modified from 20.8 to 26.3 inches. Before placing an order, make sure the clip will work with your vehicle because the tab width is 0.83 inches.
Black, light grey, orange, blue, grey, pink, and purple are just a few of the colors available. You should fasten this to a harness instead of a collar, as you should with the majority of dog seat belts of a similar design.

#7 Mighty Paw Safety Belt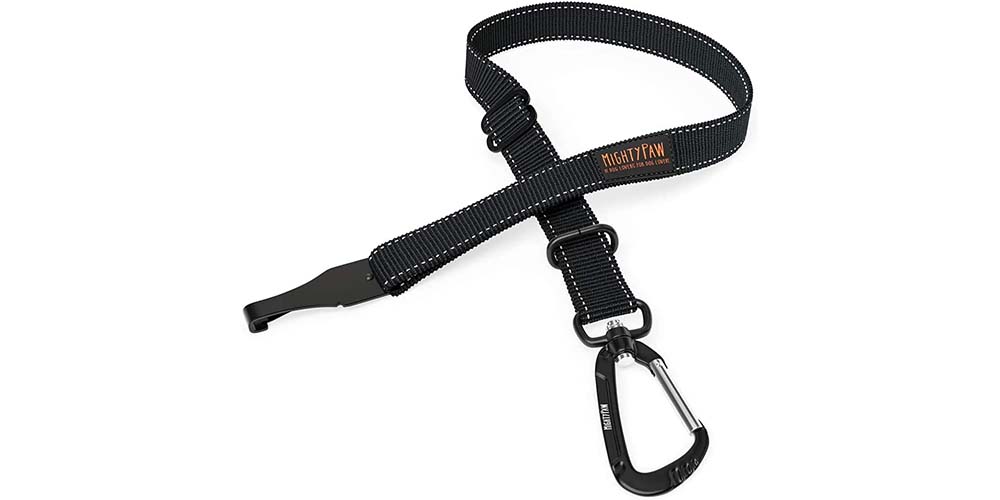 A more comprehensive solution is provided by Mighty Paw, which fastens to the vehicle's frame utilizing latch bars found in the crease of the backseat. Since they enhance the efficiency and safety of child restraints, those latch bars are mandated by law, and Mighty Paw thinks they're a safer choice for pets as well. This seat belt is firmly hooked onto something the pet can't easily access, unlike many other seat belt systems that can inadvertently release if a dog stands on the buckle button. It makes use of a sturdy carabiner hook with a tangle-free swivel attachment constructed of aviation aluminum.
High-quality, weather-resistant nylon is used in the belt's construction, and all of the hardware is metal. The belt may be adjusted from 16-26 inches in length. The item is backed by a 100% satisfaction guarantee, and Mighty Paw says you can return it if you're not satisfied with it.
It works with all vehicles because it makes use of the latch bars on the car. It takes quite a little more work to install than just putting it into a seat belt receptacle.

#8 Friends Forever Pet Seat Belt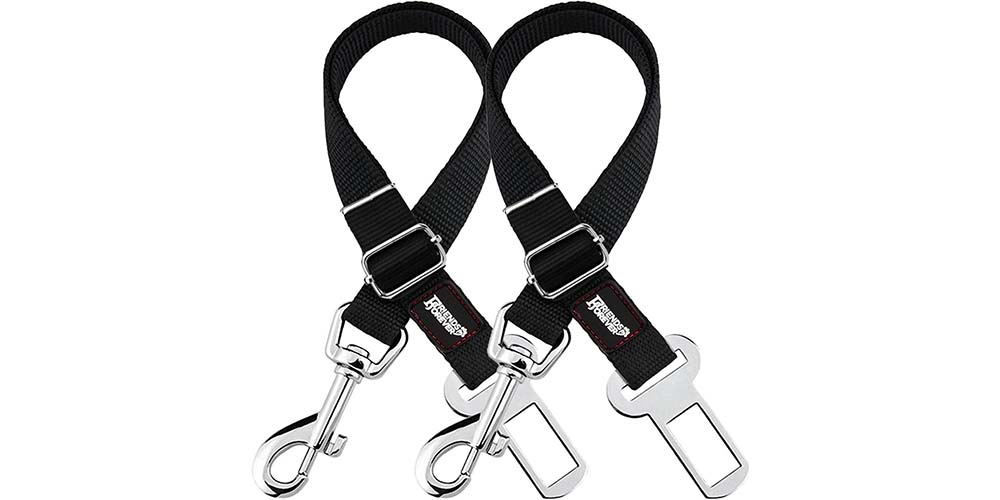 The pet seat belt from Friends Forever is quite similar to items from Blueberry Pet and Vastar. However, it is more reasonably priced and available in pairs. It has a belt strap that can be buckled into the standard seat belt receptacle in your vehicle and is adjustable from 20 to 32 inches in length. The seat belt is made of sturdy nylon fabric of the highest quality, and penta-layered sewing is used for added durability. U.S. zinc alloy metal is used to create the swivel and collar buckle tab.
It utilizes a 2 cm tab on the seat belt clip, similar to other products. Nevertheless, you should verify if it is compatible with your car. Always use a harness while using these seat belts rather than a collar.

#9 Leash Boss Car Seat Belt Restraint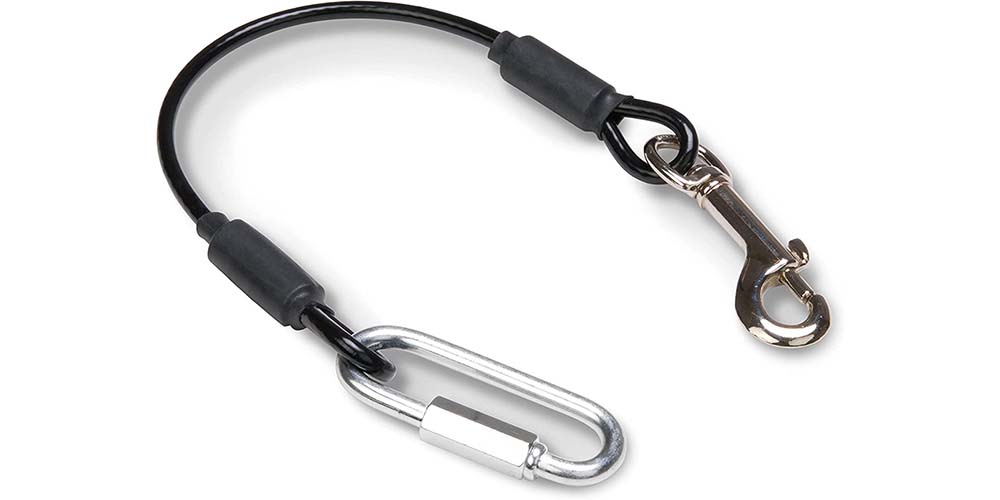 Consider the Leash Boss restraint if your dog enjoys chewing on things and you're concerned that it will destroy these other nylon seat belts. This seat belt uses strong-grade nylon-coated steel rope—the same material used in dog tie-outs—instead of standard nylon. And like Mighty Paw's belt, this product fastens to the latch bar found in the back seats rather than the seat belt receptacle. Given that locks are mandated by law, this indicates that it is compatible with all cars.
The five sizes of the Leash Boss seat belt are small (16 inches), medium (21 inches), large (26 inches), X-large (31 inches), and XX-large (36 inches). It attaches to your pet's collar with a swivel clip.