Are you interested in maximizing the usefulness of your F-150? There are a ton of Ford F-Series accessories available to support you. The choice of accessories for your Ford F-Series is endless and includes everything from cargo racks and towing equipment to truck covers and floor liners.
It should never be a surprise since the Ford F-Series has consistently held the title of best-selling vehicle in the country for several decades. This implies that you can choose which aftermarket accessory manufacturers you want to spend your money on as well as the kind of Ford F-Series accessories that you want to equip.
We've compiled a list of the top Ford F-Series accessories available right now, covering a variety of suppliers, price ranges, and uses. Check it out below.
#1 Husky Liners Floor Liners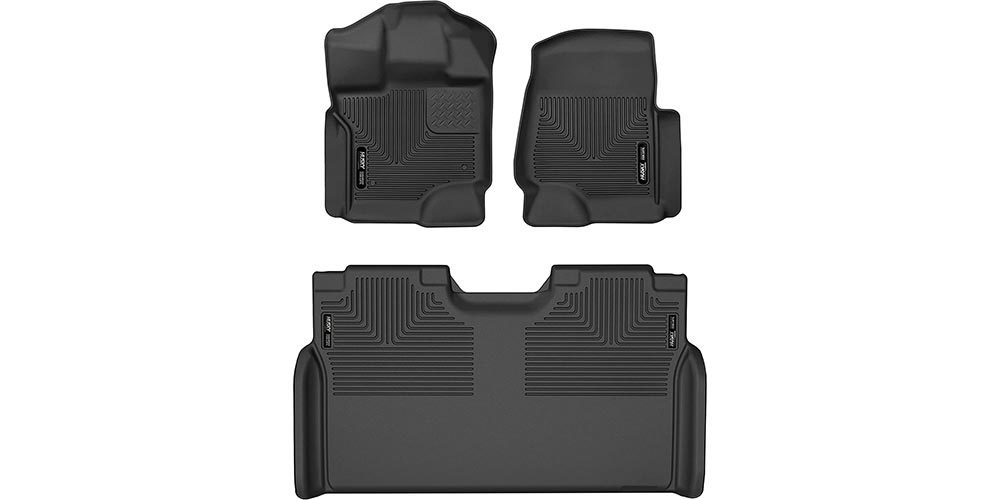 Brand: Husky Liners
A proper set of floor liners or mats is essential whether you're the type who enjoys taking their Ford F-Series off-road or mostly stays put on the job site. We suggest Husky Liners' custom-molded floor liners. Why these, you ask? They are one of the greatest buys among all Ford F-Series accessories since they provide the kind of ideal balance between quality and price.
By conforming precisely to your truck's factory floor pan and maintaining a strong grip with Husky's unique StayPut cleats, these floor liners offer a flawless fit and great staying power. They were particularly designed for certain models and year ranges utilizing Husky's FormFit design process.
Additionally, they successfully catch spills and messes thanks to their high walls and useful ridges, preventing mud, water, and other debris from getting on your carpet. This product is available for Ford F-Series models, including the F-150 and F-450, that date back to 2008.

#2 Rough Country Low-Profile Hard Tri-Fold Tonneau Cover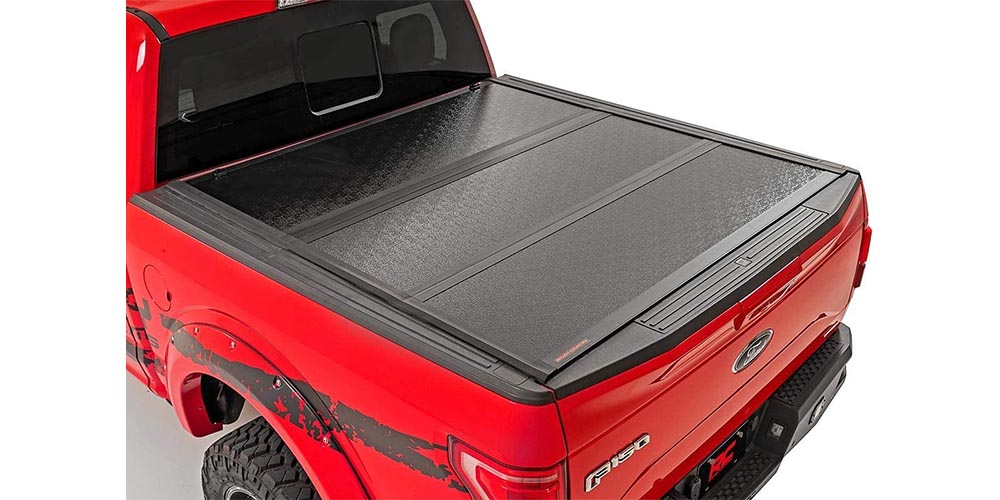 Brand: Rough Country
Do you want to shield the items in the bed of your truck from would-be thieves and prying eyes? That is the purpose of tonneau covers. This hard tri-fold tonneau cover from Rough Country is excellent; it has aircraft-grade aluminum panels, a stylish black textured surface, and a simple cable locking system that practically anyone can operate.
Every single one is custom-made to fit a particular F-Series model range, and bed length comes with a safe mounting system that installs easily at home and is supported by Rough Country's limited lifetime warranty, which ensures many years of trouble-free use.
Yes, a soft tonneau cover will effectively protect your belongings in your bed, and the cost of purchasing is typically much lower. A hard tonneau cover is definitely well worth the extra money if you value features like strength and theft protection, as a soft one just cannot match them.

#3 UnderCover SwingCase Truck Bed Storage Box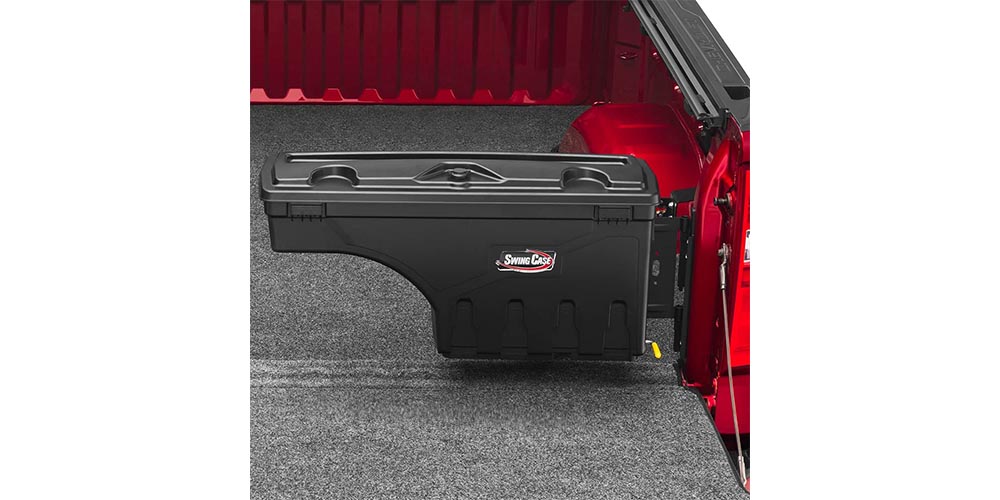 Brand: Undercover
These UnderCover SwingCase Truck Bed Storage Boxes make excellent Ford F-Series additions for a variety of reasons. They go hand in hand with a nice tonneau cover. They start by keeping your bed organized.
When you're moving, use them to actually keep your hand tools, components, and other miscellaneous goods confined, leaving the rest of the bed free for bigger items such as wood and power tools. They also assist in shielding your items from the elements.
Each one features an airtight weather seal that keeps out dust, rain, snow, and anything else mother nature decides to hurl at you. Thirdly, they help keep curious eyes away from your important possessions, giving you the privacy and security you need.
They are simple to install, stowed in the space behind each rear wheel well, and swing outward for convenient access when required. These truck bed storage boxes are produced by UnderCover for a variety of Ford F-Series models, including the F-150, F-250, and F-350.

#4 CURT Pintle Hitch for 2-Inch/2.5-Inch Receiver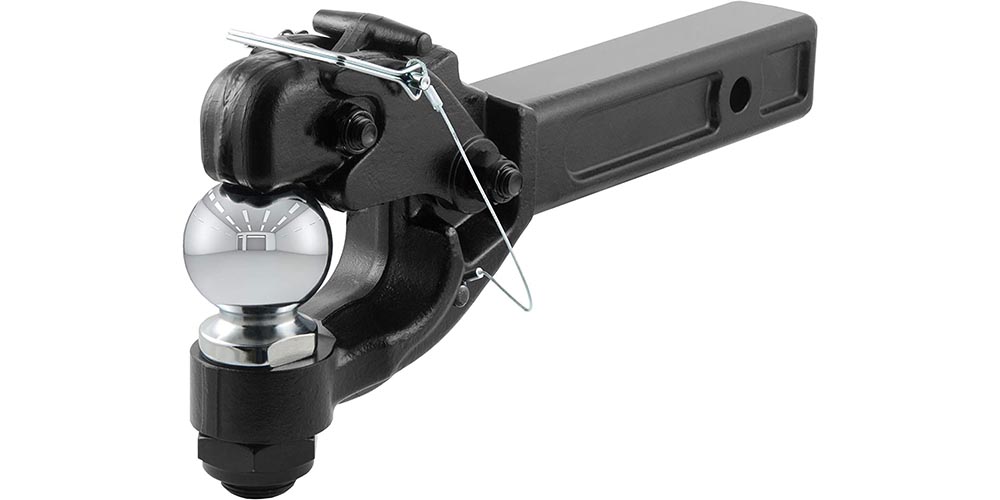 Brand: Curt
Let's face it; you didn't purchase your Ford F-Series to simply run to the store or pick up your children from school, right? You purchased it so that you could tow the family pop-up camper and haul lumber. That means you'll require a quality hitch, which CURT is prepared to offer.
This sturdy combination ball and pintle hitch for 2-inch receivers is available from CURT, one of the most recognized brands in towing equipment. It is prepared to accommodate any 2-5/16″ cup or 2-1/2″ to 3″ lunette ring.
This hitch weighs a little under 22 pounds and is made of powder-coated steel. It can pull up to 16,000 pounds with a pintle or 12,000 pounds with a ball.
For the typical Ford F-150 owner, that is more than plenty, and the pintle even has a convenient spring-loaded arm that enables a simple, secure connection. CURT also makes a ball/pintle combo hitch for vehicles with 2-1/2″ receivers, such as the Ford F-250.

#5 Lund Steel 5" Oval Curved Nerf Bars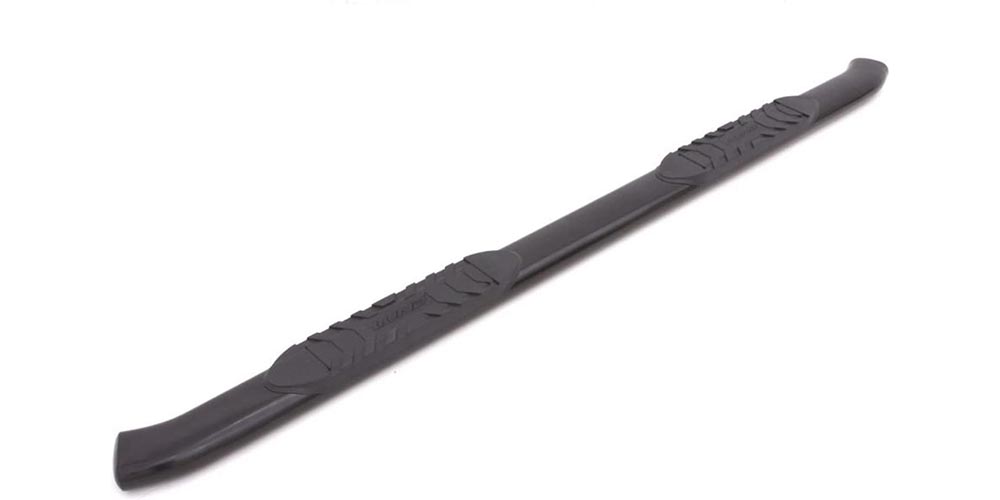 Brand: Lund
If your truck doesn't already have a step or "nerf" bars installed, or if your original bars are starting to look worn out, consider these 5″ Oval Curved Nerf Bars from Lund. Many modern Ford F-Series trucks come equipped with a step or "nerf" bars.
These nerf bars are evidence of why Lund is a well-known and reputable aftermarket truck accessory maker. They arrive pre-assembled and with a tough black powder coat or, alternatively, with a polished stainless steel finish and strong enough to support up to 350 pounds without giving way.
Other impressive features include model-specific mounting brackets that make installation as simple as possible without drilling and textured flat step pads that let you enter and exit your Ford F-Series without slipping. These bars are available from Lund for a number of Ford F-150 and F-Series Super Duty models.

#6 MaxxHaul Hitch-Mount Truck Bed Extender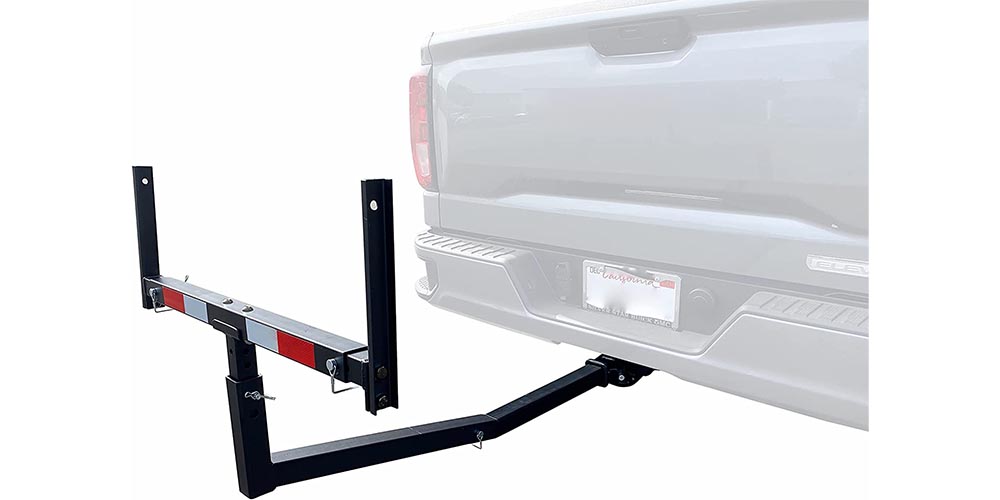 Brand: MaxxHaul
The hitch-mounted cargo rack is another kind of bed extension besides the "gate" style ones that can work well for your cargo-hauling requirements.
It is highly advised that you get this MaxxHaul product. This bed extender has an adjustable height and width so that you can install it, line it up with the bed floor, and gain an additional few feet of length for longer payloads like kayaks or 2-by-4s. It is made to suit any regular 2-inch hitch receiver or larger using an adapter.
On the job site, you may also collapse the side arms to create a portable workspace. This universal bed extender should endure for many years due to its strong coated steel construction and distributed load capacity rating of 350 pounds. Installation is also incredibly quick and easy, so you can remove it whenever you do not need it.

#7 AMP Research BedXTender for Ford F-Series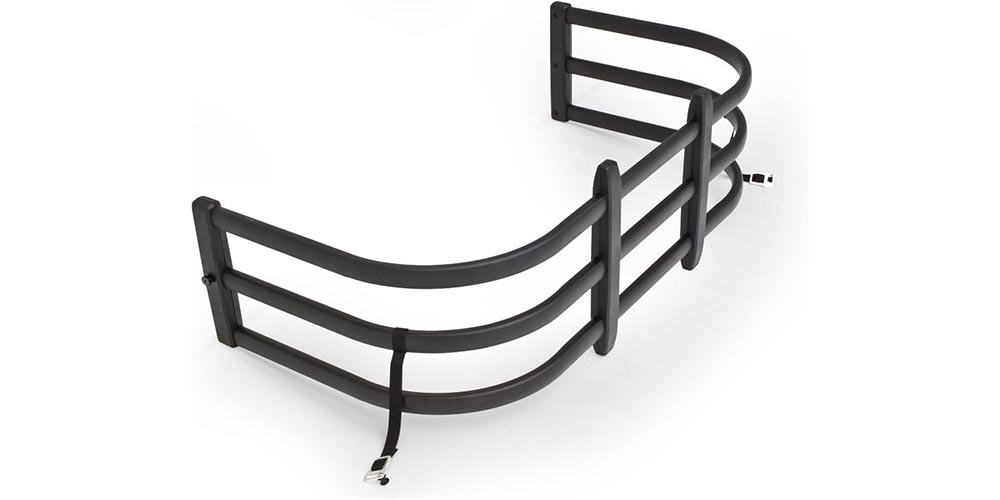 Brand: AMP Research
If you've ever had to drive with the tailgate lowered to make room for larger payloads, you know how tricky it may be to keep such things securely fastened. To keep longer cargoes contained even with the tailgate down, bed extenders, which are inexpensive metal gates that can be placed at the back of the truck bed, are fortunately available.
Our favorite is the AMP Research BedXTender, without a doubt. This bed extender adds an extra 2 feet to the length of the bed by flipping out over the lowered tailgate and keeping the freight secure. It has a U-shape design that maximizes cargo space.
Do you need to lift the tailgate? That's no problem; just fold the BedXTender into the bed and use it as a cargo separator to split the length of your bed and keep your tools and building supplies apart, your camping equipment and firewood apart, or whatever. Before making a purchase, verify compatibility because different versions apply to different Ford F-Series models.

#8 Napier Enterprises Sportz Truck Tent
Brand: Napier
A truck bed tent is a terrific way to make the most of your space at every campsite, not to mention one that eliminates the hassle of erecting a tent on rocky ground, in mud, or in the sand.
With its lightweight, quick and simple assembly, surprisingly spacious interior with 5.6 feet of headroom, and the capacity to sleep two comfortably, this Napier Enterprises truck bed tent is the ideal weekend camping item.

#9 Thule TracRac Truck Rack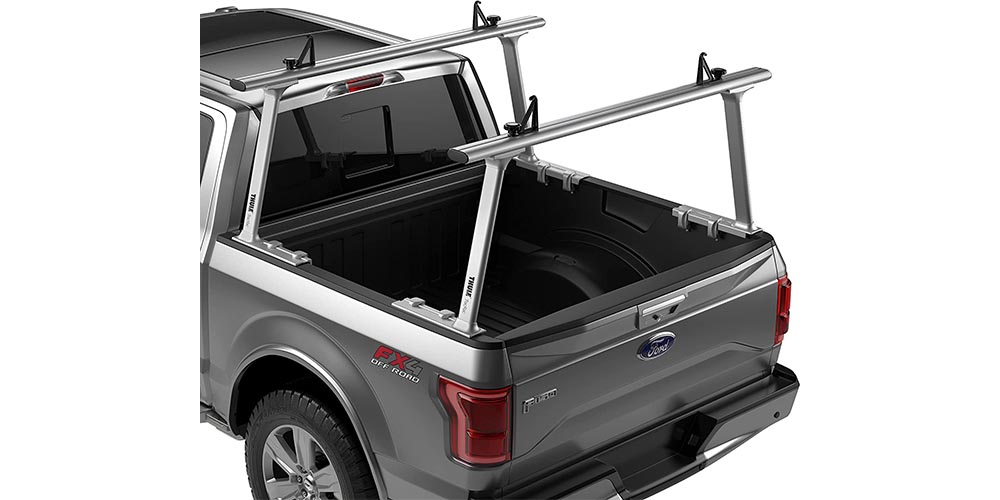 Brand: Thule
Thule has been one of the to brands when it comes to cargo racks for vehicles. For those who have a Ford F-Series vehicle, it's a good thing that this universal TracRac Truck Rack system exists.
It mounts to the bedsides of your truck and offers plenty of cargo carrying capacity — 800 pounds, to be exact — so long as the payload is spread equally and the rack is placed correctly. The aerodynamically clean design reduces wind noise.
The basic T-track load bars make this rack compatible with a variety of Thule-made cargo accessories.
This rack is constructed from a strong aluminum alloy and should last you years of frequent usage without submitting to elemental exposure and corrosion. As several customers have noted, the nuts and bolts can become loose over time, so be careful to apply thread locking compound on the hardware.