Choosing the best phone mount or holder for your car may seem overwhelming because of the wide array of options available today. If this specific task is too daunting for you, we got you covered. We narrowed down the ideal options for your needs. Check out this list of the top 9 best phone mounts and phone holders that could work well inside your vehicle.
#1 LISEN Magnetic Car Phone Holder/Mount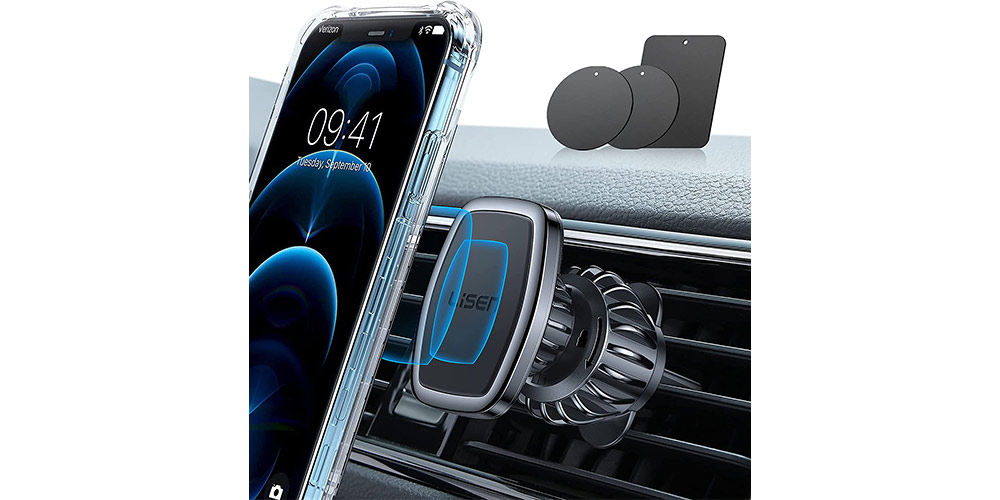 Brand: LISEN
The LISEN Magnetic Car Phone holder features six strong magnets that can hold your phone in place while driving. This product has a hook-like clip that you can latch onto your vehicle's A/C vents for the best fit. This is a modern solution that can fit almost any vehicle with horizontal air vents. However, if you have round or vertical air vents, you can check other options on this list.
This product features a magnetic phone mount; a metal pad is required to secure the connection between the holder and the phone. The company has rectangular and round options to choose from. You can sandwich this inside the case, but it depends on the thickness of that case.

#2  iOttie Easy One Touch 2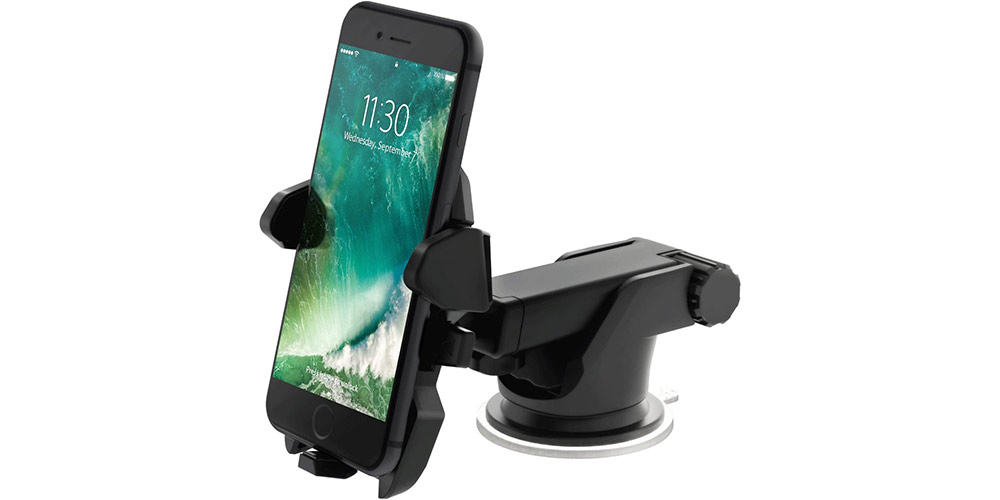 Brand: iOttie
If you want a user-friendly phone mount, the iOttie Easy One Touch phone mount is a great option. It's designed to offer impressive quality and function. The one-touch option is a huge plus. This product is so convenient to use because it's easy to mount and remove the holder.
We were impressed with the gel pad's stickiness and longevity. It's so easy to maintain the stickiness of the gel pad. You just have to wash it using warm water and then let it dry for a short while, and it will work just like when it was new.
The Gel Pad is patented, and the holder features a 360-degree rotation. You can use your phone in either portrait or landscape orientation easily. This is an affordable phone mount that offers impressive features. It has a long arm as well. If you don't like a bulky-looking phone mount, you may want to check out other options. 

#3 Bestrix Universal CD Slot Phone Holder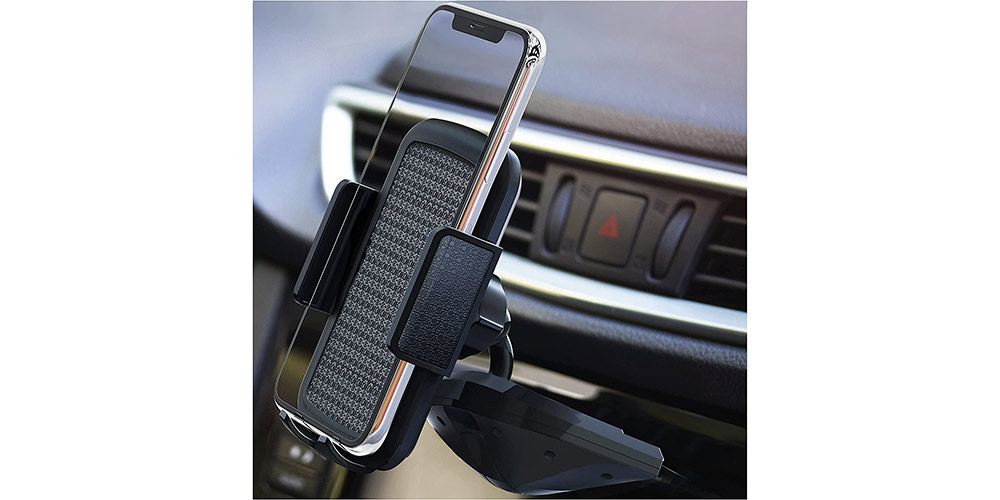 Brand:
The Bestrix Universal CD Slot Phone Holder can accommodate most phones and devices. It can specifically hold devices that are around 3.62 inches. It can grip most Samsung models and iPhones.
This mount also features a one-touch system for holding and releasing phones. This can assure your smartphone's safety. Its head features a 360-degree rotation, making it easy for drivers and passengers to utilize and see the phone whenever needed.
Versatility, stability, and security are assured with this phone holder. The only issue with this product is that it can only be fixed via the CD slot, and newer cars being manufactured today are somewhat veering away from CD players.  

#4 Beam Electronics Universal Smartphone Holder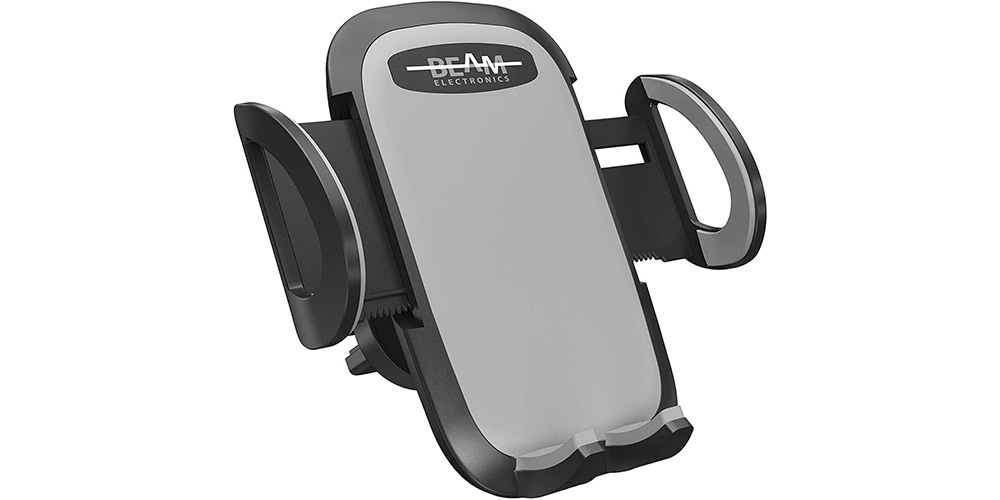 Brand: Beam Electronics
Another option for an air vent phone mount is the Beam Electronics Universal Smartphone Holder. You do not have to worry about marks or damages from suction cups or adhesives when you use this product.
It also has a fast-release button located on the rear portion, and it helps avoid wasting time when you deal with your phone while you drive. You can adjust it to any position of your liking because it can rotate 360 degrees.
The mount is impressive because it can be used for many devices, but the sizes that it can only hold are from 1.9-3.7 inches only. With this product, you don't have to use extra tools when installing. You just clip it using one hand, and it's good to go. The company offers a one-year warranty on this product. This would work best for buyers who are unsure or worried.

#5 EXSHOW Windshield Phone Mount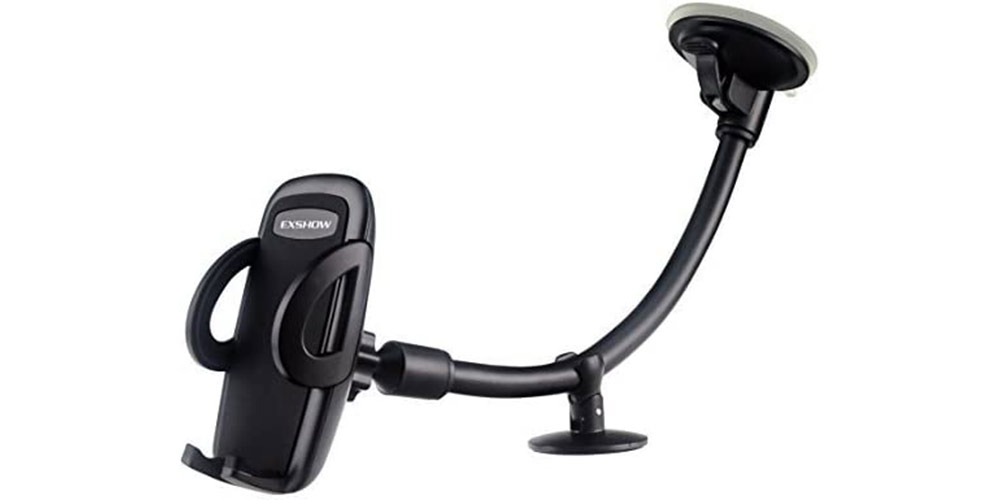 Brand: EXSHOW
If you want your phone mounted to the windshield of your car, this is one of the best options. The EXSHOW Windshield Phone Mount is an excellent holder that features ease of use, stability, and functionality. It's a great option for iPhones and other branded smartphones. Its dual suction design and long arm help make this product easy to fix your phone at an angle ideal for your best viewing experience.
This phone mount is reliable and sturdy despite having a plastic construction. You can't complain much about this holder, except for shaking problems upon extreme car motion or if the device is not properly fit with the holder.
The clamps can secure your phone properly in place, and its rubber design can help avoid slipping. Its suction cup also works well in keeping the mount fixed. 

#6 Bosynoy Cell Phone Holder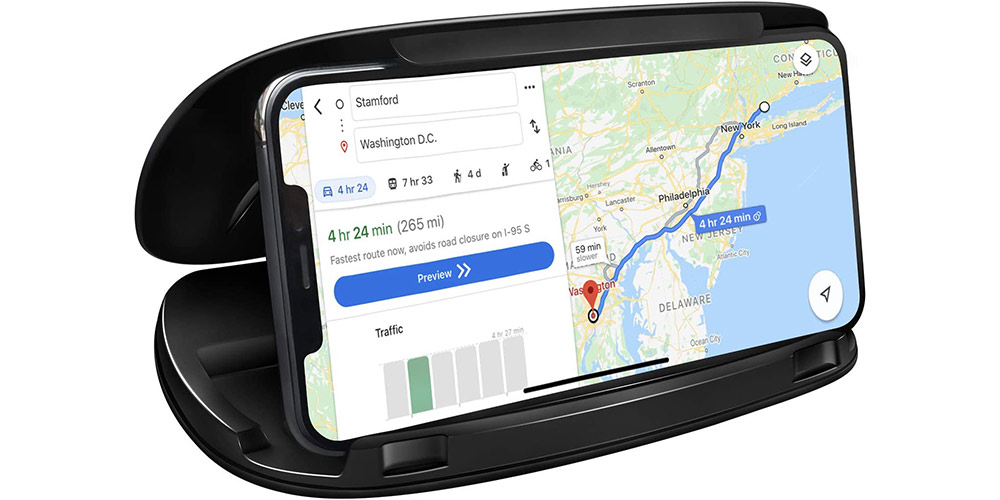 Brand: Bosynoy
The Bosynoy Cell Phone Holder is one of the best phone holders today because it can also accommodate the majority of the GPS systems available in the market. It utilizes reinforcement along your car's dashboard that's three times stronger and offers a very good grip. It also features a one-touch release for ease of use and installation.
This holder is impressive because it doesn't add any blind spots while you drive. You can easily remove or fix it in place. It has a sticky silicon film that you can simply rinse and reuse. Your phone is safe from damage because this phone holder's clamps feature soft mats. This mount is also sunlight and heat-resistant. Overall, we find the Bosynoy Cell Phone Holder as one of the most user-friendly options today.

#7 Macally MCUP2XL Car Phone Mount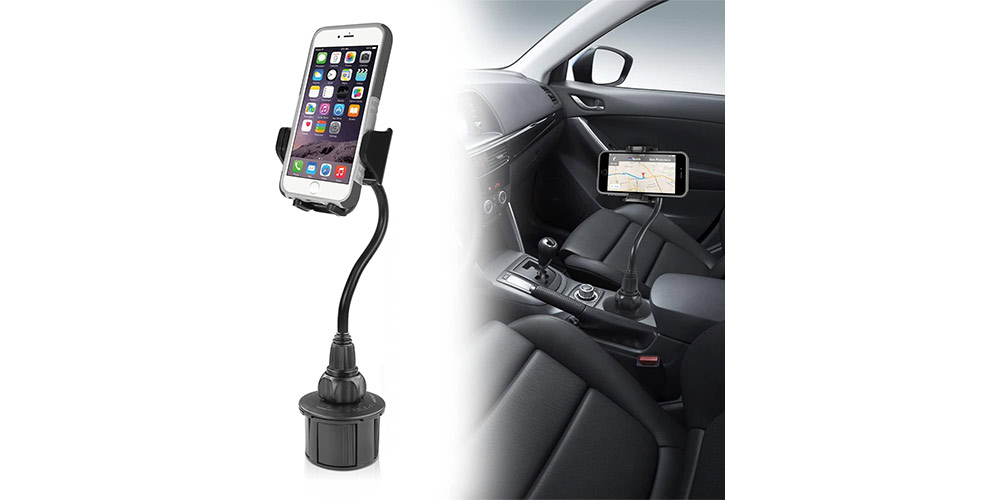 Brand: Macally
Are you looking for a phone mount that you can use on your cup holder instead of your dashboard? The Macally MCUP2XL Car Phone Mount is an impressive option that can accommodate devices of various sizes as long as they are between 1.77 to 4.1 inches.
The mount features an adjustable base that can work on cars, trucks and other vehicles that have regular cup holders. This phone holder showcases an 8-inch long flexible neck, which can rotate 360 degrees and accommodate different angles for the best viewing experience.
The Macally MCUP2XL Car Phone Mount impresses with its strong base, clamps, and easy one-button release system. 

#8 SOAIY 3-In-1 Cigarette Lighter Car Mount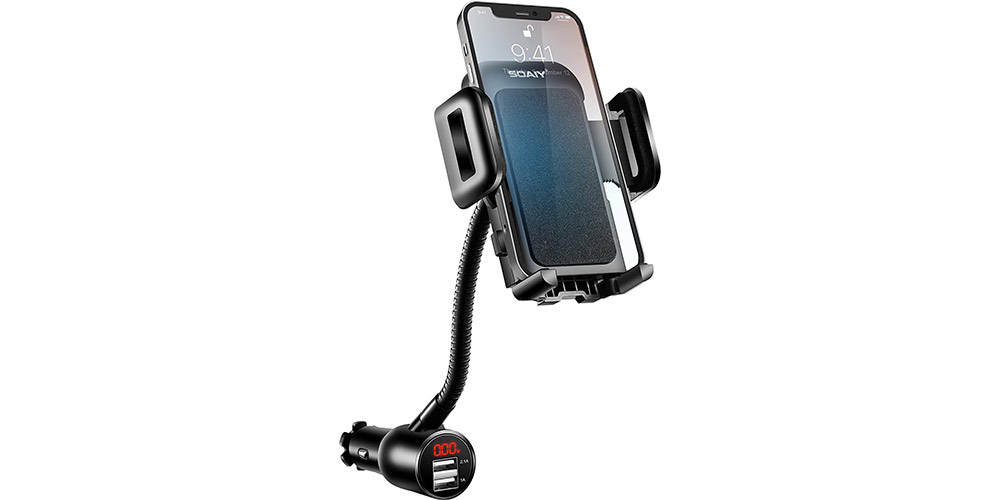 Brand: SOAIY
If you want a simple phone mount for your car, the SOAIY 3-in-1 Cigarette Lighter Car Mount is a smart pick. Compared to the other products on this list, this one is not as flashy, but it does well in terms of performance. Its construction makes this mount flexible and strong.
The issue with this option is that it's not as sturdy as the other options. It may have a harder time holding heavier phones when used for a long period of time. Another issue is that due to its location, it makes your phone somewhat out of sight because it's plugged into a cigarette socket. However, by doing this, you can charge your phone while it is mounted. It also helps prevent blind spots when you drive because of its location. If you are always eager to look at your phone while driving, this is not the best option for you. 

#9 Macally MCUPMP Phone Mount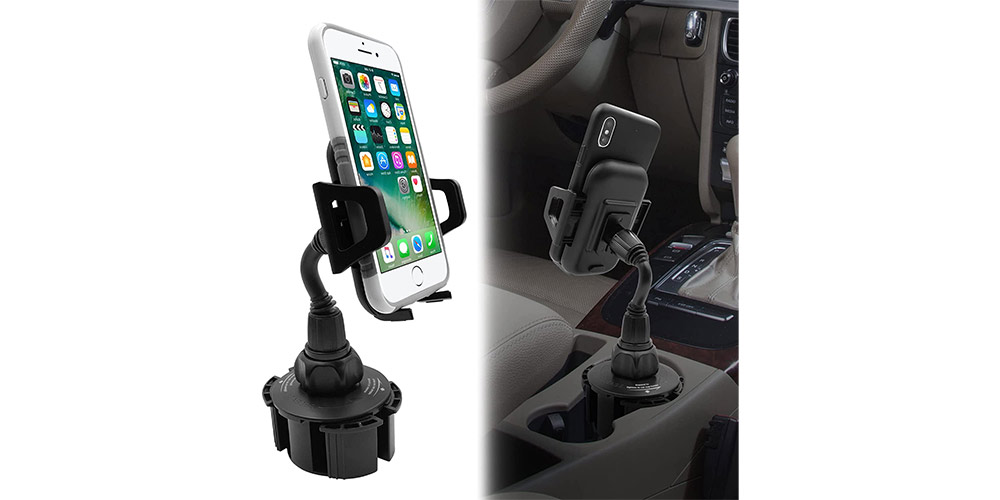 Brand: Macally
Another product from Macally's lineup on this list is the Macally MCUPMP Phone Mount. This mount features a one-button release system for mounting and removing your phone with ease. Its adjustable base fits well with standard cup holders of vehicles. It also has a soft holder grip that prevents damage to your phone while it is mounted.
It also features a flexible neck with a swivel option plus a 360-degree rotation option. This can maximize the viewing experience. This product is an affordable option that performs well without extra costs. The only downside of this model is that it has less flexibility than other products. 

Selecting the Best Phone Mount and Phone Holder
Now that you've learned about the top 9 best phone mounts and phone holders for your car, you should carefully consider various factors before making a final decision. One essential factor that should come to mind is the location of the phone mount. As you've seen with the options above, there are phone holders that you can mount on your dashboard, on your A/C vent, on a CD player, on the windshield, on the cigarette lighter, and on the standard cup holder. By knowing where you want your phone placed while driving, you can decide on which product to purchase.
Whichever you choose, you should always consider safety while driving. Never get distracted by your phone while driving. If anything, it would be smart to pull over if you want to utilize your phone for something important.
With all of the options presented above, choosing a phone mount and phone holder should never be that difficult. Always go for quality, flexibility, and sturdy construction. In terms of price, the options mentioned above offer the best value for your money. Make it a worthwhile investment.