Trucks are pretty reliable when it comes to daily driving. It can transport a person from one place to another and it can haul payloads of varying weights. Trucks are typically driven around roads, highways, and terrains like an SUV, but sometimes trucks are driven through rougher terrains like a 4×4.
Whatever your vehicle may be, prioritizing the safety of the driver and passengers is a must.
What if you're driving in the middle of the night and it feels like your headlights are not enough to illuminate the trail? What should you do to keep you and your passengers safe? During scenarios like these, installing an LED light bar on your vehicle is a surefire way to ensure the safety of your passengers.
Not only that it illuminates the road, but it can also be used for a plethora of purposes.
If you've come to check out the best 20" LED light bars on the market, then you're in for a ride. This list features the best 20" LED light bars out there and you can use this list as a guide to pick the perfect LED light bar for you.
#1 Nilight 288W LED Light Bar Triple Row Flood Spot Combo
The list starts with the Nilight 288W LED Light Bar Triple Row Flood Spot Combo. The company Nilight designed and created their 288W LED Light Bar to produce powerful light beams for longer periods.
Nilight manufactures top-tier LED light bars in the market. They offer considerable warranty for their customers where they are in the world. This kind of dedication to their customers helps them build a customer-favored reputation.
After years after years of producing effective products, they have made themselves well-known to the world.
What's with the Nilight 288W LED Light Bar? The light bar itself has three rows of LEDs with varying beam patterns like spotlight, floodlight, and combination.
With over 30,000 hours of usage, it can effectively illuminate an area and not heat easily, thanks to the silicon gels and aluminum alloy housing that both act as heat dissipators.
Aside from that, the light bar is resistant to corrosion and shock, is waterproof, and is dustproof.
The Nilight 288W LED Light Bar Triple Row Flood Spot Combo is perfect for applications like off-road lighting, boat lighting, equipment lighting, and even household lighting!

#2 4WDKING LED Light Bar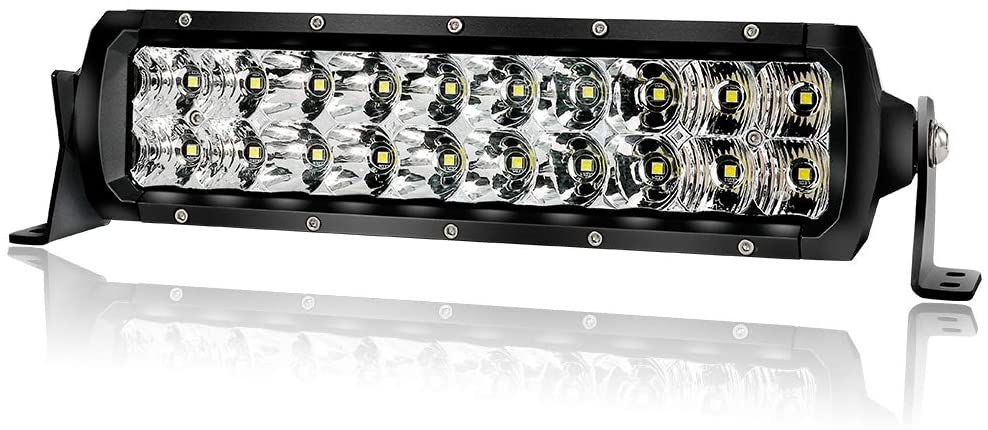 The 4WDKing is a California-based company that promises to deliver premium quality LED lights for off-road lighting that is both affordable and innovative. Their extensive years of producing military-grade products have made them well known all over the world because of their knack for making top-tier LED lights.
If you're looking for an affordable heavy-duty LED light bar, you should try this one out.
What do you get form buying a 4WDKING LED Light Bar? 4WDKING designed a super bright LED light bar capable of spot and flood beam at the same time while being contained by a durable housing that can withstand shock, dust, corrosion, and water.
It also features a military-grade breather that protects the LED light bar from radiofrequency and electromagnetic interferences. The package includes mounting brackets and screw sets for easier installation.
This one is specifically used for off-road purposes, so if you're planning to use it for other purposes, make sure that you comply with the local light bar ordinances so you won't endanger the lives of other motorists.

#3 Side Shooter 280W LED Light Bar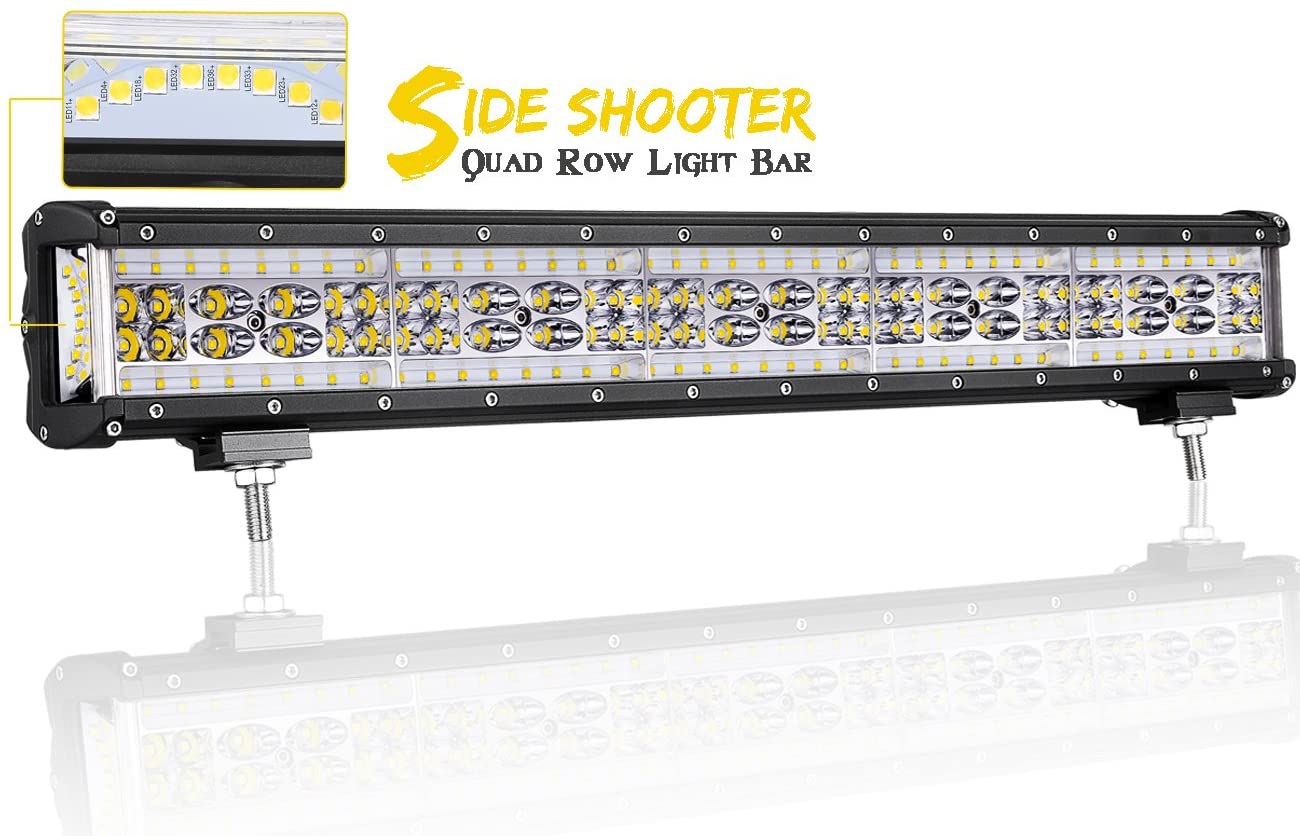 For the third one on our list, the Side Shooter 280W LED Light Bar offers you a 181° light coverage, incomparable to the traditional light bar. The LEDs are also organized in four consecutive rows to efficiently spread out varied beam patterns.
A truly great option for your truck, ATV, or off-road vehicle.
What's in the bag? The Side Shooter 280W LED Light Bar features a high intensity LED optical chips that are both efficient and powerful. The light bar itself can produce high output under a low amperage draw.
Side Shooter boasts of their ability to create unrivaled visibility, thanks to their 40 pieces of high-intensity LED chips and 16 pieces of side shooter LEDs that are projected by a high transmittance lens.
What's awesome about this LED light bar is its 181° light coverage. Aside from that, a die-casted aluminum alloy with a PMMA lens protects the LEDs. This is durability and effectiveness all in one light bar – at a very affordable price.

#4 BEAMTRON 288W LED Light Bar

Finally, we have the BEAMTRON 288W LED Light Bar, capable of utilizing a combo beam pattern coming from three-lined rows of LEDs. This is suitable for off-road rides with trucks, SUVs, ATVs, and other off-road vehicles.
The BEAMTRON is an excellent choice for an LED light bar, mainly because the company itself is focused on manufacturing top-tier lights infused with technological innovation.
What do you get when you purchase a BEAMTRON 288W LED Light Bar? One, amazing brightness, thanks to its 15° spotlight and 170° floodlight pattern. Two, extreme protection.
The housing made from Aluminum alloy makes the housing itself waterproof, dustproof, corrosion-resistant, and shockproof,
The BEAMTRON 288W LED Light Bar is made for heavy-duty applications. Even if it's just a 20" light bar, it can deliver effective lighting while consuming less energy, allowing the LED light bar to extend its life span for up to 50,000 hours.

Buying your first 20" LED light bar can be your first step in making your vehicle more effective in the dark. There are more LED light bars in the market aside from the 20". There are 30" 40", 50", and 50+" of LED light bars available that will suit your needs.
Whether you're into off-road activities, cross country traveling, seafaring, or any similar off-road businesses, an LED light bar is a great investment.
Before buying a 20" LED light bar, you should know the basic criterias of buying an LED light bar first. What shape would you like? How many rows of light would you need? Where would you use it? How satisfied would you be when you purchase a specific light bar?T
hese are just some of the questions that you need to consider.