The Acura RSX is one of the most successful sports coupes back in the early 2000s. Being the first sports coupe to belong in the Acura lineup, the Honda Motor Corporation-owned brand has been servicing people all around the world as a luxury brand.
Countries like the United States, Hong Kong, Mexico, and Canada enjoyed the Acura since 1986. After the Acura RSX is released, many realized how sleek and luxurious this car is, paving the way to more car sales during the years 20001 to 2006.
This car is impressive. Even if it's relatively old, it still provides its users with the right mix of performance, luxury, and build quality. That's why in the present day, owning an Acura RSX means that you have a car full of potential. Potential for what you ask? Potential for upgrades!
There is a booming aftermarket industry established just to cater to the needs of the Acura RSX owners. Different modes are available to make this car level up. Do you want it to look better? Are you itching to make your Acura RSX perform better than the usual?
Installing some aftermarket modifications will fix that for you.
The Acura RSX, especially the Type-S is a rich and fertile land when it comes to upgrades and modifications. Check the best Acura RSX performance mods below to see what best fits for your car.
1. Suspension Systems Upgrades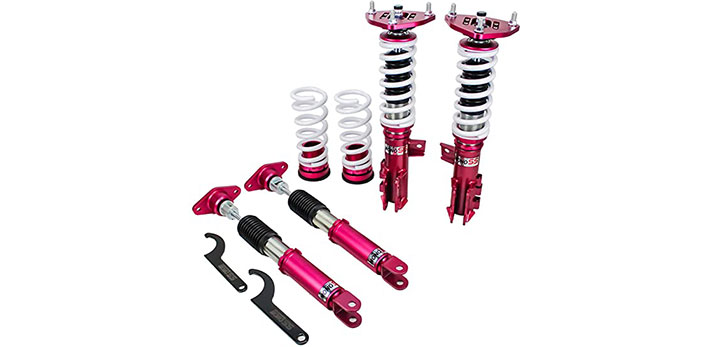 Suspension systems are one of the best mods for Acura RSX. Since you're opting for a modification that will greatly improve your Acura RSX's performance, you should get either a coilover kit or a lowering spring kit.
The suspension system upgrade will lower your car, and depending on your choice, you will get some benefits too.
There is a slight difference between the two. Coilovers are suspension system modifications that will lower your car while improving its handling characteristics and adjustability.
Lowering springs, on the other hand, are the cheaper version and solely provides the option of lowering your car.
Both choices can lower your Acura RSX. If you're opting for a maneuverable car that can corner better even at high speed, choose coilovers. Otherwise, if you just want to lower your car's center of gravity, then pick the lowering springs.

2. Brake Pads and Rotors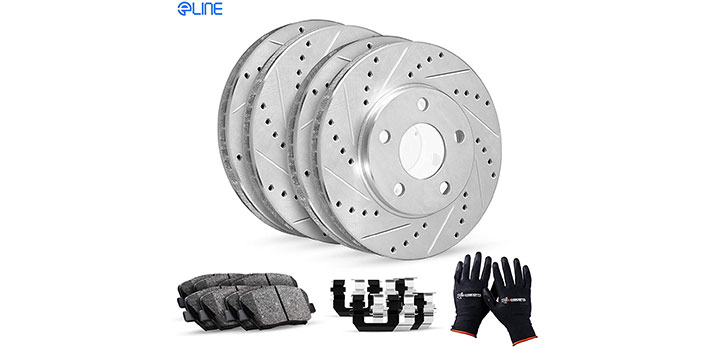 Brakes are one of the most underrated components in a car. However, if you want to make your riding experience better, especially if you're going to use the car for racing, you should change your brake pads and rotors.
Brake pads and rotors belong to the best RSX Type-S mods. Brake rotors usually experience extreme pressure, not mentioning the intense level of temperature it experiences during braking.
Brake pads get used up too much specifically if you use it too much, i.e. drifting.
Replacing your brake pads and rotors should be a necessary upgrade for your Acura RSX if you want to experience superior braking.

3. Intake Systems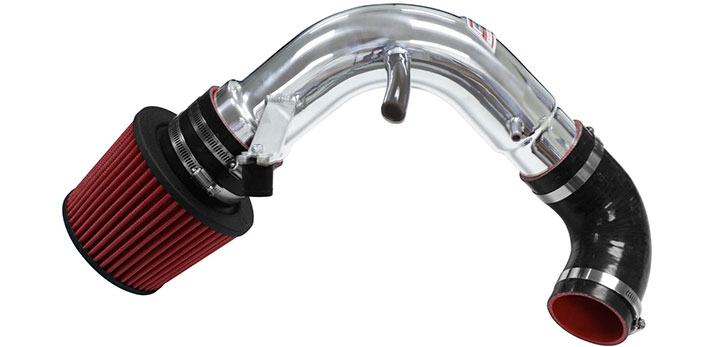 When it comes to making your Acura RSX act like a true-blue performance car, a cold-air intake will help you out tremendously. This is a perfect performance mod especially if your Acura RSX is turbocharged.
The cold-air intake system is forced induction components that will let your car breathe better, in turn making the car go faster. This is great for the Acura RSX since you'll be riding it not just for the sole purpose of driving around, but also to get the attention of other people and your fellow car guys.
A cold-air intake kit will improve your car's fuel combustion, improve its acceleration and throttle response, save fuel, and a significant increase in horsepower. This is arguably the best performance mod for you Acura RSX.

4. Exhaust Systems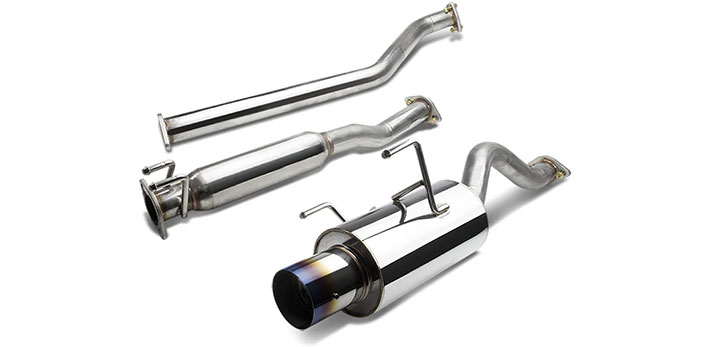 Exhaust systems are the long-distance partners of cold-air intake systems. Their relationship is successful despite the distance, and they make the car perform even better.
Just like a cold-air intake system, one of the most notable benefits that an aftermarket exhaust system can give you is the added ponies.
So what does an aftermarket do to your Acura RSX? It optimizes the flow of exhaust gasses, allowing more burnt fuel to be released after the combustion. With more optimized airflow, the engine will perform better, simply because it can utilize the cylinders more.
Aside from that, sound waves produce in the exhaust system produce that sweet, deep, and guttural sound that we all love. Cat-back exhaust systems like the Skunk 2 will give your car that much-desired horsepower increase, as well as the sound we're talking about.

5. Sway Bars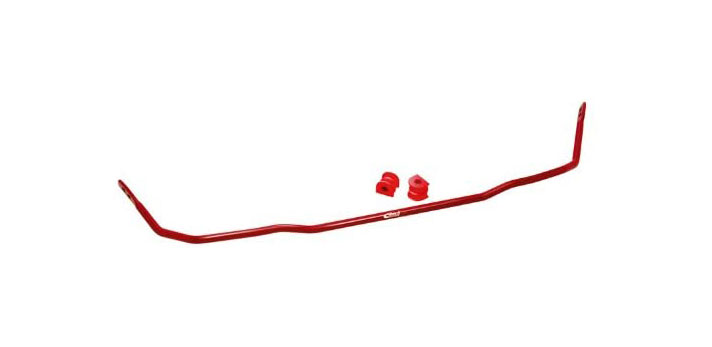 We understand that you get adrenaline when you're trying to drift like Takumi from Initial D, but without the proper components, you're setting yourself up for an accident.
Sway bars (aka stabilizer bars) offer you stability and keeps your car from rolling over, especially when cornering.
The sway bar is mainly responsible for controlling the car's body roll by compressing the inside part of the wheel's suspension. This is done to make sure that the car will stay in contact with the road while experiencing a great amount of centrifugal force.

Other Mods You Can Get to Make Your Acura RSX More Awesome
While the aftermarket products above maybe Acura RSX's best mods when considering performance, there are still other modifications that will make your car look and feel more awesome.
1. Cosmetic Mods
Now we get to the exciting part. When we hear about mods, chances are the first thing that pops to mind are the components that will make you Acura RSX look awesome. Cosmetic mods are just the perfect things to make your Acura RSX look meaner and more badass.
There are varieties of cosmetic mods for your choosing. Window tints to hide what's happening inside, paint job and decals to make your Acura RSX more defined, and some tinted headlights to protect the headlights from chipping away.
Pick your poison!

2. Wheels
Aftermarket wheels are one of the best mods for Acura RSX, simply because it amplifies the look of the car while providing a certain level of security to the one who is driving.
Who wants to drive a car with a potentially damaged vehicle?
With the help of other mods like coilovers, you can fit in smaller wheels and make it look more rad since you got your car lowered already (thanks coilovers!)

3. Spark Plugs
The Acura RSX uses a gasoline engine, therefore it needs a spark plug to ignite that air-fuel mixture up. Replacing the old spark plug with a new one will be tremendously beneficial for you since that old sparkie boom boom can malfunction anytime.

4. Seat Covers
If you want to look more stylish while lowering those front driver side window, then you need to change those seat covers. It's the first thing that people will see when they open your car doors. You wouldn't want them to see your damaged car seats, right?
Car seat covers are available in various options. You can opt for the stylish ones or the functional ones; whatever floats your boat.

If the Acura RSX Was Successful, Then Why Was It Discontinued?
A lot of car enthusiasts were stoked with it, but the Acura RSX only lasted for six years until it was discontinued. Why?
While the Acura RSX is a well sought out hatchback, it's not the best seller. Here are a few reasons why.
The Demands Does Not Parallel the CostBack in the 2000s, if you're looking for a basic automatic car, considering an Acura RSX is a great idea – until you encounter cheaper alternatives. The base model of the Acura RSX seems out of the question when you consider a much more considerable alternative: the reliable Honda Civic.Why? Because the latter was cheaper and much more, well basic. At that time a car with an economical engine didn't need to be as sporty as Acura RSX.
The Competitors are Too GoodDon't get us wrong. The Acura RSX, especially the Type-S is a great car. However, the market wasn't looking for a hatchback-sport coupe mutant back in the day. The price was too much if you're into something more practical, while the performance attributes that it had seemed lackluster.
Its Not Just For ThemLet's get to the point and put the nail in the coffin: the Acura RSX didn't align itself with the visions that Honda's marketing team had at that time.The Acura RSX offered avenues of modifications that allowed carheads to modify the heck out of it – a cheap speed that people used to race down the streets like a modified Honda Civic. And Honda didn't like that. Acura was meant for luxury.The Acura RSX may be an old car, but it doesn't falter when it comes to performance and looks. Even though it didn't last for a long time, you know what they say, it's fun while it lasted. Especially if you got one in your garage and you've got it modded down to its every corner.