Similarly to lifts, the opinions about car ramps are split. Some think of it as a necessity in their garage, while others consider it as a luxury. One thing is for sure – if you are one of those people that love tweaking their car, and working underneath it, car ramps are a smart investment.
It's important to get the best car ramp so you can hoist your car off the ground for repairs, or regular maintenance. Getting a steady and trustworthy ramp versus one you can't rely on can be very tricky, but thus more important. Despite how helpful they may be, it's necessary that you pick the right one for your purpose.
So let's define what car ramps are. A vehicle ramp is a construction or platform used to elevate a car off the ground so you may reach the chassis. A drive-on ramp may be the best option if you need a quick way to access your car without using a jack.
However, whenever you get beneath your car, you must have total faith in the structures that are keeping it up off the ground and above your head. That's why we created this list of the top car ramps available today.
#1 Race Ramps RR-XT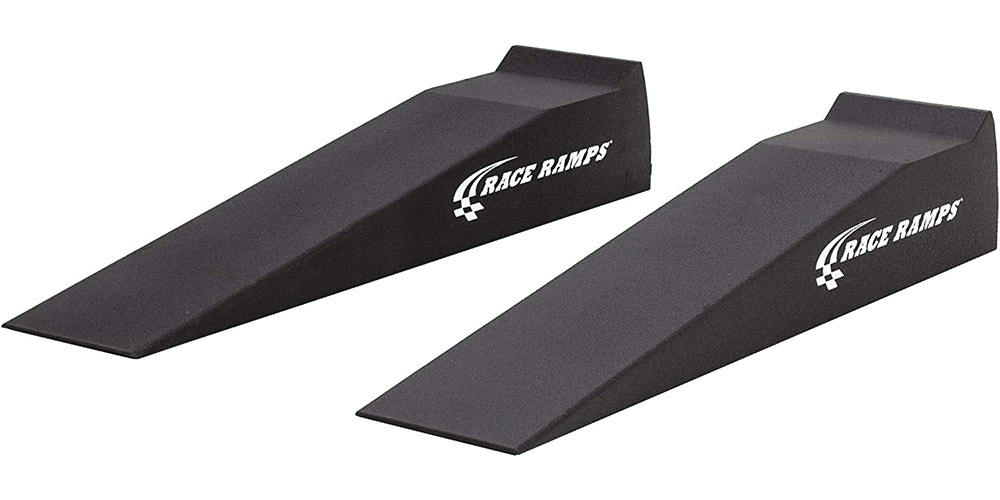 Our first pick would be Race Ramps RR-XT 67″ XT Race Ramp. For your wallet, it makes a great difference that this incredibly lightweight foam structure won't rust.
The 67-inch XT Race Ramp offers 10 inches of rising for better accessibility to the chassis of your car for repair and maintenance. They are made to be used for cars with a lower ride height and lowered cars.
To ease those worries, Race Ramps supplies a set of low-profile service ramps with a 10.8-degree approach angle and 10 inches of lift. The better thing for wide-tired hybrids and muscle cars, each solid pad can fit a tire close to 12 inches wide, because of its 14-inch width. They are sold in pairs and have a 6,000 lb weight capacity (1,500 pounds per ramp).
Buyers should only focus on making sure their ramp is in good condition before using it. On no occasion should 2 ramps be used on the same side of the car.

#2 INTSUPERMAI Ramps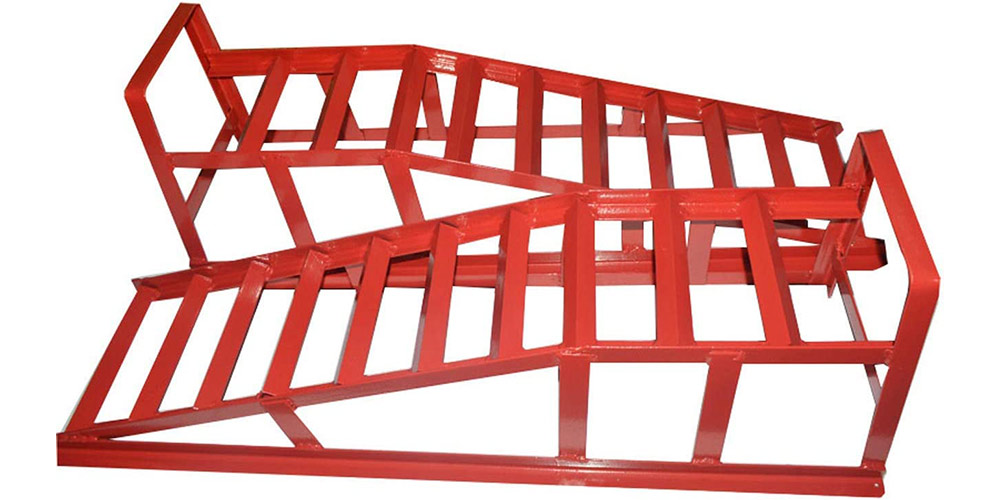 Our second choice goes to an iron-made ramp. This sturdy construction will ensure all the safety you need when going under your car.
The Mini-Lift auto ramps are made to lift lower cars, such as many modern sports cars, which is exactly what the INTSUPERMAI ramp also does. Most ordinary car ramps are not built to do that, which is INTSUPERMAI's biggest advantage over its competitors.
As we already mentioned, this construction is entirely made of iron and has a 6600 lb load capacity. For lowered sports cars that would bottom out on the majority of regular car ramps, the increased length with which this ramp is constructed works excellently. It lifts a car 7.9 inches and has tire stops built in making it safer for use. The central part has 3-inch-spaced serrated rungs with an unmatched non-skid surface.
You can use these ramps to change the oil on ATVs, and cars, or add a new car part you just bought, among many other things. Ideal for any car maintenance and inspections underneath, it is constructed with longevity and durability in mind for long service life.

#3 Magisale Ramps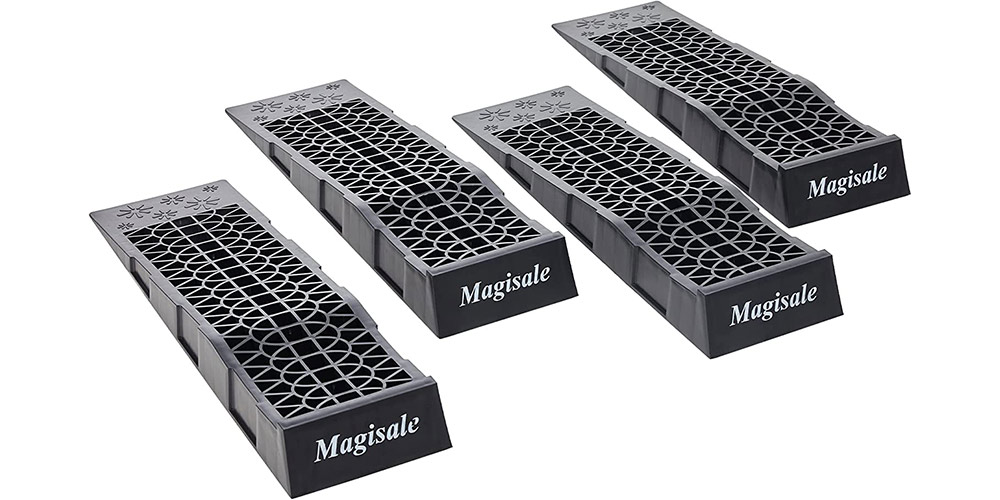 Amongst mentioned ramps, this one is probably the most aesthetic to the eye. With a honeycomb structure and wavy rise to it, these Magisale ramps righteously take our 3rd place.
Serving looks, this one also serves reliability and easy use. Unlike many other car ramps, the Magisale low-profile plastic car service ramp comes in a group of 4, making it easier to replace car parts, repair, or maintain your vehicles. Shorter wheelbase vehicles can load more easily and safely with an 8.3° loading angle. Low-profile cars are raised by 2.6 inches, so be sure the height is right for what you need before you buy this premium structure.
Made of PP material that is strong, lightweight, and high-impact, these low-profile ramps are made to be sturdy. It can fit cars or trucks for repair effortlessly and is strong and safe. The car ramps have a unique pattern with honeycomb grooves that prevent moisture build-up and make cleaning them simple.
Luckily, cars can't be driven across the end of automobile service ramps and cannot slide down due to their curved top and bulged end.

#4 Hopkins RhinoRamps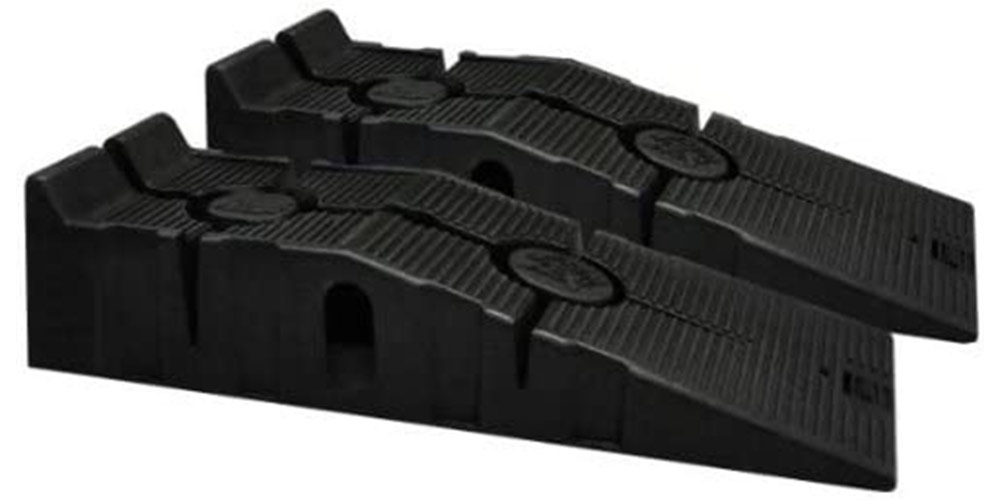 Our fourth pick doesn't mean our 'worst pick', don't you worry. Being the best-seller on Amazon, we are confident in closing off with Rhino's ramps.
On the basis of the sheer volume of positive reviews it has received, this is one of the most liked, simple car ramps you can buy right now. The sturdy and functional construction of the Hopkins RhinoRamps makes it simpler for customers to move them around. This design allows for the most amount of storage space and offers trustworthy and practical access to the bottom of your vehicle. Its non-skid CoreTRAC base also lessens slipping.
The RhinoRamp, which is made of plastic polymer and lifts your car by 6.5 inches off the ground, has a 17° ramp angle. It can accommodate tires with a 9-inch width contact patch and features a rubber cushion under the front of the ramp to prevent future slipping when you first drive upon it. This ramp can take up to 12,000 pounds of gross vehicle weight.
However, unlike other ramps we have covered, they are not the most effective ramps for low-profile cars. It should be mentioned that these ramps can become prone to cracking because they are built of a plastic polymer. If used in extremely cold temperatures, edges may snap when they flex, so use them in ideal settings to extend their lifespan.
Car ramps aren't something that many regular folks buy, so these top 4 car ramps aren't listed nor considered by their price, but rather by their durability and safety. We are aware that car enthusiasts and workshops will consider which ramps to buy, so that was our imperative when choosing. Durability and storage convenience are important to DIYers, so we covered car ramps with that in mind.

#5 Race Ramps Rally Ramps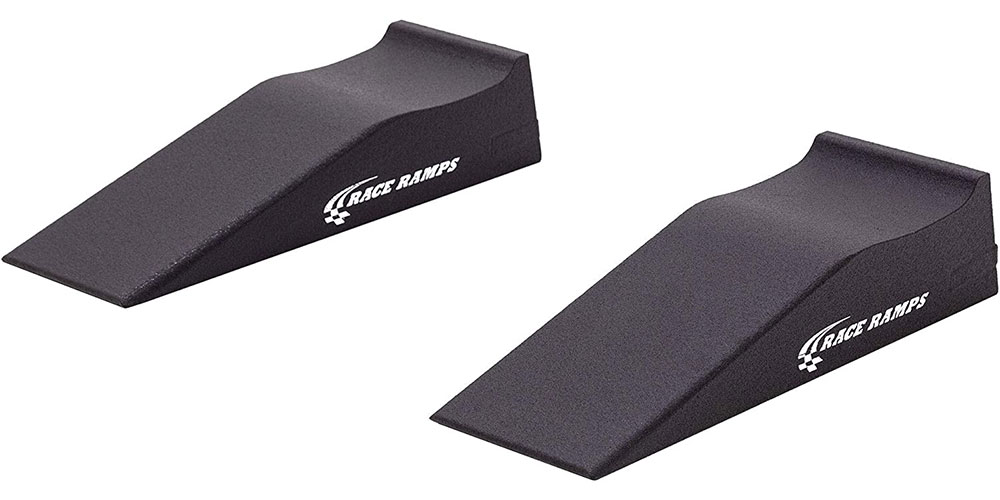 The Race Ramps Rally Ramps are lightweight, highly portable, easy to use, and strong. They feature a solid construction that helps guarantee a long life and maximum strength. With its name already given, these are engineered for use by performance and sports car owners. These ramps won't be a problem for low-clearance vehicles.
The Race Ramps Rally Ramps offer a unique texture that helps prevent shifting, scooting, or scratching the floors. These car ramps also have built-in handles, so you can easily move them from your garage to the car trunk. They have a 6,000 lb weight rating. That means larger cars will not pose a problem.
These car ramps are compatible with tires reaching 8 inches wide. You can also find a lot of positive reviews about this product online. That just backs up its claims of being a strong and reliable product.
Overall, we highly recommend the Race Ramps Rally Ramps because they are affordable, easy to transport and use, and feature a non-slip surface. The only drawback of these ramps is that they may not be able to offer enough lift for certain applications. 

#6 Nicky Nice Solid Steel Auto Ramp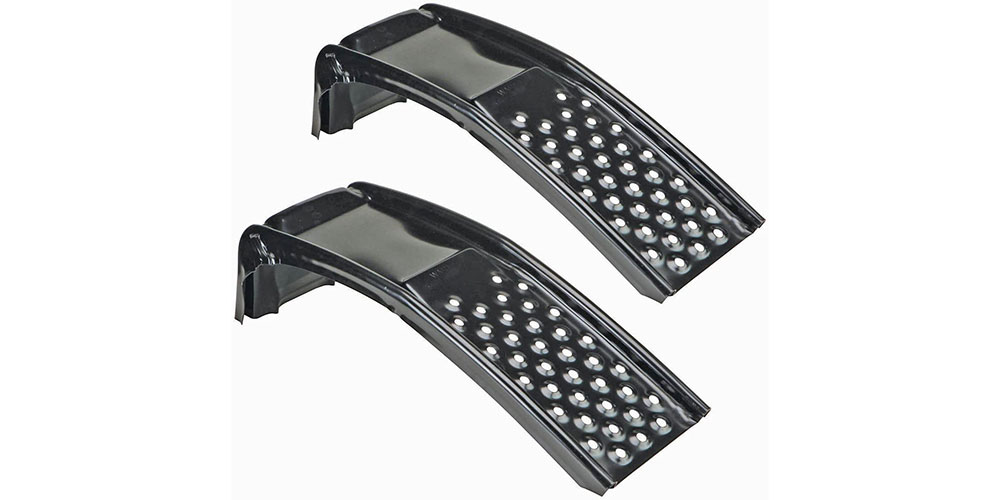 Next up on our list is the Nicky Nice Solid Steel Auto Ramps. This one is already different from the first two products on the list because of the construction material. These solid steel ramps have a weight rating of 6,500 lbs. These ramps feature a durable powder-coat finish that helps with their longevity plus wear and tear needs. They have safety ribs with punched traction holes contributing to durability and safety. These ramps are popular for use on a wide array of cars as well as trucks. They provide added confidence with their all-steel construction plus plenty of lift. You can also find incredible owner reviews online if you want peace of mind before purchasing these ramps.
According to reviews, these ramps work great with cars, trucks, SUVs, and minivans. However, some find it too steep for lowered or smaller cars. These ramps do not have an anti-slip treatment as well, so it would be best to be extra careful when mounting and dismounting from these ramps. It would be ideal to have a spotter to help you out when you utilize these car ramps.
Overall, we like the Nicky Nice Solid Steel Auto Ramps because they are solid, tough, affordable, and offer plenty of lift even for larger vehicles. Just be mindful that they have no anti-slip treatment.

#7 Rage Powersports Sports Car Service Ramp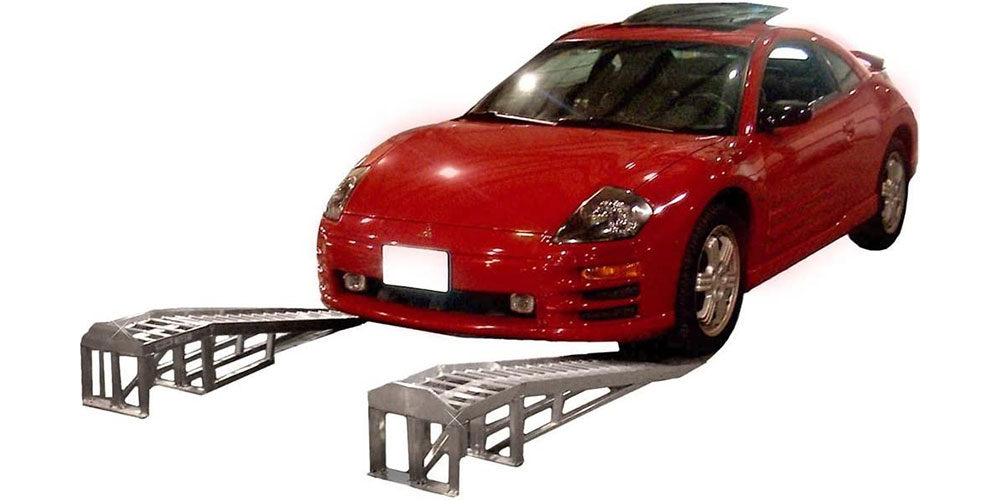 If you are looking for ideal car service ramps that work best with low-clearance vehicles, we highly suggest getting the Rage Powersports Sports Car Service Ramps. These ramps are composed of solid aluminum and offer a 3,000-pound capacity. They promise to offer 7 inches of lift even to the lowest show cars and sports cars. Due to their long length, these ramps can easily facilitate low-clearance cars. However, this is the same reason why it is not as portable as the other options available on this list. These ramps are perfect for sports car owners who love to show off their cars.
Overall, we recommend the Rage Powersports Sports Car Service Ramps because they work best for low-clearance vehicles and offer a solid construction even though it is relatively lightweight. The drawbacks of these car ramps are the lack of anti-slip provisions and limited portability because of their longer look. 

Essential Information About Car Ramps
With a better idea of the top 4 best car ramps available today, we recommend you keep reading to know more about car ramps and help you decide on which to finally purchase for your specific vehicle's needs. Below are considerations that you should take a closer look into to spend your money on the ideal car ramps.
When searching for car ramps, it would be best to determine the exact size, clearance, load capacity, and anti-skid provisions that you need beforehand. It would be smart to make a final decision after you have confirmed the weight of your car, the width of your tires, and whether your car might be too low to the ground or not when using the ramps.
Do you have a lowered vehicle? If you do, it would be smart to check if the car ramps you plan to purchase work best for low-clearance cars. There are car ramps that are engineered and designed specifically for these vehicles. You would want ramps that can accommodate your vehicle without damaging or scraping it.
You should not only check the clearance requirements underneath your vehicle but also consider the clearance required above. If you have a garage with a low roof, you don't want to purchase car ramps that would cause problems upon lifting. It would be better to check the clearance between the vehicle's roof and your car garage's roof against the lift height of the car ramps that you plan on purchasing. You don't want to waste money on car ramps that could potentially cause your car and garage to get damaged.
Another consideration that you check out is the anti-slip provision. There are car ramps that offer this provision to keep the vehicle in place. This provision helps prevent the ramps from moving, shifting, or launching out underneath the wheels when you try to mount your vehicle. We suggest that you get car ramps that offer this provision. If you have a garage with a higher-traction dirt floor or if you have a gravel driveway, this is less of a concern.
Tips
Upon purchasing car ramps, always double-check your vehicle's requirements. You should always compare this with what the ramps can offer. Always be mindful of the capacity of the ramp in relation to the weight of your vehicle. You should also check the width of your tires and compare it to the tire width that the ramp can handle. Lastly, always consider clearances. Check both the clearance beneath and above. You will be lifting your vehicle, so make sure that your vehicle's roof won't hit your garage's roof. That would be an absolute disaster if you fail to check it.
We highly suggest that whichever of these car ramps you choose, it would be smart to check them multiple times for strength and durability. Before you start servicing your car from underneath, you should have assurance that you will be safe. Safety should always be your first priority. Never overlook safety precautions.