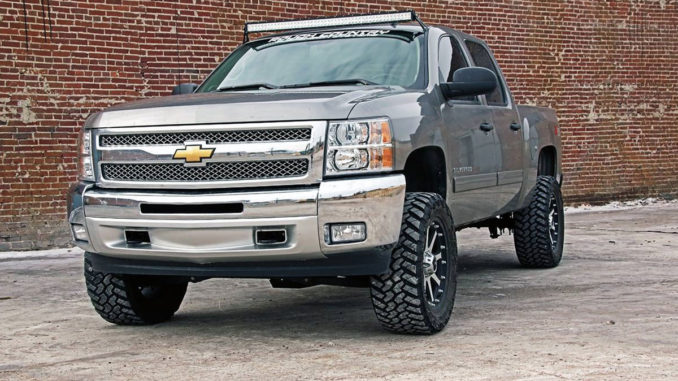 The Chevy Silverado is one of the most iconic American pick up trucks out there. They're tough, dependable, and they look awesome. After you've installed a lift kit and larger tires it may be time for some LED light bars. If you live in the desert like we do, wheeling at night time is preferred. Wheeling at night, however, can be extremely dangerous without an LED light bar.
In this short guide, we're going to cover the best LED light bars for your Chevy Silverado or GMC Sierra. We'll cover everything from 1988 to the current generation trucks. We're also going to cover the best LED light bar brackets which will make your install look much better.
Best Roof Mounted Light Bars for Chevy Silverado
Roof mounted light bars help eliminate shadows on the trail, and they look awesome. If you use the brackets that come with your new light bar, however, you'll have to drill holes in your roof/windshield frame. This will majorly damage your roof over time. For that reason, we're going to focus on light bars that you can buy vehicle specific brackets for.
#1 Rigid Industries 50" RDS-Series Midnight Edition

It's not really much of a secret how much we love Rigid Industries products. Not only are they insanely bright and actually project the light in a proper beam unlike cheap light bars, but they're also backed by an awesome warranty. Unfortunately, their products are very expensive, so if you know a Rigid LED light bar is out of your price range we listed cheaper light bars below.
This 50" RDS-Series output 26,150 lumens at 375W. We chose the midnight edition because the all-black design looks so much better than standard "chrome" light bars. If you like the look chrome don't worry they offer this exact product in a "chrome" design. We know some of you Chevy guys like to go really hard on your trucks and Rigid Industries knows this too. That's why this light bar is dust, water, and shockproof. Plus if you manage to somehow break it, it's covered by an awesome lifetime warranty.
If you're building a pre-runner you may want the straight version of this light bar which will project the light a little bit further down the trail. For typical trail riding, however, this RDS-Series light bar will be perfect.


Warranty: Lifetime
Power: 375W
Output: 26,150 lumens
#2 Rough Country 50" X5 Series

Second on our list is a much more budget-friendly product from Rough Country. Everyone wants a high-quality product, but not everyone can afford it. This 50″ X5 Series is a perfect balance between cost and build quality. Plus the unique X design helps Rough Country use an extra row of LEDs.
This light bar outputs 25,650 lumens at 285W. The only problem with the X design is that the projectors must be relatively small. Small projects mean it's much harder to project the light far forwards which is a major issue if you're going fast in the desert. If you're just cruising along, however, the X design will be perfect. This light bar isn't as tough as one from Rigid Industries with its IP67 waterproof rating. It also doesn't have as long as a warranty. It does, however, have a very attractive price.
If you plan on pre running with your truck you may want to look elsewhere. Rough Country has other budget oriented products that will do a much better job at projecting the light far forwards such as their Black Series light bars.


Warranty: 3 Years
Power: 285W
Output: 25,650 lumens
#3 Auxbeam 50" Philips 5D

Last, but certainly, not least is a light bar from Auxbeam. Quality is lower than a Rough Country light bar, but the price is even lower. So if you're on a really tight budget this is definitely the way to go. We've owned Auxbeam light bars in the past and had great success with them. Anything cheaper will really be a piece of junk.
This light bar from Auxbeam outputs an estimated 28,800 lumens at 288W. That lumen rating is estimated and if was properly tested it would probably be around 20,000 lumens. The 5D design helps this light bar project really far down the trail which is great for going fast. The flood beam projectors have little diffusers which helps spread the light improving how well the flood beam actually works. It's not nearly as tough as the other light bars listed above, but that's what happens when you buy extremely products.
We really wouldn't recommend this light bar unless you're on an extremely tight budget. The Rough Country light bar listed above is far superior in every single way and isn't that much more expensive.


Warranty: 1 Year
Power: 288W
Output: 28,800 lumens (Questionable)
Rough Country Chevy Silverado Brackets

Like we mentioned before, mounting an LED light bar to your roof without proper brackets will result in major dents on your roof. Not only will this cost a ton of money down the line to fix, but it will also cause your install to be really ugly. Rough Country makes some nice brackets for every Silverado/Sierra from 1988 to current. The brackets are made of steel so you won't have to worry about them bending, plus the brackets are powder coated with a durable finish.
Also included with the brackets are all the mounting hardware and some rubber pads to reduce vibrations. These brackets are super easy to install, easier than the crappy brackets that come with your new light bar in fact.


Best Bumper Mounted Light Bars for Chevy Silverado
One of the negatives about roof-mounted LED light bars is the windshield glare they produce. This happens when the light emitting from the light bar goes down onto the windshield and make it really hard to see out of. The easiest way around this problem is to mount a light bar down low on your bumper or grill.
#1 Rigid Industries 30" SR-Series Midnight Edition

Once again we've picked a Rigid Industries product for our number one spot. Mounting a light bar down low makes it more susceptible to getting hit by rocks. For this reason, you'll probably want a really tough light bar with a solid warranty.
This SR-Series from Rigid Industries uses a very low profile single row design. It outputs an impressive 11,250 lumens at 177W. Just like other Rigid Industries light bars, this one is water, dust, and shockproof. Plus even if you break this light bar it's covered by Rigid's awesome lifetime warranty.
If you really wanted to you might be able to fit a 40" SR-Series light bar on your bumper, but it'll be a tight fit. The product is pretty expensive for the amount of light it outputs, but we would definitely recommend this if you plan on wheeling your truck hard.


Warranty: Lifetime
Power: 177W
Output: 11,250 lumens
#2 Rough Country 30" Black Series

Second on our list is the 30" Black Series single row from Rough Country. We wanted to include the single row version of this light because a low profile light bar won't block the radiator. Plus mounting a light bar on your bumper will make it more susceptible to getting hit with rocks and decreasing the surface area of the light bar means there is less to hit.
We chose the Black Series because of its simple and clean look. Plus it will easily blend in with the rest of your truck. This light bar outputs 12,000 lumens at 150W which is actually slightly more than the Rigid Industries light bar listed above. Unfortunately, this light bar is only IP67 rated so it isn't as water, dust, and shock resistant as a Rigid light bar. If you manage to break this light bar it's covered by Rough County's three-year warranty.


Warranty: 3 Years
Power: 150W
Output: 12,00 lumens
If you're still unsure what light bar is for you be sure to check out our full Light Bar Buying Guide which is updated every single month.