The Nissan 370z is an amazing car. From performance to looks, there's really nothing much to can complain about it. Its 350hp engine can speed you up to 60mph in just 4.7 seconds, and it can boost up your confidence with all the heads you'll be turning while driving this car.
It is an impressive car, no doubt. But like every car in the market, it will always have room for improvement. The Nissan 370z straight out from the dealership looks nice, but it still has that obviously large fender-to-tire clearance.
You can fix this by installing an aftermarket coilover on your Nissan 370z.
Ladies and gentlemen, if you're on the hunt for some coilovers, then the cavalry has arrived. We listed down the best 370z coilovers so you won't have to scour the market.
Check out these coilovers and see what fits perfectly for your Fairlady!
#1 Rev9 Hyper-Street II Coilover Kit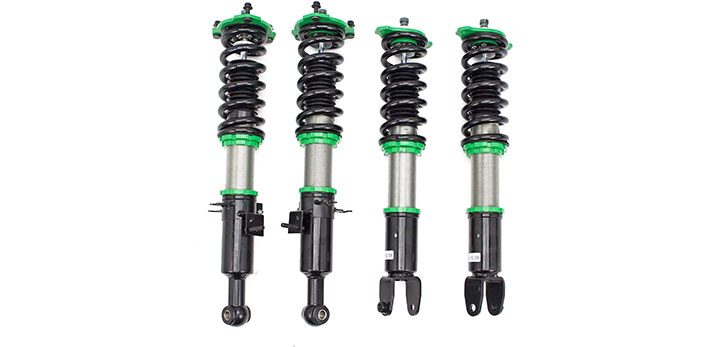 MANUFACTURER: Rev9
TYPE OF CONSTRUCTION: Monotube
SPRING RATE (FRONT/REAR): 784 lbs/inch – 672 lbs/inch
COMPATIBILITY: Nissan 370z (2009-2020)
First off, we have the Rev9 and their Hyper-Street II coilover kit. This coilover kit is slightly stiff, and the front of your car wouldn't fail you as someone would expect from the other coilovers in the market.
The finish is nice too, so the money you spend buying these will be worth exactly what you get.
What benefits can you get from this kit? First, the coilovers are designed to properly lower your Nissan 370z. Second, the monotube shock absorbers make your car ride quality stiffer, and it allow you to adjust the ride height separately.
To top it all off, the Hyper-Street Series utilizes monotube shock absorbers that give you up to 32 steps of rebound setting and can be adjusted to its fullest length. The spring tensions are also independent so you can customize how stiff you want your ride to be.
#2 HKS Hipermax IV GT Full Kit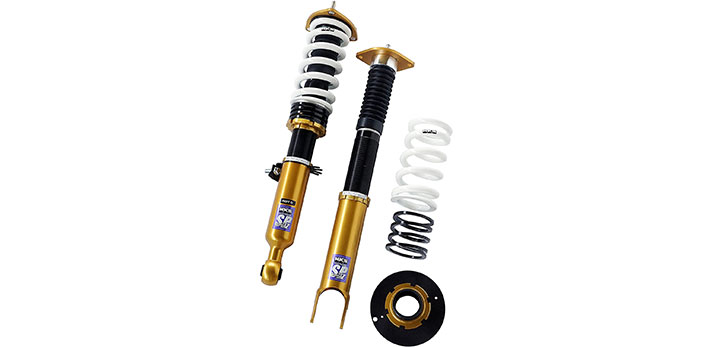 MANUFACTURER: HKS
TYPE OF CONSTRUCTION: Monotube
SPRING RATE (FRONT/REAR): 783 lbs/in – 783lbs/in
COMPATIBILITY: Nissan 370z (2009-2018)
Do you want a premium coilover for your Fairlady Z? Is your budget not that restricted? If so, HKS has something for you. Featuring their Hipermax IV full kit, which will do your car a tremendous amount of good.
HKS has been on the track racing scene for a very long time now, and they do know how to give the Fairlady a good time.
What's with the Hipermax IV? The new Max IV can be considered as a coilover design that will give you the thrill of racing. With its racing-inspired components, you'll get a sporty vibe while driving.
And also, you'll be able to handle your car better, thanks to the monotube dampers that give you enough stability like you've never had in your life.
Aside from that, you can adjust the dampers for up to 30 steps. This allows you to fine-tune these coilover on your car, whether it's for the streets or for the track.
#3 Tein Street Basis Z Coilover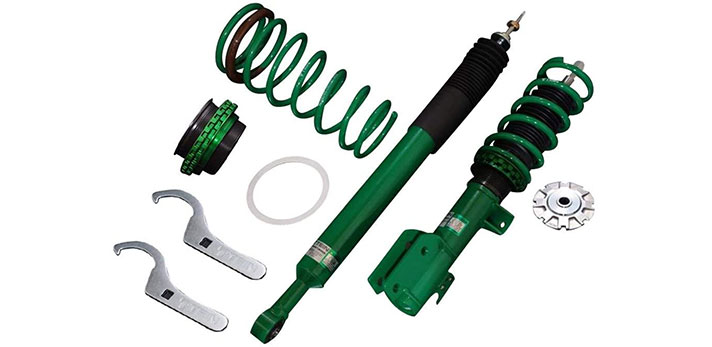 MANUFACTURER: Tein
TYPE OF CONSTRUCTION: Twin-tube
SPRING RATE (FRONT/REAR): 504 lbs/in – 448 lbs/in
COMPATIBILITY: Nissan 370z (2009-2016)
There is a fine line between affordability and quality. Luckily for you, the third coilover on this list is on that very fine line. Introducing Tein and their Street Basis Z coilovers. a coilover kit strictly made to adjust the ride height of your car.
This specification sets up the type of handling performance that the daily driver is looking for.
Tein, Tein, what can you get on our veins? A dose of sports performance and a stance with a new level of aggression! Springs that don't sag, a twin-tube design to make the damping great, and tubes made from high-quality steel that makes durability possible.
A quick note about twin-tubes. Although twin-tubes have valves that work separately, the monotube still functions better than the former. Most drivers prefer monotubes because they respond better than the twin-tubes, especially when it comes to ride stiffness.
#4 BC Racing BR Series Coilovers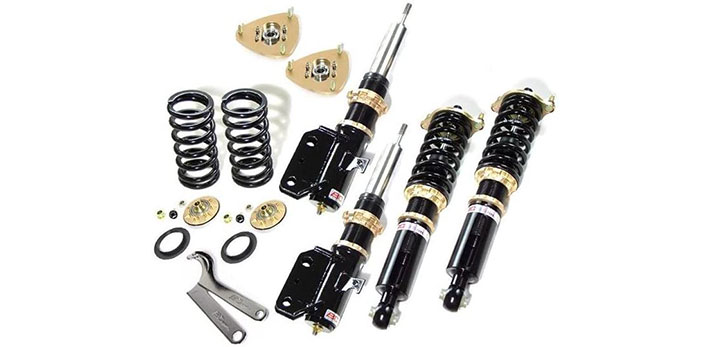 MANUFACTURER: BC Racing
TYPE OF CONSTRUCTION:
SPRING RATE (FRONT/REAR): 560 lbs/in – 450lbs/in
COMPATIBILITY: Nissan 370z (2009-2016)
There's no better way to get Nissan 370z's best coilovers than to acquire them from the popular brands. BC Racing has established themselves among the suspension making legends, making only the best products that they can make.
And this time, they have the BR Series Coilovers for your Nissan 370z.
The BR Series coilovers contains all the necessary components to make street driving and track racing a satisfying experience. All the parts like the adjustment knobs, shock stroke, spring preloads, and other components make the performance level of the Nissan 370z rise up on another level.
#5 KW Variant 3 Coilover
MANUFACTURER: KW Suspensions
TYPE OF CONSTRUCTION: Monotube
SPRING RATE: Progressive
COMPATIBILITY: Nissan 370z 2009-2015
Now if you have no trouble making it rain, then this coilover is perfect for you. Featuring the last of the Nissan 370z coilovers, the KW Variant 3 Coilover. For such a high price, you get the best components and performance that you can get for your beloved Nissan 370z.
This premium buy gives you the following features. First, an adjustable rebound to give you the freedom to control how fast the tires respond to road bumps. Second, the progressive springs allow you to adjust the height to whatever you see fit.
And lastly, KW Suspension implemented Inox-line stainless steel to make the tubes extra durable.
This coilover is a bang for the buck purchase. But of course, if you have enough resources. KW Suspension made a top-tier coilover made to make your Nissan 370z a car to be reckoned with.
And there you have it! These are Nissan 370z's best coilovers that you can find out there. Check each one out and find the best one for your Nissan 370z to make it the sickest, the most stylish, and the most aggressive Fairlady on the streets!