Cars like the Subaru WRX attract so much attention than it should have. Many are so hooked by this car – for so many good reasons. Style, performance, and handling, just to name a few. We all know that JDM cars are great, but something as fascinating as the Subaru WRX can be difficult to find.
The Subura WRX straight from the dealership is awesome, but did you know that you can make it even more awesome? You can! By adding modifications like coilovers, you can improve your Subaru WRX's performance. Be prepared to experience a Subaru WRX as you've never had before.
In the case of coilovers, they function as a suspension system that lowers the center of gravity of the car. Don't get us wrong. The OEM suspension system is nice, but aftermarket coilovers are even better than the former. It offers better handling, adjustability, and overall balance for your car.
Are you looking for the best coilover for Subaru WRX? If so, then you should scroll down below and check out a list of the best Subaru WRX coilovers. They all came from popular brands known for their durability and longevity. Check them out to see what's best for your Subaru WRX?
#1 Tein Flex Z Coilover Kit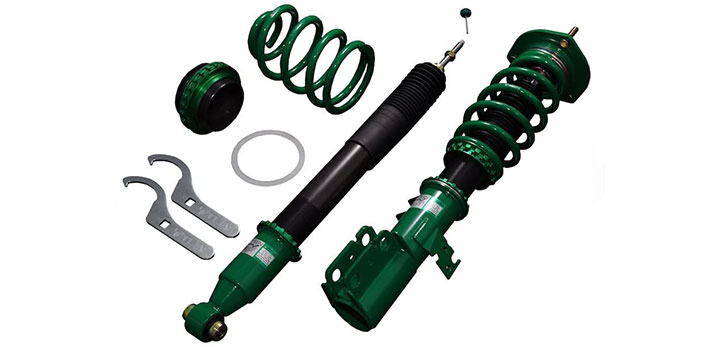 MANUFACTURER: Tein
TYPE OF CONSTRUCTION: Twin-tube
SPRING RATE (FRONT/REAR): 448lbs-in/392lbs-in
COMPATIBILITY: Subaru WRX (2015-2020), Subaru STI (2015-2020)
Coming on as the first of the best coilover for WRX, we have Tein's Flex Z Coilover Kit. Tein has a reputation for making many vehicles stoked and awesomely tuned up, thanks to the various aftermarket parts that they offer. If they can level up other cars, then they can certainly level up yours.
What do you get from the Flex Z coilover kit? A twin-tube coilover that will adjust your ride height up to its maximum length. It can also adjust the damping force experienced by the coilover, thanks to its adjustment system. Aside from that, the kit covers upper mounts specifically made for this coilover only.
If there's something unique about this coilover kit that you should look forward to, it's the 16 steps of damping adjustments that you can do. With this wide range of control, you can be assured that your Subaru WRX can feel the best handling experience that it will ever have.
#2 BC Racing BR Series Coilovers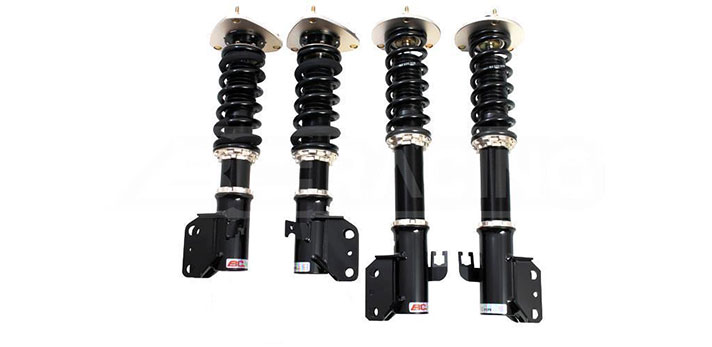 MANUFACTURER: BC Racing
TYPE OF CONSTRUCTION: Monotube
SPRING RATE (FRONT/REAR):
COMPATIBILITY: Subaru Impreza WRX (2002-2007)
The BR Series coilovers are the most popular choice when it comes to BC Racing's suspension systems. With its top-tier quality, it is the ideal choice for those who want to feel the need for speed, both on roads and autocross duty. The BR Series' price is fairly reasonable too, considering the amount of good stuff that it covers.
So let's dive into the contents of the package. The monotube shock absorbers will make sure that the damping force is generated consistently. This translates to a heightened sensitivity to movements at low revs. You can also adjust the ride height to whatever you wish it to be, thanks to the adjustable height system that covers the full-length.
To add a cherry on the top, the BR Series coilover is available in two options: the standard one and the extreme low. If you're the kind of Subaru WRX driver that enjoys an extremely lowered WRX, then you can opt for the latter one. But if not, settle for the former. Both are great choices!
#3 JDMSpeed Suspension Kit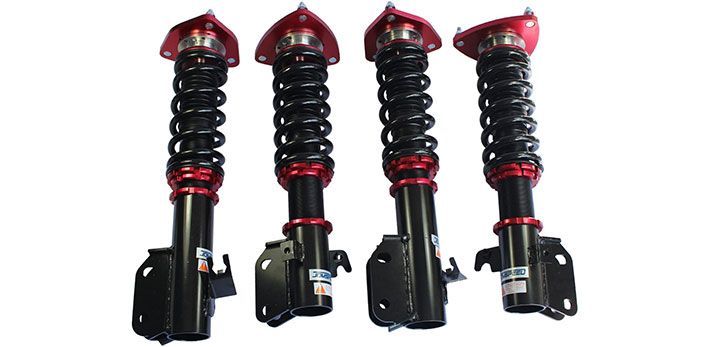 MANUFACTURER: JDMSpeed Store
SPRING RATE (FRONT/REAR): 448 lbs-in/336lbs-in
COMPATIBILITY: Subaru Impreza WRX (2002-2007)
When it comes to coilovers, you should always choose the best ones in terms of its capability to make your ride easier to handle.
But what if you don't have the budget to purchase the overly expensive ones? If you're one of the people who wants a great coilover kit that is affordable but doesn't compromise on performance, then JDMSpeed's suspension kit is for you.
The JDMSpeed suspension kit has most of the things that the higher-priced coilovers have. Adjustable height system? Check. Lower mounts that are independent and adjustable? Check. Improved handling? Double check!
Chances are you haven't heard of the JDMSpeed Store. We can't blame you, but don't worry! The brand is reliable enough to garner the love and attention of many previous buyers, so drop your troubled thoughts because JDMSpeed has your back.
#4 Rev9 Hyper-Street II Suspension Kit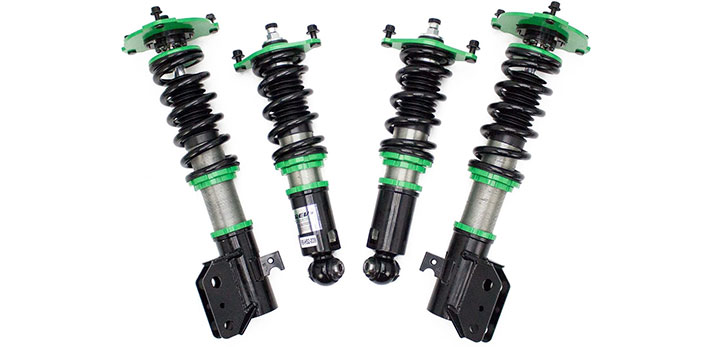 MANUFACTURER: Rev 9 Power
SPRING RATE (FRONT/REAR): 448lbs-in/448lbs-in
COMPATIBILITY: Subaru Impreza WRX (2008-2014)
Rev9 can be considered as that kid who loves nerding out on the craft that he loves and can be reliable enough to produce the most awesome project that anyone has seen. Rev9 offers you their much-loved Hyper-Street II suspension kit, capable of turning over your Subaru WRX into something much greater, suspension-wise.
This coilover kit can be considered as one of the best coilovers for Subaru WRX. Why?
The damper system setup it has will lower your vehicle in the most appropriate way possible. The spring rates are specifically paired with the length of the monotube shock too to make sure that it functions properly.
Aside from that, the suspension kit also offers full-length adjustability and mono-tube shock absorbers capable of 32-step adjustment. Cool, right?
#5 KW Coilover Kit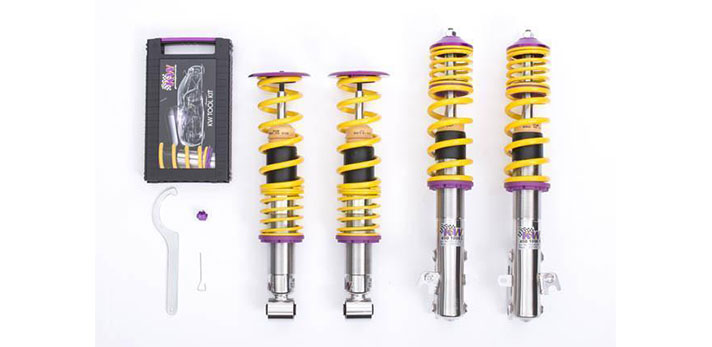 MANUFACTURER: KW Suspensions
SPRING RATE (FRONT/REAR): 400lbs/in/ 285lbs/in
COMPATIBILITY: Subaru WRX (2015-2020), Subaru WRX STi (2015-2020)
You save the best for last, right? The last on our list would be the KW coilover kit, the most premium buy of them all. It comes with improved driving dynamics and optimal performance like you've never had. It comes with an individual lowering range too!
To put it simply, this is the best coilover system that you can get for your Subaru WRX – if you have the budget. The contents and the materials of this coilover kit are just too good! Inox-line stainless steel, individually adjustable heights, sporty and comfortable damping, just to name a few.
The KW suspension kit is a 5/5 coilover kit that will greatly improve your handling, cornering, and maneuverability. The only downside is its price. But to be honest, whatever cons that this suspension kit has will be stepped over by the pros that you can get. A truly bang for the buck purchase for your Subaru WRX!
The Reason Why Your to Upgrade Your Subaru WRX's Suspension System
The Subaru WRX came from a line of hyper performing rally cars that dominated the racing scene for far too long. At default, it has a high-performance suspension system that can do you wonders at its best. 
But what if you can upgrade them? To ask a better question, why should you even upgrade them in the first place?
Lowered Center of Gravity

Once your Subaru WRX is installed with the right coilovers, the center of gravity will be lowered enough to allow you to corner and maneuver better. It stiffens up your chassis too. Nothing looks cooler than a lowered Subaru WRX, right?
Adjustability

Subaru WRX drivers, just like any driver who loves their car so much, would love to control every aspect of the car. This is to ensure that everything functions perfectly. Coilovers offer the same relief, in the form of adjustability.Coilovers oftentimes comes with adjustable systems. Adjustable ride height allows you to control the Subaru WRX's ride height to whatever you see fit. You want it lowered just a little bit or do you want it lowered to the extreme? Your choice!
A High Level of PrestigeWhether we like it or not, most neck-turning cars are those with lowered set-ups. When you tell your friends that you've got a coilover installed in your Subaru WRX, chances are you'll get some additional points. Why? Because suspension system upgrades are cool!

Aside from that, coilovers are well known to be a performance mod. A Subaru WRX equipped with aftermarket performance mods is more likely to perform better than a Subie without any performance mod installed.
Four Key Things to Look Out For When Buying A Coilover
Here are some of the things to look out for when shopping for some coilovers for your Subaru WRX.
Spring RatesThe right spring rate will determine the capability of the vehicle to handle bounces and bumps.
Adjustability of the Springs and ValvingGaining control over your car's springs and valving will give you an edge. A fine-tuned Subaru WRX will give you better handling capabilities and control over your car's ride height.
Top MountAftermarket coilovers offer stiffer rubbers on the top mount that makes the coilover last longer.
Tube DesignFor the Subaru WRX, the better choice to make is to purchase monotube shocks instead of twin-tube shocks. This is because monotube shocks are designed to perform better on street and track compared to the twin-tube shocks.
Buying the right coilover kit for your Subaru WRX will determine the difference between a hassle-free ride and a stressful ride. But in the end, a Subaru WRX with an upgraded suspension system is far better than a Subie without one.