Intake systems are one of the best aftermarket performance mods that you can get for any vehicle. As for the Acura RSX, you'll get tons of benefits simply by just installing one.
If you're looking for a modification that will give you a massive realistic boost in terms of horsepower and torque, then an intake system is your friend.
A car as awesome as the Acura RSX deserves all the love and attention that it can get. With a new aftermarket intake system installed in your Acura RSX, you'll capture even more attention just by the sound that it makes under the hood. It's sick!
Not mentioning all the praises you'll get from other car enthusiasts that acknowledge that your Acura is not naturally aspirated anymore. Intake systems levels up your car in many ways possible; one of those was the additional power and torque output that you will get just by simply installing one on your Acura RSX.
Interested? We can't blame you! Intake systems are the type of performance mods that will make you grin with delight, especially after realizing that the right purchase will give you the best experience.
Check out the list of the best Acura RSX intake systems below!
#1 aFe Takeda Cold Air Intake System
Manufacturer: aFe Power
Features: Dry S filters
Power Gain: 8hp
Compatibility: Acura RSX (2002-2006)
A lot of people value convenience. Frankly, we want things to be done as quick, clean, and perfect as we possibly could. Air intake manufacturers have adopted the same type of behavior when it comes to air filters.
aFe Power, for example, utilizes an air filter named Pro Dry S which keeps airflow easy and convenient.
aFe Power is indeed a powerhouse when it comes to air intakes and that is evident in their cold-air intake system. Theirs are manufactured from durable tubing material made to optimize airflow while keeping style in check.
The improved airflow results in additional increases in horses and torque, 8hp, and 12lb-ft respectively.
And not only that, their air filters are great too! The Pro Dry S filter was specifically designed to be low maintenance. The intake houses a 3-ply progressive media that can be washed with only soap and water; no oil is required!
On top of that, the tubings are coated to fend off corrosion and discoloring. It can be annoying to see the intake tubes getting rusty, right?
#2 Injen Technology Black Mega Ram Cold Air Intake System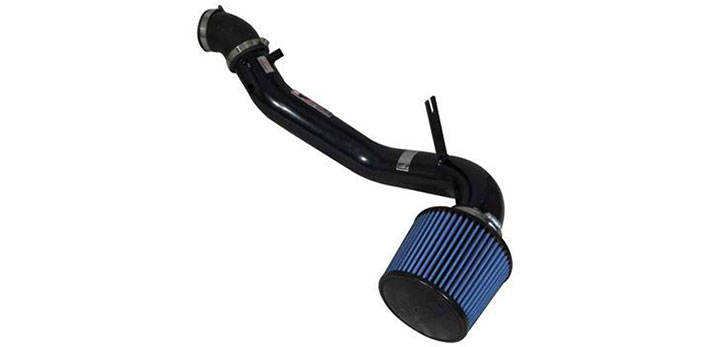 Manufacturer: Injen Technology
Features: Aggressive tone, especially in full throttle
Power Gain: Up to 15hp
Compatibility: Acura RSX Type-S (2002-2006)
The spotlight now comes for the Type-S owners who want to make their car a true blue sports hatchback. Injen Technology features their Black Mega Ram, a cold-air intake kit better than the most aftermarket intakes available in the market.
If you want the best intake for Acura RSX Type-S that produces an aggressive tone, here's your chance.
Unlike most cold-air intake systems, the Black Mega Ram's tubing was made from aluminum, particularly 6061-T6 aluminum. This is ideal especially for those who prioritize weight reduction since aluminum is far lighter than steel.
These tubings promote improved airflow, forcing in cold air to efficiently burn fuel. By doing so, more power and torque is produced. All of those excess ponies and torques are enough to make a grown man cry!
On top of that, you have to option to purchase other complimentary items such as a hydro shield and replacement air filters. With all of these lightweight performance components in mind, you'll know that Injen Technology is up to something serious.
#3 AEM Red Short Ram Intake System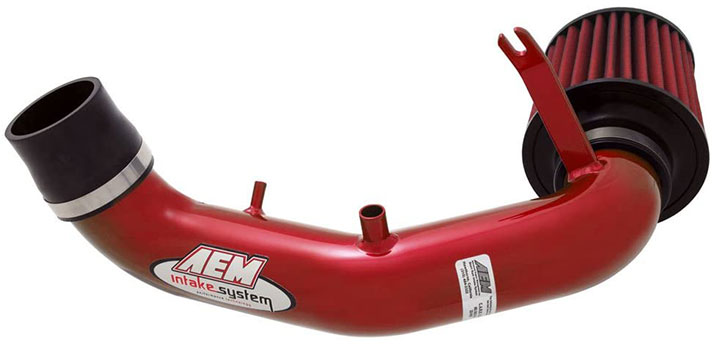 Manufacturer: AEM

Features: DryFlow synthetic air filters
Power Gain: N/A
Compatibility: Acura RSX (2002-2006)
AEM's legacy spans more than three decades. Their expertise in designing performance aftermarket induction systems is unquestioned, and their commitment to their customers unwavering.
That's why when AEM offered their short ram intake to the market, they're making a statement.
AEM's short ram intake system came out of their factory to do two things: bring additional horsepower and torque to your car and make it sound super awesome. They use their very own filters, aka the DryFlow.
This synthetic filter is washable and can filter the ambient air excellently.
To make matters even better, the DryFlow air filter is connected to a durable tubing made from aluminum. This highlights the weight reduction that aftermarket air intakes offer to all vehicles, especially the Acura RSX.
This makes the AEM short ram intake one of the best short ram intakes for the Acura RSX.
#4 K&N Cold Air Intake Kit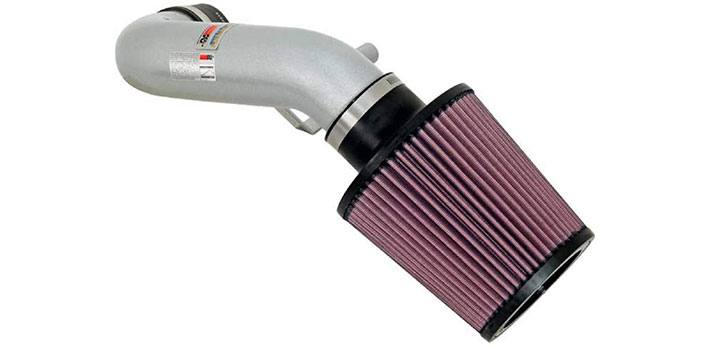 Manufacturer: K&N Engineering
Features: Oversized air filters
Power Gain: 2.82hp
Compatibility: Acura RSX (200-2006)
Picking the right air intake system for your Acura RSX can be difficult, we get that. So if you want someone trustworthy enough to give your Acura RSX a good time while taking good care of it, then it's your time to shine.
K&N Engineering is one of the pioneers when it comes to performance induction systems, and every customer around the world loves their products.
So what does K&N cold-air intake have in store for you? K&N's intakes are notorious for being extremely reliable and trustworthy. That's all thanks to the guaranteed benefits that it gives, such as excess ponies and torque, a more responsive throttle response, and easy installation.
Keep in mind though that this cold-air intake system replaces the entire OEM intake system on your Acura RSX. So if you're not skilled or knowledgeable enough to install it by yourself (even if it's super easy), then you should ask for a professional's help.
#5 DC Sports Short Ram Intake System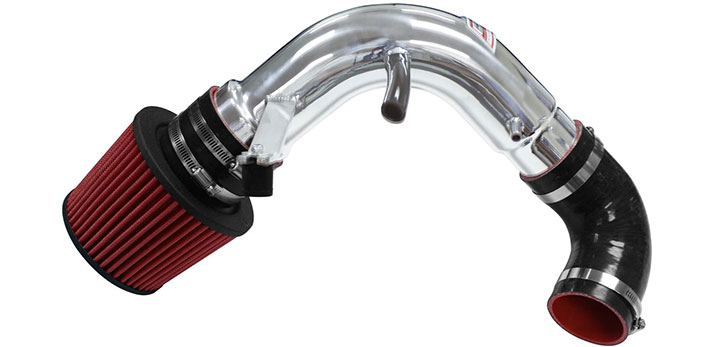 Manufacturer: DC Sports

Features: Cheap but effective
Power Gain: N/A
Compatibility: Acura RSX Type-S (2002-2006)
Now if you don't want to spend too much money on aftermarket performance mods such as a cold-air intake but you still want to have one, then stop stressing out – DC Sports got something for you!
Featuring DC Sports and their short ram intake, which can add horsepower and torque just like the other intakes on this list. This air induction system may be cheap, but it has enough juices in it to make your car breathe better.
Hey, it's just doing its job; no need for tips.
Its affordability and reliability make the DC Sports short ram intake one of the best intakes for Acura RSX Type-S.
How to Choose the Best Aftermarket Cold-Air Intake System
So you want to buy an aftermarket air intake system. But the truth be told, you're having a difficult time. No worries; we got your back!
Purchasing induction systems for your vehicle can be intimidating at first, but it doesn't always have to be that way. The list below will help you out in choosing the best aftermarket cold-air intakes you can have for your Acura RSX.
1. Type of Material Used
The type of material is important. If you're not picky and you just want a brand new aftermarket exhaust, go for stainless steel. But if you're concerned about weight reduction and you want to keep your vehicle as light as possible, then opt for aluminum-made tubings.
2. Type of Cold-Air Intake
There are two main types of intake systems for vehicles. First is the cold-air intake, where the system focuses on producing even more supplemental airflow by moving the filter as far away as possible. The next one is the short ram intake, where the air filters are more accessible and require less work.
3. Intake Tube Flow
The best automotive air intake systems have the most optimized airflow. All air intakes have that, but the intakes listed above are some good examples of how the right intake system will optimize your airflow to force down the air in your engine more efficiently.
4. Protection
Protection? Protection from what?
Protection from heat and water, of course! Some aftermarket intake systems offer heat shields to protect the engine from too much heat, while hydro shields will keep water off of your filters.
You might consider these things as just mere additions to the intake system itself, but frankly, it's the little things that count the most. Problems usually arise from small holes that haven't been solved. You wouldn't want to overheat your engine, right?
5. Vehicle Fitment
Another factor that people keep on overlooking is vehicle fitment. Air intake systems are usually built for specific car models. And this time, the intakes above are made for both the trims of the Acura RSX: the base model, and the Type-S.
And also, the hunt for Acura RSX intake systems is not even that difficult because of a few reasons. First, the car is old. Second, it had a cult following, so aftermarket mods are rampantly manufactured.
And third, it only lasted for 6 years, so you won't have to worry about scrolling down and finding the right year model.
The Acura RSX is one of those cars that looks and feels better with aftermarket performance mods installed on. One of those mods is the cold-air intake system. By picking the right one for your Acura RSX, you will surely have the ride of your lifetime.