The Nissan 240SX S13 was widely celebrated on U.S. soil even up to this day. It's knack for style, novelty and performance puts this JDM icon on the pedestal. A lot of car enthusiasts are in love with this car, and that's because of this car's potential for modifications.
One such modification you can get for your Nissan 240SX S13 is a cold-air intake kit. Whether your ride is turbocharged or not, a cold-air intake kit will help the engine a lot in terms of fuel combustion.
A cold-air intake kit can optimize the fuel combustion of your car, producing additional power to some degree. Plus, it also makes a cool sound under the hood too!
The list below features the best cold-air intake kits that you can find out there. They vary from price to price, but each of them has a unique feature to offer. The S13 may be old, but there's still some air intake systems available for this bad boy.
Check them out!
#1 APEXi Power Intake Kit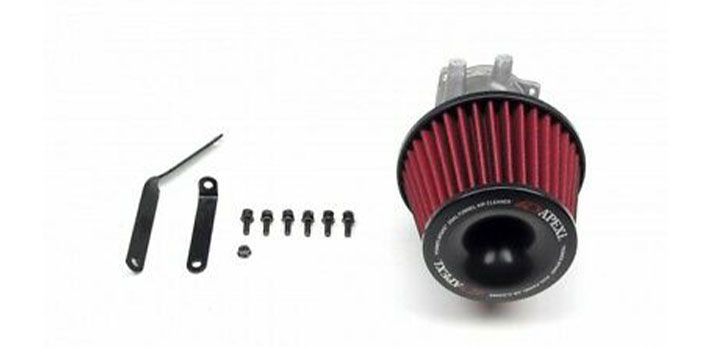 Manufacturer: Apexi
Part Number: 507-N003
Features: Dual Funnel Design
Compatibility: Nissan 240SX S13 CA18DET (1989-1991)
Apexi Power is a product of innovation. Made from the design of its former intake model (Super Intake), this intake system surpasses what the previous one can offer. It has better airflow characteristics, a more efficient air filtering system, and an increase in airspeed without diverting the direction of the air.
All of this good stuff just for the Nissan 240SX S13.
The Apexi Power Intake kit features a low restriction air filter which utilizes a duel funnel filter system. This innovation came to fruition because of the race cars that particularly use air funnels: the side surfaces are used while the middle part is virtually unused.
It was also designed to be inclined by 14° to maintain maximum airflow efficiency.
This air intake incorporates a brand new air filter material: a dryer and more dense fiber material that siphons air better. By doing so, it further eliminates the contaminants in the air that might harm your engine.
This air filter does not need any maintenance (unless necessary), so expect a convenient and low-cost ride experience.

#2 AEM Blue Short Ram Intake System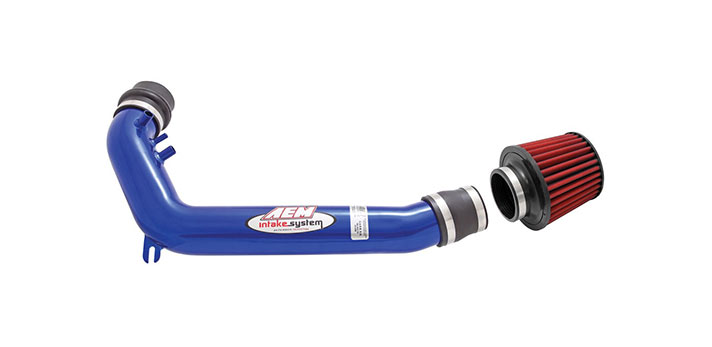 Manufacturer: AEM
Part Number: 22-440B
Features: Dryflow synthetic washable air filter
Compatibility: Nissan 240SX S13 L4 (1991-1994)
Aside from the most common cold-air intake, there is another type of air intake system that can massively affect your car's performance. This right here is a short ram intake system from AEM, one of the most trusted air intake manufacturers.
Their intake kits are specifically designed to make the Nissan S13 more powerful while delivering cold air into the engine.
So what can this short ram do? This affordable yet simple upgrade can amp your Nissan S13's horsepower significantly. Aside from that, it can filter the air efficiently before it gets sucked into the engine.
AEM's Dryflow media can be found inside the intake and is primarily the reason why this short ram intake is good with its filtering job.
AEM has been catering to different vehicles such as trucks, sports cars, SUVs, and any car that needs to breathe – and they're great at their job.
The intake is really easy to install and is perfect for people who want their Nissan 240SX to emit that resonating under-the-hood sound can make a car enthusiast like you grin from ear to ear.

#3 K&N Cold Air Intake Kit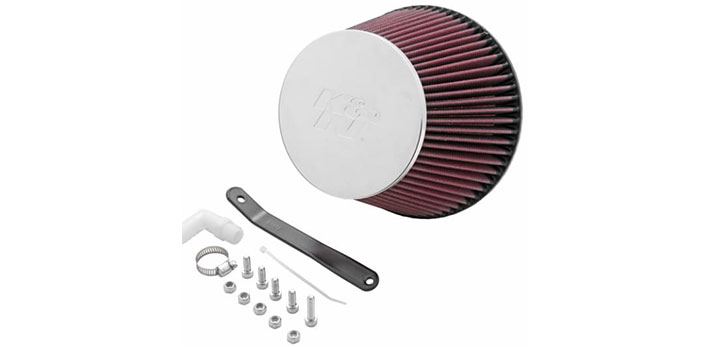 Manufacturer: K&N Engineering
Part Number: 57-6000
Features: Oversized air filter
Compatibility: Nissan 240SX S13 L4 (1989-1993)
K&N has been one of the most trusted providers of air intake systems for various cars. That's mainly because their product is reliable, tough, and filters the air like a true blue expert.
The air intake system specifically made by K&N for the Nissan 240SX has two main missions: to dramatically reduce air restriction and significantly improve the airflow going in the engine.
So what does the K&N filter do for your car? First, a guaranteed increase in your car's power output. With the tried-and-tested K&N filter, it beats the living crap out of the OEM box air filter.
Why? K&N's filter provides up to 50% better airflow compared to the stock filter, that's why!
Overall, the K&N filter is a great air intake system if you're looking for something to use long-term that is low maintenance and easy to install. On top of that, K&N's million-mile limited warranty ensures that your purchase is protected.
In summary, you get horsepower, improved sound, and world-class engine protection; all courtesy of K&N.

#4 DC Sports Short Ram Intake System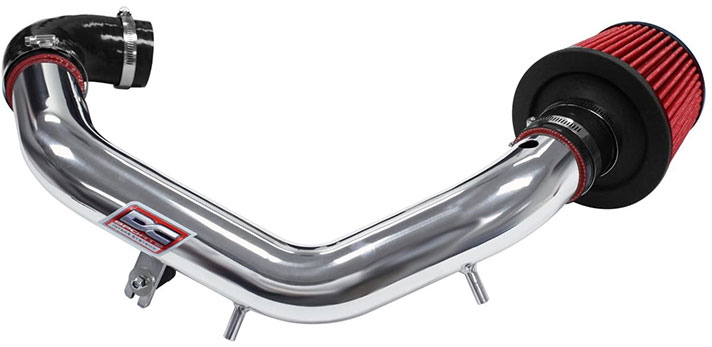 Manufacturer: DC Sports
Part Number: SRI4203
Features: No oil required
Compatibility: Nissan 240SX S13 L4 (1989-1994)
DC Sports' short ram intake system is a bang-of-the-buck replacement for the Nissan 240SX S13's stock intake system. It's reliable, it's affordable, and it delivers to you what it promised: an increased throttle response plus a horsepower increase without compromising fuel consumption.
Come take a look at what this short ram intake system can do for you.
This short ram intake is a great partner for your S13, mainly because it can improve your vehicle in a lot of ways. It can improve your throttle response, provide you with a significant increase in horsepower, and better mileage.
What more can you wish for a Nissan 240SZX S13 than to have it cruise the streets with ease?
On top of that, it fits the SR20DET engine swap. Do you know what this implies? It means you get to enjoy a turbocharger together with DC Sports' short ram intake. That's overkill on power and speed!
There are so many benefits to enjoy in DC Sports' intake system, and you're guaranteed to enjoy them too once you get this intake on your hands.

Is Getting a Performance Intake System Worth It?
Well, is it? The short answer is yes. Getting a performance intake system to replace your stock intake system would be worth your while. As you see, the OEM intake system is made to be more restrictive.
It provides the standard amount of restricted airflow and minimizes noise for the fresh out-of-the-factory car.
There are three main reasons why you should ditch the stock intake system and replace it with a performance intake system.
The Stock Intake System Is Too Restrictive
The OEM intake has too many twists and turns, not allowing the air to go into your engine as efficiently as possible. It is designed that way to minimize the noise that the intake system creates.
All of those restrictions don't allow cold air to go inside the engine, and thus preventing the engine to burn the air-fuel mixture efficiently.
Getting an aftermarket performance intake system will relieve all of that restrictive pathing. Aside from that, this new addition to your car offers you a much more easy-flowing path, mandrel-bent to make sure all of those pipe losses are minimized.
The Sound Under the Hood Is Too Quiet
Don't get us wrong: a quiet car is nice, especially if you want to be a low profile casual driver. However, if you want to stand out while driving your Nissan 240SX S13, you need to release the reigns off of your horses and let them neigh as loud as possible!
By replacing the OEM intake system of your Nissan S13, you allow it to freely produce a wonderful sound that indicates that the engine is breathing better. It's the little things in life that count, right?
The Airbox is Poorly Misplaced
The airbox is usually located inside the engine compartment, and frankly, that doesn't do your car any good. The OEM airbox tends to suck up hot air, and the engine would have a bad time burning the fuel as efficiently as possible.
Aftermarket performance air intake systems are placed outside the engine compartment, allowing cooler air to be sucked up into the engine. The cooler the air, the more oxygen it has.
And the engine likes that!
The Air Filters Barely Filters
The filters OEM air intakes use resembles cheap paper, and it does what it is expected to do: to filter the air. However, due to its make, it restricts the air even more and prevents optimum airflow.
The air filters used by performance intake systems manufacturers these days are innovative, durable, and low maintenance. Usually, they offer air filters that are washable and don't require oil to function.
This permits better filtration, making the air going inside the engine free-flowing and contamination-free.
You'll Get Tons of Benefits From a Performance Intake System
By getting your hands on a new performance intake kit, you're guaranteed to have an increase in horsepower, a better throttle response, and an improved fuel
economy.These are such useful benefits especially if you're the Nissan 240SX S13's performance capabilities.
There's a lot of benefits from replacing your stock intake system with a new one, preferably a performance intake system. It's affordable, reliable, and most of all, it delivers the performance aspects that it promises.