SUVs are just perfect vehicles when you want to conquer the frontier. Just like pickup trucks, they can do well when subjected to rough terrains. This feature makes them highly desirable, allowing it to have so many followings and admirers.
If you own a Toyota 4Runner, chances are you have already seen what it can do. Highways? Easy. Off-road? Too easy. The Toyota 4Runner is built to withstand tough topography and demanding roads while carrying so many people inside.
The Toyota 4Runner is indeed a reliable SUV, capable of driving you to whatever off-road course you want. The OEM intake system does a very good job of pushing some fresh air into your engine.
This component is responsible for the excess air involved in the burning of the fuel inside the cylinders.
However, there are a lot of aftermarket exhausts out in the open that steps above the OEM Toyota 4Runner exhaust. They provide more benefits than the stock intakes, such as minimized drones, better filter services, and most of all, higher power output.
Ladies and gentlemen, if you're looking for some aftermarket exhaust to spoil your beloved Toyota 4Runner, then you're in for a treat!
#1 Spectre Performance Air Intake Kit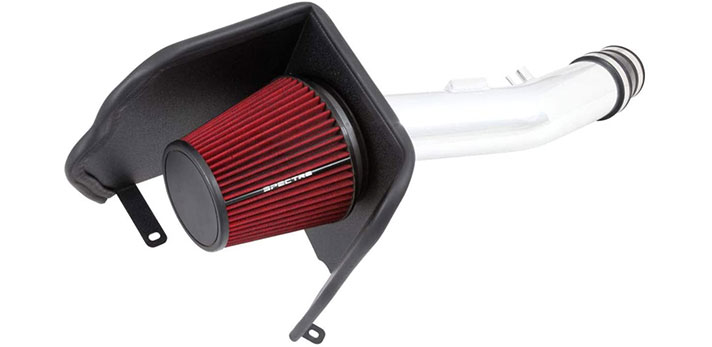 Manufacturer: Spectre
Features: Two-piece heat shield
Power Gain: Up to 23hp
Compatibility: Toyota 4Runner (2010-2019)
The first one on the list is one of the fan favorites: the Spectre Performance air intake kit. It is specifically designed to make your Toyota 4Runner run faster and make it more powerful than ever before.
Just imagine having an additional horsepower of up to 23hp just by installing an aftermarket intake system!
Spectre is a respected brand of intake system manufacturer, and they will surely give your 4Runner a good time. This performance intake can make your SUV reach its performance level, thanks to this intake system made from aluminum and partnered with reusable air filters.
The great thing about this intake is the amount of power that you get when you have it on. Just imagine what you can do with an additional horsepower of up to 23hp! What would you with it?
Would you go out of the mountains to camp? Would you go to the desert and run wild? Whatever floats your boat!
#2 K&N Cold Air Intake Kit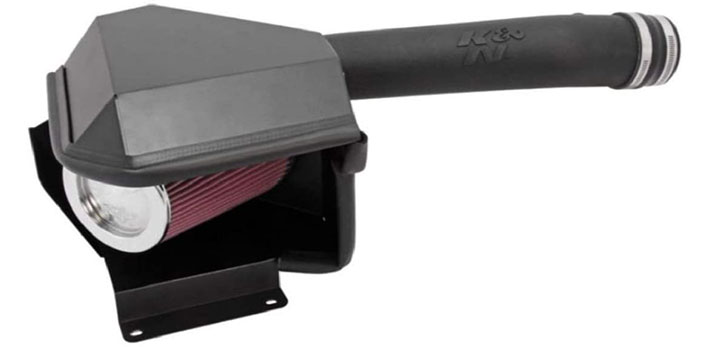 Manufacturer: K&N Engineering
Features: Oversized air-filter
Power Gain: 12.18hp
Compatibility: Toyota 4Runner (2010-2019)
K&N is arguably one of the most customer-favorite brands of cold-air intakes. They are known for their reliability, quality, and most of all, durability. For a fairly affordable price, you get a cold-air intake that pars with the premium brands.
This cold-air intake is a total bang for the buck!
The K&N cold-air intake kit features a lot of goodies that you will truly love. K&N made sure that you'll get an increase in horsepower; a guaranteed power gain of up to 12.18hp.
The cold-air intake also improves the throttle response, plus the awesome sound that it makes under the hood is just too good!
The tubing made from polyethylene makes the flow of air into the intake optimal. This allows better air-fuel combustion, which equates to more power. This cold-air intake system replaces the stock intake entirely and can be installed easily. No-fuss!
#3 S&B Filters Cold Air Intake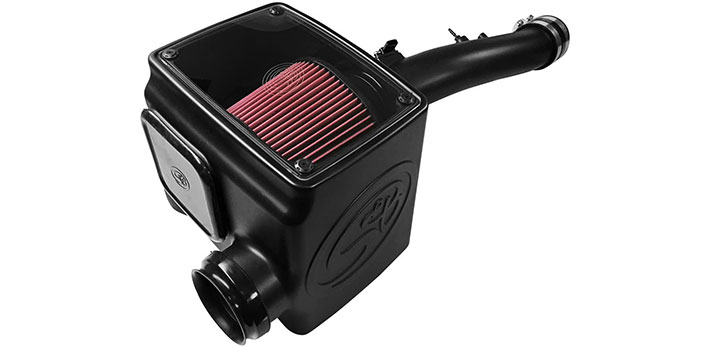 Manufacturer: S&B Filters
Features: 43.47% More Airflow
Power Gain: N/A
Compatibility: Toyota 4Runner (2010-2020)
If you want a cold-air intake that will keep most of the unwanted engine heat out and you're not fully satisfied with heat shields, then this cold-air intake is for you. Featuring S&B and their cold-air intake, capable of rushing 43.47% more airflow into your engine.
That's more efficient fuel combustion right there!
The S&B cold-air intake is one of the best 4runner intakes, Designed to bring out the performance level of your SUV, this can optimize the airflow into your engine. Aside from that, the kit includes a big 8-layer media that filters the air thoroughly.
It protects your engine from all the harmful particles that may damage your engine.
To add a cherry on top, reviews about this cold-air intake are impressive. They all claim that it was easy to install, produces that sweet growl under the hood, and improves the mileage by up to 18mpg.
#4 AFE Power Momentum GT Pro 5R Cold Air Intake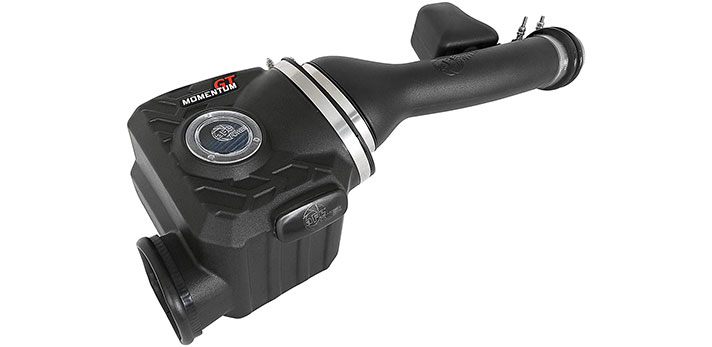 Manufacturer: aFe Power
Features: No cutting/drilling necessary to be installed
Power Gain: 19hp
Compatibility: Toyota 4Runner (2010-2020)
If you are a skeptic and you want real data to show that an intake can produce a ton of additional horsepower, you should check out the Momentum GT Pro intake from aFe Power.
Dyno tests show that this intake packs a lot of punch and can significantly unshackle the hidden horses on your Toyota 4Runner.
This Toyota 4Runner intake features unique housing, just like the previous selection. It prevents unwanted heat from the engine, thanks to its heat-resistant make. Aside from that, progressive layers of filter media are used to make sure that no small particles may enter the engine.
That's some hardcore filtering right there!
What sets aFe Power apart from its competition is its dedication to providing a real and unadulterated increase in horsepower, something not all of the cold-air intake systems can do.
And now that the standards for high-quality cold-air intakes are set, aFe power is more than happy to oblige.
#5 Airaid MXP Intake System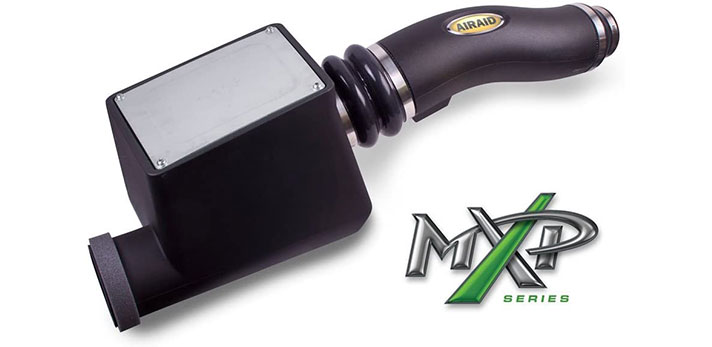 Manufacturer: Airraid

Features: SynthaMax Dry Filter
Power Gain: N/A
Compatibility: Toyota 4Runner (2017-2020)
The MXP intake system is Airaid's shining glory when it comes to their line of cold-air intake systems. The series is designed to offer a high level of performance increase, both for gas and diesel-powered vehicles.
Expect an increase in horsepower, torque, and mpg with this air intake installed on your Toyota 4Runner.
By having this on your Toyota 4Runner, you have an assured increase in both horsepower and torque. The Airaid MXP throws away the OEM intake system so it can have its place.
It's fairly easy to install, the filters are easy to clean without any need for oil, and it's reusable.
Airaid may not be the most popular brand of aftermarket cold-air intake, but many previous buyers know that when it comes to product quality and reliability, the Airaid MXP is something to take on a more serious note.
#6 Rtunes Racing RW Series Short Ram Intake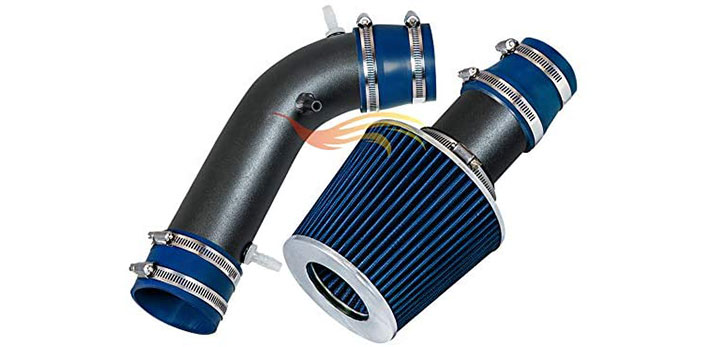 Manufacturer: Rtunes Racing
Features: Simple and straightforward intake
Power Gain: 7%-10% in hp
Compatibility: Toyota 4Runner (1996-1998)
To end the list of the best 4runner intakes, we feature a cold-air intake fit for the oldest versions of the Toyota 4Runner, specifically those from 1996 to 1998. Rtune Racing is nice enough to give the elderly an improvement.
What you get from this cold-air intake is a simple and straightforward cluster of benefits. Better throttle response, better fuel economy, and more explosive power and torque output.
All of those for a very low and affordable price.
It can be difficult to find brand new aftermarket cold-air intakes for the older versions of the Toyota 4Runner. Luckily for you, there are still some manufacturers that are willing to create aftermarket intake systems just for the Toyota 4Runner.
Bumping into the RW Series is some sort of destiny for you, right?
Are Cold-Air Intakes Worth Buying?
At the end of the day, there will always be something better than what the OEM intake system can offer. However, if the existing intake system still works, why bother replacing it?
Are cold-air intakes worth every penny?
The answer is a big yes. There are quite a few benefits from getting some aftermarket cold-air intake system, especially if it's for an SUV like the Toyota 4Runner.
Increase in Horsepower and TorqueBy optimizing the combustion process inside the engine, a significant amount of horsepower and torque is added to the vehicle's power output. Additional ponies means more power, while additional torque means faster acceleration. A cold-air intake system also improves the uphill performance of a vehicle.
Improved Engine RoarExhaust systems are not just the aftermarket component that can create a loud and aggressive sound – cold-air intake systems are capable of doing that too! Since you've optimized the airflow by replacing the OEM intakes with a new one, more air will go inside the engine. More air usually means more growl.
Less MaintenanceThe OEM intake system of the Toyota 4Runner is built to last, but aftermarket intakes offer a lot more aside from longevity. Almost all cold-air intake system manufacturers use washable and reusable air filters to avoid the constant to-and-fro with the professional you've hired to clean them.
Those are the best air intakes for Toyota 4Runner. From very cheap to very pricey, all of these cold-air intakes will make your SUV level up. Choose what you think is the best for your 4Runner and try it out!