Did you know that your engine needs supplementary air for it to function effectively? That's right! Engines are just like human lungs; it needs all the fresh air that it can get. But what if you have an old car like the Infiniti G35 and you want it to run like a wild horse by using cold air? It's possible.
With the use of aftermarket cold-air intakes, vehicles such as the Infiniti G35 coupe can experience a more thrilling driving experience. Not mentioning the other benefits that it can give you and your car.
Performance modifications like these are designed to make your life as a car enthusiast even more exciting.
There are a lot of aftermarket intakes out there in the market. Some may help you, while some may even give you a terrible time. That's why if you're looking for the best aftermarket intakes for your Infiniti G35, you're in the right place.
Check out the list below and see what best fits your car!
#1 DNA Motoring Cold-Air Intake System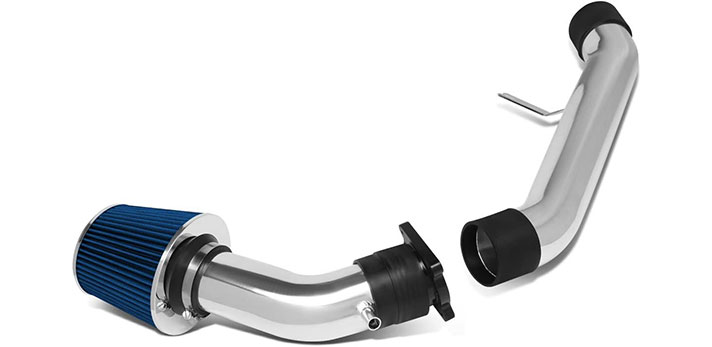 Manufacturer: DNA Motoring
Features: High airflow racing design
Power Gain: 5hp to 10hp
Compatibility: Infiniti G35 (2003-2008)
If you're new to the intake systems scene and you're looking for a cheap cold-air intake, DNA Motoring is a good place to start at. They've got cheap yet highly reliable products that many previous customers loved.
Their cold-air intake is something to look at, considering how good it does its job. Let's see what's inside the DNA Motoring cold-air intake.
This cold-air intake features a 3" semi-polished aluminum tubing connected to a blue conical filter. This filter keeps the air that goes inside the engine clean and free from impurities.
With this cold-air intake installed in your Infiniti G35, you'll get an additional 5hp to 10hp of pure horsepower. That's something the Infiniti G35 can use!
On top of that, the pipings are made from racing-grade aluminum, which makes it light enough to reduce weight from your car. With a cold-air intake as cheap as this, you'll save up tons of money, especially if you just want to try out some aftermarket intakes.
#2 aFe Takeda Cold Air Intake System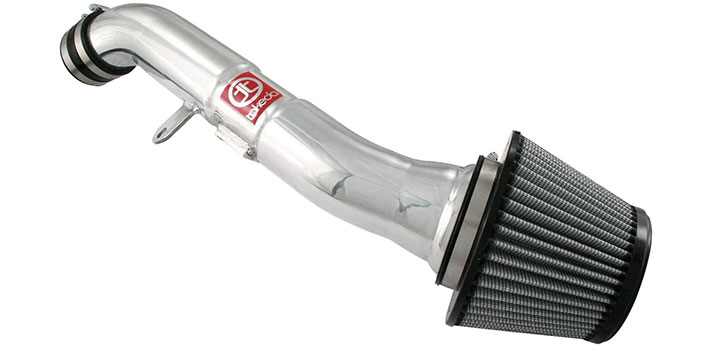 Manufacturer: aFe Power
Features: Pro Dry S filter
Power Gain: 19hp
Compatibility: Infiniti G35 Coupe/Sedan (2003-2007
Now, if you're craving for a real horse kick, then you need something that can give you that fix. A cold-air intake that can give your Infiniti G35 a real boost of horsepower and torque.
The Takeda cold-air intake system is just the right thing for the job of improving every aspect of your car that it can cover. And truth be told, this one is kind of overqualified.
So what's in the bag? A cold-air intake that utilizes corrosion-resistant aluminum tubing that will maximize the airflow for your engine. This very tubing is connected to the Takeda Pro Dry S filter to prevent all of the nasty dirt and dust from entering your engine.
The aFe Takeda Pro was the first dyno tested and flow tested before getting released to the market. This comparison between the stock intake system and the Takeda Pro cold-air intake system is a testimony that aFe knows what they are doing, they can make your Infiniti G35 even better than before.
Also, the intake system is pretty easy to install too, and can be fitted in with the existing OEM computer system installed in the car. With all these components on, you're guaranteed to receive a whopping 19hp of horsepower and 16lb-ft of torque.
#3 DC Sports Short Ram Air Intake System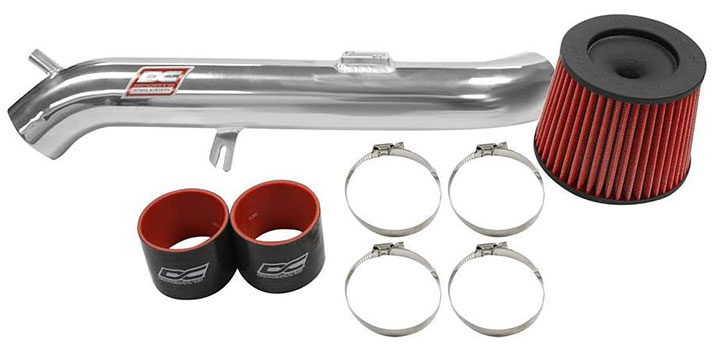 Manufacturer: DC Sports
Features: SCF300 filter
Power Gain: N/A
Compatibility: Infiniti G35 Coupe/Sedan (2003-2007)
The third one's a charm! This short ram intake from DC Sports is something to consider if you're that type of person that values utility and budget. A short ram filter is just like its cousin, the cold air intake. Only it is, well, shorter.
The car enthusiast community has been facing the problem of performance mods scarcity for quite some time and luckily, manufacturers like DC Sports stepped up to the challenge.
The short ram intake will give your Infiniti G35 benefits that you can barely say no to. They give more grunt to the engine by maximizing the airflow from the ambient towards your engine.
The short ram intake does this using anti-corrosion aluminum, a smart choice especially for dealing with warm to hot ambient air.
This short ram intake even complies with the California Air Resources Board, so it's safe to say that you can use it on the roads without the worry of getting stopped by the police.
To make things even better, the DC Sports short ram intakes utilizes reusable and washable air filters. It's fairly easy to install too, so if you've got at least 30 minutes of spare time, you can outfit your Infiniti G35 with a brand new aftermarket intake system.
#4 AEM Cold Air Intake System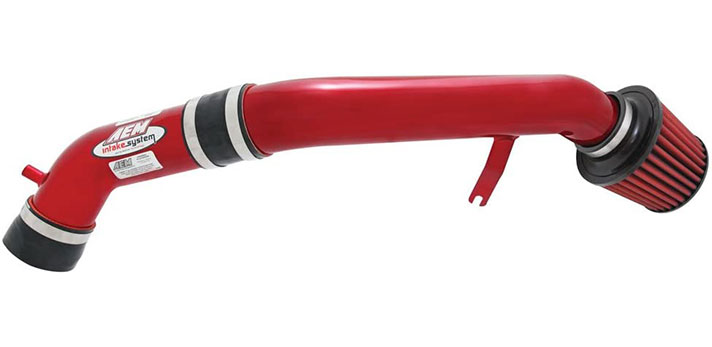 Manufacturer: AEM
Features: AEM Dryflow filters
Power Gain: N/A
Compatibility: Infiniti G35 Coupe/Sedan (2003-2006)
The AEM cold-air intake can bring your Infiniti G35 a massive boost in ponies and torque simply by replacing the OEM intakes installed in your car. It was designed to be far better than the stock intake system, so getting one for you Infiniti G35 is a great idea indeed.
AEM has been around for more than three decades and once you let these experts be in charge of your induction system, you're in for a wild ride. On top of that, the media in the air filter can last a very long time before it needs cleaning.
Talk about low maintenance!
The AEM cold-air intake system uses low restriction aluminum tubing that not only forces the air into the engine, but it also optimizes it in partnership with the air filter. The air filter keeps the cold and oxygen-rich air clean and particulates-free before entering the engine.
To keep things more interesting, AEM's cold-air intake system was designed to work with the existing OEM factory emission control devices. These devices include a mass airflow sensor and a crankcase vest tube.
This cold-air intake gives your Infiniti G35 a chance to experience what it feels like to be sporty, simply by having it installed under the hood. Their thirty decades of commitment to customers are evident in their products. Just see to believe!
#5 K&N Cold Air Intake Kit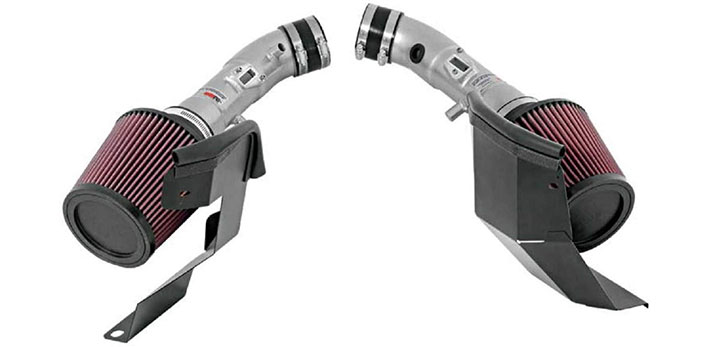 Manufacturer: K&N Engineering
Features: Customer-proven reliability
Power Gain: 8.13hp
Compatibility: Infiniti G35 Sedan (2007-2008)
And last but not even in the list of the very least, we have the customer favorite: K&N Engineering and their cold-air intake kit. K&N is a pioneer when it comes to induction systems, and since they have supercharged numerous cars all over the globe, they can upgrade your Infiniti G35 too.
Would you trust K&N to take over space under your car's hood?
K&N features a large and oversized air filter specially designed to filter the air to the max. This very air filter utilizes microscopic cotton fibers that separate even the tiniest dirt from the air. By doing this, it allows the engine to breathe more effectively.
No need for breathing exercises, right? Just stick this high-quality cold-air intake to its place and let it do its job!
The best thing about this cold-air intake kit is that previous customers have a tremendous amount of respect and love for their products.
Sure enough, a manufacturer can produce all the "high-quality" materials that it can, but if the customers don't approve of it, then what's the point? This is the reason why K&N is the best cold-air intake system for Infiniti G35 on this list.K
&N's got it all: reliability, product quality, longevity – you name it.
What Benefits Do You Get From Aftermarket Intakes?
Okay, sure. Aftermarket intake systems can give your car a lot of "benefits". But what are those benefits exactly? How well will your Infiniti G35 be after you've installed one?
Performance
As you may have already known, performance modifications like intake systems function by putting air into your engine. By doing so, it increases your engine's power and torque output significantly.
Not only that, your car will experience a lot of performance benefits too, like better uphill acceleration,
Better Mileage
To put it in perspective, the fuel in the cylinders burns better with excess air pumped in it. When your engines experience better combustion, you produce more power while spending a lesser amount of gas.
By doing so, an optimum level of the air-fuel ratio is achieved.
Audio Appeal
Cold-air intakes are responsible for those sweet under-the-hood sound you hear from those performance cars you see on the streets. And luckily enough, your Infiniti G35 can have that too!
Cold-air intakes can and will make your car sound your Infiniti G35 better. All of those forced air will make that deep and throaty growl that you will truly love!
Cold-air intakes are incredible performance mods that can turn your Infiniti G35 from a simple car into a sporty better-performing car. Once you've chosen the best cold-air intake for your car, you will experience what it's like to have an upgraded Infiniti G35.