Cold-air intakes are known to be one of the best performance mods that you can get for your ride. Whether you drive a truck, jeep, SUV, performance car, or even a normal city car, cold-air intakes can do you a lot of good. Especially if you're trying to make your car go faster.
One of the finest cars that you can outfit a cold-air intake into is the Kia Stinger. It is a luxury car, yes, but there's a turbocharger under its hood. Turbochargers need a cold-air intake so that cold oxygen-rich ambient air can be forced down the turbocharger then into the engine.
If you're looking for some cold-air intake to jumpstart your Kia Stinger, then congratulations! You're in the right place! The list below features the best cold-air intakes to make your Kia Stinger sting even harder.
#1 K&N Cold Air Intake Kit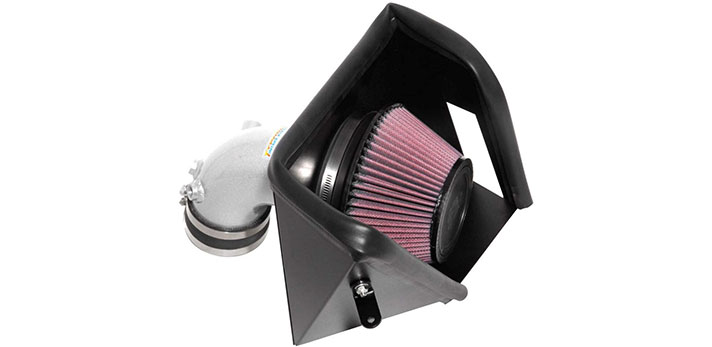 Manufacturer: K&N Engineering
Features: Oversized air filters
Power Gain: 5.4hp
Compatibility: Kia Stinger (2018)
First off, we have a cold-air intake kit from K&N Engineering. If you try to ask any car enthusiast out there with "what's the first thing that pops into their mind when you say cold-air intakes?" K&N filters. K&N Engineering produces the most-loved air filters for various types of cars.
Materials used to make this cold-air intake went to rigorous treating and complicated processes like mandrel bending the aluminum intake tubes to make sure that they will last a long time while performing at their peak. K&N's cold-air intake kit is specially designed to promote better airflow and efficient filtration.
The best thing about this cold-air intake is that it's very easy to install. It'll just take up to 90 minutes max to outfit this in your Kia Stinger. But if you have the crazy skills of a seasoned mechanic, you may have it installed in one hour tops!
Aside from that, you'll only need it to clean the air filters after 100,000 miles, under normal highway conditions. How's that for low maintenance?
The K&N cold-air intake kit is a perfect fit for your Kia Stinger; according to reviews, that is. It sounds good too. This cold-air intake kit just feels good to use, as if it was meant to be under the hood of such a powerful car like the Kia Stinger.
#2 Agency Power Cold-Air Intake Kit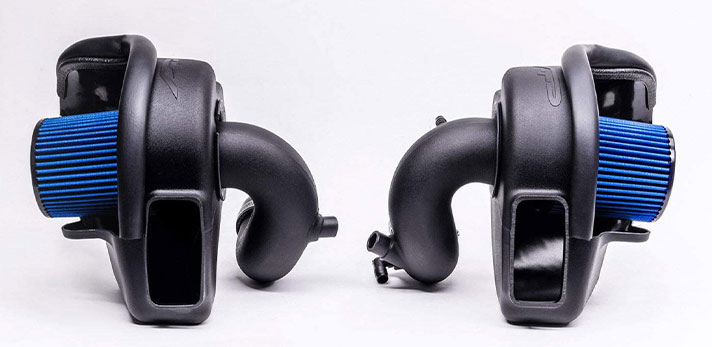 Manufacturer: Agency Power
Features: Roto-Molded XLPE Tubing
Power Gain: 12+hp
Compatibility: Kia Stinger GT (2018+)
Second, we go to Agency Power and their cold-air intake system. As you can see, this one is more expensive than the rest of the intake systems on this list. Is it worth the money and effort? Of course, it is! Agency Power has been rocking the aftermarket industry for a very long time and their product's quality is indeed top-notch.
Let's take a look at what's inside the Agency Power cold-air intake. Rotomolded plastic tubing to minimize removable components, 3" intake tubes to promote better than usual airflow, 3-ply silicone couplers which is perfect for turbocharged vehicles, and air filters designed to make you clean it less frequently.
This cold-air intake is perfect if you're looking for a low maintenance yet high-performing intake system. For this price, it's only expected that you'll get the best out of your every penny – and you will!
The best feature of this aftermarket mod is the rotomolded housing. It is made from XLPE (cross-linked polyethylene), a lightweight material that is durable enough to protect the innards of the intake system.
The Agency Power intake system is one of the best cold air intakes for the Kia Stinger GT, and you should get one for yourself. Immediately!
#3 AEM Cold-Air Intake System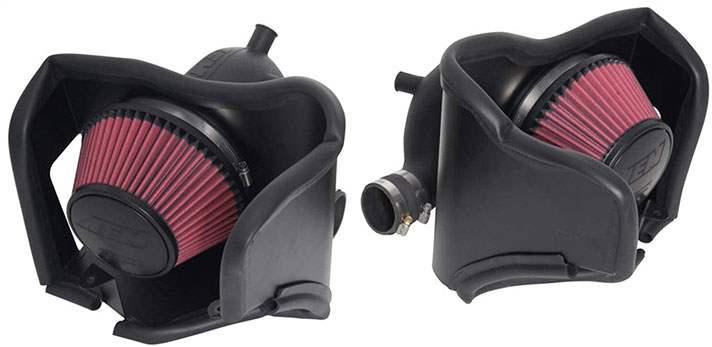 Manufacturer: AEM
Features: A large amount of horsepower gain
Power Gain: 17.6hp
Compatibility: Kia Stinger (2018-2020)
The third intake kit's the charm! If you're itching to get a new cold-air intake system that will release the ponies from their reigns, then this one is for you! AEM's cold-air intake system will bring out the best in your Kia Stinger, simply by forcing down air on your car's engine. Let's dive right in and see what benefits can this intake system bring you.
AEM's cold-air intake system for the Kia Stinger is a performance intake. It'll allow your car to breathe easier as if it has oxygen masks put directly unto its nose. If it can breathe easily, then you can drive it easy! You can be assured that the 17.6hp horsepower increase is legit since they made dyno testing.
Aside from that, your acceleration will greatly improve. This is something your Kia Stinger would truly love. There's nothing more than a sight for sore eyes than a Kia Stinger roaming around freely with unrestricted airflow. To add a cherry to the top, it also produces that nice, underhood sound.
The media used to filter the air are washable too. No need for constant maintenance. You can drive up to 100,000 miles (under normal road conditions) before this intake will ask you if you can clean them.
#4 HPS Performance Cold Air Intake Kit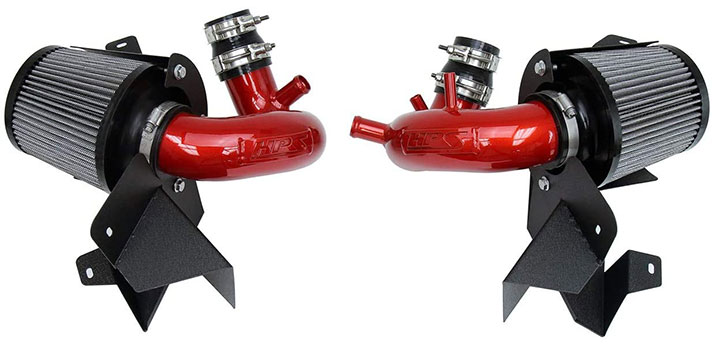 Manufacturer: HPS
Features: Superior filtering
Power Gain: 21.4hp
Compatibility: Kia Stinger (2018-2019)
Saving the best for last, we have this awesome looking intake system from HPS just for you. Their performance kit is something to look at! Being a performance intake kit and all, this one is the perfect example of superior product quality. But you know how it goes: the best things are not cheap.
The benefits this cold-air intake system has for you Kia Stinger are stunningly impressive. This aluminum-made cold-air intake system filters air extremely well since they use specially formulated synthetic oils on their filter media. These media can trap dirt and particles down to as small as 5 microns!
What's so cool about this cold-air intake system is that it doesn't affect nor damages the sensors around it. And also, this intake system makes an ionic bond with the mesh inside the filter to separate the unwanted particles from the air even more efficiently.
This is Kia Stinger's best cold air intake system. Other intake systems on this list may give you admirable assets to look forward to, but when it comes to sheer performance and horsepower gains, the HPS is something to look up to.
Benefits of Aftermarket Intake Systems on Your Kia Stinger
Let's discuss why you need this performance modification on your beloved Stinger and its potential benefits.
The Kia Stinger is an elegant car that hides a tremendous cache of horsepower inside. As said above, cold-air intakes force down air into your engine. Cooler air is denser, and more oxygen is compacted in it. This is favorable for fuel combustion. Optimized fuel combustion will make your car perform better.
Now that you know the purpose of cold-air intakes, ask yourself this. What are the potential benefits that you can get from an aftermarket exhaust? Is it even worth spending your time and money?
1. Significant Power Gain
Cold-air intakes can release untapped horsepower inside your Kia Stinger. The typical cold-air intake can give you an additional 5hp to 10hp, while the best ones will give you 10hp to 15+hp. This complements the effect of the exhaust system, another performance mod that lets you gain even more ponies. Cool, right?
2. Increased Acceleration
The best reason why you should have a cold-air intake in your car is that it increases your engine's responsiveness. The faster the cylinders burn fuel, the faster the pistons go, allowing your car to accelerate faster than usual.
3. Better Fuel Economy
An engine without enough air can eat up more of your fuel. By supplying excess air into your engine, you're guaranteed to have an optimum level of air-fuel ratio. This makes your engine require lesser fuel because the cold air from the outside compensated for the burning requirement inside the cylinders. 
4. Superior Sound
Exhaust systems are not the only performance mod that can make succulent car sounds; intakes make some too! Even if it's under the hood, cold-air intake produces a sound that you will truly love.
5. Reduced Filter Maintenance
Aftermarket intake systems feature state-of-the-art filtering systems. They use different kinds of media to filters, from dry to oiled. Many manufacturers have patented cold-air intake features that make their product effective yet long-lasting.
Cold-air intake manufacturers have a lot of gimmicks when it comes to air filtration. Some use oversized filters, while some put a lot of investment on R&D and made high-quality filters that stop even the smallest of particles that float in the air.
Cold-air intakes are arguably one of the best Kia Stinger mods out there. It provides additional performance benefits to your car while keeping the riding experience pleasing to the driver. 
The best intakes for Kia Stinger listed above will surely give you a new thrilling riding experience. Investing in these kinds of performance mods will truly upgrade your already impressive Kia Stinger.