Car intakes are made to do one job: provide a constant supply of cold air (preferably) to the engine so it can produce more of that sweet pumping action to power your car. By doing so, you give your engine a good time.
By letting it breathe, you allow it to function better. There will be a significant performance increase in your car if you're discerning enough to notice.
The factory intake system in your Subaru WRX is installed to decrease the sound of the intake noise. By doing so, its capacity to take in excess air for the engine is compromised.
There are tons of aftermarket intakes available out there, just waiting for the right opportunity to be installed in a car.
If you're looking for the best Subaru WRX intake that you can outfit into your car, then you should check the list below. We feature the best intakes for Subaru WRX, so you won't have to scour the internet.
We did the heavy lifting, you're welcome. Check them out!
#1 MAPerformance Cold Air Intake System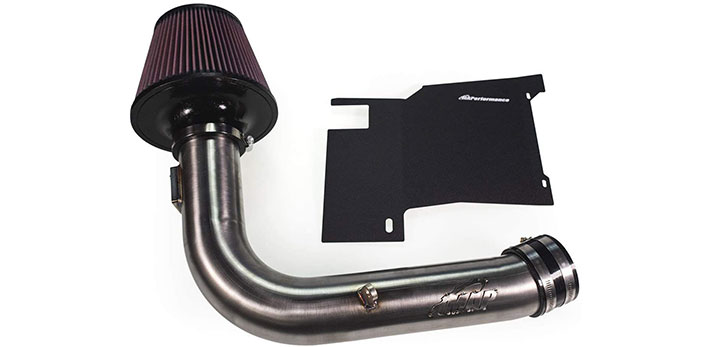 MAKE: Stainless Steel
FEATURES: Velocity stack, heat shield
COMPATIBILITY: Subaru WRX (2015-2019)
The first one to take the air in is MAPerformance and their 3" intake, capable of supplying cold air for your engine. With the help of a velocity stack to allow air to go in smoothly.
This trumpet-shaped air intake speeds up the excess air from the ambient towards your engine for maximum performance enhancement.
What do you get from MAPerformance's 3" intake? They utilize a full 3" tube that eliminates most airflow restrictions. Its built-in velocity stack comes with a heat shield.
Corrosion is far from reality thanks to the type of stainless steel used to create the tubes. Overall, you get the MAPerformance Air Intake Kit, some couplers and clamps, and a 12" extension harness.
What's awesome about buying this intake is the MAF extension harness included in the kit. It allows the relocation of the MAD sensor to a better place within the intake system.
They also use a K&N filter, which is known for delivering positive results when it comes to filtering air for intakes.
#2 ETS Air Intake System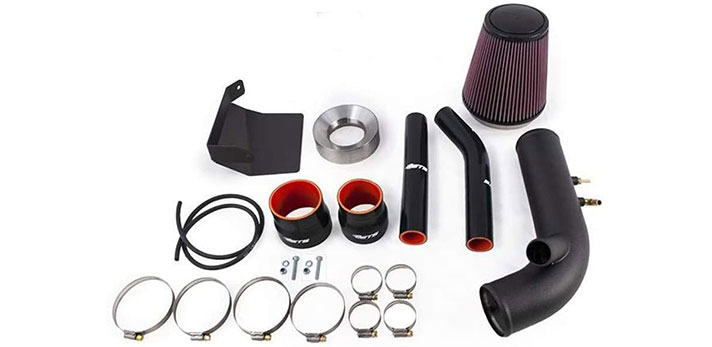 MAKE: Stainless Steel
FEATURES: Billet velocity stack, airbox heat shield (optional)
COMPATIBILITY: Subaru WRX (2008-2015)
Are you looking for a durable air intake system with a billet velocity stack? Look no further. The ETS Air Intake System is one of the best Subaru WRX cold air intake system out there that is affordable and durable.
It comes as stainless steel and gives you the option to purchase an airbox heat shield.
As you may have observed, this intake system is slightly more expensive than the other intakes on this list. This may be the case, but what they lack in price, they gained in the product quality.
There's no question on how durable the stainless steel pipes are, together with a billet velocity stack.
This is an overall worthy investment, but you may have to think very before finalizing your order. Would you go for an intake system with a heat shield included, or would you go for a slightly pricier one where the heat shield is optional?
Your choice.
#3 AEM 21-732C Cold Air Intake System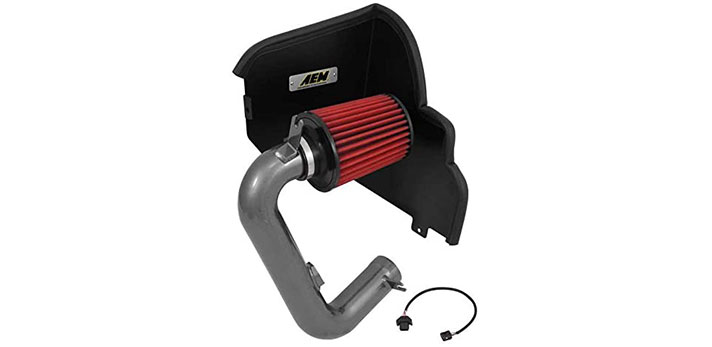 MAKE: Aluminum
FEATURES: Heatshield
COMPATIBILITY: Subaru WRX (2015+)
AEM is determined to produce air intake systems that focus on improving the torque and horsepower of their customer's cars. Their commitment to manufacturing premium products led them to make the AEM 21-732C Cold Air Intake System.
This intake will replace your factory intake to utilize a better performing cold air intake.
This AEM intake system is an intake located outside the engine compartment. This is done to allow cooler air to enter your engine. Cooler air means better engine performance; something a Subaru WRX deserves.
It also employs a washable DRYFLOW air filter that requires no oil. Neat!
There is no denying that this cold-air intake is one of the Subaru WRX's best. It is easy to install and produces a quantifiable power and torque gain based on dyno chart analysis. For those who have zero expectations when it comes to buying an air intake, try this one out.
It will surely surprise you! There's no velocity stack included though, so keep that in mind.
#4 GrimmSpeed Stealthbox Air Intake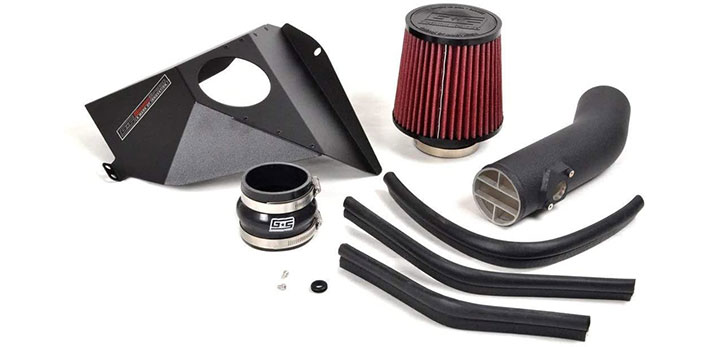 MAKE: Aluminum
FEATURES: Built-in velocity stack into the air filter
COMPATIBILITY: Subaru WRX STi (2015-2017)
And the last but certainly not the very least, we have GrimmSpeed and their Stealthbox air intake. This type of air intake has been long-awaited, and now it's here. This is a hybrid tube-and-filter from 2008 to 2014 era of WRX and the 2015+ where the Stealthbox heatshield has been prevalent.
Minor changes are made with the design, but overall, the suitability and performance are still identical.
This is by far the best Subaru WRX intake in this list, mainly because the velocity stack is attached to the air filter. It doesn't just save up space, but it also gives you the best value for every penny you've spent.
This may be the most expensive part in the bunch, but hey, why settle for less when you've got the budget for the best one?
What's crazy about this air intake is the hybrid cold air and a short ram design. These advantages remove the bad attributes from the typical intake design.
Air intakes primarily function as components that let excess cold air to enter into your engine. In a nutshell, air intake systems allow your engine to breathe, making the car even more powerful than before.
Choosing the right air intake system for your Subaru WRX will reap you tons of benefits, as well as eliminate related problems that may arise in the future.