A truck's engine is just like the human lungs. It inhales, and it exhales. With better air to inhale, the better output the body can do. That's what an engine does too. Trucks like Toyota Tacoma, known for its power and reliability, will benefit so much from the excess air that can be shoved into its engines.
Cold-air intakes are responsible for those kinds of operations. It forces cold ambient air into the engines. With an excess oxygen-rich air inside the cylinder, the fuel will burn faster. Thus, producing a higher power output.
That kind of performance increase is what an off-road beast like the Toyota Tacoma needs.
The OEM intakes of a Toyota Tacoma are good, but aftermarket intake systems are better. Compared to the stock intake system, they provide better airflow, better sound, and additional horses.
Getting the right cold-air intake for your Toyota Tacoma will bring wonders to your truck.
Are you looking for aftermarket exhausts? If so, then you've come to the right post! Check the list below to check the best air intakes for Tacoma!
#1 Injen Technology Black Power-Flow Intake System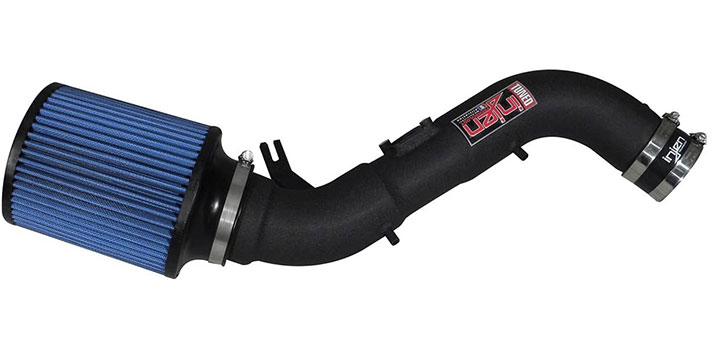 Manufacturer: Injen Technology
Features: Patented MR Technology
Power Gain: 11.1hp
Compatibility: Toyota Tacoma (1999-2004)
Injen Technology is one of the most trusted brands of cold-air intake systems out there. Their commitment to making the best out of everything they do is a testimony that the Black Power-Flow intake system will be a great addition to your Toyota Tacoma.
So what's in the bag? A large air filter and intake tube infused with their patented MR technology that ensures that the mixture of air and fuel in the cylinder is at peak efficiency. Expect improvements in mileage and acceleration when this cold-air intake system is on your truck.
It's reliable and durable too!
On top of that, the Black Power-Flow offers you significant power increase without needing to tune up your truck. And with their limited lifetime warranty, you won't have to worry about getting a malfunctioning cold-air intake.
This USA-made product will surely satisfy your air-intake needs.
#2 K&N Performance Cold Air Intake Kit
Manufacturer: K&N
Features: Oversized air-filter
Power Gain: 17hp
Compatibility: Toyota Tacoma (2016-2019)
K&N is probably the most popular and most reliable brand of cold-air intakes out there in the market. They have been serving a lot of truck enthusiasts, leaving them with a huge smile on their faces.
K&N cold air intakes are known to be of great quality, and with the five-stars reviews on them, you'll be sure that you're in good hands.
So what can K&N do to your Toyota Tacoma? This performance cold-air intake can bring a lot of benefits to your truck. Such benefits include a guaranteed increase of a whopping 17 horsepower!
The intake tubes are also compact because it is roto-molded. Expect better airflow!
The best thing about this cold-air intake is how much love it gets from its previous customers. Reviews claim that their truck has better throttle response since they've had the K&N cold-air intake installed. There is an improvement in acceleration too!
This is by far the most recommended intake system for your Toyota Tacoma.
#3 Spectre Performance Air Intake Kit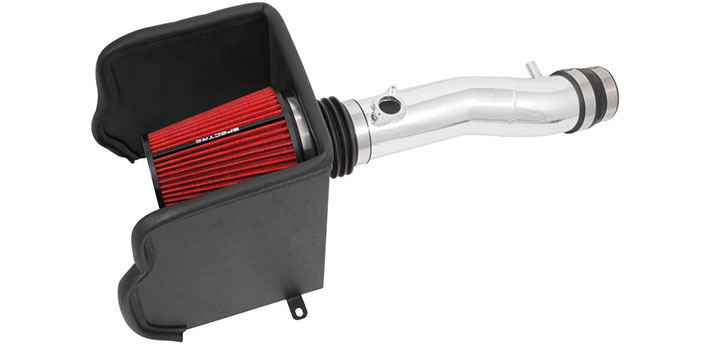 Manufacturer: Spectre
Features: Red Spectre air filter
Power Gain: N/A
Compatibility: Toyota Tacoma (2016-2020)
Now if you're tight on the budget but you're still itching to have some cold-air intake on your hands, you can check out the Spectre Performance air intake kit. For such a price, you can get the most out of the money you spend.
Better airflow, horsepower and torque increase, and other good stuff.
By buying a Spectre Performance Air Intake Kit, you're guaranteed to have a cold-air intake system that needs no re-tune and is easy to install. With its low restriction air filter, expect to have a significant increase in mileage, horsepower, and torque.
The airflow and throttle response is fairly improved too!
This is one of the best Toyota Tacoma cold air intakes on this list. It may be cheap, but it does its job very well. And it has good customer reviews too! Who says that you need to spend more money to get quality products?
#4 aFe Power Momentum GT Air Intake System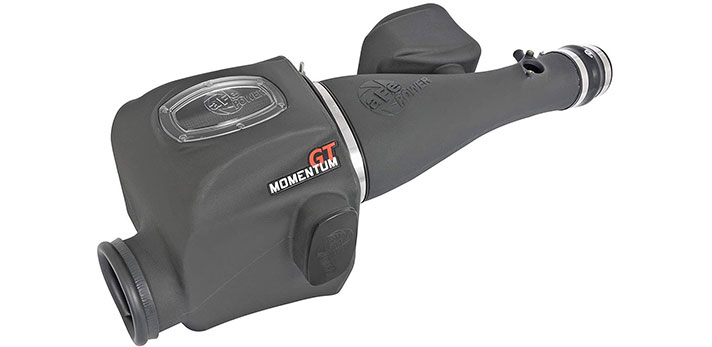 Manufacturer: aFe Power
Features: Sealed housing + air scoop
Power Gain: 17hp
Compatibility: Toyota Tacoma (2016-2020)
Did you notice something? This Toyota Tacoma cold-air intake is different from the rest. While the others have an exposed air filter, the Momentum GT on the other hand is closed. What's the reason behind it?
And why is this cold-air intake system so loved by many previous customers?
This cold-air intake can crank up your horsepower and torque by up to 17hp and 19+lb-ft, respectively. The three-layer media is made from a synthetic material that can filter incoming air without the need for oil.
With this kind of specs, this cold-air intake is best suitable for the street and the off-road.
And the best part about this cold-air intake? The elephant in the room – the sealed housing! Its filter-to-housing design is crafted to minimize the number of removable parts, making everything tight and compact. Less hassle!
#5 K&N Cold Air Intake Kit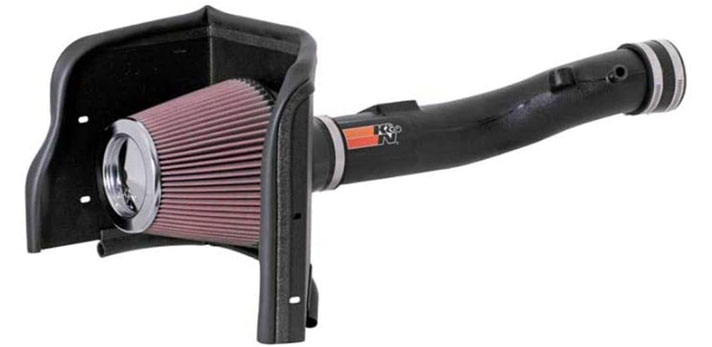 Manufacturer: K&N
Features: Sealed housing + air scoop
Power Gain: 10.31hp
Compatibility: Toyota Tacoma (2005-2011)
"Wait, another cold-air intake from K&N?" Yes! And this time, it's for the oldies, the Tacomas of the years 2005-2011.
It's the same intake system, but a bit downgraded for the benefit of the older models of the Toyota Tacoma. Expect a guaranteed increase of 10.31 horses and a better airflow.
This goes to show that whatever year model it may be, K&N is versatile enough to make the best out of it.
And there you have it! These are the five best cold-air intakes for Toyota Tacoma. When looking for the best Toyota Tacoma cold-air intakes, don't just look at the price; look at the benefits that you'll get too!