We all know that breathing is important. Breathing in the fresh air and breathing out CO2 is just a normal thing that humans do. However, vehicles do that too! The engine uses air from the surrounding, mix it with the fuel, and burn it in the cylinders.
That's where you get the power that your vehicle uses while driving.
With trucks, however, letting them "breathe" better is necessary, especially if you want more hauling and towing to be done. The typical truck can do that with the OEM air-intakes, but frankly, you can do better.
That's why installing aftermarket air-intakes in your truck is vital, especially if you own a Toyota Tundra.
The Toyota Tundra, being a full-sized truck and all, is a reliable beast. Equipping it with an aftermarket exhaust will turn this truck from a steed into a full-blown thoroughbred.
By "breathing" in more cold air, it allows the air-fuel mixture to be burned faster, thus producing more power.
The list below features the best intakes for the Toyota Tundra. Check them out, and see what best fits for your truck!
#1 Injen Technology Power-Flow Intake System
Manufacturer: Injen Technology
Features: Patented MR Technology
Power Gain: N/A
Compatibility: Toyota Tundra (2000-2004)
Do you want to maximize the power output from your engine? Injen Technology has something for intake enthusiasts like you. Featuring their Power-Flow intake system, capable of optimizing your truck's airflow, as you've never experienced before.
The Power-Flow boasts of its patented MR Technology which allows better cold-air flow into your engines while maintaining a safe air-fuel ratio. This is important to avoid your engine from running too lean or too rich fuel.
With all the necessary components like the intake tube, power shield, and filter, you get the best out of your Toyota Tundra. It comes at an affordable price too! The cold-air intake itself is pretty easy to install too – no fuss!
What's so cool about this cold-air intake system is MR Technology. Also known as MegaRam, this patented technology makes the power-flow intake system to be the world's first tuned cold-air intake system.
Now that's innovation!
#2 K&N Cold Air Intake Kit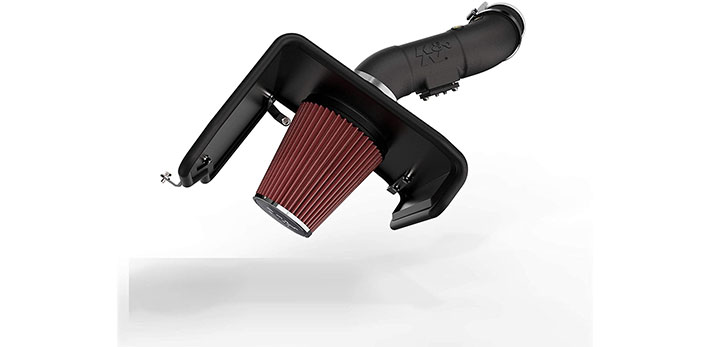 Manufacturer: K&N Engineering
Features: Oversized air filters
Power Gain: 9.25hp
Compatibility: Toyota Tundra (2012-2021)
K&N Engineering is one of the pioneers when it comes to making high-quality cold-air intake systems. Established in 1969, they have a long-standing experience when it comes to making aftermarket parts that not just works, but excels.
The K&N cold-air intake kit can bring a ton of benefits for your Toyota Tundra. They're notorious for keeping it cool, that's why this intake can be positioned in the best location to keep the heat away from your engine.
On top of that, the oversized filters put your Toyota Tundra in a spot where it can run for up to 100,000 miles before needing another filtering service. The tubing is rotomolded too, so it can provide better airflow for your engine.
By far, this is the best Toyota Tundra cold air intake system on this list, and also the most recommended.
#3 S&B Filters Cold Air Intake
Manufacturer: S&B Filters
Features: 51.51% better airflow improvement
Power Gain: N/A
Compatibility: Toyota Tundra (2007-2020)
Don't get us wrong. The OEM intake system is good, but replacing it with S&B Filter's cold-air intake system is a far better idea. With the significant increase in unrestricted airflow, this cold-air intake will bring a jolt of a significant increase in horsepower as well as torque.
The S&B cold-air intake system utilizes air filters made out of premium silicone. This allows the said filters to be more durable and withstand temperatures up to 400°F. Thanks to the custom-designed enclosure, you can expect that unwanted heat won't enter the engine.
The best thing about this exhaust system is that it can run on the standard OEM tuning that your Toyota Tundra has. S&B Filters have dedicated time and resources to make sure that you don't have to glance at the check engine lights anymore.
#4 aFe Power Magnum Force Intake System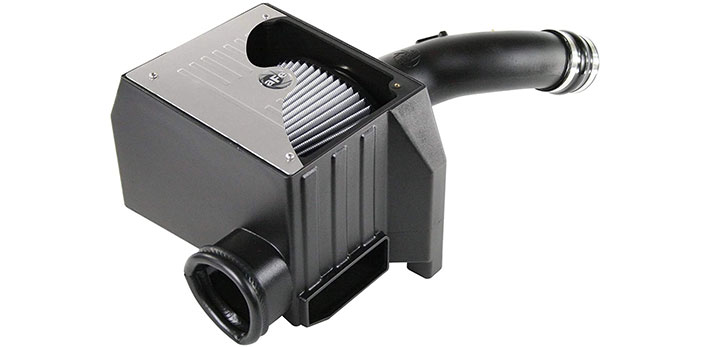 Manufacturer: aFe Power
Features: XLPE housing
Power Gain: +19hp
Compatibility: Toyota Tundra V8 4.6L (2010-2019) – Toyota Tundra V8 5.7L (2007-2020)
Do you want raw and unadulterated power? Then the Magnum intake system is what suits you the best. Manufactured to unearth all the horsepower and torque deeply buried in your truck, this is considered one of the best Tundra intakes on this list.
Why is this cold-air intake so amazing?
One, it utilizes three large air filters that are made to perform. Two, the sealed housing makes sure that the warm engine air is minimized. And three, the intake tubes are dyno-tested to make sure that brings forth the hidden power in your truck while maintaining a perfect fit.
This cold-air intake is also fairly easy to install. All the necessary hardware is included. Just fit it in with all the OEM mounting points and voila! You're all set!
#5 aFe Super Stock Intake System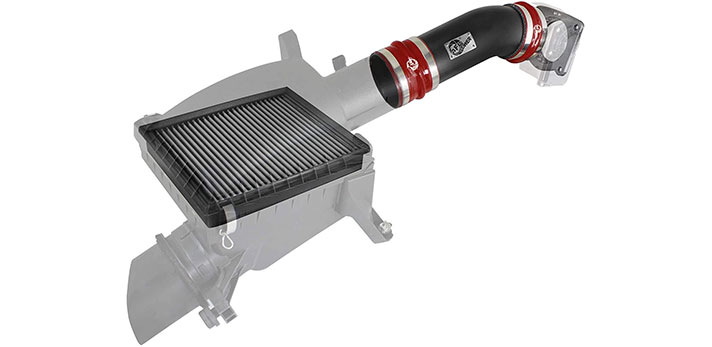 Manufacturer: aFe Power
Features: Pro DRY S Air Filter
Power Gain: +18hp
Compatibility: Toyota Tundra V8 4.6L (2010-2019) – Toyota Tundra V8 5.7L (2007-2020)
aFe Power has a lot of great cold-air intake system for the Toyota Tundra. The last entry showed us Magnum Force, but for the fifth slot on our list, we've got something from the Super Stock series.
They're both compatible with the same Tundra models but they have so many differences.
To begin with, the Super Stock intake system offers a cold-air intake with a lower measured flow and horsepower output compared to the Magnum Force. However, what it lacks in ponies and flow, it compensates with torque and a lower price.
It also beats the flow rate of the stock intake system by about 13%.
To add icing to the top, the throttle body spacer of this cold-air intake is serrated for more optimized airflow. aFe Power doesn't seem to run out of innovative ideas to entice pickup truck enthusiasts and satisfy their needs as well.
The Super Stock series is a cheaper yet reliable alternative to the Magnum Force series.
#6 Volant PowerCore Cold-Air Intake Kit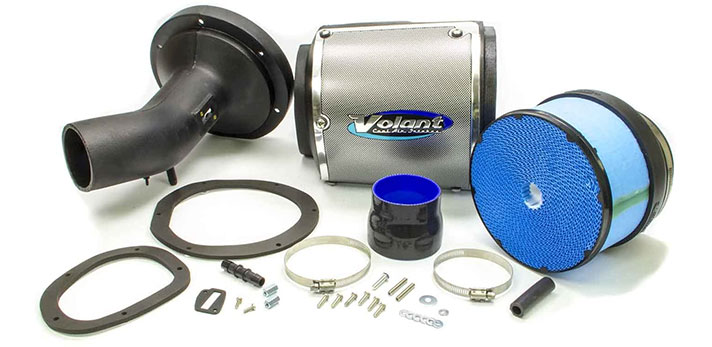 Manufacturer: Volant
Features: Powercore air filter
Power Gain: N/A
Compatibility: Toyota Tundra V8 5.7L (2007-2010)
If you bought your Toyota Tundra back in 2000 to 2004, then you've probably realized how small the variety of cold-air intake systems are for your bunch. If you haven't realized it yet, no worries!
We've picked up one of the best cold-air intakes for the not-so-older Toyota Tundra. Take a look at this cold-air intake from Volant.
This one may be a bit pricey but it's has a special feature. It keeps the hot air from your engine out of the intake airflow, allowing just the cold air to get into this cold-air intake system.
This allows more dense and richer oxygen to enter the engine, allowing the engine to burn just the right mix of air and fuel.
The PowerCore cold-air intake kit also has a specialized air filter sifts up to the smallest of particles to keep your engine far from harm. It's also water-resistant too! With the Volant PowerCore, expect nothing less than pure potential when it comes to power and punch.
#7 AF Dynamic Cold-Air Intake System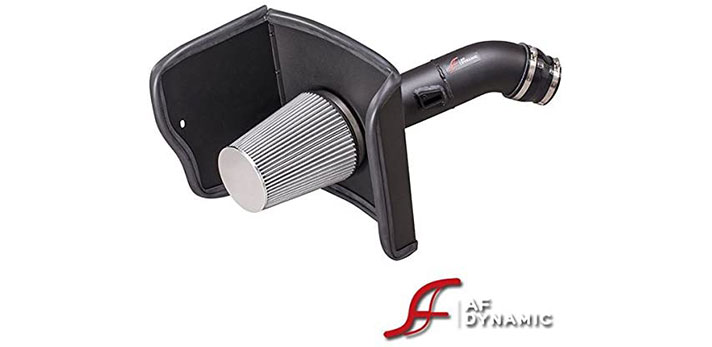 Manufacturer: AF Dynamic
Features: High flow filter
Power Gain: N/A
Compatibility: Toyota Tundra V8 5.7L (2012-2016)
Now if you're looking for a cheaper alternative and you're in great need of some cold air, then try AF Dynamic's cold-air intake. It's powder-coated to prevent corrosion and rusting, it has a heat shield, and it has a high flow air filter that can be reused.
This one may be cheap, but it has durable and quality components made to further optimize the airflow forced inside the engine. AF Dynamic is better than your OEM intake system in varying degrees, aside from the fact that it's very cheap.
#8 Spectre Performance Air Intake Kit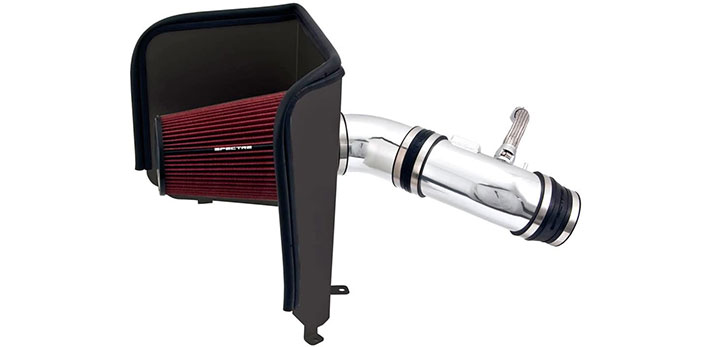 Manufacturer: Spectre
Features: High-Performance Racing filter
Power Gain: N/A
Compatibility: Toyota Tundra V8 5.7L (2007-2011)
The Spectre's Performance air intake kit is built to enhance your truck's towing and hauling capabilities while keeping the engine safe from damaging debris. If you want your Toyota Tundra to have better uphill acceleration partnered with enhanced throttle response, then you better check this intake out.
This cold-air intake kit features a lot of good stuff for your Toyota Tundra. Additional horsepower and torque? Check! Reusable air filters? Check! Aluminum tubes that are built to last? Check! Easy to install? Double check!
The outstanding benefit that you can get from this one is the underhood sound that it makes. Not a lot of cold-air intake systems can produce a sound under the hood better than this one!
These are the eight best Toyota Tundra air intakes that you can find out there. They all vary in prices and fitments, and best of all, they have their unique features. Pick the one that suits best for your Toyota Tundra.
No need to thank us. We got your back!