The Ram 1500 is one of the best pickup trucks anybody could have. It has well-rounded attributes, and the riding experience is nice, too. It also has superb tow ratings and can save up as much fuel to keep your wallet from puking up cash.
Aside from that, you can modify it so you can fully utilize its capabilities. One example of that modification is the installation of a bed cover.
Bed covers are a great addition to your Ram 1500. Since it has an impressive payload capacity, protecting the belongings you put on the bed should be a priority.
Bed covers, also known as tonneau covers, will protect the goods on the back of the truck while offering convenience, fuel economy, and style.
If you're looking for the best Ram 1500 bed covers, then you're lucky to be here. We've created a list of the best tonneau covers you can outfit your pickup truck.
#1 Roll N Lock M-Series Retractable Tonneau Cover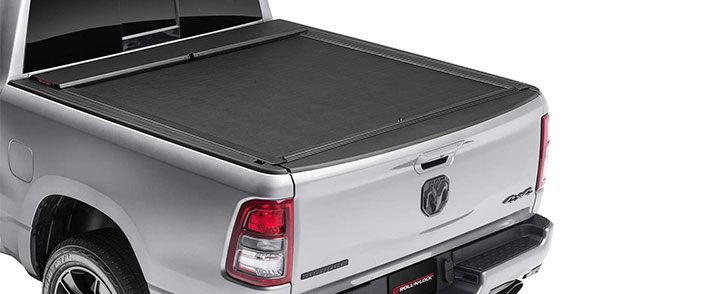 Storing up your belongings on the bed of your truck has never been more convenient.
Experience convenience when it comes to storing belongings on the truck bed like never before. Introducing the first one on our list, the Roll N Lock M-Series Retractable Truck Bed Tonneau Cover.
Having a retractable tonneau cover offers the convenience of easy access and security for your gear. It's compact, sturdy, and only eats up 7 ¼" of bed space.
What do you get from the Roll N Lock M-Series Retractable Truck Bed Tonneau Cover?
STORAGE. The Roll-N-Lock is known to be compact and sturdy. The design features an aerodynamic housing cover that frees up the cargo space.
STYLE. The Roll-N-Lock Retractable Tonneau cover is made of aluminum coated with vinyl to make it look like a classic tonneau cover.
SECURITY. The undercarriage is made from aluminum and has contoured hinges to protect your gear from being stolen while offering frictionless rotation.
CONVENIENCE. The Roll-N-Lock cover is fairly easy to install because it has a clamp-on track.
The Roll N Lock M-Series Retractable Truck Bed Tonneau Cover is also available as M-Series (vinyl-aluminum protected), A-Series (scratch and UV resistant), and E-Series (electric powered).

#2 YITAMOTOR Soft Tri-Fold Tonneau Cover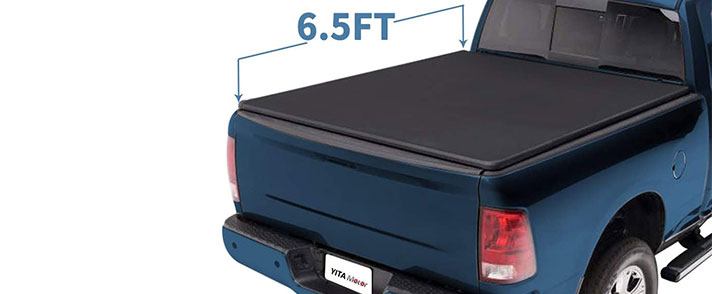 People learn from their past mistakes. This is a belief that YITAMOTOR used to produce quality tonneau bed covers. They've gathered all the drawbacks and weaknesses from all the truck bed covers available in the market and used it to create a sleek and heavy-duty truck cover.
Their product features a sturdy, flexible, and easy-to-use tonneau cover that will surely protect your belongings from all elements.
What do you get from buying a YITAMOTOR Soft Tri-Fold Truck Bed Tonneau Cover?
WATERPROOFING RESISTANCE. YITAMOTOR made sure that water will not seep into the bed by reinforcing the corners using multi-layer strips. Even if water infiltrated the cover, diversion troughs and hoses are in standby to eliminate the water. It also protects your gear from dust and snow.
DESIGN SAFETY. Sturdy buckles keep the tonneau cover from being blown away by the wind. It also has clamps with dug-in iron, additional buckles, and a strap to make your driving safe and secure.
EASE OF INSTALLATION. No need to drill holes on your truck bed! This tonneau cover has clamps that have adjustable holes that make installation easy. You can install it for just 20 minutes!
This also improves your fuel economy by up to 10% because of its aerodynamic design.

#3 Tyger T1 Soft Roll-Up Truck Tonneau Cover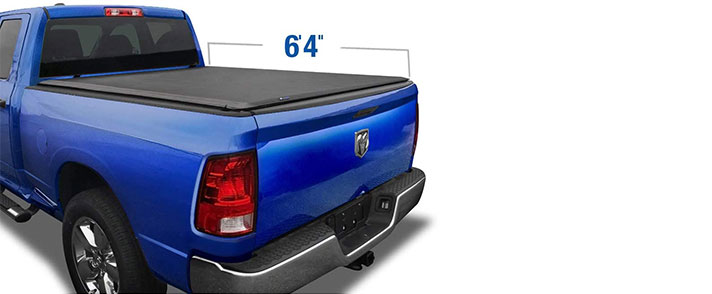 TYGER knows how to satisfy its customers. By approaching the details that truck users needed, they've created an affordable and heavy-duty bed cover that protects your gear with guaranteed 100% satisfaction.
TYGER bed covers give you the opportunity of having a tonneau cover that is sleek, stylish, and easy to install. Additionally, you get up to 13% savings from gas consumption. Nice!
What do you get from purchasing a TYGER Soft Roll-Up Truck Tonneau Cover?
QUICK INSTALLATION. No need to stress out! This tonneau cover requires no drilling, and it comes with instructions and the necessary hardware. A velcro strap is attached to the seals to maintain security while providing easy bed cover access.
NATURAL ELEMENTS RESISTANCE. Weathertight sealing makes sure that your valuables won't get in contact with any rainwater, snow, and even sunlight and hail!
SECURITY. The tonneau cover has an adjustable tension system and latches locks at the tail ends of the rails to make sure that the cover is holding tight. This design is unique in the USA and is 100% sure to secure your gear on the bed of your truck.
This bed cover comes in different variants, like the TYGER T3 (Soft Tri-Fold) and TYGER T5 (Hard Tri-Fold).

#4 Gator ETX Soft Roll Up Tonneau Cover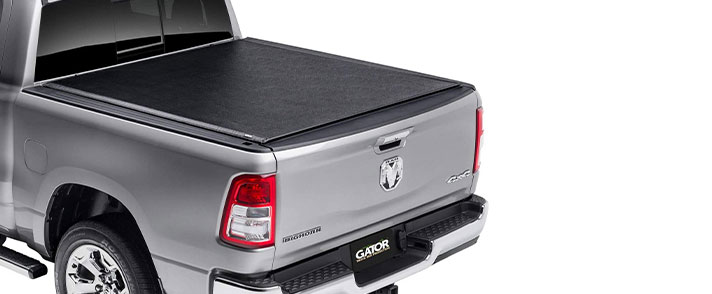 Alligators utilize a strong leather hide to protect its innards from external damage. Their hide is known to be one of the toughest ones in leatherworks. This concept is the same for the Gator ETX Soft Roll Up Truck Bed Tonneau Cover.
This tonneau cover allows protects your "innards" from external elements while freeing up larger bed space for more gear.
What do you get from buying a Gator ETX Soft Roll Up Truck Bed Tonneau Cover?
NO-DRILL INSTALLATION. You can use clamps to simply attach the cover to the rails without any fuss.
EASE OF USE. This bed cover is designed to be operational while using one hand only, possible thanks to the trigger latch located on the side of the driver. It also allows full access to the bed by rolling the cover in the direction of the cab and securing it with a storage strap.
AESTHETICS. Crumples and tangles are pretty annoying. This tonneau bed cover has a built-in adjustable tension control so you can pull the cover as tight as possible.
GATOR also offers various truck bed covers like ETX Roll Up, ETX Tri-Fold, EFX Hard Tri-Fold, and FX Hard Quad-Fold.

Buying a truck bed cover for your Ram 1500 means that you're also paying for cargo protection, fuel efficiency, and style. Whatever purpose you have for a truck bed cover, make sure that you get the right type of tonneau cover to fully maximize the truck bed space.