Pretty much everyone wants an LED light bar on their truck. Choosing the right one, however, can be difficult. There are different sizes, brackets, and styles to choose from. If you have a Dodge Ram and like to go off-roading at night-time then you definitely need an LED light bar.
Even if you don't go off-roading that often an LED light bar can help you see at night. It can also save you from getting yourself in dangerous situations off-road
To help you find the perfect lights for your truck, we created this short guide highlights our favorite choices.
Roof Mounted Light Bars for 1994-2002 Ram
Roof mounted light bars help eliminate shadows on the trail and they look awesome. If you use the brackets that come with your new light bar you'll have to drill holes in your roof and those will majorly damage your roof
To avoid this denting issue, we will focus on light bars you can get vehicle specific brackets for to avoid the denting roof problem.
#1 Rigid Industries 50" RDS Midnight Edition (Editor's Choice)


If you've read our other light bar related articles, then you know how much we love Rigid Industries. If you're looking for a more budget friendly light, we've listed much cheaper options below. For a 1994-2002 Ram, the most common light bar size is a 52" curved.
Unfortunately, Rigid Industries doesn't make a 52" RDS, so we're forced to list the 50" RDS. This light bar has the awesome Midnight Edition look, plus it is water, dust, and shock resistant. The 50" RDS outputs an impressive 26,150 lumens making it bright.
Unfortunately, Rigid Industries uses a unique mounting system for their light bars so you'll either have to modify your brackets or get custom ones made. Although Rigid Industries products are expensive, you're getting an incredibly high-quality product backed with an awesome lifetime warranty.


Warranty: Lifetime
Power: 375W
Output: 26,150 lumens
#2 Rough Country 52" Curved X5


Second on our list is the Rough Country 52" X5. Although we love the look of all black lights, we think the X5 series is even better. Unlike the Rigid Industries LED light bar listed above, you can buy the Rough Country light bar in a 52" size.
Unfortunately, Rough Country only provides a 3-year warranty on their light bars. The lack of a lifetime warranty isn't an issue if you're planning on selling your truck within three years, but after that the lack of warranty can be an issue.
What makes the X5 series light bar uses a unique X pattern for the LEDs. This unique system allows this light bar to output an insane 27,000 lumens. It works by effectively putting three rows of lights in the same space that you'd typically see two rows of lights.
The Rough Country light bar is also much cheaper. So, if you're on a budget then this is the perfect light bar for you.


Warranty: 3 years
Power: 300W
Output: 27,000 lumens
Apoc Industries 52" Curved Brackets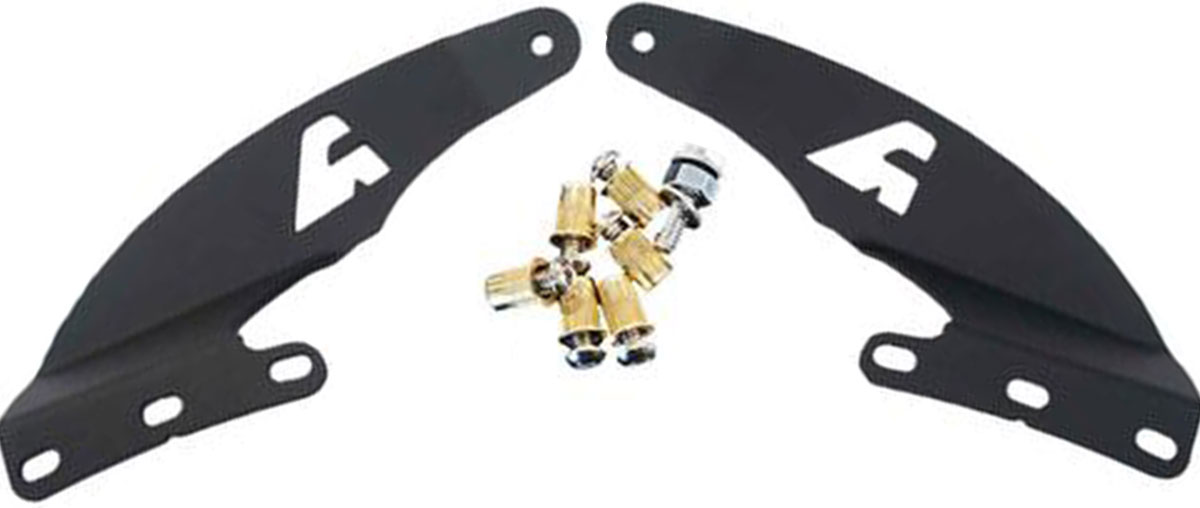 Unfortunately, there isn't a huge selection of brackets for this second generation Dodge Ram. Luckily, Apoc Industries makes excellent brackets just for the 1994-2002 Ram.
Their brackets are CNC laser cut and feature a low profile design which helps eliminate vibrations and wind noise. Not only do their brackets look super awesome, but they're also made right here in the USA!
If you're planning on mounting a light bar to your roof, we highly recommend these brackets.


Roof Mounted Light Bars for 2002-2008 and 2009-Current Ram
Luckily the cab on the 2002-2008 and 2009-current Dodge Rams is much wider than previous generations of Ram. This means you can easily fit a 54" or larger light bar. A larger light bar means more light output, and everyone always wants more.
The reason we're combining both the third and fourth generation Rams is because we would recommend the same lights for both generations.
#1 Rigid Industries 54" RDS Midnight Edition (Editor's Choice)


Although the 54" RDS is expensive, it outputs an insane amount of light and it can take a beating. Just like the smaller 50" RDS, the 54" RDS is water, dust, and shock proof. Given how tall some Rams can be it you never know when your light bar might smack into a tree branch.
Just like always we recommend the Midnight Edition because of its awesome looks. This light bar outputs an astonishing 28,242 lumens, so you'll be able to light up the darkest of nights.


Warranty: Lifetime
Power: 405W
Output: 28,242 lumens
#2 Rough Country 54" Curved Black Series


The Rigid Industries 54" RDS is a very expensive light bar. Although all that money goes towards unmatched quality, some of us can't afford a light bar that expensive. If you're on a budget than Rough Country has your answer.
The 54" curved from Rough Country outputs 24,960 lumens: about 3,700 lumens less than the Rigid Industries light bar. We chose the Black Series because chrome light bars are ugly and "out of style".
Unfortunately, they only cover this light bar with a 3 year warranty so make sure you don't break it!


Warranty: 3 Years
Power: 312W
Output: 24,960 lumens
Rough Country 54" Curved Brackets


If you plan on buying the Rough Country light bar, then you might as well pick up they Dodge Ram brackets too. These brackets are specifically designed for a 54" curved on any Dodge Ram from 2002 to 2008.
They also make the same brackets for 2009-current Rams. The best part about these brackets is their price. If you plan on doing any hard off-roading in your Ram look at low-profile brackets since they vibrate less.


Apoc Industries Double Stack 52" Curved Brackets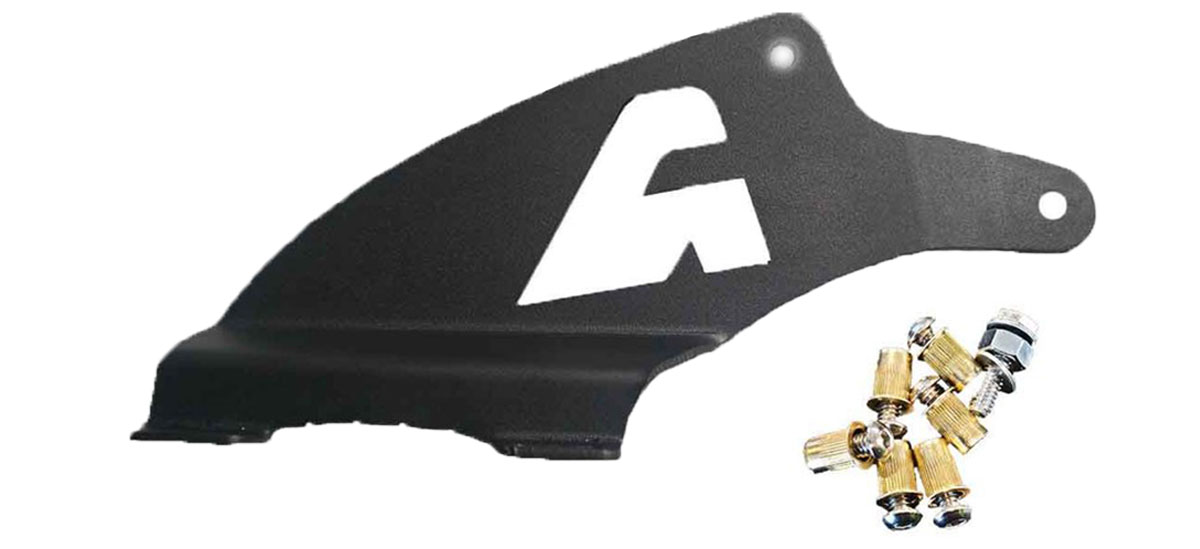 What's cooler than one light bar on your roof? How about two? Apoc Industries designed these brackets to mount two 52" light bars above your windshield. They're CNC laser cut, and TIG welded to ensure strong mounting.
Although these brackets are about twice the cost of the Rough Country brackets, the ability to mount multiple 52" light bars is worth it. If a double stack isn't what you want, they also make similar brackets designed for a single 52" curved.


Grill/Bumper Mounted Light Bars for 2002-2008 and 2009-Current Ram
Mounting a light bar on the roof looks cool, and it helps eliminate shadows, but it also causes windshield glare. Windshield glare is when the light emitting from your roof mounted light bar gets onto your windshield.
Sometimes, this can make it even harder to see, so we included a few grill/bumper mounted LED light bars options for you to pick from.
Rough Country 40" Bumper Brackets (Editor's Choice)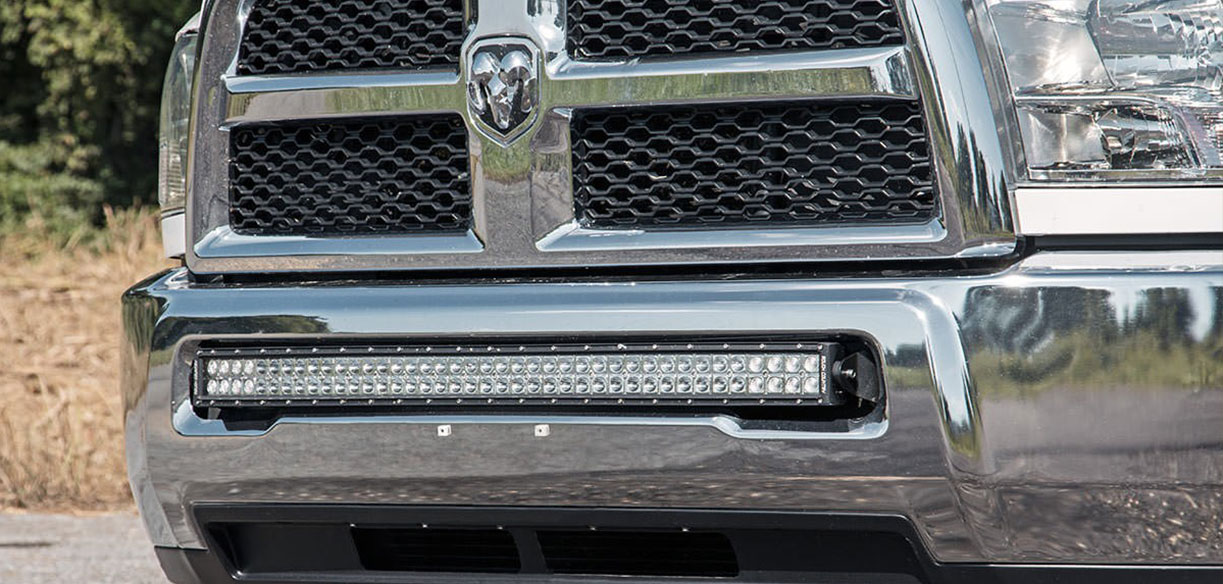 One of the most popular light bar mounting spots for Dodge Rams is in the bumper. Rams from 2011 to 2017 have a massive slot in the bumper. The slot is big enough to fit an entire 40" light bar.T
hese brackets make it super easy and the brackets are pretty hidden giving your bumper mounted light bar an awesome look. If you wheel your Ram hard, it might not be the best idea to put your light bar that far down since it will probably get pounded with rocks.
These brackets don't include a 40" light bar, so you must source that yourself.


Rigid Industries Fog Light Kit


One of the best parts of small light bar cubes is the ability to use them as fog lights. We've done exactly that in the past, and not only does it look awesome but they're great in fog or dust. This kit from Rigid Industries works on 10-14" 2500/3500 Rams.
The brackets mount 2x small LED cubes in place of the factory fog lights. Unfortunately, this kit doesn't include the LED cubes so you must source those yourself. Both Rigid Industries and Rough Country make excellent 2×2 LED cubes that would be perfect for this application.


Why do we Recommend Rigid Industries and Rough Country?
You may have noticed that we recommend Rigid Industries and Rough Country quite a lot. We've had experience with hundreds of different light bars in the past. We know that cheap light bars output WAY less light than advertised.
For that reason, we never recommend buying something cheaper than what Rough Country light bar costs. Anything cheaper and you'll be buying a piece of junk.
The reason we recommend Rigid Industries is that of their unmatched quality. Yes, their light bars are very expensive, but there's a reason most professional off-roaders use them. Rigid Industries pushes their products to insane limits to see when and where they'll break so they can improve it.
If you have the money, we would always recommend Rigid Industries. You can also check out our full light bar buying guide for more information.