The Hyundai Veloster has been a low-key alternative project car to the popular JDM options like Subaru WRX, Nissan 350Z, and the Toyota 86. This KDM car, just like its peers, is open and available for modification.
That's why some car enthusiasts love it: the Hyundai Veloster is an affordable compact hatchback that's quirky, fun to drive, stylish, and most of all, modifiable. An example of an aftermarket product that compliments the Hyundai Veloster is an exhaust system.
Aftermarket exhaust systems are among the most sought after modifications for any project car. It affects a vehicle's performance in a big way, thanks to the benefits it offers, like extra horsepower and torque.
Not mentioning the character, it adds to a car with its uniquely deep and aggressive tone that puts a vehicle up the pedestal. Most car enthusiasts in need of an aftermarket exhaust system need one that can make their car stand out from the crowd.
If you're one of these gearheads in pursuit of the right aftermarket exhaust system and by some chance you own a Hyundai Veloster, then this article is for you. Below you will see the list of the best aftermarket exhaust systems for the Hyundai Veloster.
They vary from cat-back to axle-back, so check them out to see what aftermarket exhaust system would be the best fit for your modification preferences.
#1 aFe Power Takeda ST-3 Cat-Back Exhaust System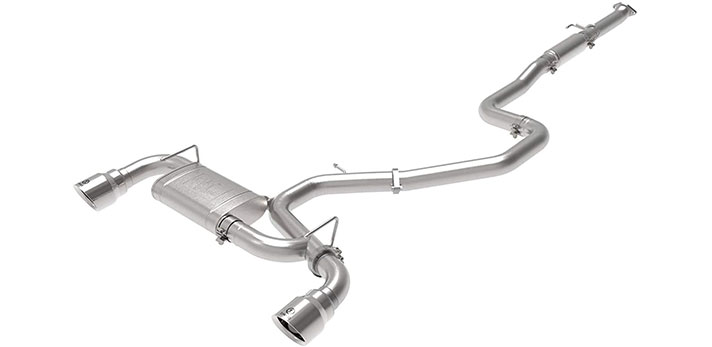 Manufacturer: aFe Power
Weight: 54lbs
Part Number: 49-37010-P
Compatibility: Hyundai Veloster N (2019-2020)
The list starts with one of the best exhausts for Veloster turbo, the aFe Power Takeda. The word Takeda is a popular term amongst car enthusiasts; it's aFe Power's iconic line of aftermarket products that gives any car it touches major renovation.
In a nutshell, Takeda is one of the most sought after exhausts for most cars, especially the Hyundai Veloster N.
The Takeda ST-3 is one of aFe Power's exhaust system suited for Veloster Ns. It's made out of 3" 304 stainless steel; mandrel-bent to make sure that it is strong and durable.
It has dual 5" polished exhaust tips, which is then laser-etched with Takeda's logo to add more uniqueness to the exhaust. The Takeda ST-3 also has an integrated mitered merge collector that reduces the exhaust gas's turbulence and increases its velocity, paving the way for more power and torque.
The ST-3 in the name means that this Takeda exhaust is incorporated with a 1¼" Sound-Core that regulates flow into the muffler, making the exhaust sound lower than average.
It's an excellent tool for controlling the type of sound you want your Hyundai Veloster N to emit. And if you're not a fan of quiet mufflers, aFe offers an optional 2" Sound-Core to make your Hyundai Veloster N roar like it's born from the streets.

#2 Borla S-Type Cat-Back Exhaust System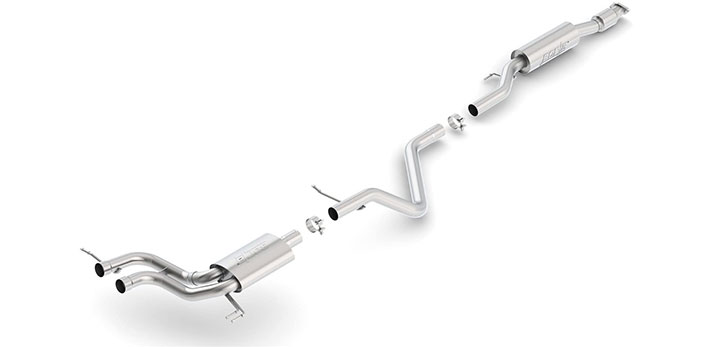 Manufacturer: Borla Exhaust
Weight: N/A
Part Number: 140506
Compatibility: Hyundai Veloster Turbo (2013-2017)
The second of the best exhaust for the Hyundai Veloster turbo is the Borla cat-back exhaust system. It's a great choice of exhaust fitted for those who prefer an affordable exhaust system that can increase your car's horsepower and torque output that many car enthusiasts love.
Borla has been modifying cars to unleash their potential, and entrusting your Hyundai Veloster N to them isn't a bad idea.
The Borla S-Type cat-back exhaust system is made out of 2.5" 304 stainless steel, with ultra-smooth mandrel-bends to ensure minimum flow restrictions. Although it makes it look unique and sound louder and unrestrained, this exhaust has no tips.
It's a cat-back exhaust system that prioritizes performance and sound gains instead of style, aesthetic appeal, and attractiveness.
This cat-back exhaust system fits for you if you prefer an exhaust system with no exhaust tips. Even though it has no exhaust tips, it still delivers what performance gains it promises: extra horsepower, extra torque, improved fuel economy, etc.
Think of this exhaust as somehow minimalistic and raw, an exhaust system made just to increase your Hyundai Veloster N's performance attributes.

#3 aFe Power Takeda Axle-Back Exhaust System
Manufacturer: aFe Power
Weight: 28lbs
Part Number: 49-37007-B
Compatibility: Hyundai Veloster N (2019-2020)
We have another Takeda on our list, and this time it's an axle-back exhaust system. Axle-backs differ from cat-backs in some ways, but they both give an extra boost to the Hyundai Veloster N's power output.
The Takeda axle-back exhaust system is a Takeda alternative for those who want to make their Hyundai Veloster N bellow like a wild animal with its loud and aggressive tone instead of a mellow-sound one like what the Takeda ST-3 offers.
The Takeda axle-back exhaust system is constructed out of a 3" 304 stainless steel tubing that is mandrel-bent to ensure that it will withstand whatever punishment it takes.
This tubing is then connected to a high-flow stainless steel muffler responsible for producing that deep and aggressive sound the Takeda axle-back is responsible for. The exhaust is ended with two black 5" stainless steel exhaust tips that make the Takeda look ever so stylish.
If stainless steel polished tips are not your cup of tea, then opting for the axle-back instead of the ST-3 is for you. You should also choose this one if you prefer a raw and unadulterated loud exhaust tone instead of a mellow sound for your Hyundai Veloster N.
Major difference between the two Takeda's is the ST-3 gives 10hp and 11lb-ft. In contrast, this one only offers 8hp and 9lb-ft.

#4 MagnaFlow Street-Series Performance Exhaust System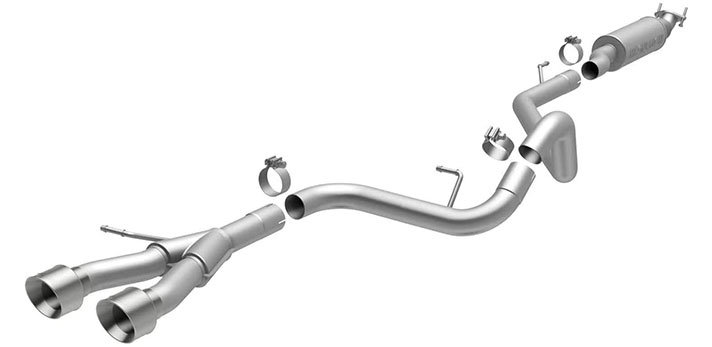 Manufacturer: Magnaflow
Weight: 41lbs
Part Number: 15215
Compatibility:

Hyundai Veloster Turbo (2016-2017)
Hyundai Veloster Rally Edition (2016)
Hyundai Veloster R-Spec (2016-2017)
The fourth of the best exhaust system for the Hyundai Veloster Turbo is Magnaflow's Street-Series performance exhaust system. It's an exhaust system that's guaranteed to make you grin from ear to ear with its moderate yet aggressive sound that's pretty mild to the ears when you're the one driving.
This exhaust system is another affordable alternative to those exhaust systems with pretty big price-tags.
The Street-Series is a performance exhaust system that can make you Hyundai Veloster N street-worthy. It's from 2.5" 409 stainless steel tubing, a cheaper alternative to the typical 304 stainless steel used by the other exhaust system manufacturers.
The tubing is then ended with a single 4" polished stainless steel exhaust muffler, giving off a classic polished looking vibe that some car enthusiasts love.
Magnaflow guarantees that it will deliver that moderate street-worthy exhaust note that it promises. They also ensure that their dyno-proven results will be evident in their Street-Series performance exhaust system.
However, promises and talks are not enough. Magnaflow knows that, so they made their commitment to make Hyundai Velosters better by creating the Street-Series performance exhaust system.

#5 MBRP XP-Series Dual Exit Exhaust System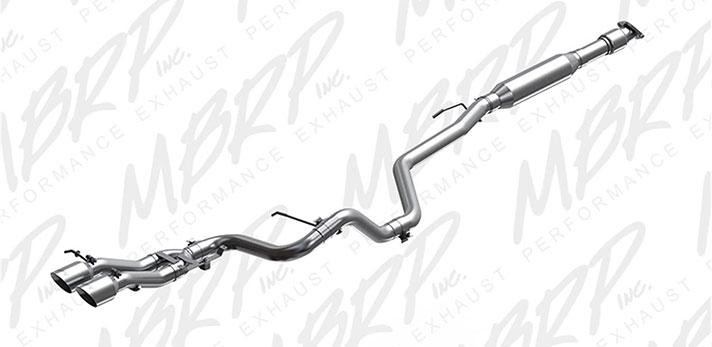 Manufacturer: MBRP Exhausts
Weight: 47lbs
Part Number: S4701409
Compatibility: Hyundai Veloster (2013-2014)
Rugged. Dependable. Loud. These are just some of the words you can use to describe the last Hyundai Veloster exhaust system on our list. MBRP's dual-exit exhaust system is great for those who want to limit test their Hyundai Veloster on the track and the streets.
It's among the best sounding exhaust in this list if you define the phrase "best-sounding" as loud, aggressive, and vicious.
When we say loud, we mean loud. It's unshackled sound is evident in its audible pops and gurgles, and it sounds savage when you floor it. This XP-Series made for the Hyundai Veloster is made out of 2½" 409 stainless steel that ends up with stainless steel dual-exits.
There aren't too many details about this exhaust system, but previous customers have expressed their satisfaction with the XP-Series dual-exit exhaust system from MBRP.

Is Getting an Aftermarket Exhaust for the Hyundai Veloster Worth It?
Aftermarket exhaust systems should be on your checklist if you aim to make your Hyundai Veloster more audibly powerful. Let's admit it: the stock exhaust sound of the Hyundai Veloster seems a little bit lackluster compared to other cars.
Though the Veloster N and Veloster R-Spec is aggressive enough, it still needs a bit of customization.
The point of having an aftermarket performance exhaust system is to have a car that sounds raw, unadulterated, and powerful. Aside from the acoustics, the vehicle should get at least a handful of added horsepower and torque.
Any car would greatly benefit from these parameters, the Hyundai Veloster included. So is getting an aftermarket exhaust for the Hyundai Veloster worth it? Absolutely!
The Hyundai Veloster is such a fun car to own, drive, and modify. Equipped with a performance aftermarket exhaust system, this car can experience a significant change in terms of performance and audibility.
If you want to make your Hyundai Veloster perform better while getting an excellent sound that can make you grin from ear to ear, then getting an exhaust system is not a question: it's an answer.