The Scion FR-S is a nice project car to invest your time with. It's made under the supervision of both Subaru and Toyota and is marketed as the Scion FR-S in the United States. It was called many names: BRZ, 86, GT86, Scion FR-S.
Although it went under a pretty hard period back in the early 2000s where its sales were not that high, it became a popular brand for those who want a performance car that can be outfitted with various mods.
Picture this: you're driving your favorite car, and you're going from 0mph to 60mph in just 6.6 seconds. Not bad right? Now imagine doing that with a great sounding exhaust system.
You'll surely scare the life out of the people nearby! That's just one of the things a Scion FR-S can do with an aftermarket exhaust system. The Scion FR-S looks great, feels great to drive, and most of all, it sounds awesome with an aftermarket exhaust installed on it.
Among the mods that you can get for a Scion FR-S, an exhaust system is one of the best items that you should get first. This component is great for improving your car's exhaust gas flow, translating to a significant increase in horsepower and a better fuel economy.
Plus, if you have a flair for the dramatics, an aftermarket exhaust system can give you a pretty wicked sound that will surely capture the attention of bystanders.
There are many aftermarket exhaust systems available out there, but the ones below are the best Scion FR-S exhaust. Check them out!
#1 Perrin Performance Cat-Back Exhaust System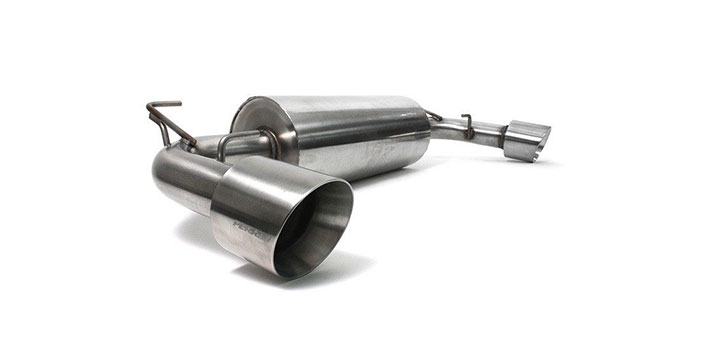 Manufacturer: Perrin Performance
Weight: 44.5lbs
Part Number: PSP-EXT-362BR
Compatibility: Scion FR-S (2013-2014)
Perrin Performance is among the most trusted brand of aftermarket performance mods for all of the three cars, namely Subaru BRZ, Toyota GT86, and the Scion FR-S.
In this case, their 3" cat-back exhaust system can do the trick: make your Scion FR-S sound badass while doing its duty to provide your car with an increase in horsepower out.
And don't forget about better mileage!
So what does this cat-back exhaust from Perrin Performance has to offer? The exhaust gas first goes from the 3" inlet pipe, then to the center chamber, and finally to the two 2.5" exhaust pipes that deliver the gas to the polished diagonal-cut exhaust tips
The exhaust system's entirety is made out of stainless steel, so it means it's corrosion-resistant and can withstand extremely high temperatures.
And if you know your exhausts, most manufacturers make exhausts out of 409 stainless steel, which is cheaper and has a higher tendency to rust. Perrin Performance, however, is made from 304 stainless steel which is guaranteed to be more durable and long-lasting.
On top of that, it creates a pretty sick exhaust sound. With that partnered with the high-polished tips, there's no wonder that your Scion FR-S will be grabbing other people's attention.
#2 Spec-D Tuning Exhaust System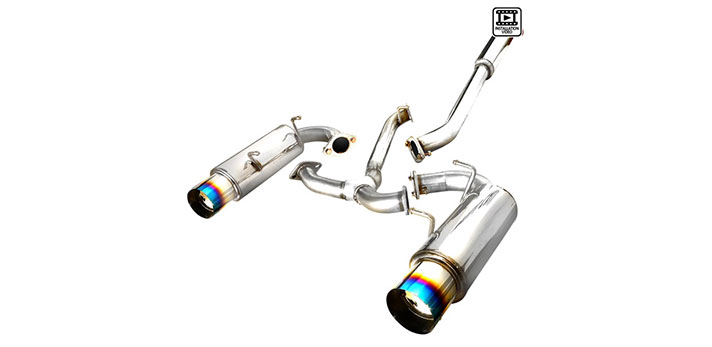 Manufacturer: Spec-D Tuning
Weight: 31.3lbs
Part Number: MFCAT2-FRS12T-SD
Compatibility: Scion FR-S (2012-2017)
The second one on our list comes from Spec-D Tuning, a manufacturer of car performance mods that are usually used by vehicles starred in car shows and events. They are considered as one of the pioneers of the aftermarket mod industry and their products are of the highest quality but the most affordable price range.
Their exhaust system for the Scion FR-S is a great example of what they can offer.
So what's with the Spec-D Tuning Exhaust? It's an N1 Style straight-through cat-back exhaust system that utilizes multi-core technology to release the reins of the horses trapped inside the Scion FR-S. Made from T-304 stainless steel, it's sure to be lightweight.
If you're a guy who needs his weight reduction, this is a good exhaust to try. This exhaust system is composed of 2.5" inlet piping and 4" dual outlet tips.
The best thing about this exhaust system is the extra horsepower that it brings, about 15 horsepower. Spec-D Tuning is focused on giving the Scion FR-S the maximum performance it can give, that's why it's considered to be on the list of the Scion FR-S best sounding exhaust.
#3 BORLA Axle-Back Exhaust Touring System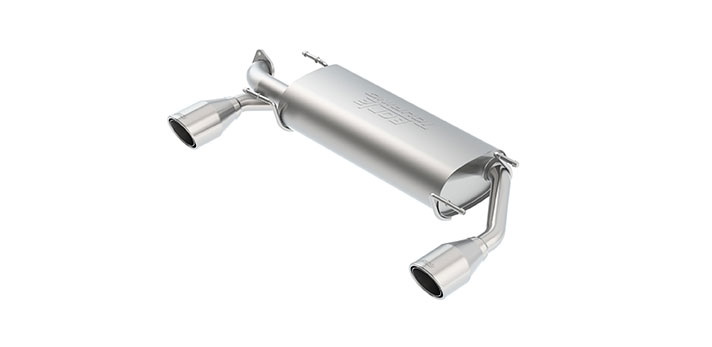 Manufacturer: Corsa
Weight: 52lbs
Part Number: 14864BLK
Compatibility: Scion FR-S (2013-2016)
Now, if you're looking for something different for the Scion FR-S, then you need to check out this exhaust system from Borla. It's an axle-back exhaust, different from the cat-back in terms of the position of the necessary components.
The only advantage of the axle-back is it's easier to install and is more affordable than a cat-back exhaust. Let's see what Borla's axle-back touring exhaust has to offer.
This axle-back exhaust features a 2.5" piping connected to a muffler with two exits that has 4" exhaust tips. Borla utilized their very own patented multi-core technology specifically designed to help the engine produce more power.
The entire system is also made from T-304 stainless steel, so you can be sure that Borla's axle-back exhaust system won't corrode anytime soon.
#4 Corsa Sport Series Cat-Back Exhaust System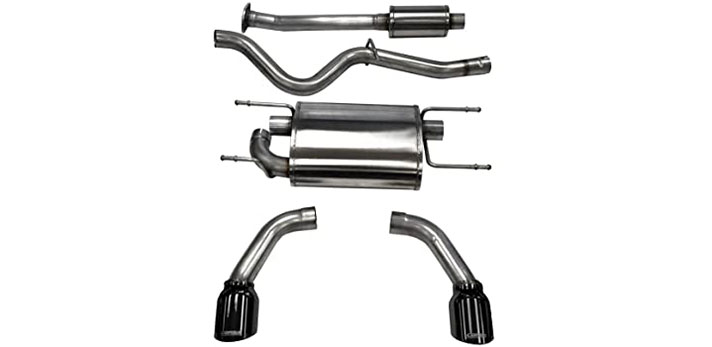 Manufacturer: Corsa
Weight: 52lbs
Part Number: 14864BLK
Compatibility: Scion FR-S (2012-2017)
Let's say that money is not a big problem for you, and you're willing to spend as much just to get the best sounding exhaust for Scion FR-S. If that's you, then you should check out Corsa's Sport Series cat-back exhaust system.
This is a premium exhaust system, and it's premium not just because of its price tag, but because of what's the exhaust system has to offer for your Scion FR-S.
With the Sports Series installed on your Scion FR-s, your car will be receiving tons of benefits like reduced pipe restrictions, minimal backpressure, larger horsepower, and torque output, and many more.
The sound that it creates is truly sensational, and the fuel economy that it offers the Scion FR-S isn't that bad too. The benefits you get justifies the price of this aftermarket exhaust system.
But wait, there's more! This exhaust system with a straight-pipe design allows you to choose between two tip options: a black stealth tip and a double-walled polished tip. Aside from that, you get to choose what sound you get: the default, touring, sports, and extreme.
They all have features of their own that make the Scion FRS unique in its way.
The Touring variant is recommended for those who own a highly tuned Scion FR-S and want little to no difference from the sound that the stock makes. The Sport variant is a bit louder and is perfect for a slightly modified Scion FR-S cruising the streets.
The Extreme variant is well, extreme. It's the loudest sounding exhaust system for the Scion FR-S that Corsa can give.
#5 Invidia N1 Cat-Back Exhaust System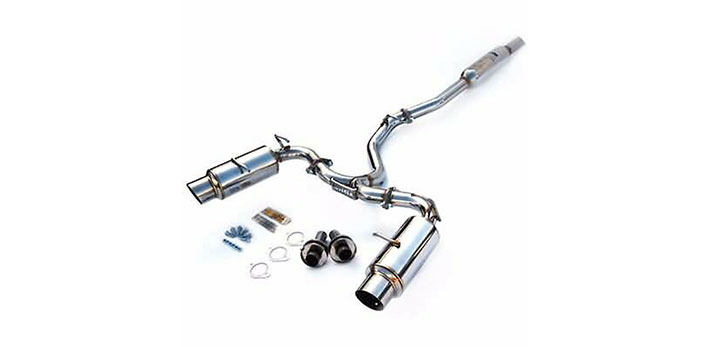 Manufacturer: Invidia
Weight: 46lbs
Part Number: HS12SSTGTP
Compatibility: Scion FR-S (2012-2019)
Invidia is a well-known brand of the aftermarket exhaust system. It is popular for being one of the customer's favorites. Truthfully, there's much to love about this exhaust system company.
They know what their customers want, and they know how to make high-quality aftermarket automotive parts. For the Scion FR-S, they've got their best exhaust system for Scion FR-S: the N1 cat-back exhaust.
The N1 cat-back exhaust is an exhaust system with a 2.4" pipe connected to 4" dual exhaust tips, constructed out of mandrel-bent SUS304 stainless steel, and held together by CNC-machined flanges to make sure that no component would get separated.
Made for Scion FR-S under the years 2012 to 2019, this exhaust system is a great way to help the engine create top-end power gains, and as well as a significant increase in both horsepower and torque output.
This exhaust system came from the lineup of the N1 Series. It's a series of exhaust specially made to cater to the needs and wants of motorsports enthusiasts.
Made for racers in mind, the N1 cat-back exhaust system emphasizes weight reduction, performance, increase in horsepower and torque, and top-of-the-line exhaust gas flow.
That's what puts this N1 cat-back exhaust among the best exhaust for the Scion FR-S.
#6 Greddy Evolution GT Exhaust System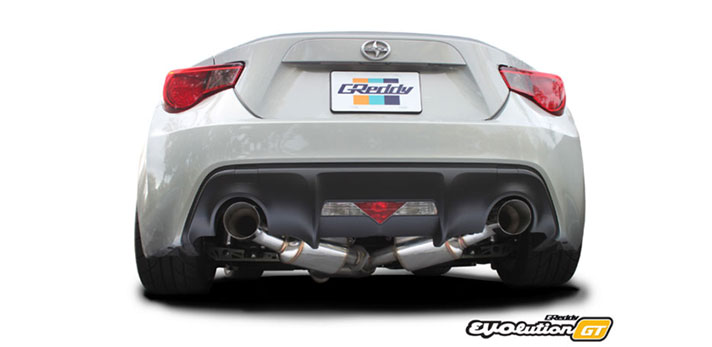 Manufacturer: GReddy
Weight: N/A
Part Number: GRE10118300
Compatibility: Scion FR-S (2013-2016)
And finally, to finish the list, we have the GReddy Evolution GT, an aftermarket exhaust system favored by many because of its pure and unadulterated grim sound that will make any car lover grin from ear to ear.
It's specifically made to make the Scion FR-S look and sound aggressive, and is a popular exhaust system for many experienced car enthusiasts who love to mod their car.
What makes the Evolution GT so good? It's the sound that makes this GReddy exhaust system so desirable. If you're itching to make your Scion FR-S roar like an angry lion, then this is the exhaust system for you.
It's got a 3" piping connector to a huge resonator in the mid-pipe and then around the differential down to a Y-section to maximize the exhaust gas airflow. It's even connected to their classic 4.5" Evo GReddy tip with their logo laser-engraved on it.
It looks cool, it performs well, and it sounds sick.
Making your Scion FR-S sound great is just a step into making your car something to be truly loved. Once you get your hands on some quality exhaust systems, you can now proceed to add some more aftermarket performance mods like intake systems, suspension upgrades, etc.