If you think that cars can't fly, then you haven't seen a Can-Am Maverick X3. This UTV has been on the frontlines, along with the others like Honda, Yamaha, and Kawasaki. Although the other mentioned brands manufacture great side-by-side cars, none can compete with the Can-Am in terms of innovation.
For this type of product quality, Can-Am has set itself ahead of the competition. Their off-road vehicles are loved by many, not just for their quality but because of its openness to upgrades.
One such example of their side-by-side car is the Can-Am Maverick X3, which response greatly to aftermarket exhausts.
For those of you who don't know it yet, the Can-Am Maverick X3's Rotax RR Engine is capable of producing 120hp to 195hp, depending on the model. By getting your hands on some quality aftermarket exhausts, whether it's a full exhaust system or a slip-on, you're guaranteed to have a significant increase in power.
The exhaust below is the best one to transform you Can-Am Maverick X3. Check them all out to see what best fits for your UTV!
#1 Trinity Racing Dual Slip-on Exhaust System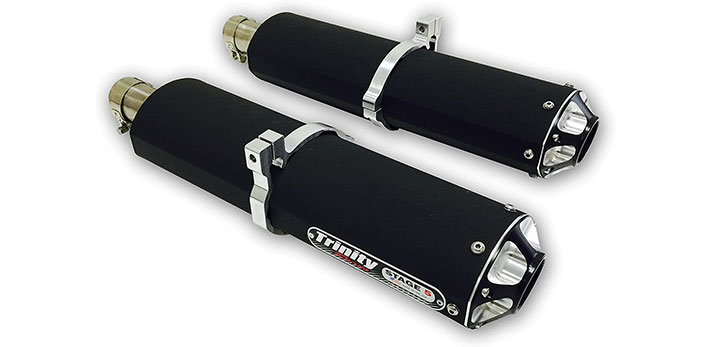 Manufacturer: Trinity Racing
Weight: 14lbs
Part Number: TR-4102S
Compatibility: Can-Am Maverick X3 (2013-2015)
If you want an exhaust for your Can-Am Maverick X3 but you're budget-restricted, try taking a look at Trinity Racing's dual slip-on mufflers.
Unlike the typical exhausts found in standard cars, the exhaust systems made for UTVs like the Maverick X3 are designed to be sturdy enough while giving that lovely deep sound that fits the Maverick X3 just right.
So what's with this exhaust system? It's got a tailpipe made from 304 stainless steel, mufflers made from aluminum, and a neat black powder coating that complements the look of the Maverick X3.
The mufflers have an O2 sensor bung to ensure that exhaust gasses are monitored enough to comply with your place's rules and regulations.
On top of that, this slip-on exhaust is cheap too! This is a great starter slip-on exhaust, especially if you put great emphasis on budget control. Value-wise and quality-wise, this exhaust is a bang for the buck.
#2 Yoshimura Slip-On Exhaust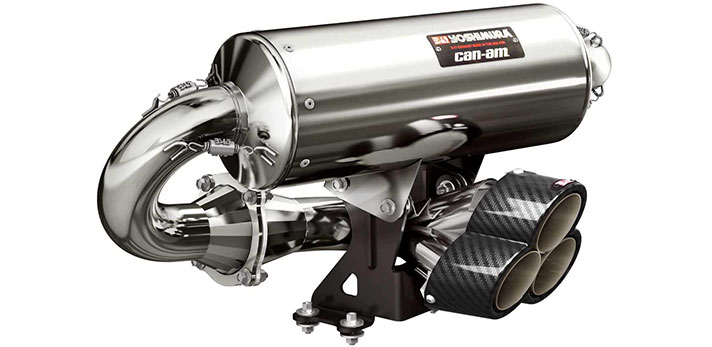 Manufacturer: Yoshimura
Weight: 14.5lbs
Part Number: 715002882
Compatibility: Can-Am Maverick X3 MAX (2018), Can-Am Maverick X3 (2018-2017)
Now if you want an exhaust from a trusted brand that has upgraded racing bikes and UTVs alike, then you should check out the real alpha: the Yoshimura. They're well known for making off-road racing vehicles dominate their respective tracks through their well-loved exhaust systems.
For the Can-Am Maverick X3 and Maverick X3 Max, they have a slip-on made from 304 stainless steel with tips made out of carbon fiber. This slip-on exhaust gives your UTV three main benefits: aggressively loud sound, significant weight reduction, and an increase in horsepower.
Yoshimura exhausts, whether it is a full-system or a slip-on, are proven and tested both on the street and on the track. They are famous for their carbon fiber tips, which gives the vehicle it's latched on a very distinct and assertive look.
This is the reason why Yoshimura exhausts are one of the best Can-Am Maverick X3 exhaust.
#3 HMF Blackout Titan XL Dual Full System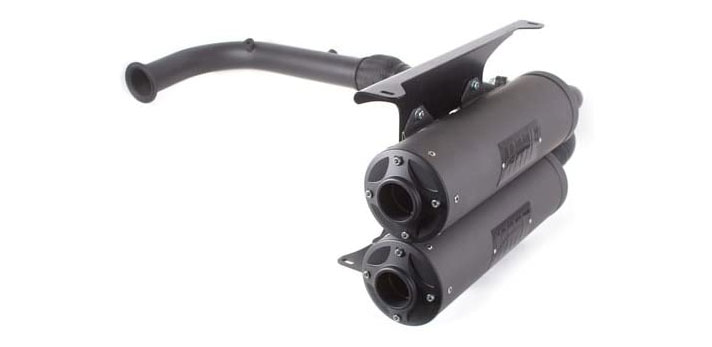 Manufacturer: HMF Racing
Weight: N/A
Part Number: 71660A638893
Compatibility: Can-Am Maverick X3 Turbo 2018-2020
The dual full system from HMF is a real titan based on what it can give your Maverick X3. Featuring the Blackout Titan XL, a full system exhaust that defines what real power and performance look like.
It was designed to give customers what they truly need: excitement and satisfaction.
Let's take a look at what the Blackout Titan has. It's got two large mufflers connected to large diameter piping to further enhance the Maverick X3's airflow. It's also responsible for an extra horsepower output that your UTV can receive, plus an awesome sound that hits the spot.
However, before installing this on your vehicle, please note that you need to reflash the Maverick X3's ECU, or patch it up with a fuel tuner. Once you have this installed, you'll be guaranteed to get up to 6hp and 4lb-ft of horsepower and torque respectively
#4 Flowmaster Performance Exhaust System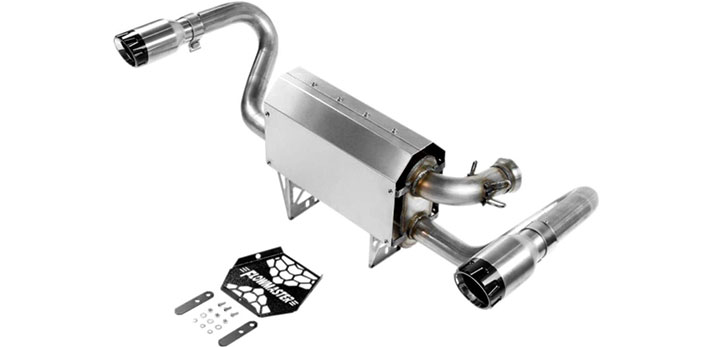 Manufacturer: Flowmaster
Weight: 45lbs
Part Number: B07F4Q4DJR
Compatibility: Can-Am Maverick X3 2017
Flowmaster has a knack for creating one of the best exhaust for Maverick X3. They have (literally) mastered the flow of exhaust gasses, thus making vehicles like the Can-Am Maverick X3 perform even better than it used to be.
And for such an affordable price, you can get more than what you've paid for.
The performance exhaust system from Flowmaster features dual tailpipes with high clearance. It utilizes XDR Off-road performance mufflers, and the components are made from 409 stainless steel construction, which is different from the typical exhaust system make.
And aside from that, it uses spark arrestors to optimizes the exhaust gas that flows out of the engine. Flowmaster's exhaust system is pretty easy to install and offers a limited lifetime warranty.
#5 Gibson Performance Slip-On Exhaust System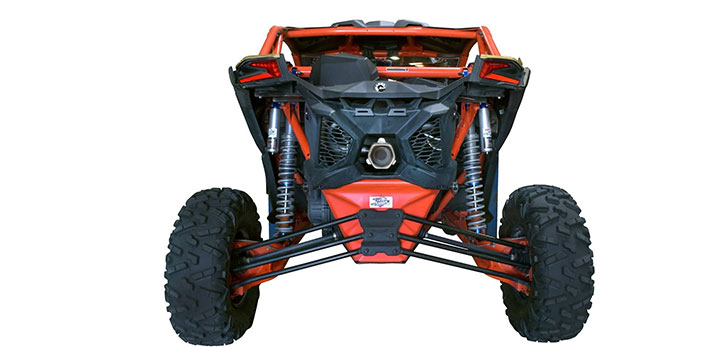 Manufacturer: Gibson Performance
Weight: 17lbs
Part Number: 98031
Compatibility: Can-Am Maverick X3 (2017-2020)
If you want to be the center of attention whenever you and your side-by-side car buddies hang out, then you should check out this slip-on exhaust from Gibson Performance. It's cheap, it's effective, and most of all, it's innovative.
What more can you ask for?
By getting your hands on some of Gibson Performance's exhaust system, you're giving your Maverick X3 a chance to get a taste of better sound and performance. These slip-on mufflers feature Suspended Flow Technology, where a louvered core produces a not-overly-aggressive sound.
On top of that, it looks great on your Maverick X3. Despite its price, Gibson Performance's slip-on mufflers are one of the best exhaust a Can-Am X3 can possibly get.
#6 GGB Slip-On Exhaust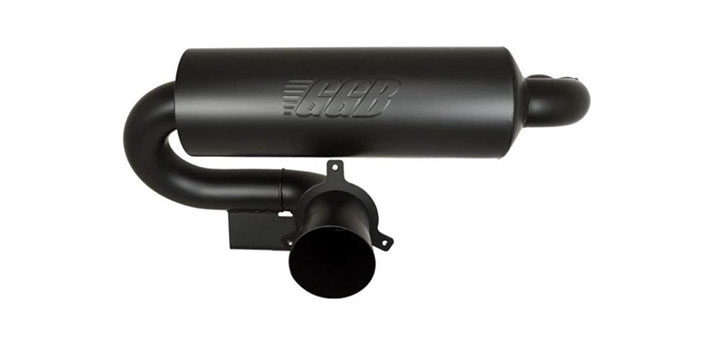 Manufacturer: GGB Exhaust Technologies Inc.
Weight: 18.71lbs
Part Number: 62-2180-1
Compatibility: Can-AM Maverick X3 (201-2019)
Can-Am Maverick X3 Max (2017-2019)
Admit it: black looks good on the Can-Am Maverick X3. Whether it is a full-system or a slip-on, the color black just complements the style of the UTV. Luckily for you, another one of the best exhaust for Can-Am Maverick X3 that features black coating, together with the improved performance and captivating sound.
Behold the slip-on exhaust from GGB, capable of optimizing your UTV's exhaust gas flow and make your side-by-side car sound, perform, and look better. It's made to be bolted on directly and doesn't need any reflashing.
Plus, the spark arrestor is removable too!
The best thing about this slip-on is how resistant it is. Apart from the coating that prevents it from rusting too soon, it can go under deep water; just in case your trail gets a little wet.
#7 Big Gun Exhaust Slip-On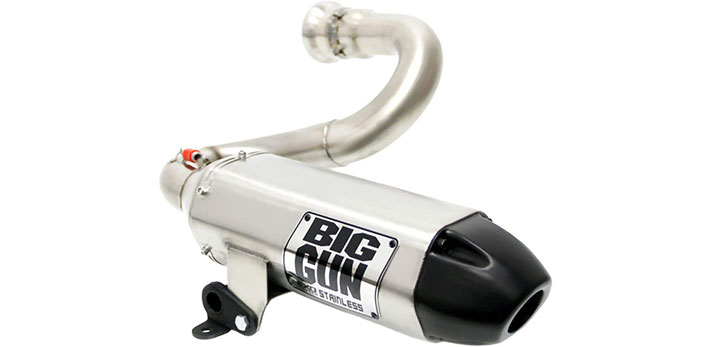 Manufacturer: Big Gun Exhausts
Weight: 10lbs
Part Number: 14-6952
Compatibility: Can-Am Maverick X3 (2017) – Can-Am Maverick X3 X DS (2017) – Can-Am Maverick X3 X RS (2017)
It's time to bring out the big guns! For the last exhaust system on this list, we have the Big Gun slip-on exhaust. It's big on weight reduction and offers a larger volumetric flow rate. And also, it fairly affordable too.
What's in the bag? The Big Gun is made from rugged stainless steel with a large hexagonal-shaped housing. It utilizes a sound wave altering system that further enhances the sound that this slip-on can create.
On top of that, the muffler tip is coated with black for a nicer finish. The spark arrestors are removable too! Experience an increase in horsepower and torque output with one of the best Can-Am X3 exhaust that you can get.
Why Off-Road Vehicles Need Aftermarket Exhaust Systems
Utility terrain vehicles like the Can-Am Maverick X3 have good quality exhaust systems but having aftermarket ones are even better. But why?
Aftermarket exhaust system tends to focus on having improved performance capabilities compared to the stock exhaust system. By making pipes with a larger diameter, the way the exhaust gasses exit the engine is optimized.
Compared to stock exhaust systems that are bent through crush bending, aftermarket exhaust systems are bent through mandrel bending, a more reliable way of altering the pipes without restricting airflow.
Standard steel is different from stainless steel. The former is the one usually used to make stock exhaust systems and tends to rust and wear out faster, while the latter is more durable and far more resistant to rust and wear.
Admit it, aftermarket exhausts produce better sound than that of the stock. It's one of the primary reasons why car enthusiasts change their exhaust – to have deep and aggressive sound.
These are the best sounding and performing exhaust systems for the well-loved Can-Am Maverick X3. They all vary in performance capabilities, sound, and prices, so pick the ones that best fit you and your UTV.