The Chevy Silverado is a massive workhorse, capable of making hard and heavy labor easier, especially if it involves lifting and towing. It is great for off-road activities too. This pickup truck's tow rating is an impressive 13,400lbs.
Strong enough to tow an African bush elephant! Its strength and capabilities are all possible thanks to its power.
Now that we've established how important the truck's power is, let us tell you something. Did you know that you can add a significant amount of usable horsepower for your Chevy Silverado?
You can do this by equipping it with an aftermarket exhaust system.
Aftermarket exhaust systems are great modifications for the Chevy Silverado. It improves the power output of your truck substantially, it makes it look even more assertive, and mostly, it lets your Chevy Silverado roar like a true alpha truck.
If you're here to find the best exhaust system for your beloved Chevy Silverado, then you should check out the list below. We've compiled the best aftermarket exhaust systems for the Chevy Silverado to save you from the hassle of finding each of them on the internet.
#1 Flowmaster Super 44 Exhaust Kit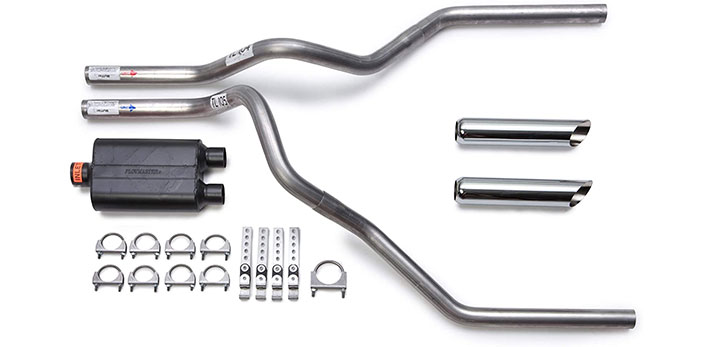 Manufacturer: Flowmaster

Weight: N/A
Part Number: DK107-CH
Compatibility: Chevy Silverado (1998-2018)
Pickup trucks are designed to be strong and powerful. If you want your Chevy Silverado to be stronger and even more powerful, then you should try out the Flowmaster Super 44 Exhaust Kit.
Enjoy a deep, rich, and ravenous roar as you equip this exhaust system on your Chevy Silverado.
So what with the Super 44 Exhaust Kit? With this exhaust system installed deep in your Chevy Silverado, you get dual-exhaust that can give you a lot of added benefits. The Super 44 exhaust kit is the company's best-functioning muffler.
It'll give your truck a boost in torque, horsepower, and optimal exhaust airflow.
No need to doubt the quality of this one! The Super 44 is Flowmaster's best seller. This has satisfied many off-road fanatics and truck enthusiasts, and for sure, it will satisfy you too!
#2 Rough Country Dual Exhaust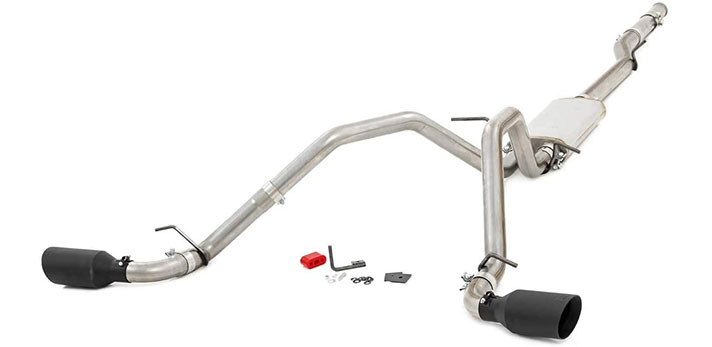 Manufacturer: Rough Country
Weight: 64lbs
Part Number: 96007
Compatibility: Chevy Silverado (201-2018)
The company's name itself says a lot about their product. Rough Country is known to manufacture one of the best exhausts for a Chevy Silverado. They are one of the best picks when it comes to off-road aftermarket parts, and they will surely give your truck a good time with their dual-exhaust system.
What are the benefits of using this exhaust system? With this aftermarket exhaust system installed, you'll get more attention, thanks to its aggressive and guttural sound.
The dual-back exhaust design is made from highly durable materials that can withstand extreme punishment since you're bringing the Silverado off-road.
Apart from that, the dual-exhaust design helps to cool your engine better than the typical single exhaust. You can also benefit from its stylish look – a dual exhaust on a Chevy Silverado is rad!
#3 Borla ATAK Cat-Back Exhaust System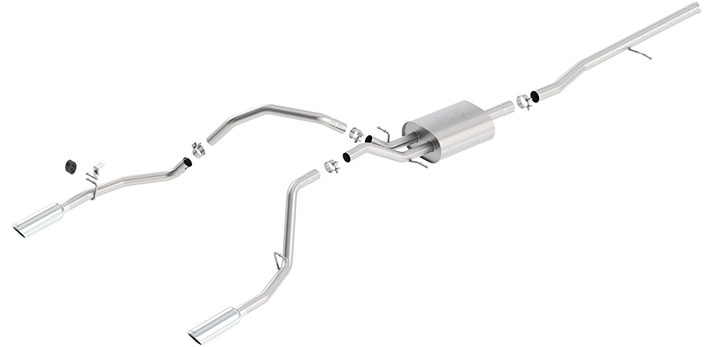 Manufacturer: Borla
Weight: 48lbs
Part Number: 140537
Compatibility: Chevy Silverado (2014-2019)
With great price comes with great value. That may not always be the case, but it is for Borla's best dual exhaust for Chevy Silverado 1500. Featuring the ATAK Cat-Back exhaust system, specifically made to bring out the best from your trusty Chevy Silverado.
Spending a thousand and more bucks for the ATAK brings you the following benefits. One, their patented strait-through and multi-core technology yields exemplary performance.
Second, you enjoy that distinctive roar that only Borla mufflers can do. Lastly, you'll be guaranteed that the exhaust is durable, safe, and excited to perform.
On top of that, you also get a million-mile warranty! This exhaust system may be expensive, but rest assured that you get the best from what you pay for. The Borla ATAK Cat-Back exhaust system is a must-try, especially if you have the means to do so.
#4 DNA Motoring Catback Exhaust System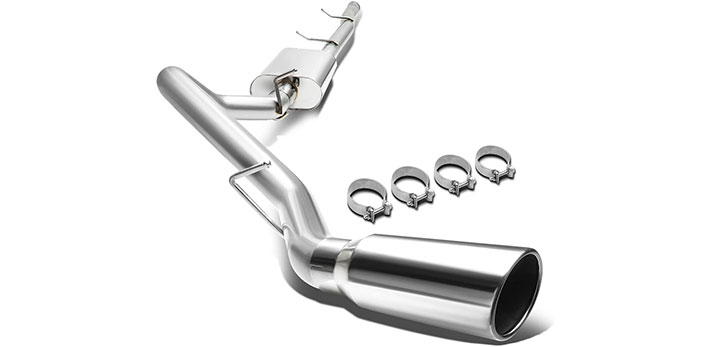 Manufacturer: DNA Motoring
Weight: 30.6lbs
Part Number: CBE-CS09-4853L-4DR
Compatibility: Chevy Silverado (2007-2013)
Now if you're strict on the budget yet you're itching to buy yourself a new exhaust system for you Chevy Silverado, then you should try this one out. Featuring DNA Motoring and their cat-back exhaust system that can significantly increase your truck's horsepower by up to 15hp-25hp – dyno-tested!
Having this single exhaust system equipped on your Chevy Silverado would mean the following. First, a guaranteed increase in horsepower, so you can dominate the off-road. Second, larger restriction-free pipes that promote optimal airflow.
And lastly, increased torque, lower backpressure, and a euphoric deep sound.
Keep in mind though: don't expect much. The price justifies whatever properties and benefits this exhaust could bring. If you want to beta-test a new muffler for your truck, then here it is.
#5 Gibson Performance Exhaust Dual Cat-Back Exhaust System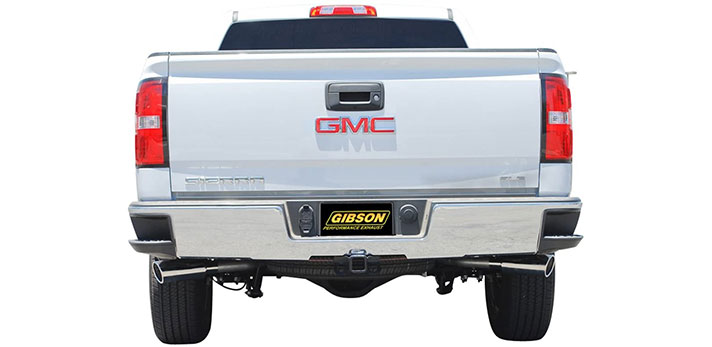 Manufacturer: Gibson Performance Exhaust
Weight: 57.4lbs
Part Number: 65658
Compatibility: Chevy Silverado (2014-2018)
And last but certainly not the very least, we have the Gibson Performance Exhaust and their dual exhaust made specifically for the Chevy Silverado. Equip your truck with a street-savvy exhaust system that will not only cool off your engine better but will also add more power than the truck deserves.
If you're an extremist and you want your truck to reach its fullest potential, then this dual exhaust system can help you out on that. We all know that dual exits are awesome, especially on trucks like the Chevy Silverado.
It gives your truck an increase of 15hp-20hp to help it flex its strength on-road or off-road.
This may be considered to be one of the best sounding exhausts for Chevy Silverado, so keep that in mind.
There you have it! These are five of the best Silverado Exhaust system for your Chevy Silverado. They all vary in prices and type, whether single exit or dual exit. Check them out, pick wisely, and fulfill your truck's potential on and off the streets!