The Infiniti G35 was Nissan's shining pride when it comes to executive cars back in the day. People loved it, car enthusiasts even loved it more (even up to this day), and even topped the Nissan 350Z and 370Z at some point.
The car's potential for modification makes it seem like it's the best car to personalize even if it doesn't look that awesome, to begin with.
As it laid waste to car shows and events, a lot of people realized its capabilities performance and aesthetic wise, so many have purchased it and began to love it ever since. And with the bustling aftermarket scene available for this baby, owners knew that they're in a ride of a lifetime.
One such example of aftermarket modification that an Infiniti G35 can use is an exhaust system. The 2002 version has a 280 bhp of horsepower at 6800rpm and 270lb-ft of torque at 4800rpm.
That's enough for the daily drive, but to be honest, it needs more oomph.
An exhaust system can solve that problem by giving your Infiniti G35 all the horsepower, torque, and throaty growling sound that it deserves. Check out the list below to see the best Infiniti G35 exhaust systems that you can get.
#1 Invidia Gemini Cat-Back Exhaust System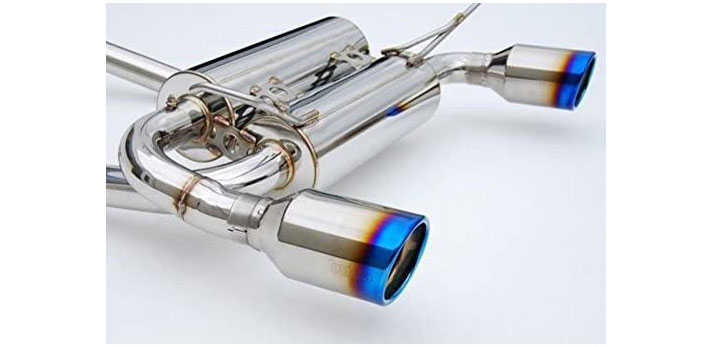 Manufacturer: Invidia
Weight: 76lbs
Part Number: HS03IG3GID
Compatibility: Infiniti G35 (2003-2006)
The first one to be featured on this list is a powerhouse when it comes to racing-grade aftermarket exhausts. Invidia offers their Gemini cat-back exhaust, a performance mod that is guaranteed to rack up additional horsepower for your Infiniti G35.
If you have the budget for an exhaust system with a great build and quality, then this is for you.
This exhaust system is a stainless steel straight pipe with aluminum burnt tips that you will truly love. Why? Not only that it will make your car perform a lot better, it'll make your Infiniti G35 look more awesome too on the rear side.
Aside from that, you'll have a better throttle response too.
The best thing about this exhaust system is the fact that there isn't any need for cutting or modifying any parts of the car's body. Youll just need a few hours of installation and boom! You're ready to go! No hassle, no worries.
Why call it one of the best Infiniti G35 sedan exhaust systems if it's tremendously difficult to install, right?
#2 DNA Motoring Catback Exhaust System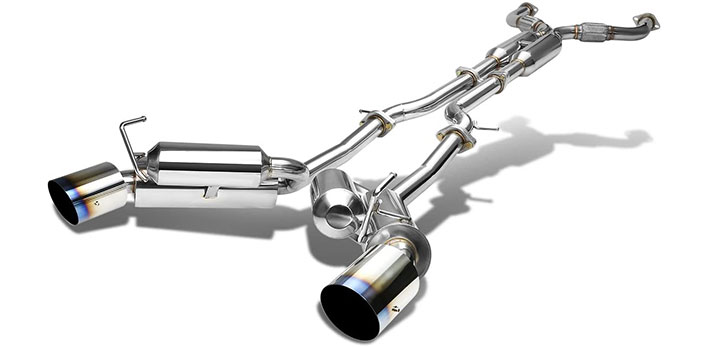 Manufacturer: DNA Motoring
Weight: 66lbs
Part Number: CBE-370-D
Compatibility: Infiniti G35 (2004-2007)
High-quality exhaust systems are usually the product of precise and careful manufacturing through the use of computerized processes. Such manufacturing processes are what make exhaust systems like the cat-back exhaust system from DNA Motoring so good.
And for a fairly affordable price, this exhaust system will make your Infiniti G35 a zero to hero.
So what makes the cat-back exhaust from DNA Motoring belong to the best exhaust for the Infiniti G35 coupe? It has double 2.25" pipings that connect to 4.5" exhaust tips.
Both of them are made from durable stainless steel and give your beloved Infiniti G35 that awesome deep sound that you've always craved for.
This exhaust system is designed to relieve your car from as much back pressure, pressure, and bends as it can. This allows your Infiniti G35 to produce as much horsepower as it possibly can, plus the aggressive sound to make your car even more desirable.
Who doesn't want a more powerful Nissan Infiniti G35?
#3 HKS Hi-Power Exhaust System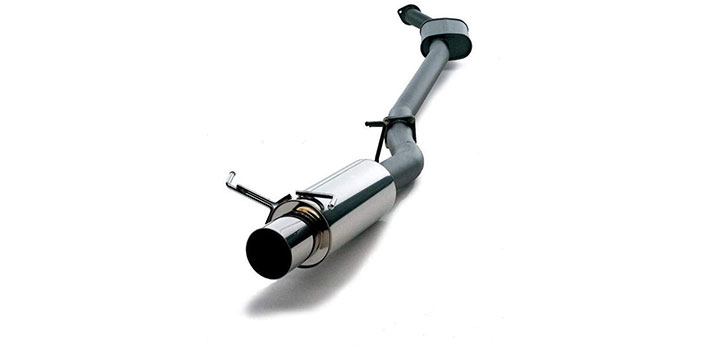 Manufacturer: HKS

Weight: 69lbs
Part Number: 32009BN002
Compatibility: Infiniti G35 (2003-2006)
If you have a taste for high-performing exhausts, then you should check this one out. HKS has spent their time developing high-quality JDM inspired exhaust systems best fitted for both supercharged and naturally aspirated cars like the Infiniti G35.I
t was designed to eliminate all the unnecessary bends to make the exhaust flow even more efficient.
So what's in the bag? A polished stainless steel dual piping is connected to two mufflers. The pipings are specifically made to be less restrictive and produce more power especially in the high rev range.
To add a cherry to the top, some applications can utilize an inner silencer installed deep in the muffler to reduce the sound the exhaust system creates, just in case you don't like it "too loud".
If it's a racing-grade exhaust system that you ask for, the HKS Hi-Power exhaust system is a surefire way to level up your vehicle. As one of the best exhaust for Infiniti G35 coupe, you'll get everything that you've paid for.
#4 MagnaFlow Performance Exhaust System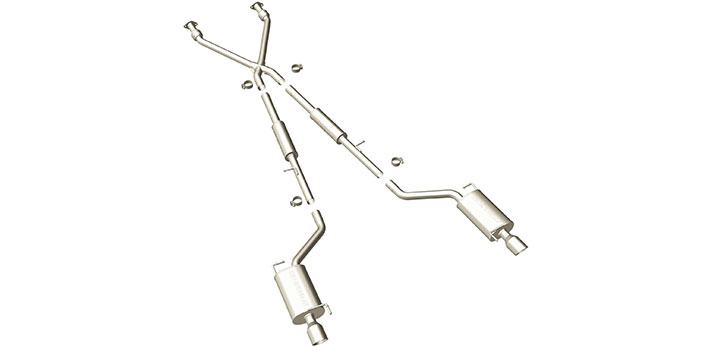 Manufacturer: Magnaflow

Weight: 69lbs
Compatibility: Infiniti G35 (2004-2007)
Finding the right sound for your Infiniti G35 can be difficult right? Good thing Magnaflow got your back. Introducing their Street Series performance exhaust system, specially made for the Infiniti G35s who want to dominate the streets.
Come check what's with their cat-back exhaust system.
This street-capable exhaust system is a dual-rear straight pipe capable of hyping your Infiniti G35's horsepower while giving it that sound you've always wanted. This exhaust system is fairly easy to install too; no fuss!
The best thing about this exhaust system is that it's easier to find out what sound is suitable for your car. Just check out their website to see how loud and growling the sound can be.
The exterior sound is moderate, while the interior sound is just mild enough for your liking.
#5 Megan Racing Cat-Back Exhaust System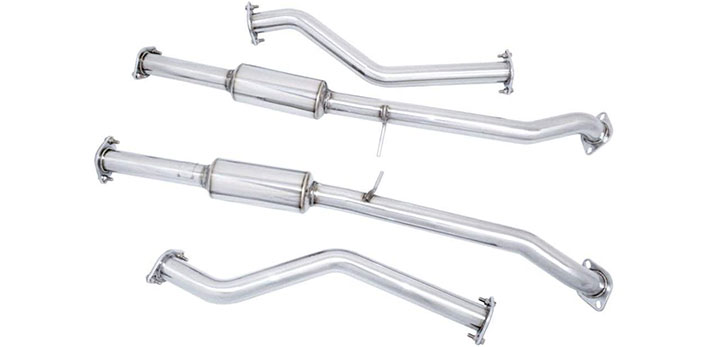 Manufacturer: Megan Racing
Weight: 39lbs
Part Number: MR-CBS-N7Z09-DS-M
Compatibility: Infiniti G35 (2004-2007)
And lastly, for car enthusiasts who want an aggressive but mellow sound for their chill afternoon sunset drive, we have Megan Racing's cat-back exhaust for you.
Presenting one of the best sounding exhaust for Nissan Infiniti G35 coupe, for those who like to be assertive but relaxed at the same time.
What's in the bag? Straight stainless steel pipes with a minimum bend to maximize optimum exhaust gas flow. It also has resonators and silencers built within it, which are responsible for softening down the sound that this exhaust system does.
The best feature of this car is its sound; we just can't get enough of it! It's mild, soothing, yet deep and aggressive enough to get everyone's attention.
If you're that kind of person who wants your presence to be known by just being laid back, well here's your exhaust system!
Signs That You Need to Replace Your Stock Exhaust System
The Nissan Infiniti G35's last model was released back in 2015, but the older models are still running on the streets. Most of them are modified both below and above the hood.
Aftermarket performance mods such as exhaust systems have made the Infiniti G35 extremely desirable, like its distant cousins (Nissan 350Z and Nissan 350Z).
The stock exhaust system of the Nissan Infiniti G35 is great, but just like anything in the world, it will wear, tear, and experience problems. What are the usual signs that you need to replace your stock exhaust system?
1. Check Engine Light
Of course, the check engine light will light up once your car detects a problem inside itself. Usually, when the catalytic converter fails, it triggers the check engine light to tell you that you need to get a new set of exhaust systems.
Be sure to get the help of automotive professionals when trying to find out what's wrong.
2. Rattling Noises
Try getting a box and fill it with many coins. Then shake it around violently. Do you hear how annoying it is? If you hear this kind of sound while driving, waste no time, and contact your trusted mechanic immediately!
The catalytic converter is the most expensive part of your exhaust system, and taking chances would be impractical.
3. Decreased Fuel Efficiency
There are a lot of gizmos involved with the exhaust system. Whether it's a pipe leak, O2 sensor, and/or catalytic converter failure, it's best to check out the opinion of your local mechanic to see why your car is becoming less fuel-efficient.
4. Exhaust Noise is Annoying Loud
If you feel like something's change with your car's exhaust system, then it's already a sign that your OEM exhaust system is failing you. Louder-than-usual exhaust noise is a symptom of a faulty exhaust system.
5. Unwanted Vibrations
Are you feeling any vibration on your gas pedals? Is your steering wheel subtly moving? If so, call Houston because we may have a problem here. This is a usual sign that your exhaust system requires repair, or worse: replacement.
This kind of problem imposes a serious threat to your car and should be addressed immediately.
There are tons of aftermarket exhaust systems out there, but the secret to a more satisfying riding experience is getting the right one. If you chose the perfect exhaust system based on your taste and standard, you'll have the additional horsepower and a deep and aggressive sounding Infiniti G35.