The Nissan 240SX S13 is a JDM car known for its novelty and its openness to modification. It is a blank canvas where you can put whatever aftermarket modification you want to make it look more stylish or perform even better. From cosmetic mods to performance mods, the aftermarket scene of the Nissan 240SX S13's is vast.
An aftermarket exhaust system is something that you can get for a car, especially if it's a true blue JDM like the Nissan 240SX S13. It'll upgrade the vehicle in so many ways, such as increased power input, and improved fuel economy, and a deep aggressive sound that any car enthusiast would truly love.
We know you love to mod your car, so we made a list of the best exhaust systems that you can get for your Nissan 240SX S13. Here, you'll see different exhaust systems from different manufacturers. Those manufacturers all have one thing in common: they made their exhaust systems to put a smile on every Nissan 240SX S13 owner's face.
#1 HKS Sport Cat-Back Exhaust System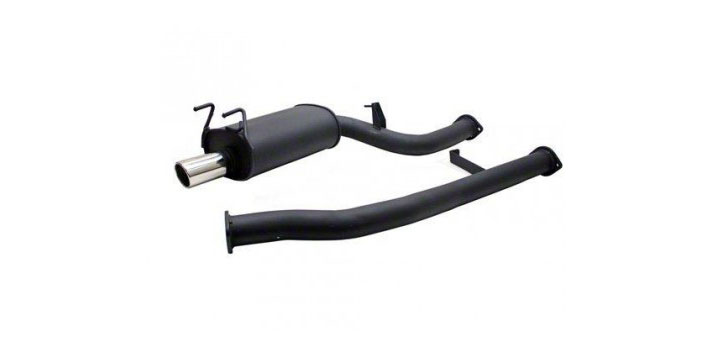 Manufacturer: HKS
Weight: N/A
Part Number: 31013-BN002
Compatibility: Nissan 240SX S13 (1989-1994)
The Sport series exhaust from HKS is meant to greatly reduce the backpressure in the exhaust pipes and increase the amount of airflow that goes out of the vehicle. With an improved exhaust gas flow, your car is guaranteed to have a surplus of power torque that you can use to further push the Nissan 240SX S13 to its limits.
This exhaust system features 3" exhaust pipes connected to a polished 3.25" tip. The muffler itself is oval-shaped and is coated with a black finish. The Sport series utilizes a distinct muffler design that maintains the torque and maximizes the horsepower that the engine can create. This exhaust system brings the sport experience to the S13.
It has a good reputation amongst its previous customers. Those who've purchased the HKS Sport exhaust indicates that the exhaust system is a great fit for the Nissan 240SX S13. Overall, it has a nice mellow sound, it's easy to install, and it makes the S13 look low profile. It's clearly the exhaust system for those who want a performance and chill car with a not-so-silent exhaust sound.

#2 HKS Hi-Power Exhaust System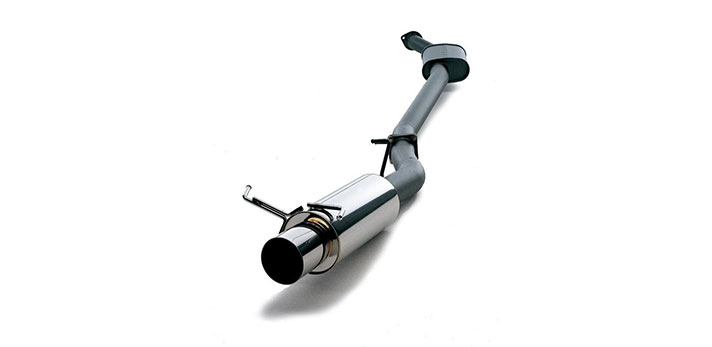 Manufacturer: HKS

 

Weight: 64lbs
Part Number: 32003-KN002
Compatibility: Nissan 240SX S13 (1989-1994)
HKS has plenty of surprises for the owners of the Nissan 240SX S13, and this time they have the Hi-Power series to offer. It's inspired and designed by Japanese GT racers and is developed for both the naturally aspirated and turbocharged engine versions of the S13. It's optimized to make the Nissan 240SX S13 perform like a real GT race car.
2.56" 304 Stainless steel pipes are used to increase the velocity of exhaust gas. Through mandrel bending, the twist and turns of the piping are eliminated and thus making the exhaust gas flow faster. Since this exhaust system is developed with a professional racer in mind, it emits a loud and aggressive sound; perfect for those who want a GT-inspired exhaust system.
The HKS Hi-Power exhaust system levels up the Nissan 240SX S13 in a lot of ways. For turbocharged engines, the Hi-Power allows the exhaust gas to flow smoother and faster. This translates to a better response in the mid-range and higher power output in higher RPMs. As for the naturally aspirated engines, it greatly improves the car's performance as it's level of tuning increases. 

#3 Megan Racing Black Series Cat-Back Exhaust System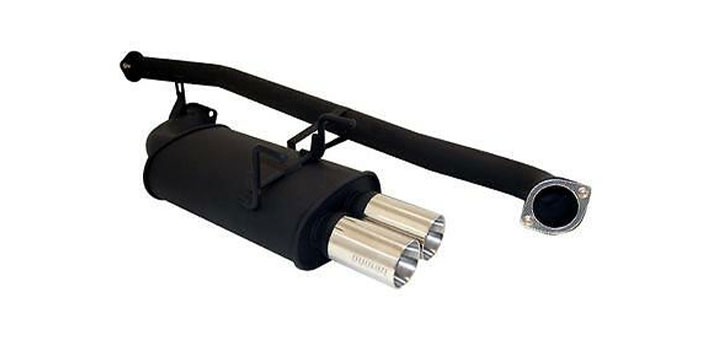 Manufacturer: Megan Racing
Weight: 36lbs
Part Number: MR-CBS-NS13T2B
Compatibility: Nissan 240SX S13 (1989-1994)
For the Nissan 240SX S13 owners who want to keep their car low profile without compromising performance, they can check out the Black Series exhaust system from Megan Racing. This series is based on their previous Type 2 exhaust system, but it features more delicate polished exhaust tips to keep the aesthetics of the car crisp and clean.
The Black Series exhaust system features 3" piping connected to two 3" polished tips. The muffler's visuals are closely related to that of the stock, however, it has a flat-black finish coated around it that keeps corrosion out of the bay. As for the performance, it gives the S13 an additional torque and power output. 
The best benefit that you can get from Megan Racing's Black Series exhaust is its low profile mellow sound. It hits the ears just right: not too loud, and not too silent. It's subtle enough to make the Nissan 240SX S13 announce its arrival wherever it goes. This is a great exhaust system for those who want to keep their cars cool and laid back.

#4 Spec-D Tuning Catback Exhaust Muffler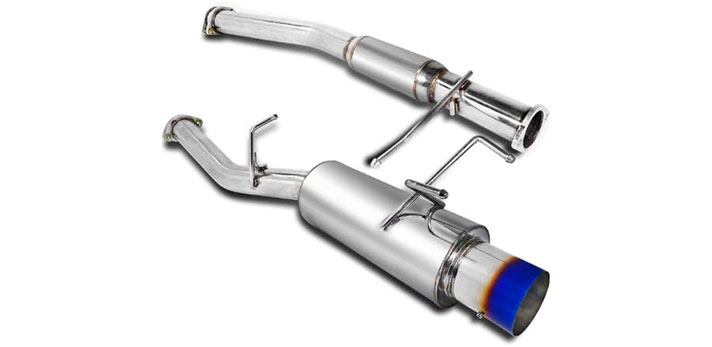 Manufacturer: Spec-D Tuning
Weight: 22.4lbs
Part Number: MFCAT3-240SX89T-SD
Compatibility: 1989-1994
Spec-D Tuning prides themselves with their superior knowledge in manufacturing aftermarket automobile parts. The key aspect of their impressive design and manufacturing capabilities is their ability to adapt to whatever the market needs. An example of their indicative quality in their products is their cat-back exhaust system, specifically made for the Nissan 240SX S13.
So what's in the bag? The piping is made from great quality 3" 304 stainless steel connected to burned muffler tips that retain a stylish vibe that every JDM car owner loves. It's designed to be directly bolted on the car and can add a significant 15 horsepower to the S13's performance. The flanges are CNC machined to make the exhaust system as accurately fitting as possible.
The exhaust system even comes with removable 4" silencers! So just in case you want to keep a low profile while cruising around the city, you can fit these silencers on. Spec-D tuning prioritizes the satisfaction of their customers, and their automobile products like this cat-back exhaust for the Nissan 240SX S13 is clear tell that they do their job well.

#5 OCPTY Dual Exhaust System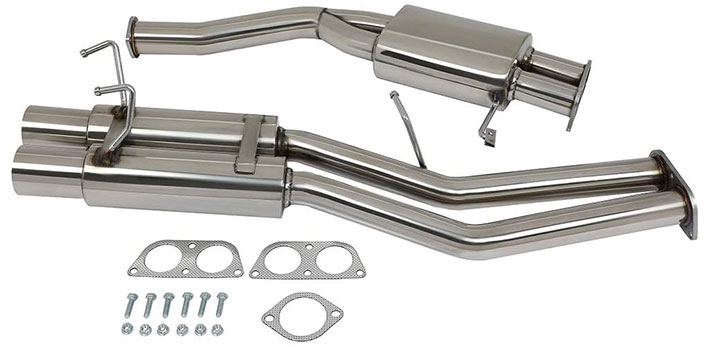 Manufacturer: OCPTY Auto Parts
Weight: 37lbs
Part Number: 106350-5209-1734590221
Compatibility: Nissan 240SX S13 (1989-1994)
And last but not even the very least, we feature the dual exhaust system from OCPTY. This manufacturer may not be as popular compared to the previous entries, but it has some interesting benefits for the Nissan 240SX S13. It's classic stainless steel appearance resembles that of the stock exhaust, only it's polished to perfection.
What can the exhaust system from OCPTY offer? Performance-wise, this exhaust muffler was constructed out of tubular stainless steel with top-tier sealing features. The exhaust system is resistant to rust, corrosion, and creep resistance. It can even withstand rattling heat and pressure.
And also, this exhaust system replaces the Nissan 240SX S13's stock exhaust system. Installed in the stock's place is a high-quality exhaust system that increases the torque and power output. It even comes with warm tips that keep your Nissan 240SX S13's aesthetics looking crisp and clean. The OCPTY may not be as famous as the other brands, but it offers some similar benefits to those mentioned above. 

Is Getting An Aftermarket Performance Exhaust System Worth It?
All vehicles need an exhaust system for it to vent out all of the gasses burned during fuel combustion. As for the Nissan 240SX S13, it's stock exhaust system is nice enough, however, there are automobile car part merchants that sells aftermarket exhaust systems. Is getting an aftermarket exhaust system for your Nissan 240SX S13 worth it?
The short answer is yes, it is worth it, especially if you're upgrading the car in every way possible. After all, replacing key car parts is one of the most satisfying moments that you'll experience when modifying a car. Aside from that, you can also gain additional benefits from installing aftermarket exhaust systems on your car.
Additional Horsepower Output
When you think of increasing a car's horsepower output, turbochargers and superchargers may be the first things that will pop into your mind. An aftermarket exhaust system is capable of giving your car more power too, just not the same amount as what those two chargers can give.
Better Mileage
Replacing your stock exhaust system with a new one greatly benefits your fuel economy. The numbers are not sky-high, but the improvement in power and mileage is noticeable. By having an exhaust system that can scavenge better, the engine can regularly pull in a fresher batch of air-fuel more quickly.
Improved Sound 
The importance of a car's sound depends on the age group and the preferences of the community. An aftermarket exhaust system can greatly improve the sound output of a car, especially since the sound of the stock exhaust system of the Nissan 240SX S13 is kind of lackluster.
Installing an aftermarket exhaust system in an iconic JDM car like the Nissan 240SX S13 is a great experience in general. It is one of the first steps that a car enthusiast will make to modify their car to greatly suit their preference. Aside from the boost in sound, performance, and style, you can gain prestige amongst your peers! Now that they know that you've installed a new exhaust system on your Nissan 240SX S13, they now know that you mean business.