If you're looking for a JDM project car, then this is it: it's the end of the line for you. You've found one of the best lego cars to work on.
The Subaru BRZ, the Toyota GT86, or the FR-S Scion – whatever you want to call it, belongs to the rosters of the great cars that car enthusiasts can play on. It's got 200hp, it's nimble, it's quick, and most of all, it looks pretty sick.
The base model itself is a masterpiece, and with a few modifications here and there, you can make it look cooler.
The Subaru BRZ is the lovechild of Subaru and Toyota. With their joint effort, they've managed to create an awesome car that doesn't only looks good but feels good when driving. It has a naturally aspirated boxer engine and it's relatively cheap compared to its sports car competitors.
Driving one feels as if you're driving a proper sports car, and with a great starting price and impressive handling, the Subaru BRZ belongs to the toys for the big boys.
Its aftermarket presence is pretty impressive too! A lot of aftermarket parts manufacturers treat this Subie like royalty with all of the aftermarket parts available for it. One such aftermarket modification that anyone can do to their Subaru BRZ is an aftermarket exhaust system.
This mod provides plenty of benefits to the car, such as more power, better fuel economy, and a deep, growling sound that will make you grin from ear to ear.
Ladies and gentlecars, if you're looking for the best aftermarket exhaust system to install in your Subaru BRZ, then by all odds, you're in the right place and the right time.
These aftermarket exhaust systems will upgrade your Subaru BRZ in many ways possible, so sit back, relax, and check these awesome exhaust systems!
#1 MagnaFlow Street Series Exhaust System Kit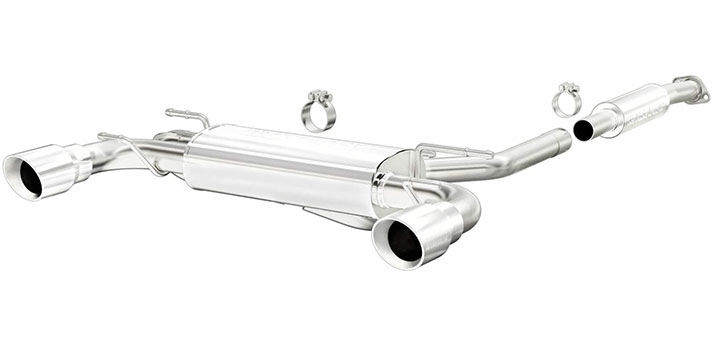 Manufacturer: Magnaflow Exhausts
Weight: 43lbs
Part Number: 15157
Compatibility: Subaru BRZ (2015-2020)
The first slot on our list goes to Magnaflow and their performance exhaust system. Magnaflow is known to be among the best manufacturers of aftermarket parts that cater to car enthusiasts that need to satisfy their racing fix.
By itself, this kit belongs to the mods that can greatly amplify the power output of a car, especially if it's a Subaru BRZ. If you want a moderate sounding exhaust that sounds good from the inside too, then here's your pick.
Magnaflow's Street Series exhaust system has the following features to offer: a cat-back exhaust with the classic dual rear exit tips that look awesome from the back, a 2.5" straight-through pipe that eliminates all unnecessary restrictions, all made from high-quality stainless steel that keeps everything from getting corroded so easily.
The tips are angle cut to make them look more assertive compared to the typical exhaust tips that you can find.
What makes the Street Series so awesome is its sound. It's not too loud, and it's not too soft either: the sound rests between the fine line of aggressive and chill. This exhaust system from Magnaflow is perfect for the casual night time street drive with the boys.
Once you cruise the highways, you'll know how ecstatic this exhaust system can be. It simply is one of the best BRZ cat-back exhausts that you can find.

#2 Greddy Evolution GT Exhaust System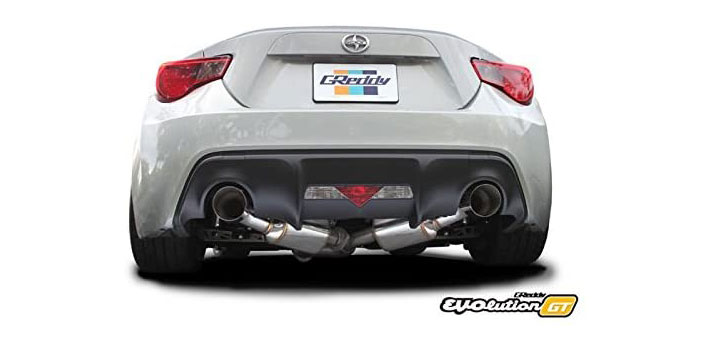 Manufacturer: GReddy
Weight: N/A
Part Number: GRE10118300
Compatibility: Subaru BRZ (2013-2016)
When it comes to modding your Subaru BRZ, one can't get too greedy right? Especially if you're craving some extra boost in horsepower, not mentioning the sick exhaust sound that you can potentially have.
GReddy is one of those aftermarket mod manufacturers that care so much about their customers that they give them a top-tier exhaust system that will make their Subaru BRZs look and sound savage.
The Subaru BRZ can have GReddy's Evolution GT series, an exhaust system that features dual angled Evo mufflers that offers a steady mix of style and aggressiveness. The piping is large enough and is connected to a large resonator, all around the rear differential down to a Y-section to make room for more exhaust gas flow.
And also, the Evolution GT has beautifully polished pipings that end up in a tip with a laser-engraved GReddy logo on it.
The Evolution GT series eliminates all the unnecessary piping restrictions in the exhaust system to make the Subaru BRZ perform better. On top of that, it greatly improves the sound quality for both naturally aspirated Subaru BRZs and those equipped with a turbocharger.
Nothing beats a Subaru BRZ with a GReddy exhaust on.

#3 Invidia N1 Cat-Back Exhaust System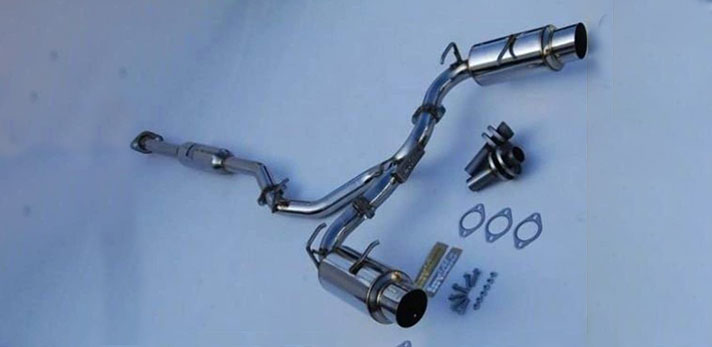 Manufacturer: Invidia
Weight: 46lbs
Part Number: HS12SSTGTP
Compatibility: Subaru BRZ (2012-2019)
Invidia is one of those aftermarket car parts manufacturers that knows the taste of their customers. And judging from the reviews of car enthusiasts that previously had dealings with them, Individia delivers the top-tier quality of mods they promised.
And with the case of Subaru BRZ, they have the Invidia N1, a cat-back exhaust system made with motorsports enthusiasts in mind. Check out what this exhaust system has in store for your car.
The Subaru BRZ exhaust system from Invidia came from a strong lineup of Invidia N1 exhausts made specifically to achieve the type of components motorsports enthusiasts want.
This exhaust system is among the best BRZ cat-back exhaust available in the market, and it boasts itself with components like piping made from SUS304 stainless steel. The N1's piping is mandrel-bent to eliminate airflow restrictions.
The Invidia N1 cat-back exhaust exhibits the perfect balance between price and performance. And since this exhaust is built for racing, weight reduction is heavily emphasized, along with components efficient enough to generate additional horsepower and torque.
This exhaust system is the full stainless steel variant and if you want the titanium burnt blue tips, you can purchase that instead.

#4 Invidia Q300 Cat-Back Exhaust System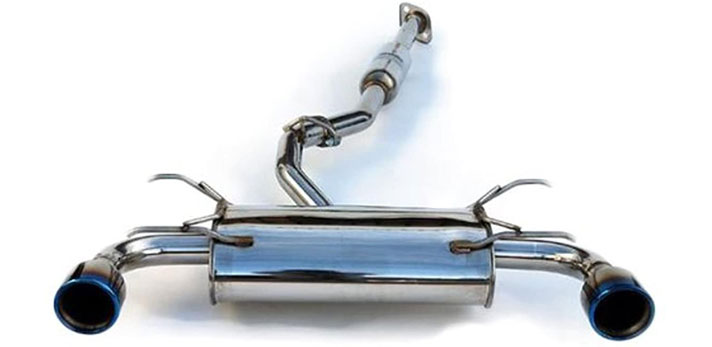 Manufacturer: Invidia
Weight: 52lbs
Part Number: HS12SSTG3T
Compatibility: Subaru BRZ (2012-2019)
Another Invidia exhaust! Who would've thought? The Invidia Q300 is the shy brother of the N1 and is known to be the quiet kid in the classroom. Even if it sounds slightly quieter than the N1, it packs just as strong of a punch compared to the Invidia N1.
The clear difference between the two is the burnt blue rolled tips that the Q300 has.
The Q300 exhaust features an aerodynamic flat bottom muffler, durable and stylish looking piping made out of SUS304 stainless steel, and a piping design that utilizes Advantex material to make exhaust gasses free-flowing.
By optimizing the backpressure, the Q300 guarantees a surplus of horsepower and torque gains, plus the rich and deep sporty groan.
Although the Invidia Q300 is priced slightly higher than the Invidia N1, there aren't too many differences between the two. It's just a matter of preference: the Q300 is great for casual chill driving while the N1 is great for a more aggressive style of driving.

#5 Corsa Sport Series Cat-Back Exhaust System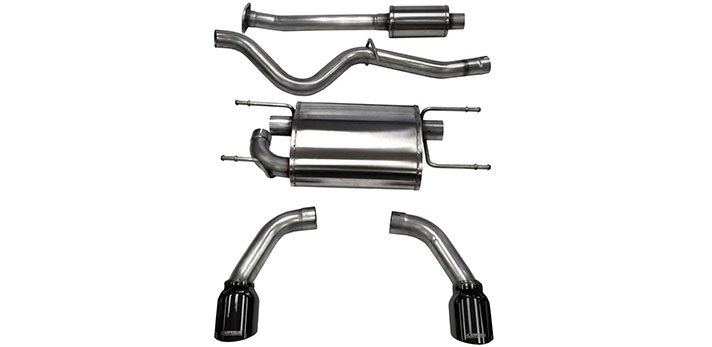 Manufacturer: Corsa
Weight: 52lbs
Part Number: 14864BLK
Compatibility: Subaru BRZ (2021-2019)
And last but not even the very least, we have the Corsa Pro-Series cat-back exhaust system. Corsa is the premium exhaust system in this list due to some reasons: first, because it offers premium benefits, and second because it's far more expensive compared to the others.
There's so much to love about Corsa's Pro Series exhaust system, and clearly, it belongs to the best exhaust for the BRZ.
The Corsa Pro-Series features a straight through pipe design to minimize all the pipe losses the exhaust gas may encounter. This design also significantly reduces the backpressure in the system, resulting in larger horsepower and torque output.
And as a bonus, the Subaru BRZ can also enjoy greater fuel economy due to the lack of pipe restrictions and the reduction of the backpressure in the exhaust system.
If you think that's all the Pro Series can offer, then you're mistaken. The best features of Corsa's Pro Series cat-back exhaust system are the following. First, various tip options. You can choose from different available tips, such as black stealth tips and double-walled polished tips.
The second is the 4 levels of sound touring, sport, extreme, and the default.
The Touring variant is the quietest of the bunch and made specifically for owners who have highly tuned cars and want little difference between the stock exhaust sound – just a little bit louder.
The Sport variant is for those who want to cruise highways comfortably and is great for a slightly modified Subaru BRZ. The ultimate option is the Extreme, the loudest, and the baddest sounding exhaust system that Corsa can offer for a Subaru BRZ.

The Subaru BRZ is a great car to modify because of the benefits you'll reap once you've modded it to the max. One such modification that will bring the best out of a Subie is aftermarket exhaust systems.
They are a viable option if you want an increase in horsepower and torque output with a hint of improved mileage and a whole pack of awesome sound.