Pickup trucks are made to endure the begrudging terrains of the off-road. They're built to go flawlessly on smooth roads, too. Overall, the standard full-sized pickup truck is built to do both, while having the ability to tow and haul oversized and overweight items that most cars can't.
For such demanding activities, a Toyota pickup truck is the best choice, especially the Toyota Tundra. Whatever the year model is, years and years of customer experience guarantee that it can fulfill whatever standard on-road and off-road duty you need it to do.
After all, the Toyota Tundra is close to being a heavy-duty truck.
To give the truck more advantage, we recommended you to change the OEM exhaust systems of your Toyota Tundra. But why, you ask? For overpowered benefits! An aftermarket exhaust can give you an additional horsepower and torque boost that an OEM exhaust system can't.
Are you looking for the best exhaust system for Toyota Tundra? Are you looking to boost your horsepower significantly? Check out the list below to see what best fits for your truck!
#1 Gibson Performance Metal Mulisha Exhaust System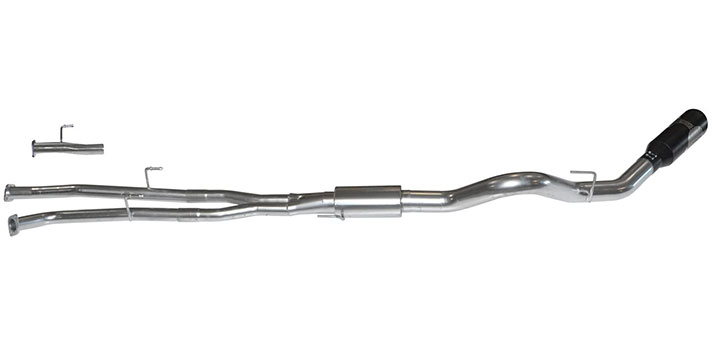 Manufacturer: Gibson Performance Exhaust
Weight: 55lbs
Part Number: 60-0013
Compatibility: Toyota Tundra V8 (2007-2020)
Gibson has been pushing the performance level of most off-road vehicles for more than 1990. They are one of the leading exhaust systems manufacturers in the market that transforms any kind of truck from simple to awesome.
As a testament to this, they've got the Gibson Performance exhaust system just for your Toyota Tundra. Check it out!
Gibson Performance has a lot in store for your Toyota Tundra. The off-road requires rigorous pounding, that's why their exhaust system is made from stainless steel, to keep it safe, durable, and corrosion-resistant.
Their straight muffler also guarantees that your truck will experience a superflow, increasing your truck's horsepower and torque output significantly. All of these parts are welded tightly to maximize the volumetric efficiency of the exhausted gas.
On top of that, you can guarantee your purchase's safety with their limited lifetime warranty. Just in case it breaks, right? Don't worry; it won't! Too many customers agree that this is the best aftermarket exhaust for Toyota Tundra, and someday you will too.
#2 Borla
Cat-Back Exhaust System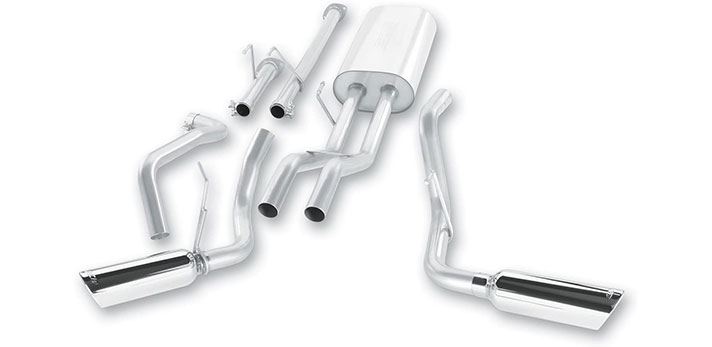 Manufacturer: Borla Exhaust
Weight: 64lbs
Part Number: 140332
Compatibility: Toyota Tundra 4.6L/5.7L V8 (2009-2020)
Borla is one of the premia buys that you can get for your beloved Toyota Tundra, especially if you're not budget restricted. Made for Tundras from 2009 to 2020, this aftermarket exhaust will make your truck sound like heaven and run like hell.
Borla Exhaust boast of their multi-core technology that makes exhaust gas flow seemingly perfect. This unleashes untapped power and torque hidden deep in your Toyota Tundra.
Aside from that, the materials used to make this are design to withstand harsh punishments.
The increased attributes that you get translates to better towing capacity, rougher terrain capabilities, and also, better fuel economy. There are few competitions when it comes to what Borla can offer your truck.
Aside from that, previous customers love it! It's very easy to install, it minimizes that annoying drone that we all hate, and most of all, it's better than the OEM exhaust system.
You can get all of these amazing benefits for your truck if you can handle the price.
#3 Dynomax Exhaust System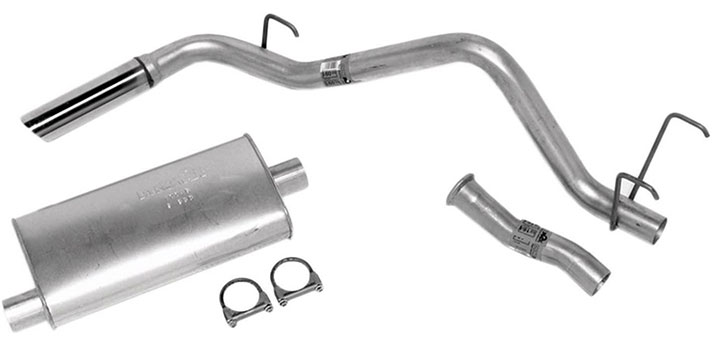 Manufacturer: Dynomax
Weight: 37lbs
Part Number: 19330
Compatibility: Toyota Tundra V6/V8 (2000-2006)
But what if you can't make it rain and you badly want to replace your OEM exhaust? Don't fret! Dynomax's exhaust system can make your life easy. For two-hundred plus bucks, you can get a quality exhaust system for your Toyota Tundra that can get the job done.
The cheap yet highly desired cat-back exhaust can make your exhaust flow better, thanks to the larger flow tubes that it has. It significantly reduces the backpressure too!
Also, a fiberglass matting takes away all the resonance, making the truck's tone a mellow yet soothing one.
With this cat-back exhaust system on, your truck is guaranteed to have an increase in raw and unadulterated power and torque.
A lot of customers say that this one is very easy to install. And although it can be quiet inside the truck while driving with this exhaust system on, the outside can be very throaty.
What more can you ask for a cheap aftermarket exhaust system?
#4 Mac Auto Parts Exhaust System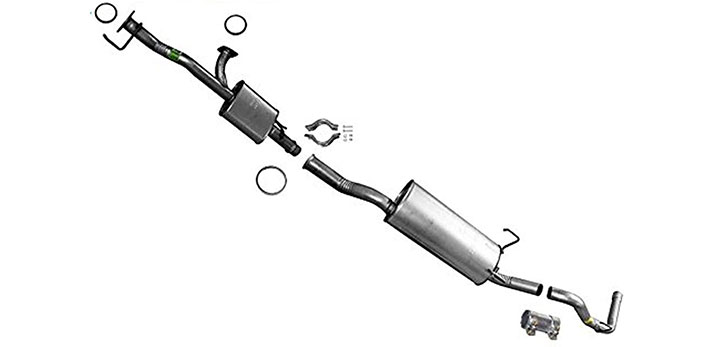 Manufacturer: Mac Auto Parts
Weight: 48lbs
Part Number: 130981
Compatibility: Toyota Tundra 4.7L V8 (2000-2002)
Now, if you want something even cheaper, then Mac Auto Parts have something in store for you. If you want a decent exhaust system for a decent price, then this aftermarket exhaust is for you.
What do you get from this exhaust system? To be fair, there aren't many details about this one, but the customer reviews are pretty impressive. It can take away much of your problems with your Toyota Tundra, like backpressure, mediocre airflow, etc.
You'll also experience some power output increase with this one, even if it is cheap.
#5 aFe MACH Force XP Cat-Back Exhaust System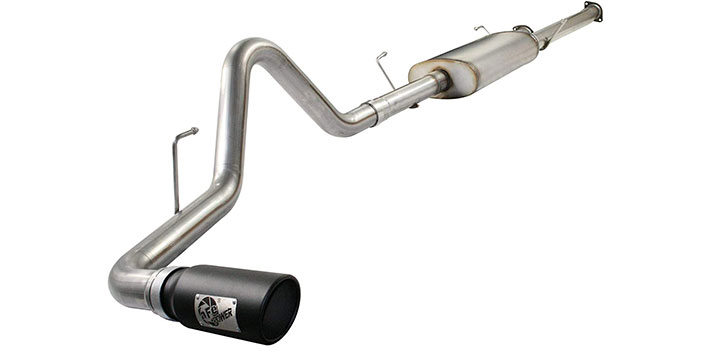 Manufacturer: aFe Power
Weight: 46lbs
Part Number: 49-46008-B
Compatibility: Toyota Tundra 5.7L V8 (2010-2019)
There's a good reason why aFe Power has "power" in their name. This exhaust system made just for the 2010 to 2019 models of the Toyota Tundra can potentially give the truck a massive boost of +13hp and 63lb-ft.
That may not sound much but it will help your Toyota Tundra in a lot of ways.
The Mach Force XP can make your Toyota Tundra sound powerful while letting out all of those untapped horsepowers and torque. The exhaust gas flows more freely thanks to its straight-through pipes made from stainless steel.
Installing this on your Toyota Tundra means stability and an easy-peasy installation.
To make matters greater, the Mach Force XP uses the OEM mounting locations. That means no cutting out other parts! The flanges and clamps are leak-proof too and will keep your exhaust systems from dripping like someone with severe colds.
#6 Rough Country Dual Cat-Back Exhaust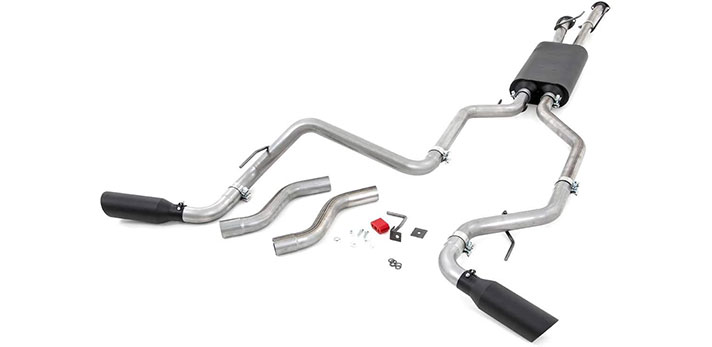 Manufacturer: aFe Power
Weight: 70lbs
Part Number: 96012
Compatibility: Toyota Tundra 4.6L/5.7L V8 (2009-2020)
Rough Country is well known for being one of the best trucks and off-road aftermarket accessories manufacturer. Their commitment to quality will make your Toyota Tundra an even greater vehicle capable of heavy-duty activities, whether on the road or off the road.
This exhaust system features a dual cat-back design made from 409 stainless steel. This type of material makes the 16 gauge tubing corrosion-resistant: just what a pick-up truck's exhaust needs.
The black muffler makes the truck look tough, rough, and competent.
There's no need for welding to install this exhaust system. Just install it using the OEM hangers and ta-da! You're all set! Rough Country is backed by their limited lifetime warranty, so just in case things don't go according to plan, you can return the damaged exhaust system to them.
#7 Flowmaster Outlaw Cat-Back Exhaust System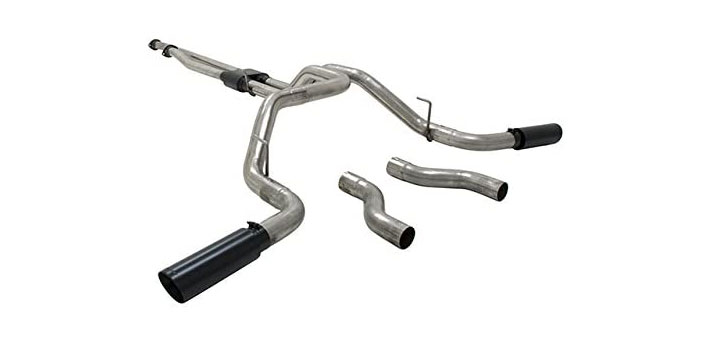 Manufacturer: Flowmaster
Weight: 72lbs
Part Number: 817692
Compatibility: Toyota Tundra 4.6L, 4.7L, and 5.7L (2009-2020)
The Outlaw is something to be feared and respected. Flowmaster knew how to satisfy truck lovers by manufacturing a super aggressive sounding exhaust system that doesn't only produce that sound, but also makes your Toyota Tundra look mean and assertive.
Flowmaster's Outlaw exhaust system features the Super 10 muffler capable of producing that lovely and iconic Flowmaster exhaust sound. The exhaust exits are located on the side to which makes the Toyota Tundra even more ideal for hauling and towing.
It also utilizes the OEM hangers, allowing you to have an easy yet satisfactory installation experience. The Flowmaster Outlaw cat-back exhaust is an ideal choice for people who likes their truck loud and proud with a hint of improved off-road performance.
#8 MagnaFlow MF Series Exhaust System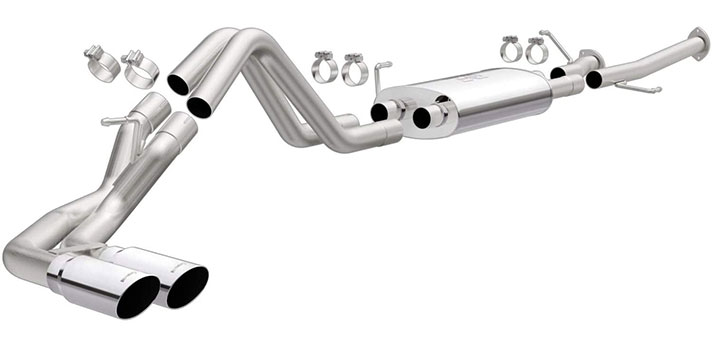 Manufacturer: Magnaflow
Weight: 70lbs
Part Number: 15306
Compatibility: Toyota Tundra 5.7L V8 (2014-2021)
The last entry for the best Tundra exhaust will go to Magnaflow's MF Series. This cat-back exhaust system is built with a few things in mind: sound, power, and sheer dominance.
If you want to make your Toyota Tundra the best version of itself, then outfitting it with this cat-back exhaust system will do the trick. It is made to last. With all the processes it went through, you bet you'll experience an obvious increase and horses and torque.
What's great about this exhaust system? It has an aggressive exterior tone! While it may be unnoticeable on the inside, people around you will know that you've arrived. Watch out, the real deal is here!
These are the best cat-back exhaust for Toyota Tundra. They all vary in weight, prices, and performance output. So if you want to know more about them, do your homework, then pick out the best one that will fit in your truck.
Your Tundra will thank you, trust us!