One look at the latest Ford F250 and you'll probably drop your jaw and stare at awe – this is a mean looking machine! It has everything that a truck lover wants: a powerful 6.2L V8 engine, a fuel capacity of 29 to 48 gallons, 18 inches wheels, and an impressive payload of 7,850 lbs.
All of that covered by an intimidating frame that screams alpha.
This may be a badass pickup truck, but it's not safe from the most common of problems pickup trucks experience: an imbalance in the front part of the truck, also known as the rake. It plagues all pickup trucks, making it look as if it is a sad animal.
Good thing there's a solution for that. Installing a leveling kit to your Ford F-250 will not only solve the rake problem, but it will also give you enough ground clearance, allowing you to fit in larger tires for your truck.
If you're looking for the best Ford F-250 leveling kit, then this list is for you. We've jotted down the best aftermarket leveling kits out there that will fit on your Ford F-250. Check it out!
#1 Rough Country 1.5″ Leveling Kit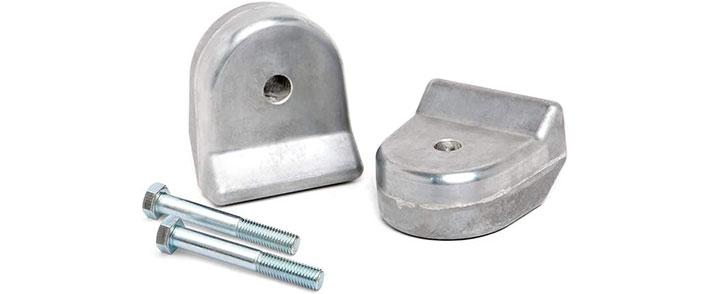 Coming as the first on our list, we have the Rough Country 1.5" Leveling Kit. Give your Super Duty the upgrade it deserves by raising the front of your truck by about 1.5 inches, leaving it with a leveled stance.
This leveling kit allows your truck to dominate the off-road with ease, knowing that the truck with a Rough Country 1.5" Leveling Kit will have increased performance, style, and added protection.
Installing this kit is just a breeze, no need for complex installation processes – just follow the instructions! Your wallet will not be mad at you for buying this because this is a cheap leveling kit has a good quality.
A worthy investment indeed!
#2 Maxracing 2" Suspension Leveling Kit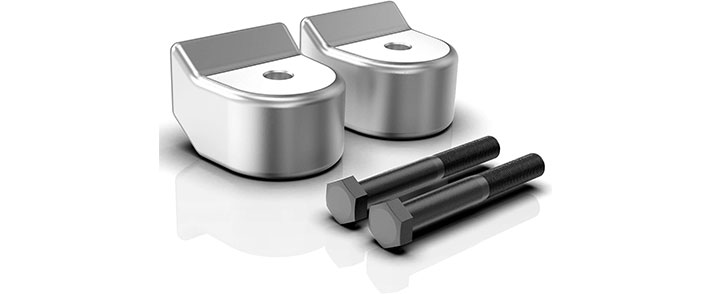 Level your Ford F-250 by 2 inches with the Maxracing 2" Suspension Leveling Kit. This kit is compatible with Super Duty under the year models 2005 to 2020. No need to worry about how it would be wrecked – it won't.
This suspension leveling kit fulfills the off-road capabilities of your Ford Super Duty because it is made from aircraft-grade aluminum billets. There is no question about how durable this thing can get.
It is also corrosion-resistant, so say goodbye to rust! Overall, this is a decent choice for your pickup truck. The lug nuts are durable, the kit's price is relatively cheap, and it improves the look of your truck greatly.
The installation is easy to do too since there is an included installation instruction in the package.
#3 Supreme Suspensions 3" Front Leveling Kit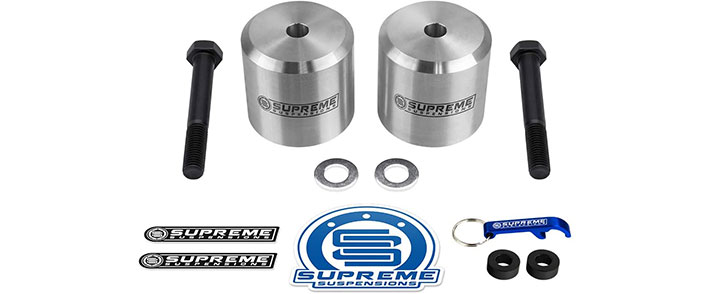 If you're not satisfied with the shorter increase in lift, then you should try the Supreme Suspension 3" Front Leveling Kit. It comes with two pieces of coil spring spacers made from aerospace-grade aluminum, the necessary hardware and instructions for the installation, some decals, and guess what: a bottle opener!
How cool is that?
What would you get by installing this leveling kit on your truck? One, your ground clearance will increase, giving you the chance to outfit your truck with larger tires. Two, it greatly improves the stance of your truck, leaving to look more aggressive and stylish.
And third, it maintains the same feeling you get when you drive a factory-made Ford F-250.
If you are looking for a leveling kit that serves you well when it comes to off-road activities, gives you satisfaction when it comes to its strength, durability, and effectivity, and is easy to install, then choose the Supreme Suspension 3" Front Leveling Kit.
#4 Readylift 2.5" Leveling Kit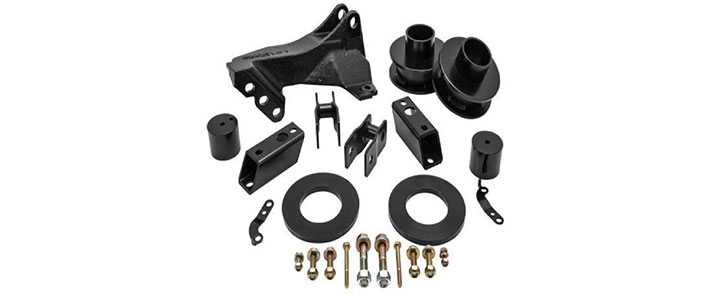 Do you want to eliminate your truck's rake and raise the front of your truck's height by about 2.5 inches higher and leaver it with a nice, finishing aggressive look?
If so, then you need to check out Readylift and their 2.5″ leveling kit with a track bar relocation bracket included. Readylift is committed to giving their customers the leveling and lifting they need, that's why having this kit in your inventory is more than enough to solve your problems.
It doesn't just level the front of your Ford F-250 to the level of your truck bed; it also increases the power when moving in a single direction because the truck axle alignment is positively affected as well.
Why should you buy this leveling kit after all?
The kit is fairly easy to set up, it leaves your truck with a great, long-lasting stance that greatly improves the aesthetics of your truck. Aside from helping your truck to perform better, the kit is pretty cheap too!
#5 MotoFab 2.5 inch Front Leveling Lift Kit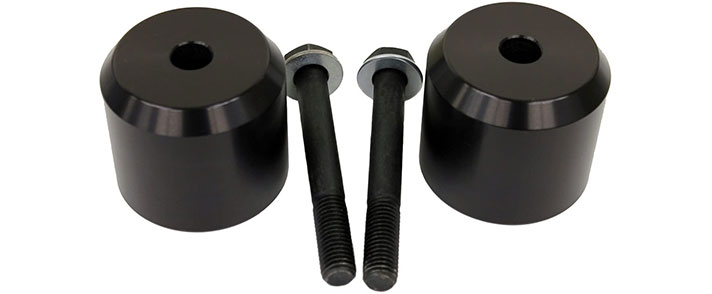 And last but certainly not the least, we have the MotoFab 2.5 inch Front Leveling Lift Kit, a perfect leveling kit for 4WD Ford F-250s that came from the years 2005 to 2019.
MotoFab makes sure that they only produce high-quality leveling and lift kits by making sure that the material used to create this leveling kit is durable enough to withstand several degrees of off-road punishment.
Raising the front of a truck by about two-and-half inch is something the Motofab Leveling Kit can easily do. It is easy to install, and if the worse comes to worst, your lifetime warranty can help you out with your troubles.
However, don't worry! This leveling kit is made on the soils of the USA, so the quality is not something you should be troubled with.
Overall, this is the best leveling kit that you can give your Ford F-250 if your concerns are price and durability. It's a solid purchase!
If you're planning to purchase a leveling kit for your Ford F-250, make sure that your truck is compatible with the kit first. These kits are made for specific year models; make sure to check them out first.
You also have to fully understand how the leveling kits works, what benefits it can give to your truck, and most of all, how to install it.