The Ford F-250 is called Super Duty for a reason. It's big, powerful, and most of all, more than heavy-duty. The recent 2020 Ford F-250 has outstanding specs; both the interior and exterior. It has an aggressive look, an assertive style, and a domineering aura that it projects.
As for the engine performance, it has a 6.2L V8 engine, which is capable of 358hp of power and 430lb-ft of torque. Do you know what's the best thing about the Ford F-250? It has a maximum payload of 7,850lbs! That's powerful enough for a truck!
One of the additional modifications you can give your truck is a lift kit. This will give your truck a lot of benefits. First, it will solve the uneven stance that most trucks have. Second, it will raise the height of your truck by a few significant inches. This gives your truck more ground clearance, allowing bigger tires to fit in. And third, it gives your truck an aesthetically pleasing look.
Are you looking for lift kits for your Ford F-250? Then you're in the right place. We've meticulously created this list of the best lift kits that you can purchase for your truck. Check them all out!
#1 Rough Country – 3″ Lift Kit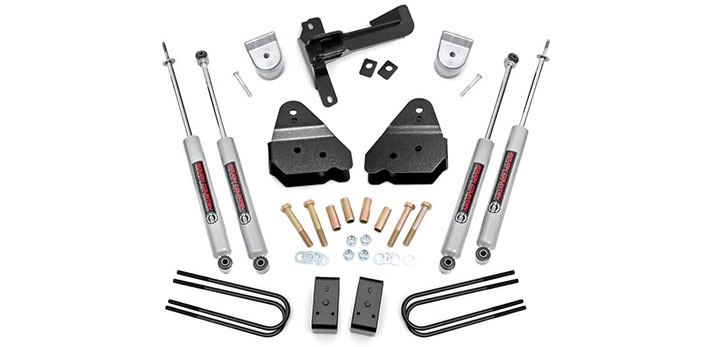 Introducing the first one on our list: Rough Country and their 3" lift kit. This comes with various hardware that will keep making your truck look great and perform better. The Rough Country 3" Suspension Lift Kit is compatible with Super Duties manufactured from 2011 to 2016.
What do you get from purchasing this lift kit? As said earlier, this kit comes with tons of hardware necessary to elevate your truck's height while keeping it tight and compact. It comes with shock absorbers, spacers, drops brackets, and some U-bolts. With all of these installed, you'll get an increased ground clearance, an OEM riding experience, and guess what – a lifetime warranty!
There aren't many disadvantages to this lift kit. The customer reviews are good, and there are no significant cons reported. Rough Country truly does its job well.

#2 Skyjacker Suspension Lift Kits Suspension Lift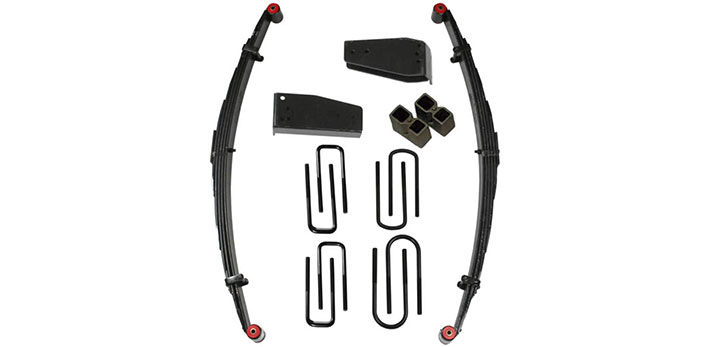 The Skyjacker has a lot of tricks up its sleeves. This brand is not very popular, but it does an awesome job of lifting your truck to its maximum capabilities. What's interesting is that once you have this outfitted on your Ford F-250, you're unique, since not a lot of people use this lift kit. If you're a rebel and you want to be different from the rest, then this is perfect for you.
By purchasing this lift kit, you allow your truck to get lifted by up to 4", both in the front and the rear. This may not be the most popular brand of suspension lift kits, but it does give you enough ground clearance so you can use larger tires. The larger the tires are, the more capable it is for off-road activities. 
When you get this lift kit installed on your Ford F-250, you'll get a fluid, comfy, and a satisfactory ride, whether it is on or off-road. The components are corrosion resistant, and it gives you the proper height that your truck needs to maintain an OEM riding quality.

#3 Fabtech 8″ Basic Suspension System Coil Box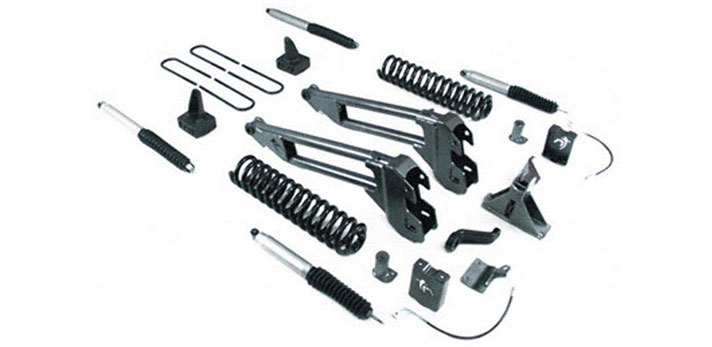 If you're one those people who like to crank up their trucks to the next level, then you should check out Fabtech and their 8" Basic Suspension System Coil Box. Imagine lifting your truck by up to 8". That's insane! With this lift kit on, you dramatically raise your ground clearance, and ultimately, fit in larger tires. This kit is compatible with Ford F-250s made from 2005 to 2008.
Just like the previous lift kit, this is not a very popular brand of a lift kit. However, the customers who previously bought the lift kit gave good reviews, showing that it does its job well. By purchasing this kit, you get a component coil box containing everything you need to lift your truck.
Be warned though. This lift kit contains carcinogens and brings reproductive harm. It is best to install it asap and steer clear such products as much as you can. Overall, this is a great lift kit if you want to stand out from the crowd, quite literally.

#4 Rough Country 8″ Lift Kit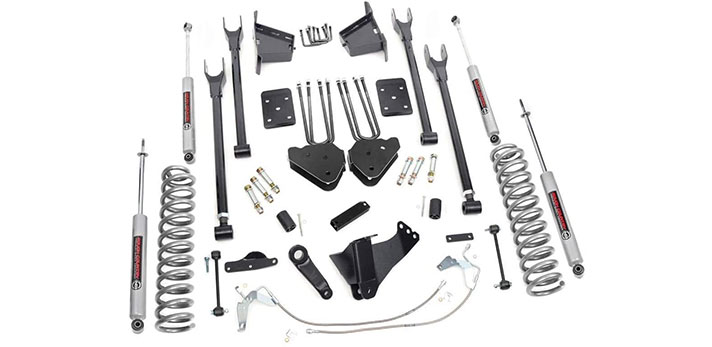 And lastly, we have another one from the Rough Country, and this time we're setting the bar even higher. Featuring their 8" lift kit, compatible with 4WD Ford F-250s from the years 2008 to 2010. Just by looking at it, you'll see that it contains so many components that will be necessary to lift your truck.
What do you get from purchasing this lift kit from Rough Country? For starters, you get the benefits of every unique component included. The N3 shock absorbers are to give you optimum performance, both off-road and on-road. The radius arm mounts and background blocks are used to maintain OEM handling.
The blocks are manufactured to be more durable than your typical casted blocks, so you don't need to worry about its strength. Rough Country has also included a lifetime warranty, just in case, the things with your lift kits go south. The only cons to this lift kit are its price. But hey, quality products like these don't come off cheap.

Buying a lift kit is an awesome idea, especially if you want to modify your truck by raising its height. By purchasing a lift kit for your Ford F-250, you are not only improving your truck's aesthetics, but you are also solving the factory rake problem.
Some additional bonuses are the wider options for larger tires, better performance both on-road and off-road, maintained OEM handling, and the satisfaction of driving a powerful pickup truck without thinking about an uneven stance.
These lift kits are great for your Ford F-250, especially if you want a better performing Super Duty. Be sure to check them all out!