The Chevy Silverado is known for its size and reliability. This pickup truck is big, compact, and is capable of forging onwards on rough terrain, just like a trusty and dependable stead.
With five different powertrains available for your choosing, this large pickup truck is capable of hurtling itself ahead – forcefully.
Pickup trucks such as this are good on their own. The OEM suspensions are enough to go off-road and emerge as it went through a smooth and straight road. But what if you add some modifications to stretch its off-road limits and turn to equip it with a larger tire? You can! But first, you must install a lift kit.
Installing a lift kit on a pickup truck is a great idea, especially for something as competent as the Chevy Silverado. It raises its height and increases the ground clearance, allowing you to outfit it with larger tires.
If you're looking for some of the best aftermarket lift kits to put in your truck then you should see the list below.
It features the six best lift kits that you can find in the market that can fit in a Chevy Silverado. Check them out!
#1 KSP 2" Leveling Lift Kit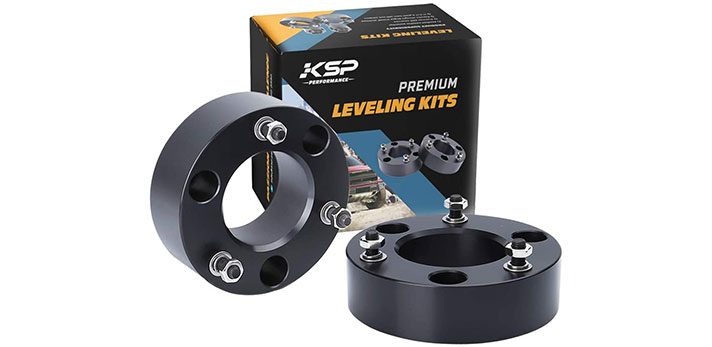 MANUFACTURER: KSP Performance
HEIGHT INCREASE: 2"
MAKE: Aircraft-grade aluminum
COMPATIBILITY: Chevy Silverado 2007-2019
To start the show, we have KSP Performance and their leveling kit, capable of lifting your truck 2". This is one of the fan-favorites, mainly because of its price and reliability.
Not many manufacturers can give you the best value for your money, but if you're looking for a cheap bang for the buck lift kit, then this one is for you.
Safety and an aggressive style. That's what you can get when you have this lift kit installed in your Chevy Silverado. When it comes to safety, the durable materials used to manufacture this product is top-notch.
On the other side, the additional height provided by this lift kit will turn the heads of many people.
Do you know what's the greatest thing about this lift kit? A 30-day refund and a lifetime warranty! So in case you've experienced what you think are factory defects, you can call them and see what you can do with the lift kit that you've purchased.
#2 Rough Country 2.5″ Leveling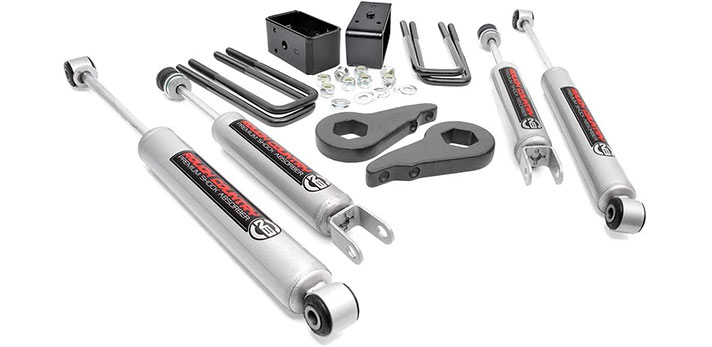 MANUFACTURER: Rough Country
HEIGHT INCREASE: 2.5"
MAKE: N/A
COMPATIBILITY: Chevy Silverado 1996-2006
The Rough Country is another trusted brand when it comes to suspensions. Capable of lifting your truck by up to 2.5", this suspension lift kit will not only raise your truck's height, but it will also give it a definitive aggressive stance that all trucks need and deserve.
If you want people's heads turned while you're driving around, this is for you.
There are a lot of treats included in this package. First, the spacers, which hoists the front of the truck upwards. Second are the lift blocks, which elevates your truck's height. Third are the miscellaneous components like U-bolts, torsion keys, and some nuts and washers. Lastly, the premium N3 shock absorber.
That premium N3 shock absorber is the most unique thing in this lift kit. All of its qualities such as the ten stages of variable valving are responsible for giving the truck an awesome time, both on smooth roads and off-roads.
#3 Supreme Suspensions – Full Lift Kit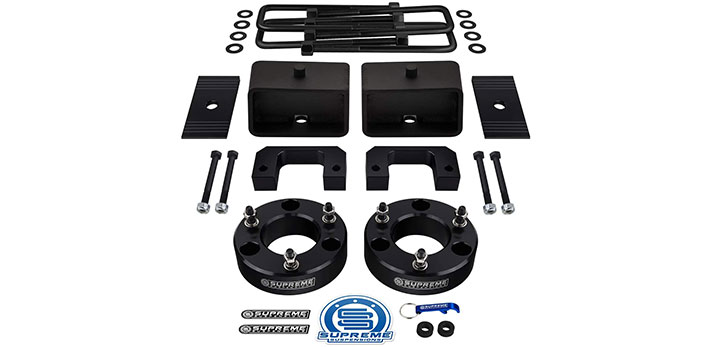 MANUFACTURER: Supreme Suspensions
HEIGHT INCREASE: 3.5" (Front) and 3" (Rear)
MAKE: Aircraft-grade aluminum
COMPATIBILITY: Chevy Silverado (2007-2020)
How can you consider something as supreme? When that something is on the top, and if it leaves its competitors on trails of dust. That's what the Supreme Suspensions do.
Being one of the most favorite brands when it comes to suspensions, the Supreme Suspensions and their 3.5" x 3" lift kits can do your vehicle a truckload of benefits.
What do you get from the package? The picture above says it all: a lot of sweet components. Spacers and blocks for lifting the front and the back, the general components like bolts, nuts, washers, and U-bolts.
Don't forget the most important items of them all: the decals and that SS bottle opener. Sweet!
By outfitting your beloved Chevy Silverado with this suspension lift kit, you not only give your truck a brand new and improved look, but you also improve its functionality.
With these lifters on, you can now use larger tires to conquer the off-road.
#4 MotoFab 3" x 2" Leveling Lift Kit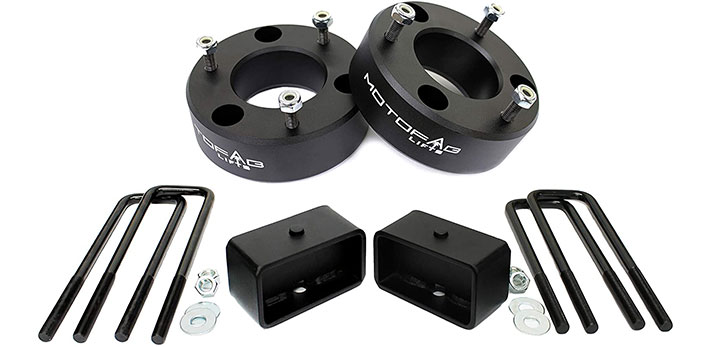 MANUFACTURER: Motofab
HEIGHT INCREASE: 3" (Front) and 2" (Rear)
MAKE: Aircraft-grade aluminum
COMPATIBILITY: 2007-2018
And now, for the most famous lift kit brand on this list: Motofab. They've created a lift kit that can raise the front and the back of your truck by a significant 3" and 2", respectively.
Machined to perfection, these lift kit is a cheap yet extremely reliable lift kit that can outshine everyone else in this list.
What's inside the bag? Primarily, it has spacers and lifts blocks. The remaining parts are the important components like the U-bolts, nut, bolts, washers. The instructions for the installation process is also included in the kit.
The lifters like the spacers and blocks are made from aircraft-grade aluminum, which makes it extremely durable and heavy-duty.
The best thing about this one is how easy this lift kit is to install. There's no need to master every aspect of the truck: just follow the installation instruction down to the letter and boom!
You now have a non-slouching Chevy Silverado, now with a better stance and posture. This is by far the best-recommended lift kit for the Chevy Silverado.
As you can see, all of them provide 2" to 3.5" of lift. Keep in mind, however, that the thickness of the spacers is not equal to the height of the lift. This is due to the suspension geometry.
And also, it is highly recommended that you bring your Chevy Silverado to your trusted local mechanic after you install the lift kit to make the proper alignments.