There is no doubt that lowering a car can ultimately make it look awesome.
The simple act of lowering a car's ride height can make a ton of difference, both in style and aesthetics.
A car that is almost hugging the ground means it can corner more easily, is more aerodynamic than it was before, has a lower center of gravity, has improved handling capabilities, and most of all, aesthetically appealing.
Aftermarket mod manufacturers have been designing and creating awesome mods for so long. And in recent decades, they've come up with an amazing mod that can lower a car's ride height.
Behold the lowering springs, a mod that doesn't only lower your car, but also improves its aerodynamic properties. Streamlined cars like the Subaru BRZ benefit the most from this mod.
We know you're having a difficult time finding the best bunch of lowering springs in the market today. So we decided to make a special list just for you: a list of the best Subaru BRZ lowering springs!
These mods are special in their ways, so be sure to check out each of them and see what you like the most. They all have different features of their own to offer, so come and take a look!
#1 Eibach Sportline Lowering Spring Kit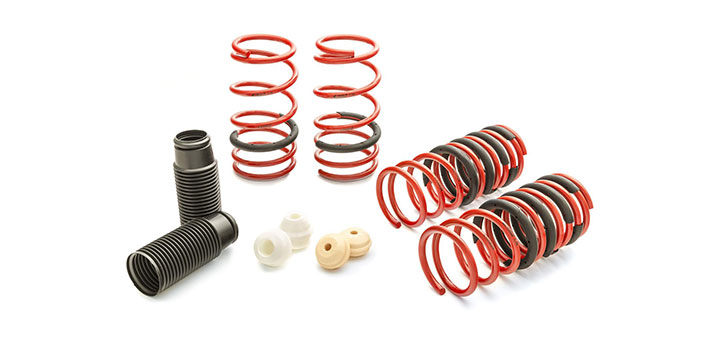 Manufacturer: Eibach
Spring Type: Progressive
Height Reduction (Front/Rear): 1.4" | 1.4"
Compatibility: Subaru BRZ (2013-2020)
Eibach is a popular aftermarket suspension parts manufacturer known to meet the most extreme of racing requirements. Their suspensions have reached Le Mans and fought through the demanding races of the Daytona Motor Speedway.
With this kind of credential, there's no doubt that they can lower any car in the best way possible. And in the case of the Subaru BRZ, it's the Eibach Sportline lowering springs that'll do the job.
So what's with this item? This lowering spring is created with extreme performance and extreme style in mind. The reason why it's among the best lowering springs for the BRZ is because of its capability to give the BRZ a race-car-like handling.
Not many lowering springs can do that, but apparently, the Eibach Sportline can. It also lowers your Subaru BRZ's center of gravity so it can halt quicker, corner faster, and have better mpg.
The Eibach Sportline can lower your car's ride height by 1.4". That's enough height reduction to make the Subaru BRZ look more domineering. And also, with a newly acquired lowered center of gravity, the Subaru BRZ can now have a dramatically reduced squat while accelerating.
The body roll while cornering and the nose-dive while braking is even reduced, if not eliminated!
#2 Skunk2 Lowering Spring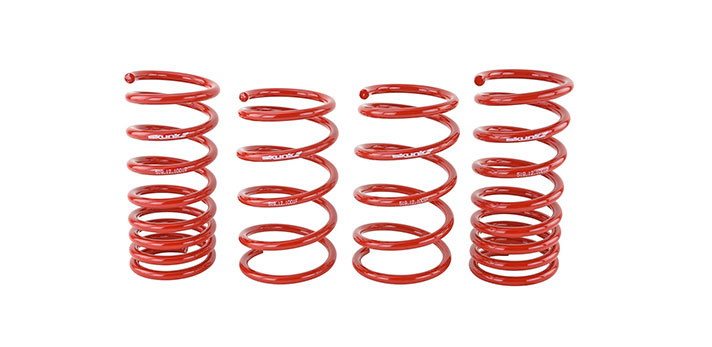 Manufacturer: Skunk2 Racing
Spring Type: Linear
Height Reduction (Front/Rear):
Compatibility: Subaru BRZ (2013-2019)
Skunk2 may have a bit of a peculiar name, but their lowering springs are legendary. They have been dropping cars since 1994, and their products have seen so many races all around the world.
Their experience with modifying cars is extensive, so it's safe to say that Skunk2 can impressively lower your car. But how? By using lowering springs, specifically made for the Subaru BRZ!
Skunk2's lowering springs are tried and tested to give the Subaru BRZ an improvement, both in terms of handling performance and ride feel. The Skunk2 lowering spring can significantly increase the Subaru BRZ's grip while cornering, reducing the intensity of the body roll the car creates.
Aside from that, Skunk2 lowering springs neutralizes the car's tendency to squat while accelerating, and as well as eliminate nose-diving while braking.
All of the lowering springs made by Skunk2 are from SAE 9254V steel, CNC wound, stress relieved, powder-coated, and treated with phosphate. All of the efforts done in the production stage results in a lowering spring that can make a car perform like a professional race car.
With the Skunk2 lowering springs, your Subaru BRZ will feel like a true blue race car.
#3 Megan Racing Lowering Spring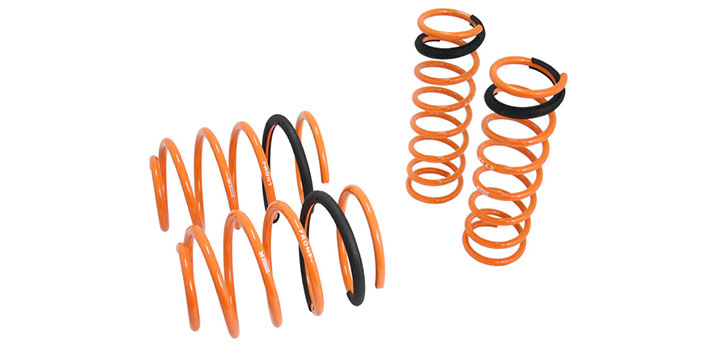 Manufacturer: Megan Racing
Spring Type: Linear
Height Reduction (Front/Rear): 1.75" | 1.25"
Compatibility: Subaru BRZ
Another lowering spring to look out for is the Megan Racing lowering springs. Since the first day it was established, Megan Racing has been fueled by the spirit of competition, and this allowed them to make highly competitive products like this lowering spring here.
It's a great mod if you want your Subaru BRZ to like a race-cat while maintaining seamless and snug ride characteristics.
So what's with Megan Racing and their lowering springs? It's made from high tensile strength steel, powder-coated to keep it resistant to corrosion. The spring rates are also carefully matched as well so it does keep the Subaru BRZ steady enough, especially while cornering.
Megan Racing's lowering springs drop your car's height while keeping it street capable because of the clearance left below the car.
The Megan Racing lowering springs are a bunch of springs made with quality and safety in mind. A lot of folks want a lowered car, but some lowering springs don't do well with the "safety" part. With Megan Racing being a race specialist, they highly value safety and quality.
And with that type of mindset, they've conceived the best lowering springs for the BRZ.
#4 Swift Swings Spec-R Sport Lowering Springs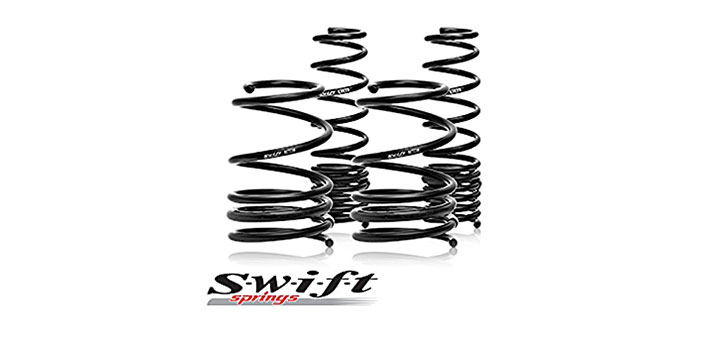 Manufacturer: Swift Springs
Spring Type: Progressive
Height Reduction (Front/Rear): 1.1" | 1.0"
Compatibility: Subaru BRZ (2013-2016)
And now, if you're looking for a lowering spring that can get your Subaru BRZ to the showroom, then you should check out the Spec-R Sport lowering springs from Swift Springs.
These lowering springs can give your car both the improved handling capabilities and the aesthetic appeal that you've been always looking for in your Subaru BRZ.
What makes the Spec-R Sport lowering springs so good? These lowering springs are specially designed to make the Subaru BRZ ready for the track racing experience. But if you're not a track racer, don't worry; you'll get that type of ride feel as well.
The Spec-R Sport is created to satisfy every track enthusiast's need for stability, especially when doing risky actions like cornering in tight turns, etc.
Ultimately, the Spec-R Sport is made with three things in mind: first is the modification of the car's ride height, maximizing the right suspension geometry. Second is the further increase of the spring rate, enhancing the overall performance of the vehicle.
And third, the preservation of the optimal level of comfort of the car whenever it's used for street driving. The Spec-R Sport may be built for the track, but it's also great for the street.
Linear And Progressive Springs: What's the Difference?
After checking out the list of the best lowering springs for the Subaru BRZ, you're probably wondering: "Spring type? Linear? Progressive? What in the world do they mean?"
If you've asked yourself the same question, then you probably know the difference between the two and how they function differently. Let's discuss what is linear, what is progressive, and what is the difference between the two of them.
A linear-rate spring is a type of spring that has equidistant coils. Every part of the linear spring offers the same amount of resistance whenever it is compressed. This variant of a lowering spring helps the driver to know it will react if it is subjected to different kinds of riding conditions.
The only downside to using this type of lowering spring is that it tends to make the ride quality of the car much stiffer.
On the other hand, a progressive-rate spring has visibly larger gaps and offers more resistance whenever the spring is compressed. The purpose of a progressive lowering spring is to distribute the damping within the entire length of the spring.
Initially, the ride quality will be soft, and then once the car leans on the side of a specific lowering spring, the ride quality gets firmer.
Aftermarket mods manufacturers have been using progressive lowering springs for the longest time now. These types of springs are good for road use, and you can see it on most lowering springs that value performance.
The response of the spring during the initial travel (soft) keeps the car in contact with the road, while the final travel (firm) gives the driver better handling once sharper turns need some tougher cornering.
The lack of consistency in a progressive spring makes it difficult for the driver to anticipate how the car would respond in different driving scenarios. This type of situation is great for those who want to drive their cars on the track.
However, if you're a daily driver, you probably won't need progressive springs, since you won't be encountering any sharp turns that need tougher cornering anytime soon.
Lowering your car's ride height can now be easy, thanks to the service of lowering springs. These mods aren't just made to lower your car; they also improve your car's handling, especially on the tight and sharp turns.
A project car like the Subaru BRZ, which can be used both on the track and on the streets definitely needs one.