If you own a Toyota Tundra, then you know how lovely it is to ride one. The reliability of this pickup truck is astounding! It can go through miles and miles on end. Whether it's on-road or off-road, the Toyota Tundra can do more than what other pickup trucks can't do: be awesome and be a cousin of the Toyota Tacoma.
However, anything in this world will always have room for improvement. The Toyota Tundra may be reliable and all, but the OEM parts can prove itself to be mediocre, especially in the face of more demanding tasks. That's why replacing it with aftermarket modifications would be a great idea.
Ladies and gentlemen, if you're trying to find out what's the best modifications you can fit into your Toyota Tundra, then we have good news for you! Below are the best Toyota Tundra mods that you can prioritize to make sure that your truck can give you the best experience it can.
#1 Exhaust Systems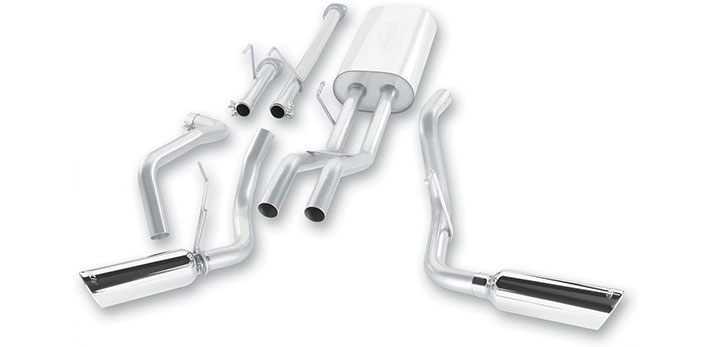 The OEM exhaust system is the first part of your Toyota Tundra that needs to be replaced. The existing factory exhaust is good, but the aftermarket exhausts available in the market are much more promising.
It brings forth so many benefits that an off-road vehicle will truly make use of. One of the upgrades that a pickup truck need is something that would add up to its horsepower out, so it can go through terrains and off-road obstacles with more ease.
Getting a new aftermarket exhaust is a good idea, for a great couple of reasons. It optimizes the exhaust gas airflow in your truck, allowing it to exhale the burnt fuel even better. By doing so, it releases the untapped horsepower and torque in the truck, racking up to 9hp to 17hp of pure unadulterated power.
Aside from that, you'll get that deep, sweet, and aggressive sound too! Who doesn't love a truck that is more assertive and aggressive?

#2 Intake Systems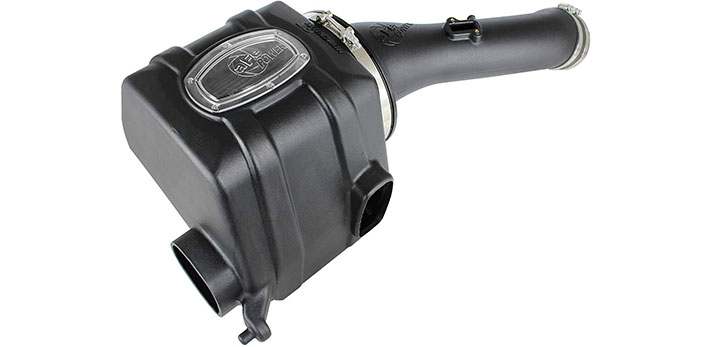 The intake systems work together with the exhaust systems. The intake "inhales", while the "exhaust" exhales. The intake system allows ambient cold air to enter into the engine, making the combustion of the air-fuel mixture more efficient.
There are a few good reasons why cold-air intake systems are one of the best performance mods for Toyota Tundra. Just like an exhaust system, it adds up more useful horsepower while allowing colder and richer air to burn the fuel.
Aftermarket cold-air intake systems available in the market offer different a lot of unique features. Some are manufactured with patented technology made so that the intake system can perform better than the rest. Some also feature oversized reusable air filters. 
On top of that, you can potentially minimize or remove the drone sound while driving too. Not mentioning that sweet underhood sound that you'll hear while driving!

#3 Tonneau Cover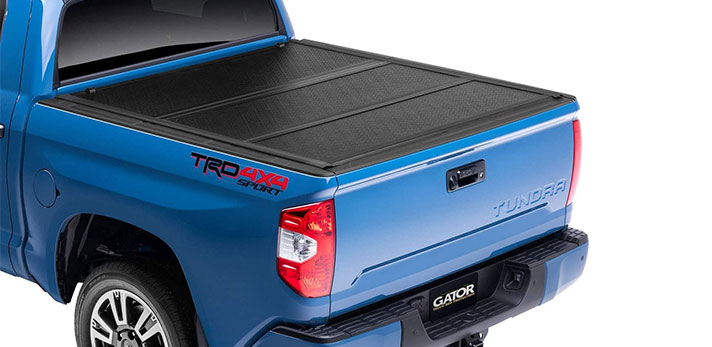 Tonneau covers are just bed covers. This may be confusing at first, but once you get the hang of the term, you'll get used to it. Tonneau covers are a great addition to your truck, especially if you want to protect everything that you want to store on your cargo bed.
There are different variants of tonneau covers, such as soft-roll up covers, foldable covers, and retractable covers. Each offers different unique features, so keep in mind how you want to protect your cargo. Do you want a soft and easy cover or you want a versatile cover that can be folded multiple times? How about retractable covers?
Whatever type of tonneau cover you may want, all of these variants are sure to protect your items from harmful elements like rain, snow, dust, dirt, and even hail! This is a great addition to your Toyota Tundra; something to complement its natural functionality.
As said earlier, there are various types of tonneau covers. But if you have trouble starting somewhere to look, you can look up Tyger Auto T1 Soft Roll-Ups.

#4 Leveling and Lift Kits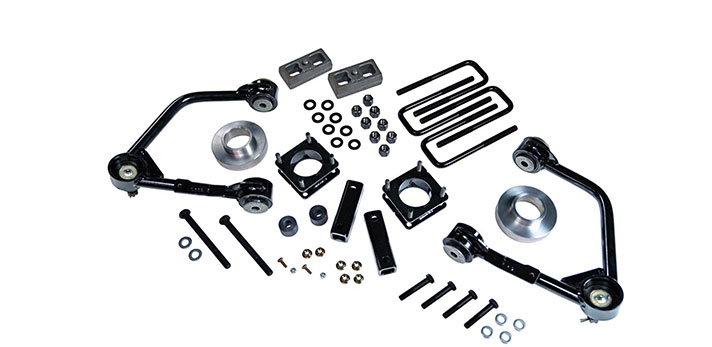 No matter how good looking a truck is, it will always have this one persisting problem. A dilemma that almost all truck owners have. Luckily for you, your Toyota Tundra is saveable. This problem is called a rake.
The rake is a phenomenon where the front of the truck has a lower height compared to its rear. Think of it like a bear on all fours – it's head is stooped low while its rear is raised high. This may not seem like a big problem, but over time, it will pose an annoying threat to your truck – aesthetic wise.
To make both the front and the rear height parallel, you can use either a leveling kit or a lift kit.
A leveling kit "levels" the front height to match the rear height. This can fix your truck's uneven stance and make it look more assertive. A lift kit on the other hand "lifts". The height of the truck is significantly raised, fixing the rake while paving way for bigger and better tires. 
There are a lot of trusted brands of lift and leveling kits out there. You can start with Rough Country and Supreme Suspensions.

#5 Floor Mats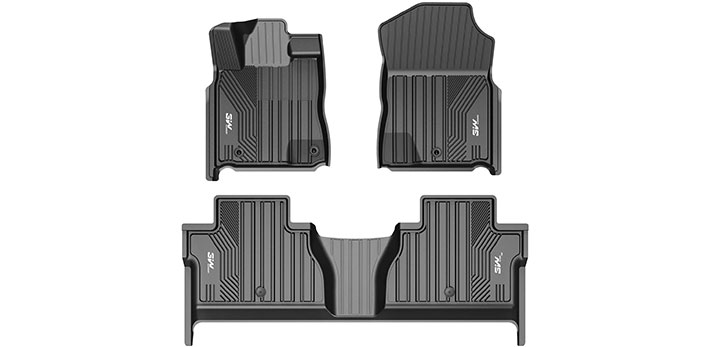 Floor mats might sound like a very minor and not worthwhile modification, but they are seriously a must-have item for offroading, hunting, or camping. You're a big fan of the off-road, right? Do you just want to keep the floorings of your Toyota Tundra crisp and clean? Purchasing floormats is the best way to keep those your floors tidy and dirt-free – as much as possible.
Floor mats are staple car modifications. These things aren't just for trucks; cars and SUVs have them too! Getting some of these is a great way to keep those dirty and muddy boots from touching your pristine truck flooring.

#6 Running Boards and Side Steps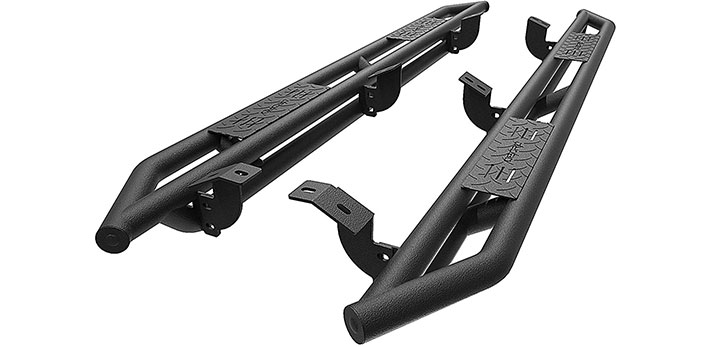 Running boards and side steps are underrated. People don't appreciate what it can do both for them and their vehicle, so getting one may seem unnecessary. Hold up! Miscellaneous modifications like these are necessary for your Toyota Tundra too!
If you own a tall vehicle and you need some lift to get inside, then you need either side steps or running boards. They both help you literally "step-up", but there are a few differences between the two.
Running boards span the majority of the door's length. Every part of it can be stepped on, and it's a great choice for vehicles that are not that tall. Side steps on the other hand are just like the running boards, except that it only has two boards to be stepped on. 
The main difference between the two is that the former has a wider and flatter profile while the latter is narrower. Running boards offers more ground clearance too compared to side steps.
Whatever you choose between the two, you'll be guaranteed to have extra help when entering your truck. It does give your truck an additional aesthetic appeal too!

#7 Winches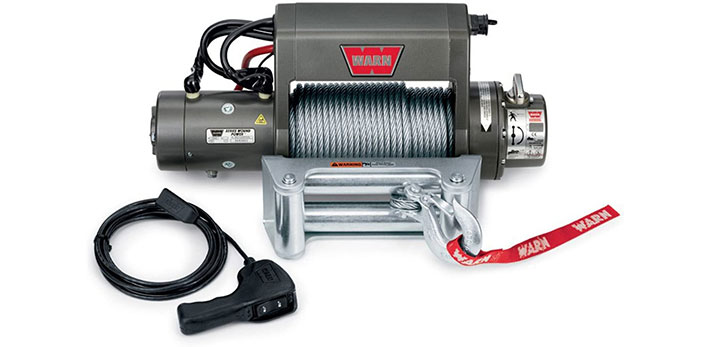 Trucks like the Toyota Tundra are built to be powerful. Its power is usually translated to perform different heavy-duty activities like towing or hauling. Winches add up some flavor to your Toyota Tundra by giving it the ability to pull a heavy object from the front of the truck.
A winch is a device made to either wind up or wind out something. Its mechanics allow it to adjust the tension of the rope that it uses to pull in or let out any heavy obstacle that needs removing.
Warn has some of the best winch kits especially made for hot rods like the Toyota Tundra.

#8 Roof Cargo Racks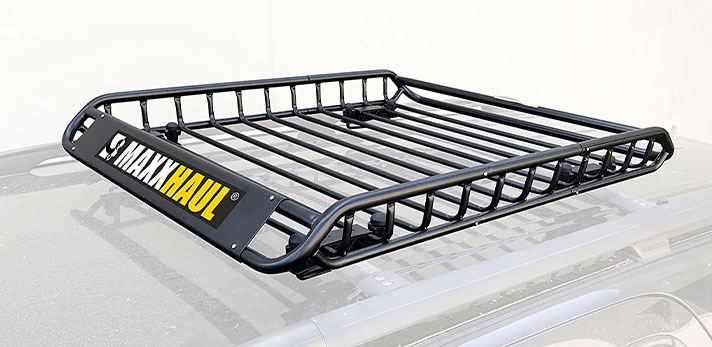 Admit it. One of the main reasons you bought a Toyota Tundra is because of its utility capabilities. Trucks are made to haul and carry cargoes on its bed, but what if there isn't any space anymore and you desperately need to transport an item? What if this item is oversized and will fit neither inside nor on the cargo bed?
The only answer to this problem is to get roof racks. These are affordable solutions to your daily transport, hauling, and outdoor packing needs. Many roof racks offer adequate space to fit in large and oversized items like surfboards, canoes, and much more.
Roof cargo racks from Leader Accessories are great examples of how roof cargo racks should be: durable, easy to organize, and compact.

Whether you're looking for the best performance mods for Toyota Tundra or you're just looking for the best Tundra mods in general, these top picks will help you out. Equipping your Toyota Tundra with these aftermarket mods will surely do wonders for your truck.