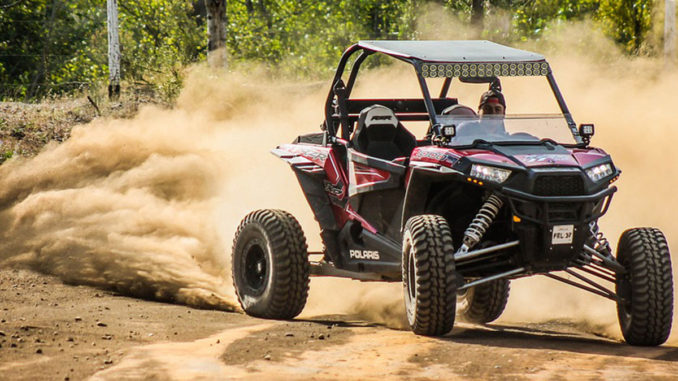 The Polaris RZR is one of the most popular UTVs around: you can use it for trail driving, prerunning, racing, farming, and so much more. Many of us prefer off-roading at night because the temperature is too high during the day; especially true in hot climates. If you're off-roading at night, then you will obviously want the extra lighting to help you see further on the trail. Typically, we recommend tires and suspension before adding LED light bars, but an LED light bar is still a great first modification for your RZR!
In the short guide, we will look at the best LED light bars for a Polaris RZR. We'll look at roof-mounted LED light bars, and the best bumper mounted LED light bars. We will also cover mounting systems because the brackets that come with LED light bars are universal and won't work well
Best Roof Mounted LED Light Bars for Polaris RZR
Mounting an LED light bar on your roof has a couple of benefits. The main benefit is decreased shadows on the trail allowing you to see more. The sole drawback of a roof-mounted LED light bar is windshield glare and wind noises. However most UTVs don't have windshields, so the glare problem is a non-issue. There are RZR specific brackets available for every single LED light bar listed below.
#1 Rigid Industries 30" E-Series Midnight Edition

We want to start this list out with one of our favorite products, the E-Series Midnight Edition by Rigid Industries. We love Rigid Industries products because of their light output, build quality, and warranty. Unfortunately, this kind of quality doesn't come cheap, so if you're on a budget don't worry we have cheaper LED light bars listed below. It should be noted, you get what you pay for with Rigid light bars and they're far superior to cheap Chinese LED light bars.
This particular LED light bar from Rigid Industries outputs 13,800 lumens at 165 watts. Most LED light bars have lots of chrome inside the housing which looks kind of ugly. For this reason, we specifically chose the Midnight Edition which blacks out pretty much everything giving it a much more sinister look. Just like all Rigid Industries products, this LED light bar is IP68 water and dust proof. If you somehow manage to break it Rigid Industries will back it up with their lifetime warranty.


Warranty: Lifetime
Power: 165 Watts
Output: 13,800 Lumens
Build Quality: Excellent
#2 KC HiLites 30" Flex Array

Second up on our list is the Flex Series from KC HiLites. KC HiLites isn't the biggest name in the LED light bar market, but they definitely make some of the best LED light bars out there. We chose this LED light bar because of its modular design. This means you can make it a single stack, double stack, or triple stack. This flexibility is a feature that no other LED light bar has. If you end up purchasing UTV which needs a wider LED light bar, you can simply add more sections to increase the overall length!
For this particular series of LED light bar, KC HiLites used extra deep projectors which helps them put the light further down the trail. If you plan on racing or pre-running, then a quality projector like this one is pretty important. This LED light bar output 14,625 lumens at 150 watts which is an extremely impressive lumen/watt ratio. Just like the Rigid Industries light bar above, this one is IP68 water and dust proof. If you can manage to break it KC HiLites will back it up with their 23-year warranty.


Warranty: 23 Years
Power: 150 Watts
Output: 14,625 Lumens
Build Quality: Excellent
#3 Rigid Horse 30" Straight 8D (Editor's Choice)

We know that many of our readers are on a pretty tight budget. We all want a high quality LED light bar, but most of us just can't afford one. For this reason, we chose the Rigidhorse 32" LED light bar because it combines decent quality, great reviews, and a low price. In the past, we have often criticized quad -ow LED light bars for not projecting the light far enough down the trail. If you don't plan on driving fast, then a quad-row light can work for you.
This particular light bar takes 564 watts to power, so an upgraded charging system may be necessary. We can't find a lumen count for this LED light bar, but we would estimate it's around 15,000 lumens. Unlike most cheap LED light bars this one is actually IP67 water and dust resistant. If you plan on racing or pre-running you'll want an LED light bar with better projectors. If you don't plan on racing or pre-running then this LED light bar is pretty hard to beat for the money.


Warranty: 1 Year
Power: 564 Watts
Output: Estimated 15,000 Lumens
Build Quality: Okay
#4 Auxbeam 30" RGB Straight 5D

Last but definitely not least is the 30" 5D Straight from Auxbeam. Auxbeam has pretty much become the biggest name in the cheap LED light bar market. Although we generally recommend staying away from cheap Chinese LED light bars, we've used many Auxbeam products in the past with great success.
Unlike some other LED light bar listed above, this one doesn't really bring any big innovation to the table. It's just a pretty standard design with decent components, but with an RGB accent lighting system.. The projectors are surprisingly good creating a fairly clean spot beam pattern. Auxbeam claims this LED light bar outputs 18,000 lumens at 180 watts, but it's probably around 11,000 lumens in the real world. If you're on a very tight budget, this LED light bar is the only way to go.


Warranty: 1 Year
Power: 180 Watts
Output: 18,000 Lumens (Questionable)
Build Quality: Poor
Roll Cage Mounting Brackets
When you buy any of these LED light bars you also need to buy a mounting system. The LED light bar does come with brackets but they won't work on your RZR. Luckily mounting systems are around $50 and come with everything you need. The brackets you need depends on what year RZR you own and if you buy a curved or straight LED light bar.
Check Latest Mounting System Price
Best Bumper Mounted LED Light Bars for Polaris RZR
Although mounting an LED light bar on your roof has a couple of advantages, it does have a couple of disadvantages. Windshield and hood glare is the biggest problem with roof mounting, but the RZR doesn't have a windshield so this isn't exactly a problem. If you're following someone in the dirt, a roof-mounted LED light bar can actually make it harder to see by lighting up the dust in front of you. Mounting an LED light bar low on the bumper solves these issues which is why so many people prefer this mounting style.
Rigid Industries RZR Headlight Kit

Although this kit technically isn't a bumper mounted solution, it's mounted low enough that it overcomes the issues we already mentioned. This kit is extremely well engineered and has been proven to work. Unfortunately, this precise engineering isn't cheap. We do have a solution listed below if you're on a budget. It's no secret that the OEM RZR headlights are pretty weak, so upgrading them with LED cubes is a great way to massively improve light output.
This kit uses 2x SAE Compliant D-Series lights as the primary headlights and 2x D-Series Driving lights as the high beams. The kit includes the brackets, wiring, and hardware necessary to make installation a breeze!


Auxbeam 2″ LED Pods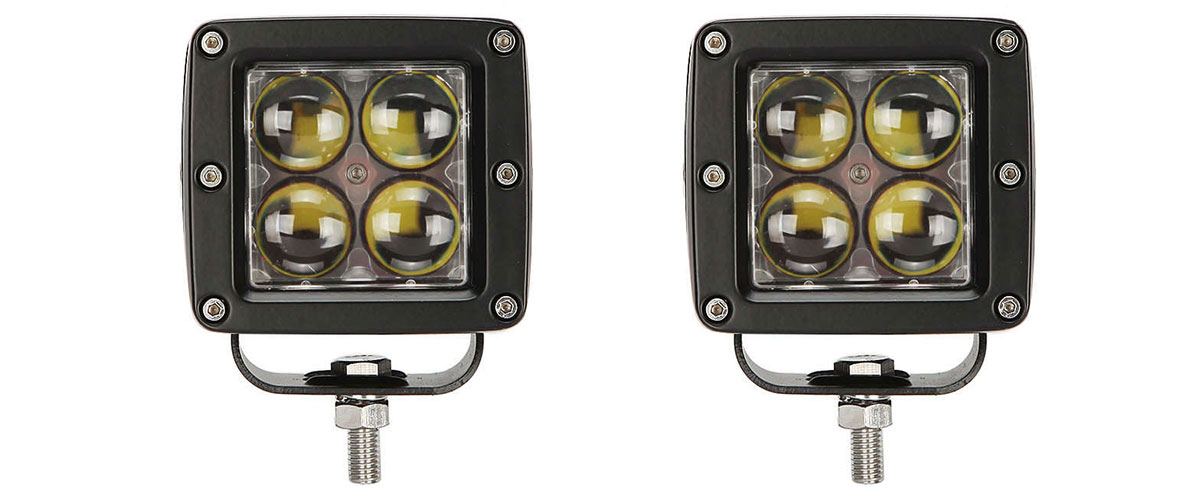 The kit listed above is excellently engineered, but the lights used are pretty expensive. To save money, you can use the brackets in the kit, but use some cheap LED pods instead of Rigid's D-Series pods.
We've used these exact LED light pods from Auxbeam in the past and absolutely loved them. The color is a nice white and the beam pattern is surprisingly tight. We used them as fog lights on our XJ Cherokee, but they were definitely bright enough to be used as headlights.
If you don't want to use the headlight brackets, you could mount these pods individually on the front bumper although that wouldn't look nearly as cool.


Importance of High-Quality Projectors
One of the most components of an LED light bar is the projector. With a low-quality reflector cup, the light emitting from the diode will go to waste. With low-quality projectors, the light won't be directed in the correct direction. This design and quality of the projector and reflector cup separates a low quality LED light bar from a high quality LED light bar. The main reason brands like Rigid Industries and Baja Designs are so so expensive is because of their extensive research on how to develop better projectors. If you decide to buy a cheap Chinese LED light bar, make sure you get one with a 4D or 5D projector. If you're still not sure which LED light bar to buy, check out our full LED light bar buying guide.