The Ram 1500 is arguably one of the best pickup trucks there is. The recent 2021 raises the bar for the classes of pickup trucks. This vehicle combines ruggedness, durability, and heavy-duty capabilities with luxury, style, and sophistication. It features innovative improvements like a split-folding tailgate, air suspension, and many more.
This is a one-of-a-kind modern-day pickup truck. Its features exceed the up-to-date versions of the trucks like the Chevrolet Silverado 1500, and the famous Ford F-150. Although the Ram 1500 is an impressive truck, to begin with, it does suffer the most common of problems most trucks experience: a factory rake. Good thing this can be fixed by retrofitting a lift kit in your Ram 1500.
Are you looking for some lift kits to outfit your Dodge Ram 1500? We've created a list that features the best lift kits there is for your beloved truck, whatever manufacturing year model it is. Check them out!
#1 Zone Offroad – 6.5″ Suspension Lift Kit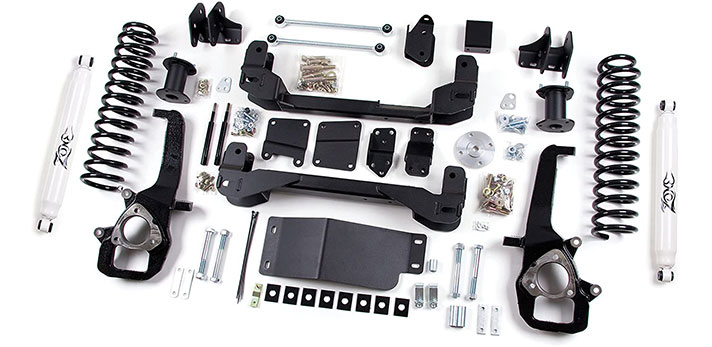 Let's start the list with a bang. Featuring Zone Offroad and their suspension lif kit, capable of lifting your truck by up to 6.5". This lift kit is compatible with 2WD Ram 1500s that were made from 2014 to 2017. It significantly covers everything that a lift kit should do, overall a great product for your truck.
By having this installed in your Ram 1500, you assure the safety of your raised truck while being strong enough to eliminate the need to use more power from your truck. The 6.5" lift that this kit provides is more than enough to give you larger clearance, allowing you to outfit larger tires in your Ram 1500.
With such a comprehensive kit, what benefits can you get from getting this lift kit? The package includes sway bar relocation, blocks, U-bolts, rear shocks, and the essential hardware needed to complete the installation. These components give your truck an OEM quality ride and the ability to use larger tires.
The only downside to this lift kit is that it is pricey, and may clutter your workspace with all those components lying around.
#2 McGaughys – 8″ Lift Kit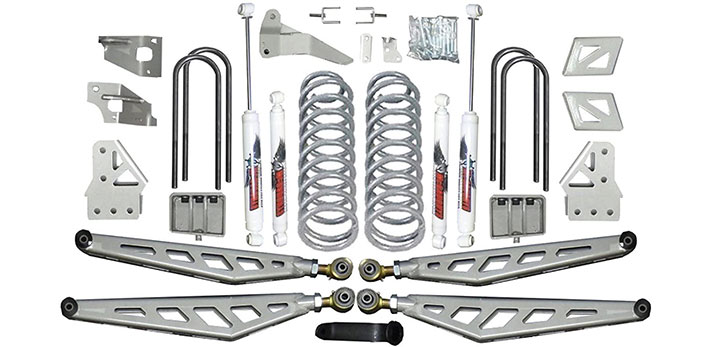 Now for another one for the taller classes of trucks, we have the McGaughys and their 8" lift kit, compatible with 4WD Dodge Ram 1500 manufactured from the years 2009 to 2012. If you got an itch for tires as large as 38", then you should check this kit out.
Lift kits are originally meant to lift trucks, SUVs, 4x4s, and many other similar vehicles. But unbeknownst to many, it also helps in determining the truck's backspacing and helps the installation of larger tires. The components on this kit are made from durable materials suitable for extreme off-road uses.
With this lift kit on, the chances of tripping over and falling off are close to zero. That's the additional peace of mind for you, buddy. The pros of having this in your truck include easy installation, no factory components manipulations, and a durable frame. The only cons to this kit are that it's bulky to handle and can potentially damage your frame if installed incorrectly.
#3 Supreme Suspensions – 3.5″ X 2″ Full Lift Kit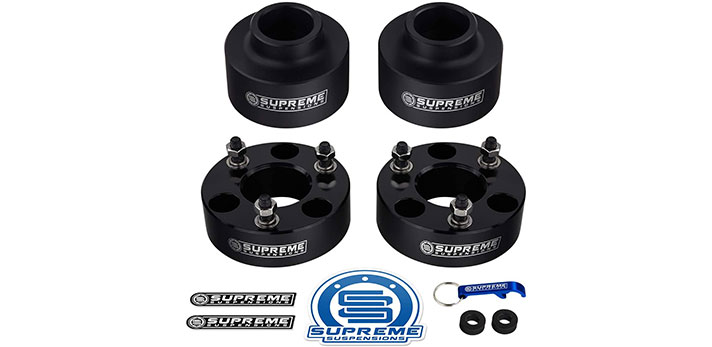 The third slot on our list goes to Supreme Suspensions and their 3.5"X2" full lift kit. This supreme lift kit is compatible with 4WD Dodge Ram 1500s from the manufacturing years 2009 to 2018. Supreme Suspensions are known to be pioneers in developing one of the best aftermarket lift kits out there. With that kind of reputation, you're assured that the only type of service they give is their best. 
This suspension lift kit elevates both the front and the rear of the truck simultaneously by 3.5" and 2", respectively. The spacers are made from tough material and are powder-coated to resist corrosion. This lift kit is affordable yet tough enough to deal with much punishment that you can subject it in. 
The installation is not that difficult too! If you have a couple of hours to spare for the lift kit installation, then you're set. 
Why should you buy this kit? First, it's affordable. Second, it has a bolt-on system that makes it easy to install. Lastly, it is made of durable materials. The installation process may be a little tricky though, so make sure to understand the instructions fully.
#4 Zone Offroad – Suspension Lift Kit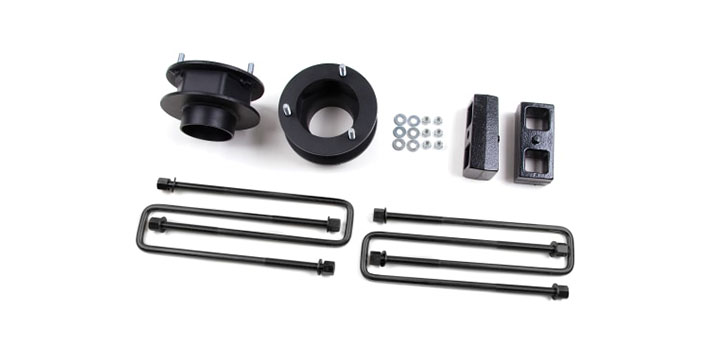 We feature another Zone Offroad lift kit for the fourth slot, and in this case, it's a 2.5" lifter. It fits 4WD Dodge Rams manufactured from 1994 to 2001. With this kit in your workshop, you're ensured with an easy to install even if you are a beginner. It lifts your truck's front by up to 2.5" and the rear by up to 2".
The lift kit has a bolt-on system, giving you an easy installation process that doesn't need any kind of special tools. The kit is fairly affordable too! And if you're not confident enough with installing it by yourself, you can use that extra cash to hire somebody to install it for you. The lift kit maintains an OEM quality ride – feels like home!
By installing this lift kit, you get the opportunity to replace your factory shock absorbers. The spacers and blocks are powder-coated to resist corrosion, and as mentioned earlier, it's cheap. The only downside to this is that it may not be easy for beginners to install.
#5 MaxTrac – 4.5" Suspension Lift Kit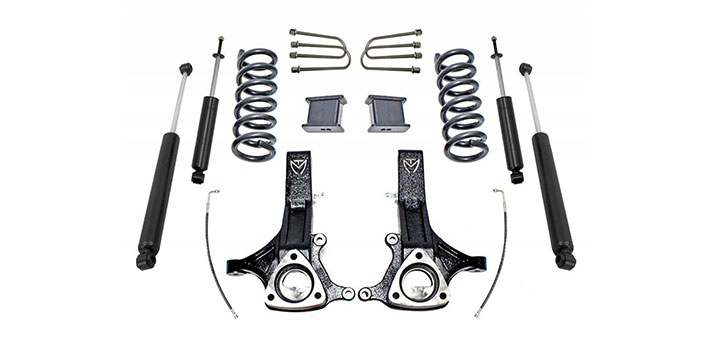 If you want to put your truck to its maximum potential, then you should check out MaxTrac and its 4.5" suspension lift kit. It might be a little expensive compared to the lift kits initially introduced in this list, but the value you get from this kit is worth it. This lift kit is compatible with the 2WD Dodge Ram 1500s manufactured from 2009 to 2018.
This kit includes brake lines, lift spindles, rear coils, bar brackets, and twin-tube shock absorbers. Installing everything will give your truck a chance to wear 35" tires. A larger lift kit does bring additional challenges though. If you're not that confident enough to install this lift kit on your own, then its time to let a professional handle it.
What are the pros of getting this lift kit? First off, it grabs the attention of the people around you. The OEM riding quality is maintained too. The shock absorbers are included too to give your truck a larger boost. You should watch out for the need for another kit though, just in case, your truck's specs don't fit the kit perfectly.
Factory rake is a truck problem wherein the front of the vehicle is stooping low, giving an uneven stance that makes the appearance, distinctive. Luckily for truck owners like you, this can be solved by installing a lift kit. This will not only solve the rake problem, but it will also raise your truck by a few significant inches, depending on the lift kit of your choice.