A significant number of Dodge Ram 2500 owners want to level their truck because they know how great they would benefit from it. The front of the Ram 2500 tends to droop down like a tired animal.
Yes, that's not big of a problem, but having a leveled truck can bring in a lot of benefits for you and your vehicle.
Once a truck achieved a leveled stance, it can now use bigger tires. Bigger tires mean that you can drive around easier, especially on dirt trails and gravel-filled roads.
If you want to reap the benefits of a leveled truck, then you must first install a leveling kit on your Dodge Ram 2500. Luckily for you, we have created a list that features the best leveling kits that you can find out there that are perfect for your Ram 2500. Check it out!
#1 Daystar 2″ Leveling Kit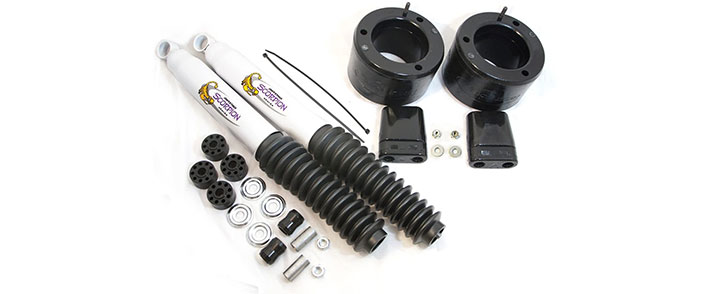 The first one our list goes to Daystar 2" Leveling Kit with bump stops and front shocks included. This kit is specifically designed to work with components like stock suspensions while keeping the costs as low as possible.
The durability of this kit is noteworthy, mainly because the material used to fabricate the struts is a high-density progressive polyurethane, designed to give you comfort while giving moderate lifting.
What does this leveling kit do? It lifts the front of the vehicle to the level of the cargo bed without compromising neither the quality of the ride nor the truck's payload.
Installing this kit is the fastest way to get a decent amount of ground clearance to fit in larger tires. And the awesome thing about this? It comes with a limited lifetime warranty!
#2 Supreme Suspensions 2.5" Front Leveling Kit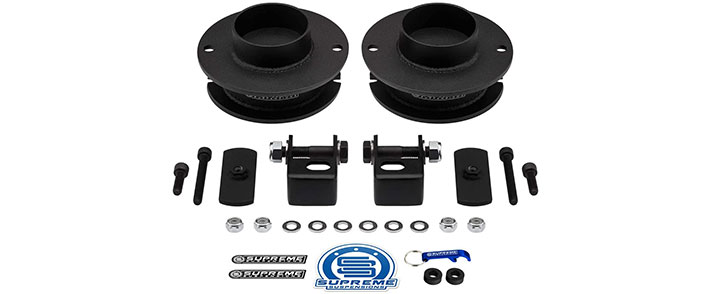 The second one on our list may be popular for their suspension, but they also produce related products like leveling kits that are worth taking notice. For example, the Supreme Suspensions 2.5" Front Leveling Kit, compatible with both 2WD and 4WD under the manufacturing years 2014 to 2020.
Although quite versatile, this leveling kit wouldn't fit trucks that utilize rear auto-level suspensions.
The Supreme Suspensions has some love to bring in for your beloved Ram 2500: the 2.5″ Front Leveling Kit. They've included two highly-durable spring spacers made from carbon steel, two shock relocation brackets, and the installation hardware and manual.
And hey, don't forget the signature decals and an awesome bottle opener keychain!
This type of product is guaranteed to be strong enough to resist deformation and degradation, so if you're looking for a long-lasting leveling kit, pick this leveling kit.
#3 SDT 2.5″ Front Leveling Lift Kit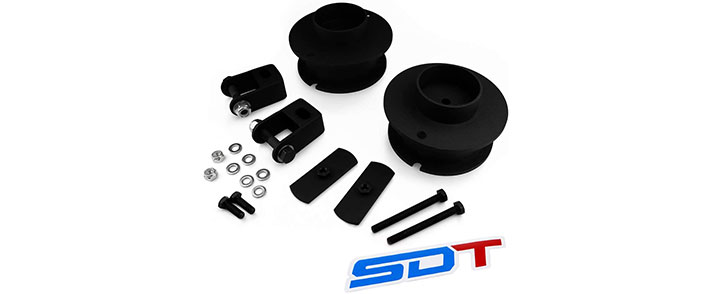 Street. Dirt. Track. That's what SDT stands for. They are pioneers when it comes to off-road aftermarket products, and they surely know what they're doing when they've created the SDT 2.5″ Front Leveling Lift Kit.
This one is compatible with Dodge Ram 2500 from 2014 to 2020, both catering to 2WD and 4WD variants.
Leveling the front of your truck by a two and a half inches and giving it a leveled stance is something the SDT 2.5" Front Leveling Kit can do. This leaves your Ram 2500 with a sturdier, sexier, and meaner look.
The package includes two pieces of front lift spacers made out of carbon steel, another two-piece of shock extenders, and the necessary hardware and installation instructions.
The best thing about this leveling kit? Its transferable lifetime warranty, plus all the customers agreeing that this is one of the best leveling kits they've encountered.
#4 Rough Country 2.5″ Leveling Kit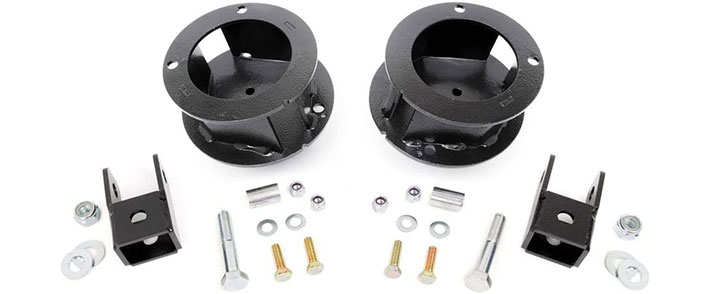 Do you like it rough when it comes to riding your Ram 2500? Then Rough Country has something for you: introducing their 2.5 inches leveling kit that can give your truck the perfect combination of style, effectiveness, and protection that your Ram 2500 deserves.
Rough Country is clever enough to create leveling kits that will perfectly match the geometry of your truck when you first received it from a dealership, including the rubber isolator's placement, which is a good sign there won't be any possible chance for the coil to bow.
What do you get from purchasing a Rough Country 2.5″ Leveling Kit? One, a leveled look that will magnify the aggressive look of your truck. Two, a smooth ride, just like riding a factory released truck.
Three, a no-brainer installation. And fourth, an option to buy an N3 Premium Shock Absorbers. Cool, right?
#5 Skyjacker R25 Coil Spring 2-2.5" Leveling Kit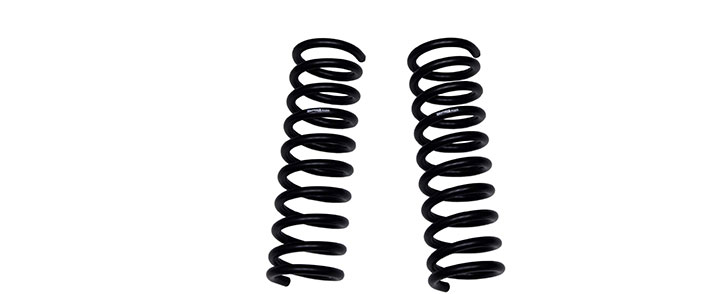 We're finally on the last one on our list, and this time, we're going to take a different approach. The Skyjacker R25 Coil Spring 2-2.5" Leveling Kit features coils instead of spacers as the means to level up your truck.
This will give your Dodge Ram 2500 a new look as it levels itself to the cargo bed, leaving a lasting impression.
At the end of the day, you get to enjoy a sharp-looking leveled Ram 2500 that will leave the people around with turned necks.
Additionally, the claim that this kit will level your truck by about two-and-a-half inch may not be true, because kits are doesn't always fit the geometry of your truck.
Nonetheless, try to enjoy your Ram 2500 with coil springs installed instead of your typical leveling spacers.
Now that you have seen the best leveling kits that you can outfit your Dodge Ram 2500, you have to know some of the benefits of buying a leveling kit for your truck. First, it significantly improves the looks of your truck.
Second, it raises the level of the front of your truck without compromising your truck's payload capacity. And third, the added ground clearance allows you to install larger tires.
It is also worth knowing that you should know if the leveling kit would fit in your truck.
Avoid rushing in like an adrenaline-filled buyer itching to press "place order". Do your research first and make sure that you considered every factor necessary before placing the order on the final.