Going outdoors is a fun and relaxing idea, especially if you've had a very long week and are looking forward to unwinding and loosen up. Packing up the gear and equipment you need on the truck bed is a great thought, but what if it's full and you need more space for your additional equipment?
You can utilize the space above the roof! With the use of roof racks, you can create a space on your roof where you can put your things. By doing so, you can avoid the unbelievably annoying real-life Tetris game inside your truck, featuring all of the stuff you've failed to fit in the back of the truck.
Roof racks are tremendously helpful in such a lot of ways. Out to surf? Put your surfboard on the rack! Need to bring your bike but the truck bed is full? Put it on the rack! On the way to a lake to go canoeing? Put the canoe on the rack! Put everything on the rack!
Below are the five best roof racks for Toyota Tacoma. Check them out and find out what's best for you, so you won't ever have to worry about extra space again.
#1 Seah Hardware Universal Roof Rack Cross-Bars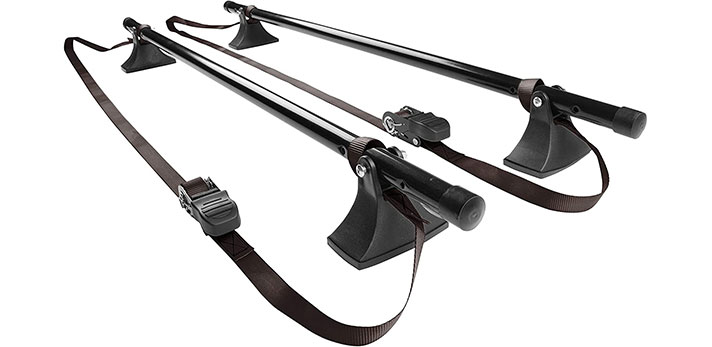 Manufacturer: Seah Hardware
Type: Universal
If you're not a choosy buyer and you just want some roof racks to fit in your Toyota Tacoma's roof, then you should try this out. The universal roof-rack crossbars from Seah Hardware is a reliable space-saver.
It attaches through the door frames, and compatible with the majority of four-dour vehicles without side rails.
A universal roof rack is handy for a lot of reasons. Aside from the obvious fact that it can fit almost any type of vehicle with four doors, you can be assured that the crossbars are durable enough.
Within just a couple of minutes, you can have these cross-bars installed. Nice!
Just a quick warning though! Don't tighten these cross-bars too much! You can let the ratchet ties do the securing for you. These ties can hold up to 1800lbs, so if you want to put kayak, surfboard, mountain bikes, or whatever miscellaneous equipment that needs large spaces, you can.

#2 Leader Accessories Roof Rack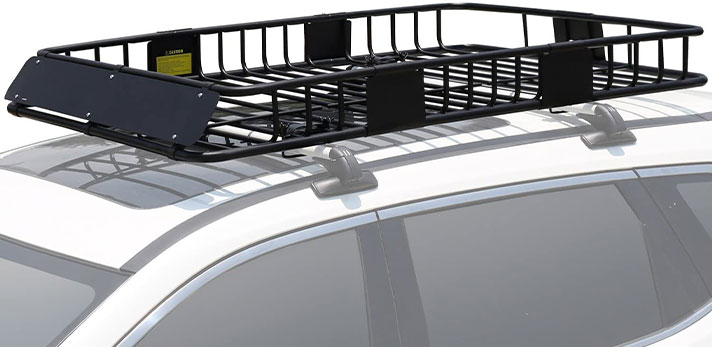 Manufacturer: Leader Accessories
Type: Cargo Basket
There's a lot of benefits to getting when you're using a cargo-basket type of roof rack. Leader Accessories has created this with large and heavy cargo in mind. It can carry up to 150lbs of payload up there!
No need to worry about excess payload that you can't fit in the back; just put it above the truck!
So what do you get from this roof rack? This roof rack is in the shape of a cargo basket, so it means that it can accommodate more items without the fear of it falling off while driving
By utilizing your truck's existing crossbars (if you have some installed), the cargo basket can protect your things.
The best thing about this roof rack is its wind safety feature. In case that you're driving and the wind is strong, the steel wind fairing significantly reduces the wind resistance the noise that it makes.
Say goodbye to annoying noise and excess truck drag!

#3 Black Roof Rack Aluminium Cross Bar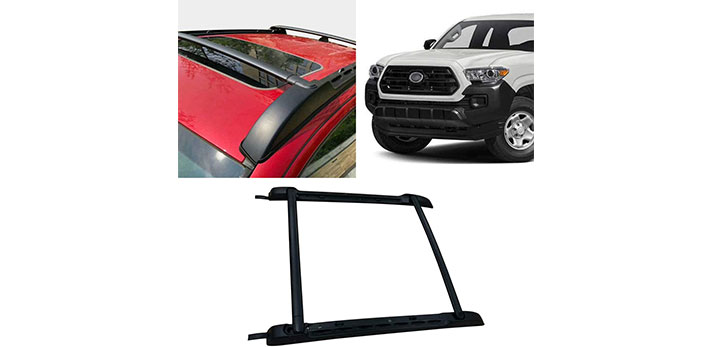 Manufacturer: Autoxrun
Type: Crossbars
There is a good reason why crossbars are considered to be one of the best roof racks for Tacoma. Aside from the stealthy look that it gives, it makes your Toyota Tacoma look more aggressive than it already is.
What makes the Black Roof Rack the best roof rack Toyota Tacoma? There are three main reasons: durability, effectiveness, and reliability. The crossbars are made from aircraft-grade alloys to withstand heavy loading stress while being streamlined.
And also, it decreases air resistance so you don't burn more fuel.
What's so great about this roof rack is how easy it is to install. Unlike other roof racks for Toyota Tacoma, this requires no modifications: no cutting and no drilling. Aside from that, it gives your Toyota Tacoma a suave and visually appealing aesthetics.

#4 ANTS PART Roof Rack Rails
Manufacturer: Ants Part Store
Type: Rails
If you got a Toyota Tacoma with the manufacturing years of 2005 to 2020, then this is for you. Featuring Ants Part Store and their roof rack rails. A great and long-lasting solution for oversized items and equipment that needs to be transported.
This is considered one of the best kayak roof rack for Toyota Tacoma simply because of how durable and capable it is. Items up to 150lbs in weight can be stored on these racks. This aftermarket roof rack is heavy-duty merchandise!
Camping gears? Check! Luggage? Check! Canoes, mountain bikes, snowboards, and fishing poles? Affirmative! Fit them all in this roof rack!

#5 MaxxHaul Steel Roof Rack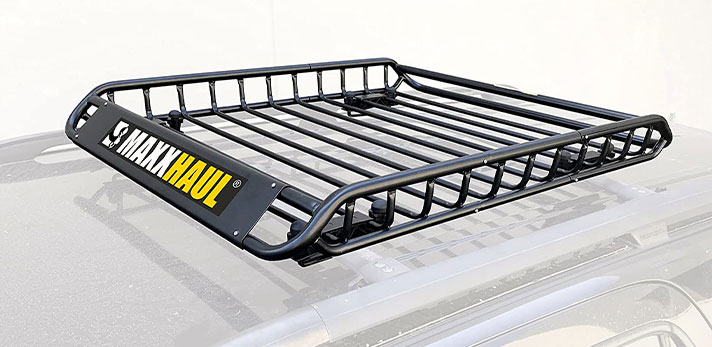 Manufacturer: MaxxHaul
Type: Cargo basket
And last but certainly not least, we have Maxxhaul and their steel roof rack. This is another cargo basket durable enough to carry whatever oversized item you have in mind.
Whether it's a canoe, a mountain bike, some picnic items, you can trust this roof rack to hold and protect your items.
What can you expect with this roof rack? A cargo basket fit for Toyota Tacomas with existing crossbars installed. With U-bolts and some hardware included in the package, you can have it outfitted in your truck in no time!
And just in case you want to explore how versatile this roof rack can be, they offer a separate cargo bag. You can use it to protect your items from natural elements such as harsh winds, rain, dust, snow, dirt, and many more.

Installing a roof rack on your Toyota Tacoma is a very good choice, especially if you frequently go outdoors or you usually transport oversized items. There's a bunch of roof racks out there, but so far, these five are the best roof racks for Tacoma.
Be sure to check each one out to find more details about them!