When you drive a Suzuki GSXR 600, it feels like the engines itself are whispering in your ear "go faster". The posture of the chassis itself, with its nose down and it's tail upward seems like it's speeding down the road even if it's standing still. It is as it's saying "C'mon. Let's ride. Fast."
The Suzuki GSXR 600 2019 model, more commonly known as the Gixxer, is a 599cc machine that is capable of both racing and freeway stroll. Its sporty handling is one of the reasons why it became a household name when it comes to middleweight class motorcycles.
One look at the Gixxer and you'll feel like it wants to remove its reigns and run around freely, whether it's on a racetrack or the highways.
Whatever model of Suzuki GSXR 600 you have, may it be manufactured in the early 2000s or the latest 2019 model, you should consider giving it an upgrade; specifically, an exhaust system upgrade.
Not only that it improves your Gixxer's capability to do more, but it also enhances the bike's looks and sound.
Luckily for you, we've made a list of the best exhaust systems for the Suzuki GSX-R 600. Let's not waste any more time, your Gixxer is waiting for its well-deserved upgrade!
#1 Coffman's Shorty Exhaust
First off, we have the Coffman's Shorty Exhaust. The Coffman's Exhaust Systems USA are very well known to produce shorty exhausts – and they're pretty good at it. Customize your Suzuki GSX-R 600 with this shorty exhaust that comes in different tip colors, available in black, blue, gold, red, and polished.
This shorty exhaust is for Gixxers under the model years 2006 to 2007.
What the Coffman's Shorty Exhaust offers are: 1) Louder, but not obnoxious sound, 2.) tremendous weight savings compared to the stock exhaust, and 3) increase your ride's horsepower and torque.
This shorty exhaust is manufactured from high-grade stainless steel, CNC machined, and welded to achieve standard Coffman's quality. Their exhausts are known to be cheap, yet delivers stunning results.
What's awesome about this is you can choose whether to use a baffle or not. If you want to release the monster, just simply remove the baffle and let the Gixxer roar. The colored tips can also be rotated depending on what you desire.
Are you in the mood for speed? Rotate the tip with its sliced part inwards. If you want your GSX-R to look more handsome, rotate it outwards. It's as simple as that.
#2 M4 Street Slayer Slip-On Exhaust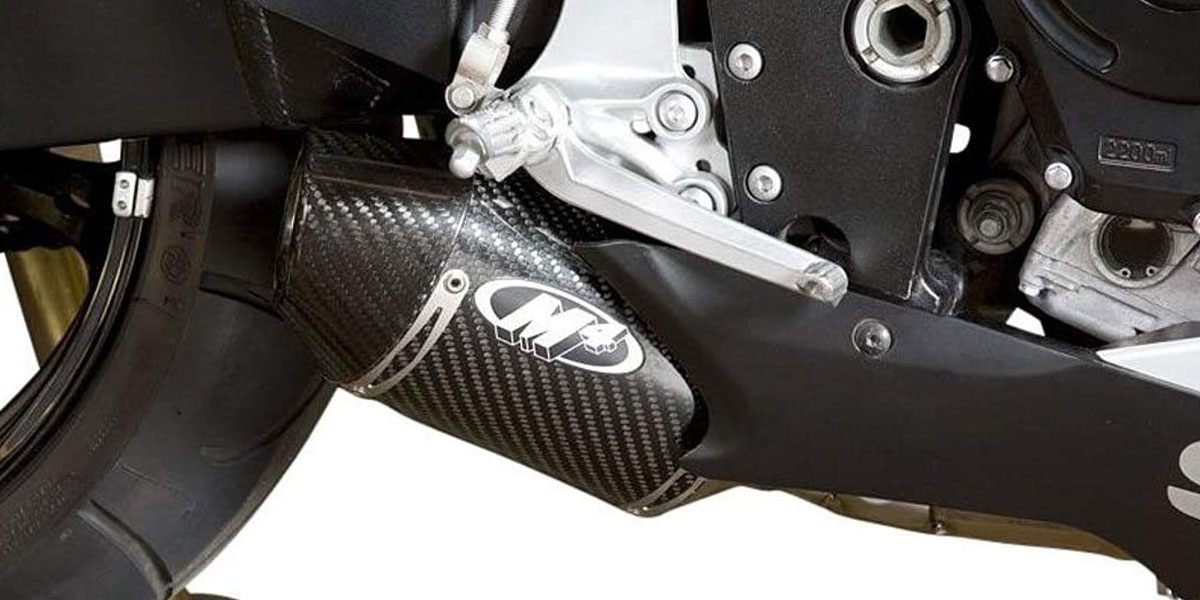 The M4 Exhaust are race-centric guys who want nothing but optimal performance and sound for their customer's motorcycles. That's why the M4 Street Slayer Slip-On Exhaust is a great buy if you require some exhaust upgrade and you have a fairly limited budget.
Quality and price go hand in hand with the M4. This slip-on is made out of carbon fiber and is available for Suzuki GSX-R 600 models that belong to the manufacturing years 2006 to 2007.
The name itself is cool. The M4 Street Slayer adds more power to your bike and reduces its weight will sounding super great. The Street Slayer Slip-On removes the limitations that the stock exhaust system has and allows more power and sound to seep into the Gixxer.
It also removes a significant amount of weight from your overall setup, allowing a bigger value for a power-to-weight ratio.
What's unique about the M4 Street Slayer is its flexibility when it comes to sound. Does the exhaust emit a loud? Good. But is it still too loud for you? Try purchasing a separate Stage 2 Q4 Quiet Insert along with the Stage 1 Q5 Quiet Insert currently installed in the Street Slayer.
There can never be too much precaution, but a loud exhaust brings the highest degree of euphoria to any Gixxer owner.
#3 Voodoo Industries Slip-On Exhaust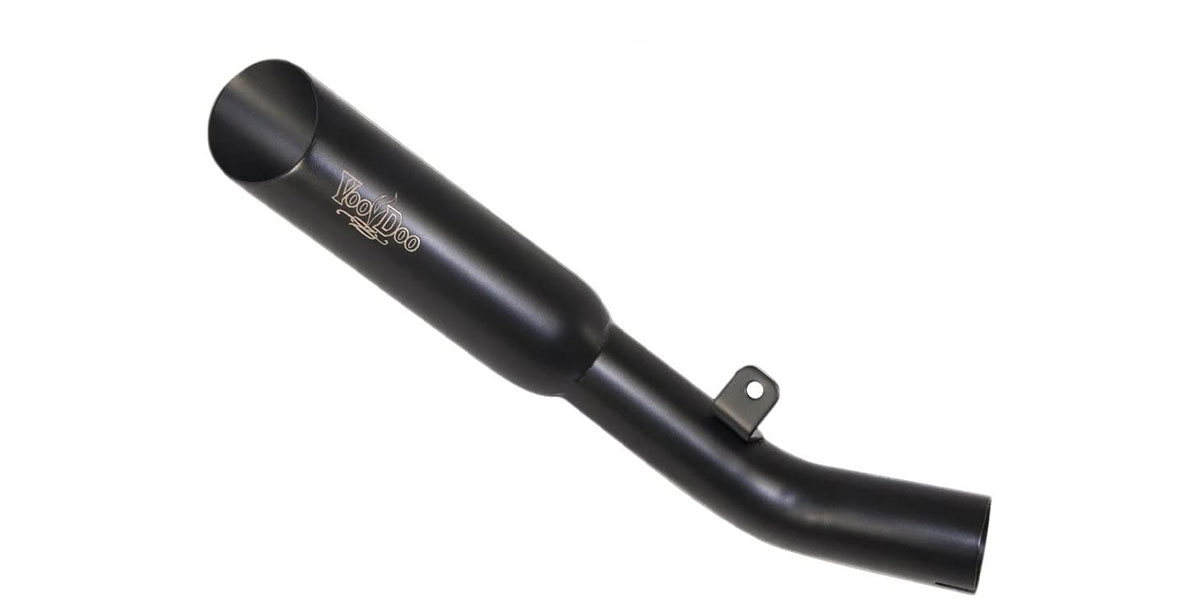 The third one on our list is the Slip-On Exhaust made by the VooDoo Industries. The VooDoo Industries are famous for their shorty exhausts, but this time we have a slip-on for our Suzuki GSX-R 600.
This is designed for motorcycle enthusiasts who demand the best quality materials for their ride. The VooDoo Slip-On Exhaust is available for Gixxer 06′ and Gixxer 07′.
Stainless steel that went through CNC machining and mandrel bending is used for the tubing. Custom designed ejectable baffles are used, with a laser-etched VooDoo exhaust logo sitting on the canister.
This exhaust is manufactured to fit perfectly on your Suzuki GSX-R 600, that's why it's so easy to install. Less stress, fewer worries.
The awesome thing about this exhaust is that it doesn't need any type of modification just for it to be installed. Aside from that, if you find the VooDoo Slip-On exhaust to be very loud, you can order a VooDoo Phantom Core to significantly lower the sound for up to 6dB.
And oh, a power commander may be needed if you want to manage your fuel consumption.
#4 HMF Performance Exhaust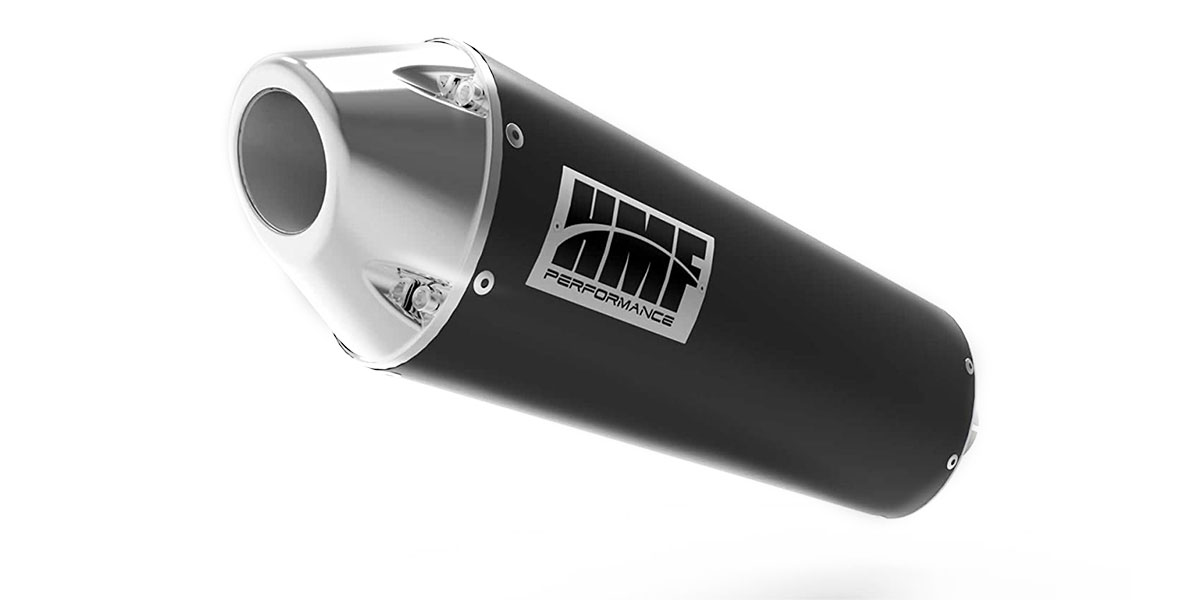 And last but certainly not the least is the HMF Performance Exhaust. This manufacturer has been a child of the racetrack for many decades, so it knows the best things to add to a GSX-R 600 if you want your ride to be more competitive: both on performance and aesthetics.
This slip-on exhaust fits the Suzuki GSX-R 600 models from 2011 to 2013.
The HMF Performance Series has designed its exhaust to have an unrestricted core to promote the maximum flow exhaust gases. When that is handled, your Gixxer will be guaranteed to have increased horsepower and torque, Aside from all the talks about increased performance, its deep aggressive sound is loud enough.
What's unique about this slip-on exhaust is the amount of horsepower it pick-up when installed on the Gixxer: 10% to 15% horsepower!
Adding the awesome sound that the HMF Performance Slip-On exhaust makes, this particular exhaust adds up to the fact that the Suzuki GSX-R 600, when upgraded, can be a massively high-powered motorcycle.