Having a Toyota Tacoma is a real, undeniable pleasure – it's made to go off-road. It's reliable, durable, and is pretty much capable of anything a heavy-duty truck can do. Unfortunately, like any other truck, it does experience troubles like keeping the trunk and its belongings tight, secured, and safe.
One way to solve this is by outfitting your truck with a tonneau bed cover. Not only does it keep your stuff at bay, but it also protects them from harmful natural elements like rain, dust, sand, and many more.
We've created a list of the best Toyota Tacoma truck bed covers that will give your truck and not only added utility, but also style and convenience. Hop right in and let's get on with it!
#1 Tyger Auto T3 Soft Tri-Fold Tonneau Cover
The first one on the list goes to Tyger Auto and their T3 Soft Tri-Fold Tonneau Cover. Tyger Auto knows how to satisfy its customers by giving attention to the details of what the customers truly want when it comes to having a truck bed cover. And they did pretty well!
What do you get from purchasing a T3 Soft Tri-Fold Tonneau Cover?
SECURITY. No need to worry about having your belongings (and even the cover) thrown out of the road or trail when traveling. The tri-fold cover has quick-release clamps matched with rods made of stainless steel to securely lock your tonneau cover in place.
TROUBLE-FREE INSTALLATION. No drilling necessary – the cover is easy to install and there are mounts included when you purchase the cover. Aside from that, you can access your cargo bed fully, thanks to the crossbars that support the tri-fold.
DURABILITY. Thinking twice about how long this cover will last? This tri-fold cover has a skeleton made from aluminum that is also used by airplanes, coated with military-grade vinyl.
Is the tri-fold bed cover not your thing? Check out Tyger's soft roll-up and alloy hardtop tri-fold. They even sell 2-in-1 cleaners for their tonneau cover!
#2 TruXedo Soft Roll Up Tonneau Cover
Make your Tacoma more stylish, like wearing a tuxedo – but functional. Introducing TruXedo's Soft Roll Up Tonneau Cover, available for Toyota Tacomas. It's sleek, compact, low-profile, and undeniably stylish. Just look at that black leather fabric!
What do you get by buying a TruXedo Soft Roll Up Tonneau Cover?
UNBELIEVABLE FUNCTIONALITY. A soft roll-up cover does its job of being functional while being convenient pretty nicely. Open the soft roll-up cover simply by unlocking both tailgates and roll it back to the cab. Protect and remove your valuable in minutes. Easy.
WEATHER PROTECTION. Keep your gear secure and free from what all the weather conditions can throw at your truck: rain, dust, sand, snow – you name it! You can also adjust the tension of the cover to make sure that water is kept out of the cargo bed.
DISTINCTIVE LOOKS. The TruXedo soft roll-up cover rests 1.5" above the cargo bed, allowing it to give off a more stylish look on your truck. Aside from that, the cover is equipped with a black leather fabric that you will truly love.
Not your thing? Check out TruXedo's Low Pro (lower-profile) and the Pro X15 (even lower-profile!).
#3 MaxMate Soft Tri-Fold Tonneau Cover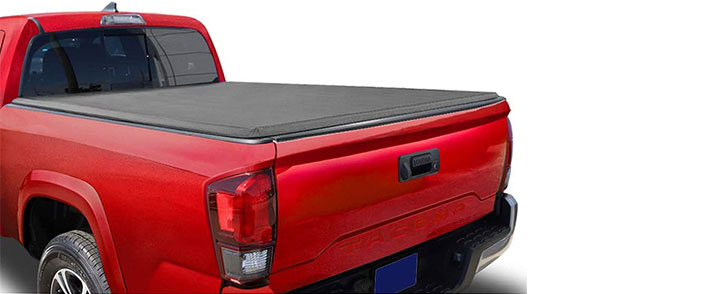 There are tons of pros to benefit from when a truck is equipped with a soft tri-fold cover. Oversized cargoes can sit comfortably on your truck bed; just fold the cover completely. Got smaller payload? Fold the cover completely!
This is what the MaxMate Soft Tri-Fold Tonneau Cover is good at making sure that it gives your truck supreme functionality while being aesthetically pleasing at the same time.
Okay, now you're interested in the MaxMate Soft Tri-Fold Tonneau Cover. How will you benefit from it?
STYLE. Get your truck's groove on by installing a soft tri-fold cover with a frame made of aluminum (the same one used to make airplanes), coated with marine-grade vinyl that gives your cover a nice, classy finish.
INSTALLING MADE EASY. When you buy this soft tri-fold cover, all the mounting hardware and installation instruction are included – no drilling required!
DURABILITY. Sturdiness is one of MaxMate's main characteristics. Protect your cargo from all harmful elements with this soft tri-fold cover.
They also offer truck bed covers for Toyota Tacoma with truck beds longer than 5".
#4 Gator EFX Hard Tri-Fold Tonneau Cover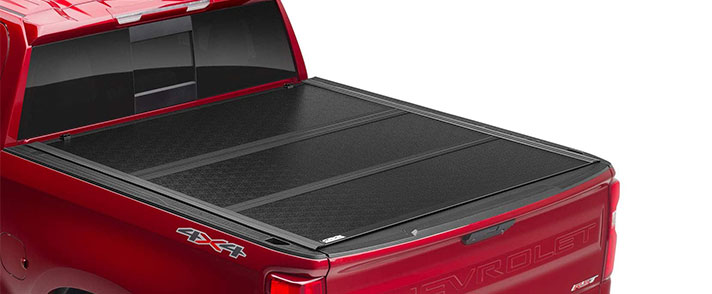 Beware the Gator! Introducing the last one for our list, the EFX Hard Tri-Fold Tonneau Cover made by the Gator Covers. This is the real deal when it comes to cargo protection.
It combines the functionality of a tri-fold cover and the sturdiness of hard aluminum panels to fully protect your gear from theft and natural elements.
Do you want to have the hard leathery back of a Gator to protect your valuables? Here's what you'll get when you purchase an EFX Hard Tri-Fold Tonneau Cover.
TOUGH-AS-BRICK PROTECTION. The hard aluminum panels protect your -cargo in various ways: the panels lock automatically if it is closed, it can withstand blows and is coated with a black powder finish that makes it scratching and UV resistant. It also eliminates the threat of cargo damage from rain, snow, dust, sand, etc.
LOW-PROFILE STYLE. Just like an alligator, the truck bed cover is mounted to the insides of the cargo bed, allowing it to sink to space in your bed. This gives your Toyota Tacoma a neat, stylish, and stealthy look.
When it comes to protection, the sturdiness of the Gator EFX Hard Tri-Fold Tonneau Cover is unparalleled.
When trying to shop for a truck bed cover, choose the one that will satisfy your needs and will suit your truck bed problems completely. This involves a lot of research, a lot of questions, and a lot of time. But the time spent in researching bed covers is far better than rushing into the "place order" button.
Buying the right tonneau cover for your Toyota Tacoma is an important decision, so be smart!