Supras are famous for being one of the best JDM cars to own. They're fun to drive, and most of all, they're reliable: something you'd expect from Toyota. Although the MK4 is the most loved Supra of all time, the Toyota MK3 Supra has its own unique way of attracting gearheads.
The car's reminiscent 80's looks, 7M-GE/GTE engine, and its viability for modifications are just some of the reasons why the MK3 Supra is still sought after even up to this day.
One such modification to have for the Toyota MK3 Supra is a performance exhaust system.
A mod like this can give your car a lot of benefits: an extra bit of horsepower, an improvement in fuel economy, and most of all, that sweet, deep, and aggressive sound we're all looking for in a tuned car. And also, exhaust systems work well with other aftermarket upgrades too, like intake systems, new turbochargers, etc.
Investing in an aftermarket mod such as this can make the Toyota MK3 Supra more fun to drive.
Are you looking for the best exhaust systems for your Toyota MK3 Supra? Perfect! We've created a list of the top three performance exhaust systems you should get for your Toyota MK3 Supra. Since there's only a limited number of available exhausts out there, these lists can help you out big time.
The exhaust below is guaranteed to make your MK3 Supra look great, sound great, and most of all perform the best. Check them out!
#1 HKS Drager Exhaust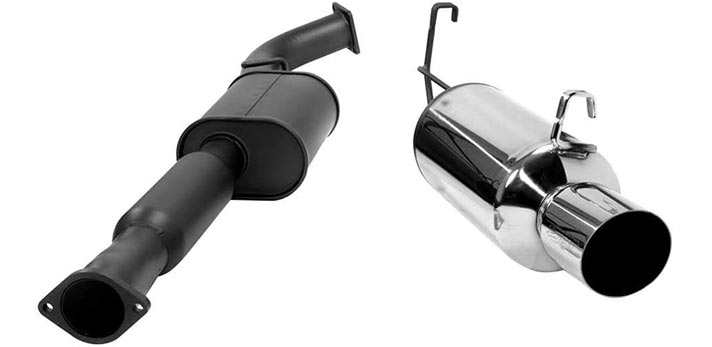 Manufacturer: HKS

Part Number: 3301-EX008
Compatibility: Toyota MK3 Supra (1986-1992)
HKS has been one of the leading manufacturers of performance exhaust systems for many years. For a car that aged like a fine wine like the Toyota MK3 Supra, they've created the Drager, an exhaust system designed for both the GE and the GTE engines.
The first of its style is to integrate a seamless style in its mufflers. The HKS Drager can increase your MK3's low-end torque, improve its mid-range response, and even deliver a high-end horsepower output.
The HKS Drager was engineered to fit both turbocharged and non-turbo engines. Each system features a polished SUS304 stainless steel assembly that has a cool engraved logo tip on it. Supra owners love this exhaust because it's not too loud and is perfect for casual drive sessions with your fellow car guys.
However, some owners of the HKS Drager claimed that it sits a little low compared to the typical exhaust system you'd see in the market today.
What makes the HKS Drager one of the best exhausts for MK3 Supra is its seamless muffler, the Drager II. Its 120mm tip allows you to fit in an optional silencer, just in case the exhaust's deep and aggressive sound is too much for you.
The Drager II is the evolution of HKS' previous muffler model, the Super Drager. This exhaust system is perfect for MK3 Supra owners that don't want to get tailed by the police; as long as you don't drive like a drag racer, that is.
HKS Drager Exhaust Features:
Fit for turbocharged and naturally aspirated applications
Not very loud and aggressive
Easy to install
#2 HKS Turbo Exhaust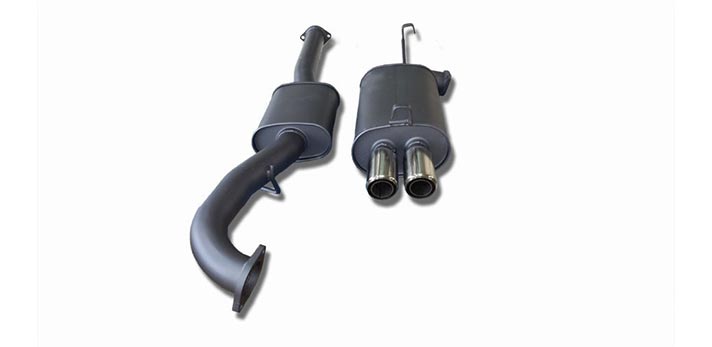 Manufacturer: HKS
Part Number: LET-T16
Compatibility: Toyota MKIII Supra (1986-1992)
Some car enthusiasts want to keep their Toyota MK3 Supra's classic look, and we get that. That's why the second exhaust on our list features a classic stock look that performs far better than the stock: the HKS Turbo exhaust.
It's got a straight-through muffler design that contains a perforated core, surrounded by either nickel mesh or a combination of steel wool and fiberglass. These materials are responsible for deadening the sound made by the exhaust, therefore minimizing the aggressiveness of the exhaust's sound output.
HKS Turbo Exhausts are explicitly made for turbocharged Supras. We all know that the trapped exhaust gasses are responsible for the unwanted thermal pressure, which restrains the turbo boost pressure from doing its job.
This phenomenon often leads to engine detonation, potentially damaging your engine in ways you can't imagine. The HKS Turbo Exhausts reduce the backpressure and the heat that comes with it, therefore allowing the turbo to gain boost pressure immediately.
Suppose you want a performance exhaust system that doesn't sound too obnoxiously loud and is perfect for midnight chill runs with the boys. In that case, this exhaust system is for you.
The HKS Turbo exhaust may look stock, but it doesn't feel like one. Overall, the HKS Turbo exhaust is a full cat-back exhaust system that looks stock, performs like an aftermarket, and sounds like a true blue Japanese import car.
HKS Turbo Exhaust Features:
SUS304 Stainless steel construction
75mm SUS409 pipings coated for corrosion-resistance
D-2 style dual muffler tips
#3 Tanabe Medalion Touring Cat-Back Exhaust System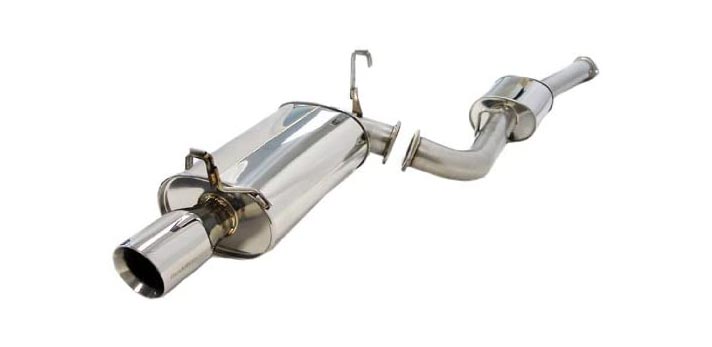 Manufacturer: Tanabe
Part Number: T70033
Compatibility: Toyota MK3 Supra Turbo (1987-1992)
Lastly, we have the Tanabe Medalion Touring Cat-Back Exhaust System. This time, it's exclusive for turbocharged Supras only. The Medalion Touring exhaust is the perfect option for JDM fanatics who want an elegant and aesthetically pleasing exhaust system.
It's an exhaust system that can make any third-generation Supra streetable, thanks to its style and clean sound output. Tanabe exhausts are sought after because they're a surefire way to make whatever car you own sound better.
The Tanabe Medalion Touring Cat-back Exhaust System utilizes Tanabe's very own ADVANTEX technology. This innovation features a highly advanced muffler material that allows Tanabe exhausts to have high flow characteristics, along with excellent sound suppression.
This same technology allowed Tanabe to fit in slimmer and lighter oval canisters that permitted high ground clearance, even for vehicles that lowered their suspension.
What makes the Tanabe Medalion stand out from the rest is its streetable and compliant sound output. The Toyota MK3 Supra deserves a deep and aggressive sound. Still, it's clearly not meant to be as loud and bold as its younger brothers, the MK4 and MK5.
Tanabe made sure that with the Medalion Touring exhaust, you can enjoy a clean deep tone that's pleasant at all the RPM ranges. It's arguably one of MK3 Supra's best exhaust systems out there in the market today.
Should You Get a Performance Exhaust System for your MK3 Supra?
After seeing those three Toyota MK3 Supra exhaust systems, you now ask yourself: "Oh boy, should I get a performance exhaust system for your MK3?" The answer to that is an absolute yes.
Since Supras are one of the best cars to own as a project car, you'll inevitably have to buy one (if you're planning to ever finish your project car). Investing in a high-quality performance exhaust system is excellent, not only because it sounds fantastic, but it comes with some benefits too.
More Power, More Fun
There's no denying that the Toyota MK3 Supra is a fun car to own and drive. It looks classy, especially if you own the old ones with the pop-up headlights. While it doesn't add as much power to your car as new turbos or superchargers would, it can still provide some decent unicorns to your 7M-GE or 7M-GTE.
Aftermarket exhaust systems can also help reduce (but not eliminate) your car's backpressure to promote higher exhaust flow.
Save Up More Gas Money
Yes, you can save up more gas money because of aftermarket performance exhaust systems, but don't expect it to be astronomically high! New exhaust systems can positively affect the amount of fuel your engine consumes while driving.
The numbers won't be too high, but it'll be enough to buy you a cup of coffee instead of water and drive like the guys did in Initial D.
Better Sound Output
The most common reason why enthusiasts fit in new exhausts on their cars is to have better sound output. It's only fitting for a legendary car like the MK3 Supra to sound great at all RPM ranges, right? You may agree or disagree, but most Supra owners want their cars to sound better.
There are different sound levels to choose from when shopping for aftermarket exhausts; whether it's obnoxiously loud or mellow, it's up for you to decide.
Aesthetic Appeal
This factor will not affect your car and your driving experience that much. Still, an aftermarket exhaust system can make your car look better, especially if you've got dual muffler tips. Some exhaust mufflers are powder-coated finished, while some are polished stainless steel.
Whatever poison you pick, you'll still end up with a Toyota MK3 Supra that looks great from the rear.
The Toyota MK3 Supra may be old, but it's still a viable platform for modification. An example of an excellent mod for JDM legend like this is an aftermarket performance exhaust system. It can change your driving experience, making it more fun than it ever was.
Thanks to aftermarket exhausts, you can get benefits like better fuel economy, more power, and of course, that sweet deep sound that goes along all the RPM ranges.