It's mostly straightforward. Your automobile or truck has a battery, which supplies electricity to the parts that require it, and that's all that matters. Unless anything goes wrong or you want to do something to your vehicle that the factory did not intend for you to do. It could be due to corrosion and time, a prior owner with more DIY ambition than knowledge, or because you're installing electrical components that didn't come from the factory, but you need to repair your battery connections.
The best battery terminals for your needs may be the same as stock, may include a disconnect, or may be completely different from what was on the showroom floor when your automobile was new. Whatever your requirements are, this article will go over our top selections for the best battery terminals so you can get the job done and back on the road.
#1 Fastronix Top Post Battery Terminal and Cover Kit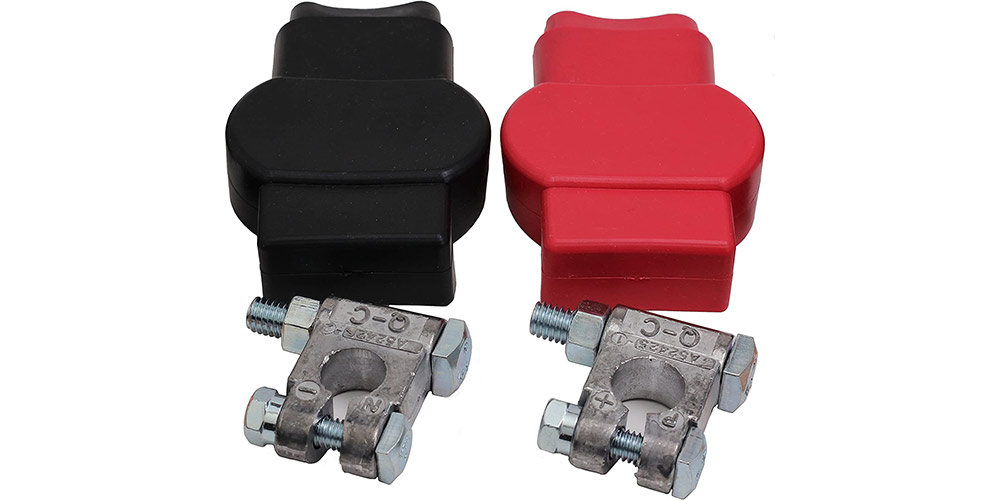 Brand: Fastronix
Connect the cables to this pair of military-style battery terminals with an appropriate termination lug in 3/8-inch size, then attach the assembly to your battery. The wires are connected by one large lug, and the smaller one is tightened on your battery posts. These soft lead terminals have a long life and good conductivity. They also include plastic covers to help keep moisture and debris out of the connection, which is important for safety and durability. These Fastronix battery terminals have received rave reviews for their firm connection and endurance.

#2 LotFancy Quick Release Battery Terminals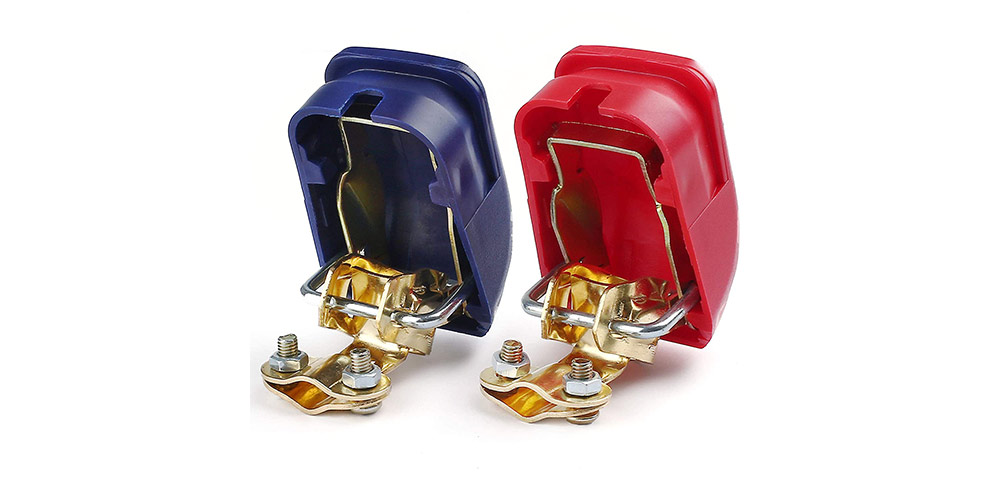 Brand:  LotFancy
It can suit all 4- to 6-gauge wires and is rated at 200-amps continuous, significantly more than practically any vehicle alternator. It is designed with a simple one-wire crimp connection that grips the wire coming from your vehicle. The battery connection is pressed against your 19 mm positive and 17.5 mm negative battery post terminals. Then press down on the cover and connection clamps to secure it to your vehicle's 12V battery.

#3 Kicker BT4 Competition Battery Terminal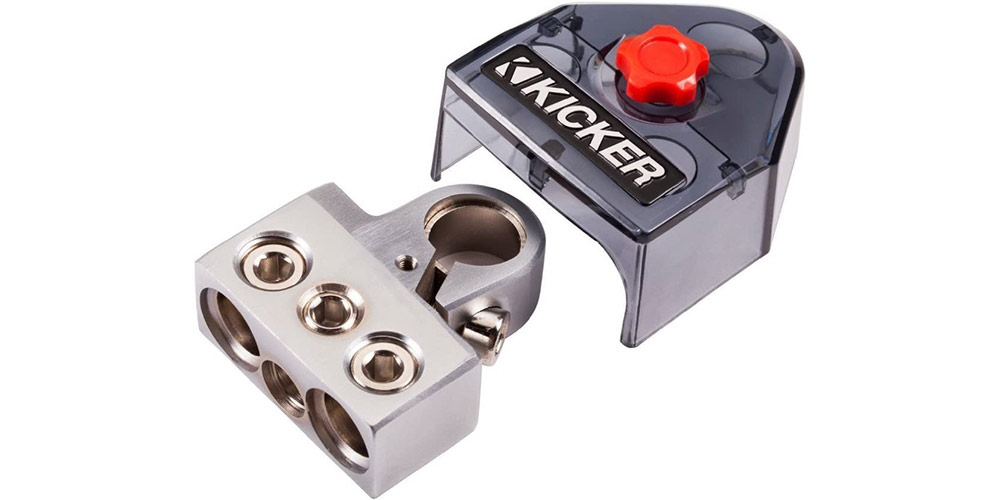 Brand:   Kicker 
This terminal, with two main connection points that can each handle wire as thick as 1/0 gauge or as thin as 8, and a third connection that can handle 4-gauge or thinner, will allow you to run power to that competition-grade amplifier, that big winch mounted on your bumper or even a full camping kitchen. Then, it connects to your 12V battery with a hex screw and a color-coated knob handle. This option comes with only one terminal, requiring two for a complete system. Its heavy-duty and adaptable brass design will help you handle your aftermarket equipment requirements.

#4  Schumacher BAF-TTC Coated Top Terminals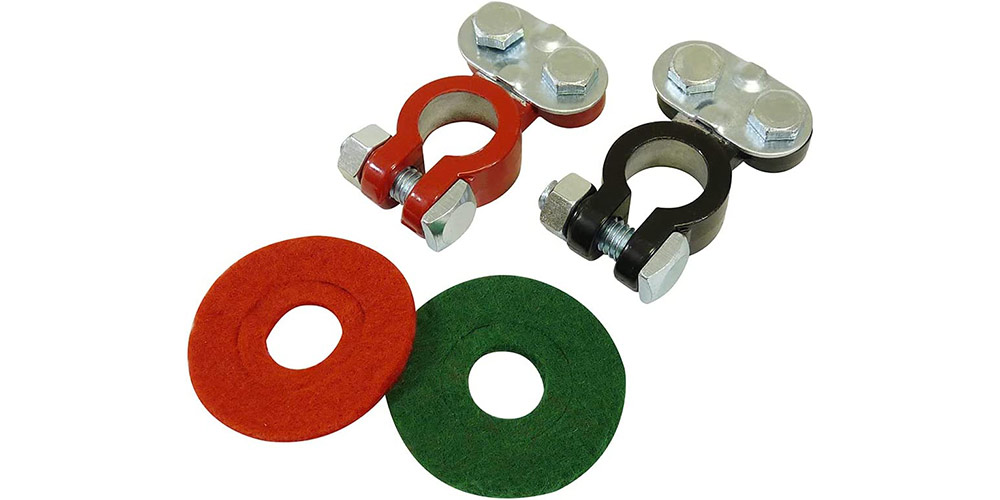 Brand: Schumacher
For more than 70 years, Schumacher Electric has been a household name in electronics, while among gearheads, the name may be best known for the championship-winning NHRA drag racers of the same family. The company provides these coated lead battery terminals to assist and maintain a stable connection by minimizing corrosion and contamination.

#5 Parts PTT Multi-Battery Cable Assembly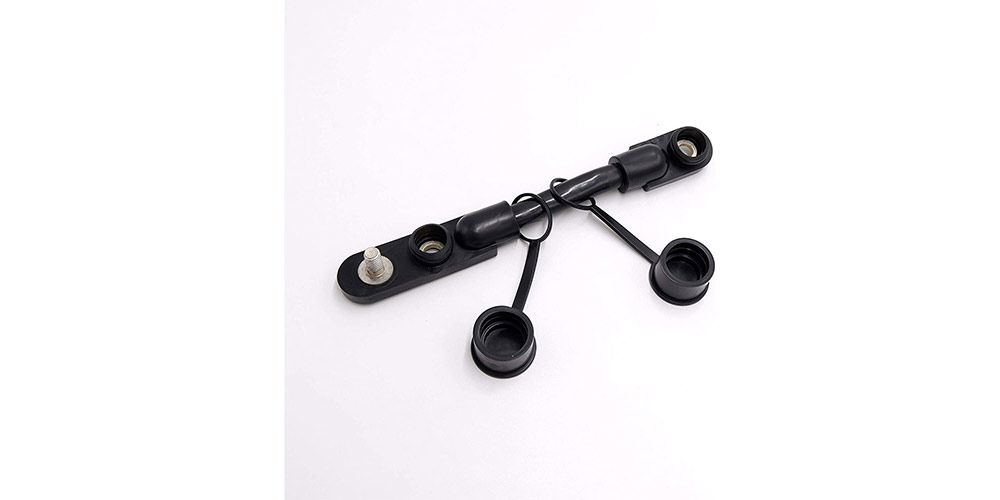 Brand: Parts PTT
Because your heavy truck, whether a 3500 diesel dually or something much larger, or even your high-level car audio system requires more juice than a single battery can provide, this multi-battery harness allows you to quickly and easily string multiple batteries together with a single vehicle connection. This connector, which is also suitable for RVs and RV conversions, allows you to connect two Group 31 batteries with just one cable.
Because the connected wiring allows you to share your existing connection at the end of the battery run, you won't need additional battery connections.

#6 WindyNation Brass Battery Terminals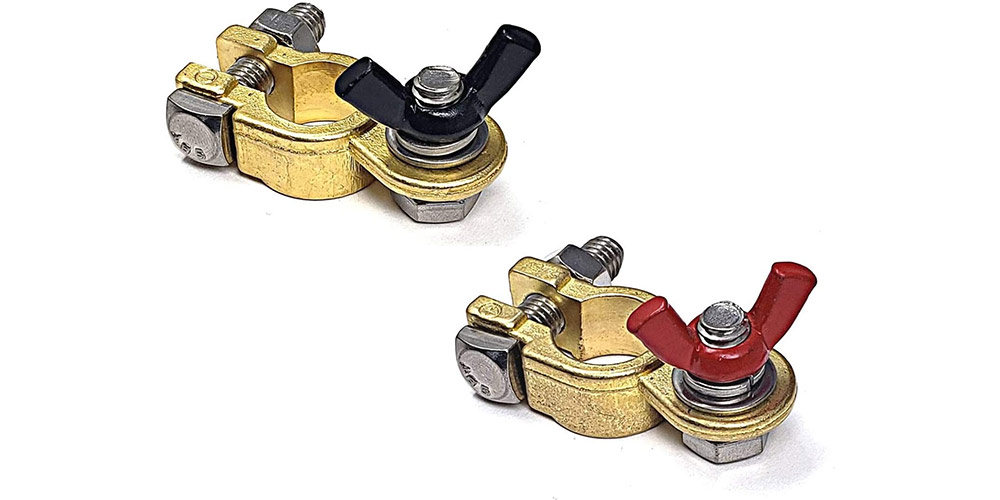 Brand: WindyNation
The 17 mm and 19 mm terminals are intended to fit ordinary top-post batteries, which are the most common kind used in most vehicle applications. These terminals are ideal not only for your boat but for any area that receives salt and water spray from the ocean or from the brine used on roadways throughout most of the country throughout the winter.
This battery terminal set is intended to suit the requirements of a high-corrosion environment, such as those found in the water. The terminals are constructed of brass, and the fasteners are made of stainless steel to offer protection against water and battery acid while still providing the electrical connection required to drive your electronics.

#7 NiteGuy Side Post Battery Terminal Bolts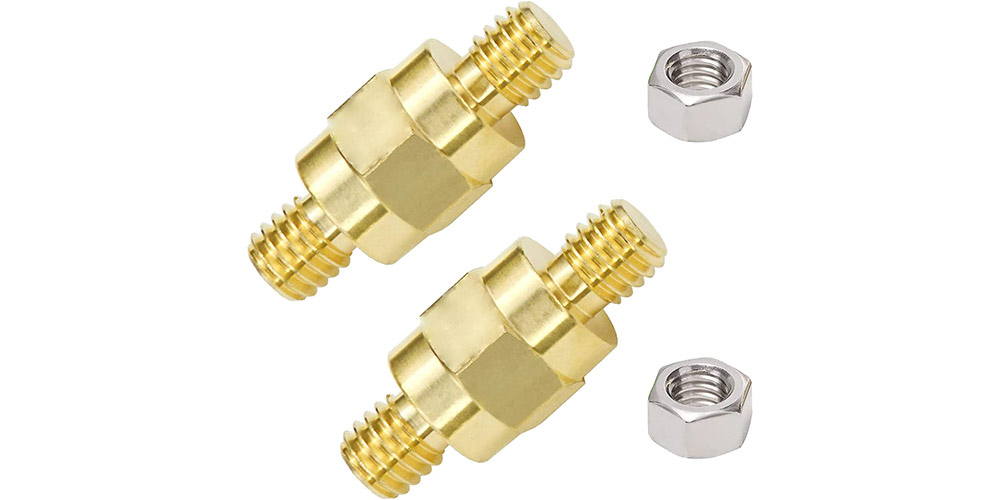 Brand: NiteGuy
These 1.6-inch side-post terminals screw into your existing battery, allowing you to replace the old terminals with brand-new solid brass construction. They also allow you to add several new wires utilizing copper ring end connectors of the appropriate size, thanks to the 3/8-inch nut. This terminal has an extender nut that allows you to create larger connections that would be difficult to fit on the original piece.

#8 MNJ Motor Battery Terminals with Voltmeter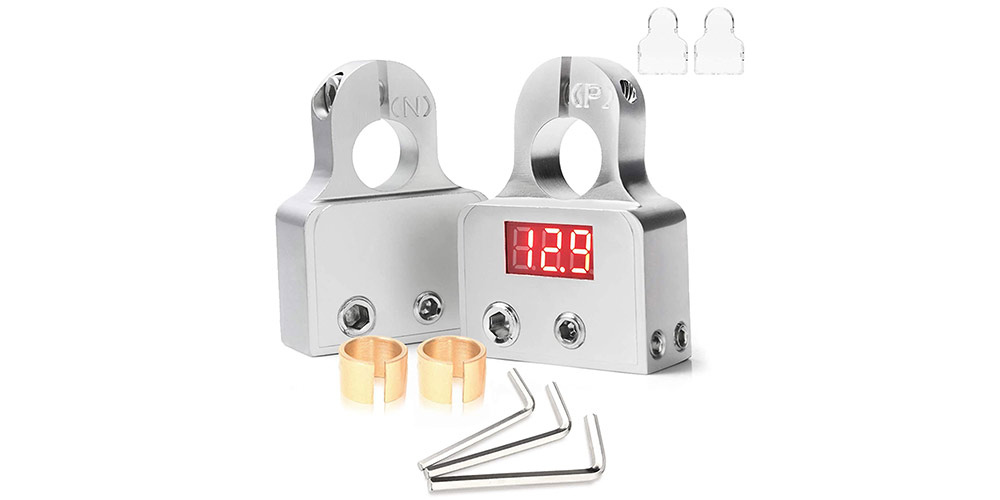 Brand: MNJ Motor
This battery terminal connection includes a built-in voltmeter, allowing you to monitor the level of your battery charge at a glance. It has two pure copper attaching rings for increased conductivity as well as four connections, allowing you to connect numerous wires ranging from zero to eight gauge to your vehicle's electrical system, aftermarket accessories, or car audio system.

#9 Performance Tool Battery Terminal Cleaning Brus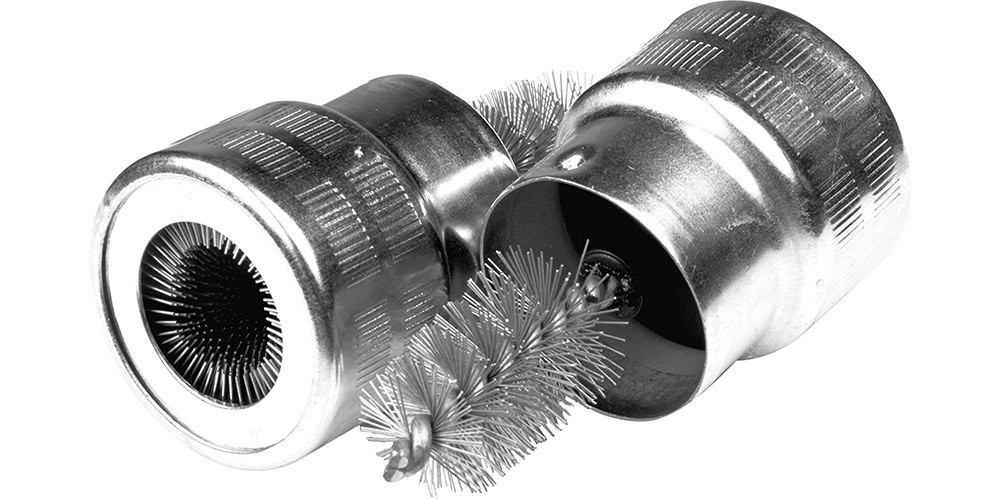 Brand: Performance Tool Battery
This brush is meant to clean your vehicle battery's positive and negative terminals, removing corrosion and oxidation. The inside brushes clean the battery posts, while the brush under the handle cleans the terminal attached to your vehicle.

#10 A ABIGAIL Battery Disconnect Switch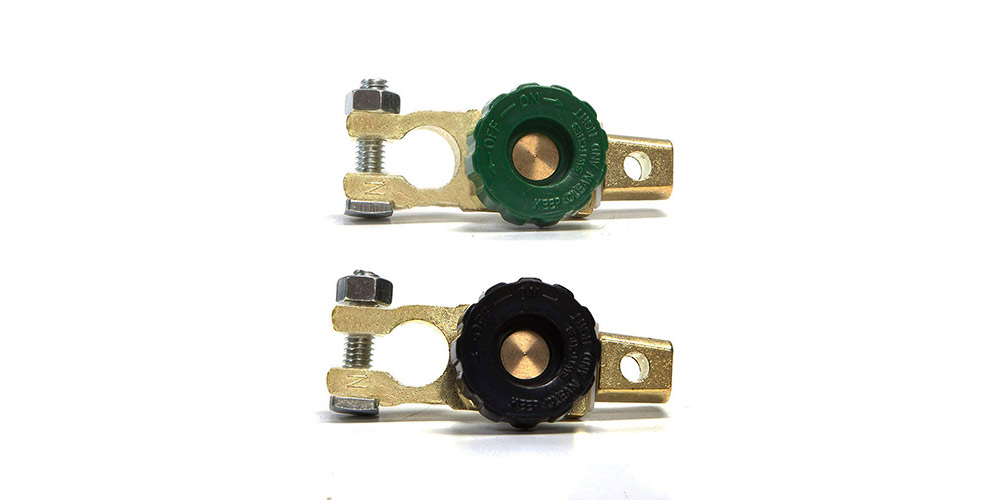 Brand: A ABIGAIL
The brass and zinc terminal, rated for a continuous 125 amps in high draw applications, provides long life and corrosion resistance while keeping your battery fresh for long slumbers in storage. Normally, only one of these is used to separate the negative terminal from the vehicle ground and stop the electrical flow, but it comes in green and black hues to give you installation options. The terminal is available in both top post and side post mount configurations, allowing you to disconnect all main 12V battery types.