Regardless of whether you're just a casual car enthusiast, the routine of washing your car may be a great way to unwind on a warm afternoon. After a long week at work and with other commitments, it's a terrific way to relax or spend time with your family. Washing your automobile or truck on a regular basis can also have more practical benefits. If you don't clean it right away, contaminants like bird droppings, tree sap, and even typical dirt and dust can permanently harm the paint surface, which could lower the value of your car when you go and sell it.
Whatever your reason may be for wanting to keep your car clean, having the proper tools on hand will make the job more enjoyable. Finding the best car wash mitt is one of the most crucial steps to making the task simpler and leaving you happier with the results, just behind using soap and clean water. You might be wondering why there's anything wrong with washing your automobile with just any ordinary sponge right now. While a sponge works well for many cleaning tasks, it is not recommended for use on the delicate paint finish of a vehicle. The foam of a sponge can be rough enough to leave tiny swirl marks on the body of your automobile or truck, despite the fact that it feels soft to the touch.
Some of the top-rated car wash mitts are constructed from a delicate synthetic microfiber chenille material that is intended to lift dirt and grime up and away from the paintwork so that those foreign substances cannot damage the car's gloss while you wash it. Lambswool works just as well if you'd rather use something organic. Both options are gentle enough not to damage the paint job of your car.
If you're looking for options, we came up with a great list of the top 6 best car wash mitts available today. Check it out below.
#1 Meguiar's X3002 Microfiber Wash Mitt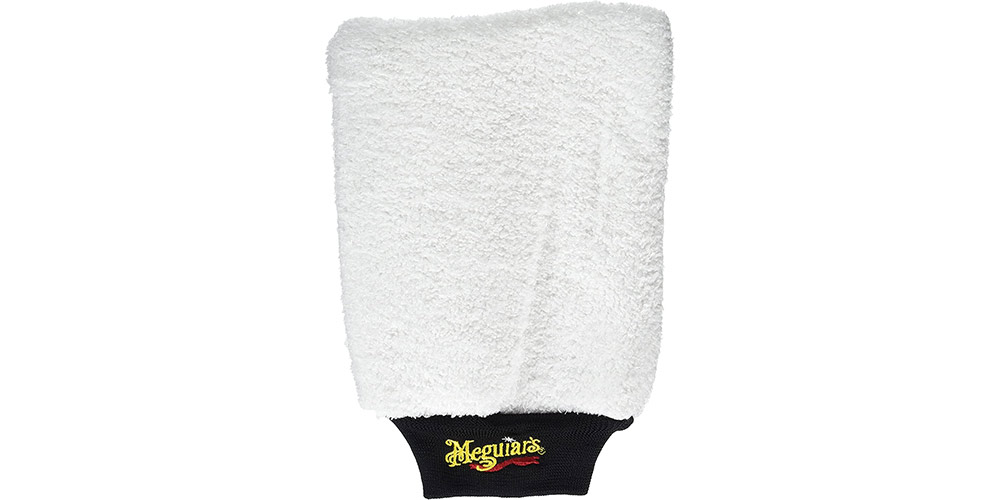 Unexpectedly, one of the finest car wash mitts on our list also happens to be one of the greatest deals, and it comes from a brand known for making high-quality car care products. Meguiar's car wash mitt is composed of microfiber, which, like most of the items on this list, claims to be extremely absorbent and soft enough not to harm your car's shine.
According to Meguiar's, the fine-weave fabric of its mitt will lift, trap, and hold the dirt it gathers away from the paintwork of your vehicle to prevent the fine swirl marks that can damage your car's gloss. The company advises using the two-bucket method to wash your vehicle for optimal results. They also advise using a grit guard to assist you in removing additional debris from the mitt before washing it again.
This mitt has a snug cuff to help you keep a strong grip and measures eight inches by ten inches for effective washing. Additionally, it can be machine-washed, but only alongside other microfiber products to prevent lint buildup in the mitt. Overall, this product is a great car wash mitt option. You can never go wrong with Meguiar's, a trusted brand in the world of car care. 

#2 SCRUBIT 2-Pack Car Wash Mitt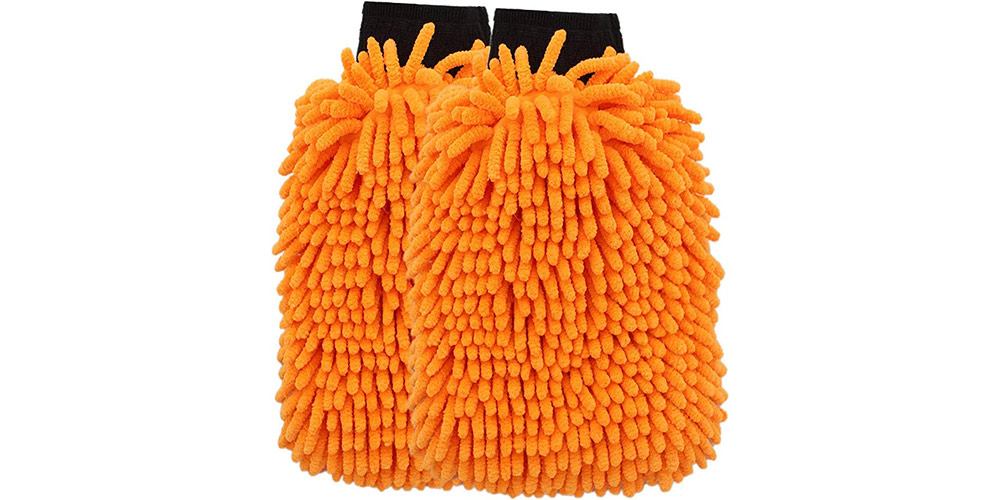 We're constantly searching for products we can recommend to you at a reasonable rate when we create our best-of lists. For this 2-pack of microfiber wash mitts, SCRUBIT is our top choice for value. These orange-colored mitts resemble a hand full of cheese-flavored snacks on a glove. They are considerably softer than that, we can assure you. For a scratch-free wash, the deep-pile noodles guarantee to soak up a lot of soapy water and lift dirt and grit up and away from your car's finish.
We don't believe SCRUBIT's claim that these gloves can fit hands of all sizes because several customers complained that the mitts were too small for their hands. But at it this way: if you're worried some mitts could be too big for you, SCRUBIT's smaller version might be a better fit.
These mitts, like the majority of the others on our list, may be machine washed as long as you use the gentle cycle, do not use fabric softener, and wash and dry them separately.

#3 Mary Moppins Wash Mitt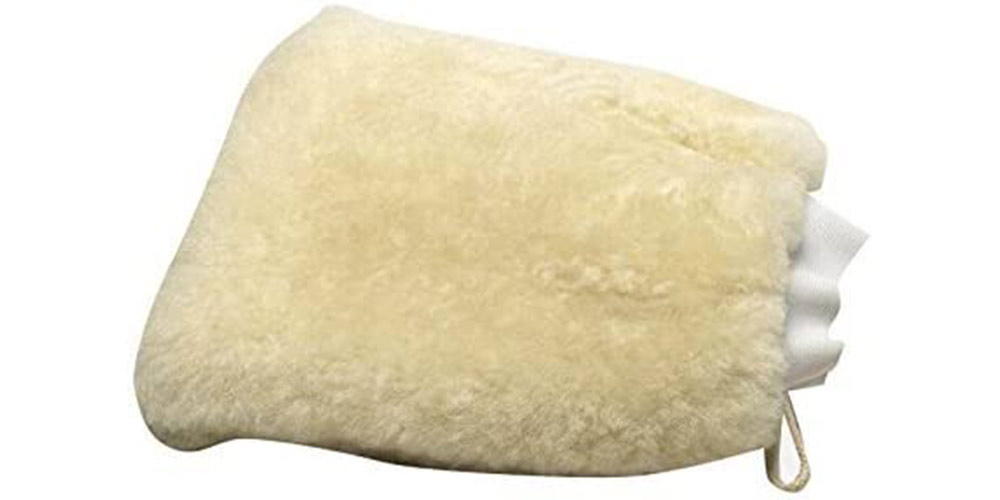 We recommend taking a look at this mitt, which is composed of 100% pure lambswool, if you prefer natural fibers. Lambswool is the ideal material for washing your automobile, as many expert car detailers will tell you, and our Mary Moppins recommendation lives up to that reputation. Although this well-made, all-natural glove is more expensive than many synthetic wash mitts, it should last for years while keeping your car clean.
If you have relatively small hands, you may find this big mitt awkward to use, especially because it becomes fairly heavy when filled with water. Using a pure lambswool mitt has one drawback: after washing your automobile, you have to be more careful with how you clean it. The finest outcomes come from using a wool-specific cleaner and allowing the mitt to air dry.
While Mary Moppins' wash mitt is the item we're talking about here, the company also manufactures lambswool mops you can attach to a long handle to clean tall vehicles like RVs or even the roof of your SUV.

#4 Chemical Guys Bear Claw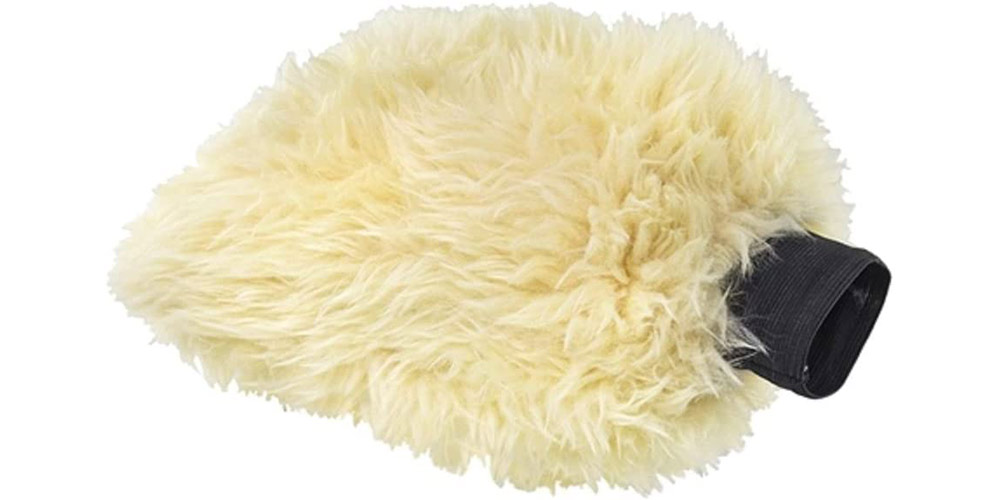 With the Bear Claw wash mitt, Chemical Guys' offering differs slightly from much of its competition. Rather than the microfiber chenille material you'll find in the majority of the other items on this list, it is composed of synthetic wool fur. According to the manufacturer, the extra soft synthetic material used in this mitt will protect your car's finish while it removes and traps dirt. Additionally, it promises to carry more water than five times its weight, saving you trips to the wash bucket.
You might be asking why we think that this mitt is the greatest option for washing wheels at this point. This is because wool can become tangled on the edges of badges and other trim components, and fine lint may be left behind after washing and end up on your car's windows and bodywork. As a result, we highly recommend you buy this glove specifically for use on your car's wheels, where lint will be less obvious, and there won't be any sharp edges for the mitt to get stuck on.
Chemical Guys has been known as a reliable car care product manufacturer. You can expect quality and results with their products.

#5 Relentless Drive Cyclone Car Wash Mitt 2-Pack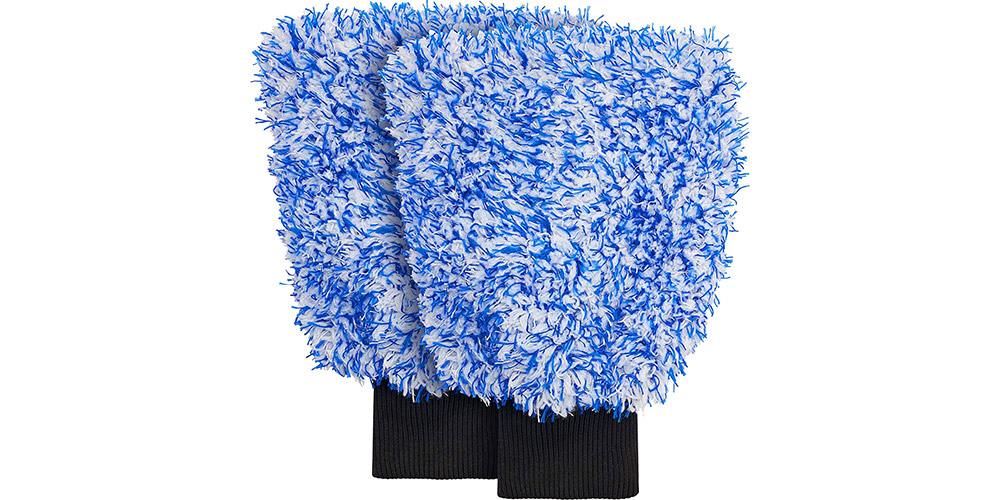 The Cyclone car wash mitt from Relentless Drive comes in a two-pack, which is another high-quality item to make washing your car more fun. Even while this kit is not quite as cost-efficient as some of our other budget picks, its smart design makes it a desirable choice.
Since Relentless Drive uses thousands of tiny microfiber strands, you may anticipate that this washing mitt will keep seven times its weight in soapy water. You may save one glove for cleaning the hard surfaces inside your car because this mitt is said to be good at dusting dry surfaces as well. The size of this wash mitt is 11 inches long and 8 inches wide. Keeping hold of this mitt when it's slippery requires the cooperation of a wrist cuff and an inside grip strap.
You may throw this mitt in the laundry after you've finished cleaning your car to get it ready for the next wash. To preserve the softness and absorbency of the microfiber strands, Relentless Drive advises tumble drying the mitt on low heat.

#6 Mothers Microfiber Chenille Wash Mitt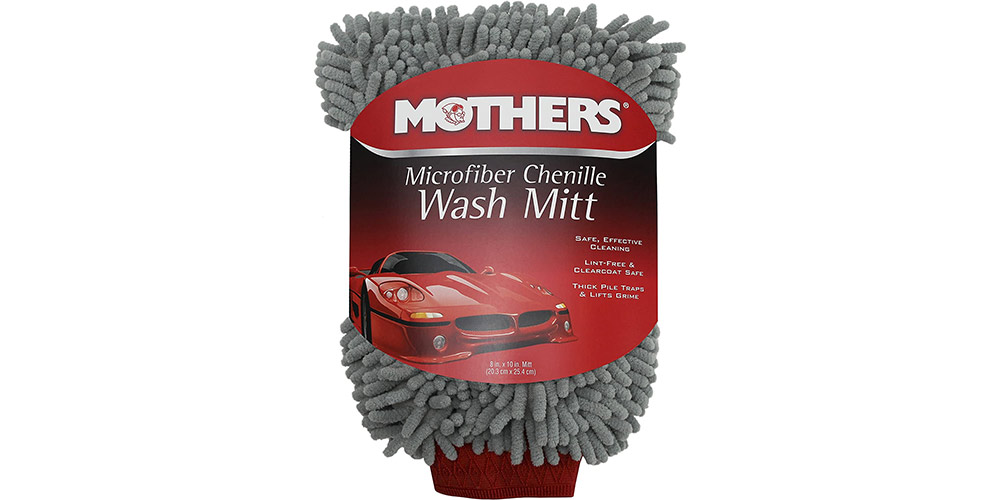 Here is a car wash mitt from yet another well-known brand in the car care industry. You can rely on Mothers' mitt to absorb a lot of suds because it is made with microfiber chenille that is twisted into substantial caterpillar-like bunches. These thick fibers are made to remove dirt, lift it off your car's surface, and hold it there until you rinse the mitt. This is important because it prevents you from dragging dust across the paint and scratching it.
This car wash mitt, like the other ones on this list, is primarily made to help you properly clean your car's painted surfaces, but thanks to its gentle chenille fibers, you can also use it to wash the vinyl windows that are frequently used in convertible tops without worrying about damaging them.
The knitted elastic cuff of this one-size mitt is intended to assist you in keeping it on your hand even when it is filled with water. However, if your hands are smaller than typical, you could find this huge mitt difficult to handle. According to Mothers, the wash mitt is machine washable for convenient cleaning. Overall, we recommend this car wash mitt because of its capabilities, features, and the manufacturer, Mothers. You can never go wrong with Mothers because the brand has been a trusted and reliable one.