Keeping an eye on your battery is one of the frequently neglected areas of vehicle maintenance. When your car's battery dies unexpectedly, it will mess up your day. To test your battery and ensure it is in good condition before you get on the road, use a car battery tester.
We compiled the best car battery testers that are currently on the market and cover a variety of price points to help you choose on buying the best battery tester for your car.
#1 Topdon BT100 Car Battery Tester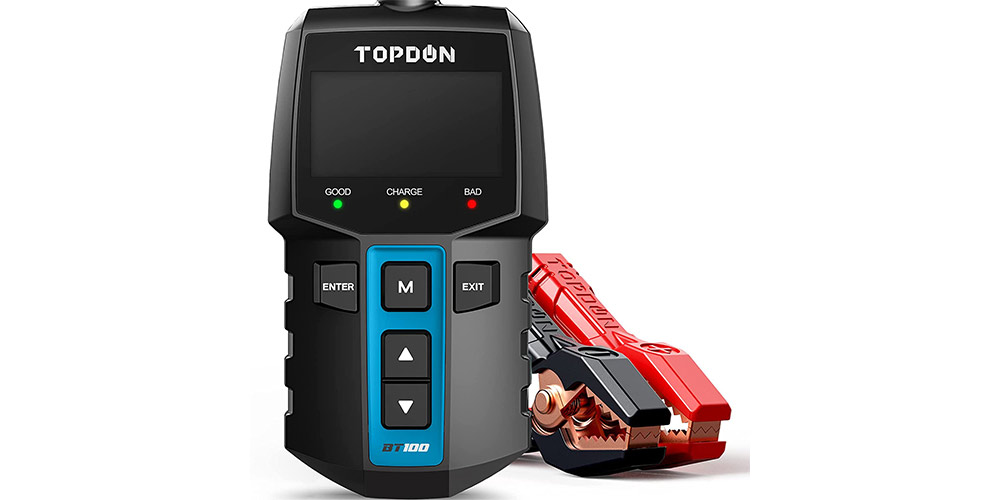 Brand: TP Topdon
The BT100 from Topdon is compatible with all common battery types, including conventional and enhanced flooded (EFB), AGM flat plate, AGM spiral, and gel. It has the ability to evaluate the ripple charging system, cranking, and standard battery health is shown. Both a 128 x 64 backlit LCD readout and green, yellow, and red warning lights are included.
It's an excellent battery tester for one-time usage, but if we needed one several times per week, we'd want to upgrade to either a printout or Bluetooth.
#2 Innova 3721 Battery and Charging System Monitor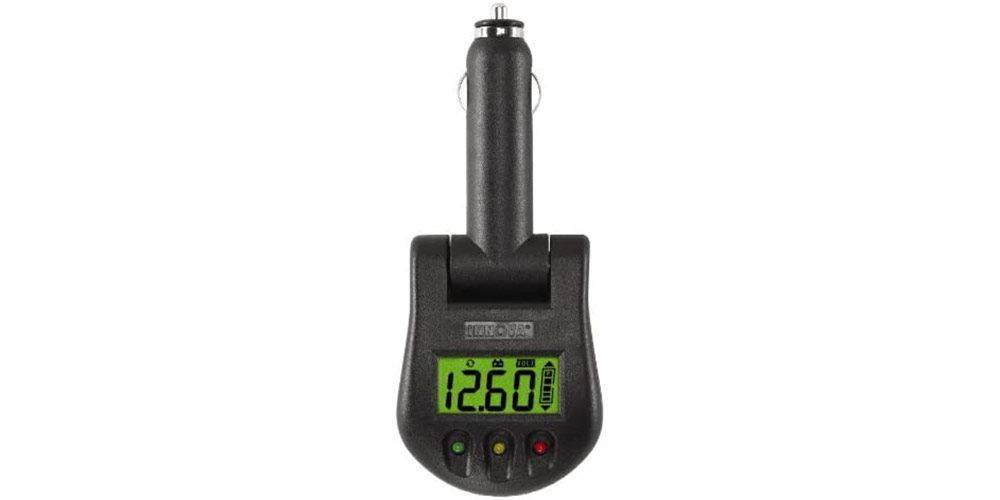 Brand: Innova
The Innova Battery and Charging System Monitor plug directly into your cigarette lighter to monitor battery and charging system voltage. It has an LCD display with a bar graph to show charge level and is made for 12-volt negative ground systems.
It boasts good accuracy and a four-digit display, whereas other meters only have a three-digit display. One of the least expensive car battery tests on the list that also completes the task fast is this one.
#3 Clore Automotive Solar Digital Battery and System Tester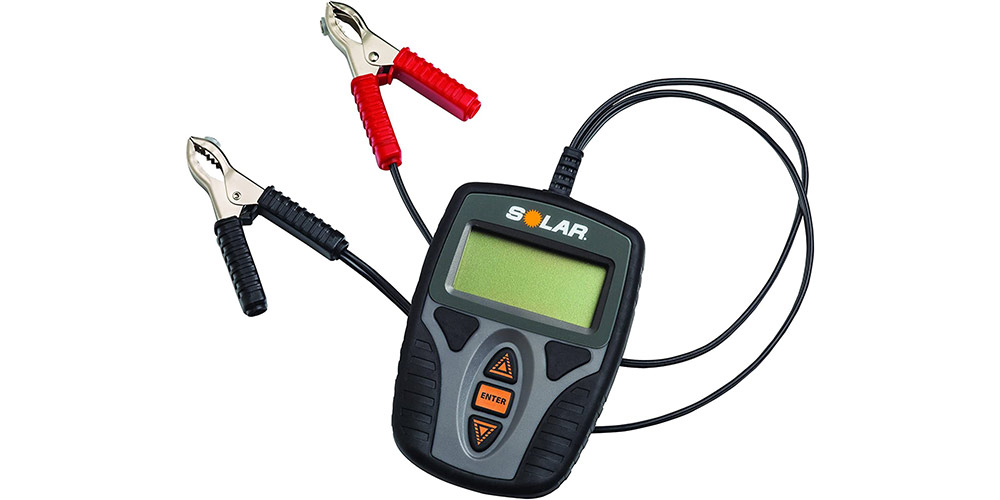 Brand: CA Clore Automotive
Clore Automotive provides a digital battery and system checker. It is a 12-volt battery and system tester with a testing capacity of 40–1200 CCA. It is compatible with a variety of battery types, including Conventional Flooded Acid, AGM Flat Plate, AGM Spiral Wound, and Gel Cell, and operates in the 7 to 15-volt range.
This tool may be used to test against a variety of rating systems, including CCA, DIN, JIS, EN, and IEC, and it provides quick, simple battery and system analysis.
#4 Cartman Car Battery and Alternator Tester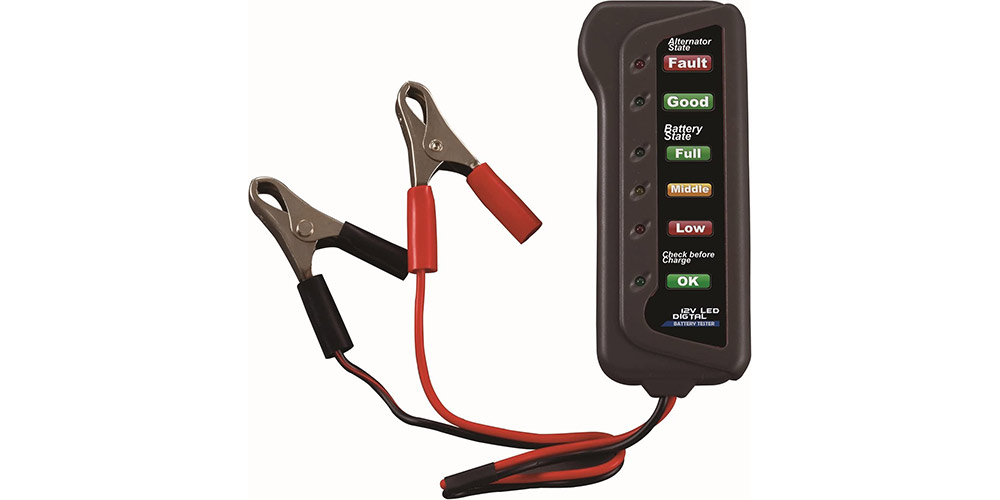 Brand: Cartman
Cartman is one of the more reasonably priced choices on our list. The 12-volt battery state is displayed on an LED display on the company's battery and alternator tester, which is small and simple to use.
Connect the red clamp to the positive terminal and the black clamp to the negative terminal of your battery while your car is off to perform a battery check using the Cartman Car Battery and Alternator Tester. The OK light will then turn on, followed by the battery level.
#5 Motopower Digital Battery Tester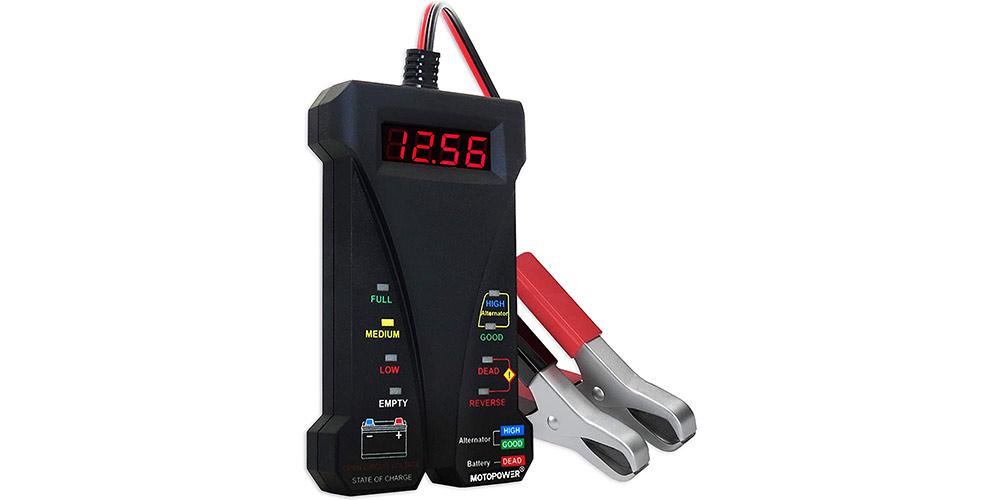 Brand: Motopower
The Motopower Digital Battery Tester, which is microprocessor-controlled, is designed to give a rapid reading to identify whether a car battery needs to be jumped or replaced. Reverse-hookup and over-voltage protection features make it safe and easy to use. This tester is simple to use and accurate to read because of its four-character illuminated digital display on the front of the gadget.
It features a black rubber-painted body with colored LEDs, and its testing range is 4 volts to 20 volts for all kinds of 12-volt batteries.
#6 Performance Tool Cigarette Lighter Car Battery and Alternator Tester (W2989)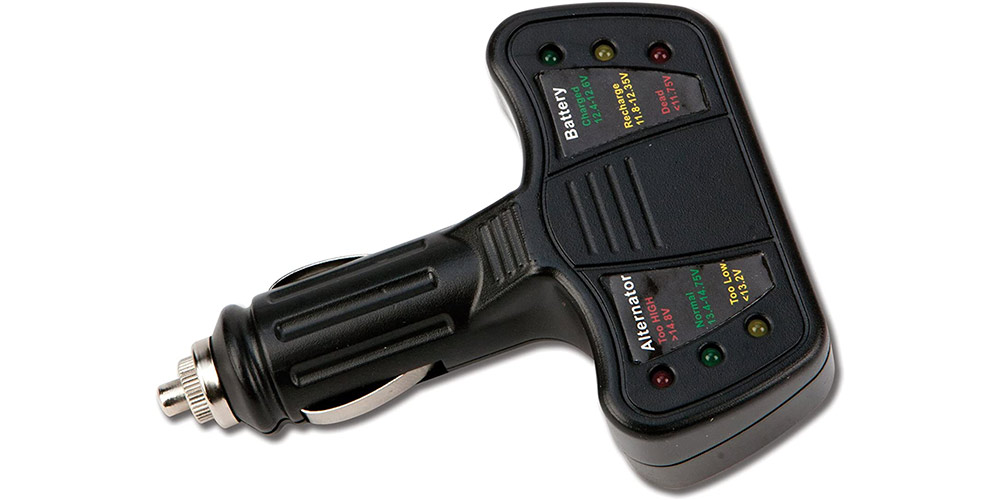 Brand: Performance Tool
Simply connect this to your car's cigarette lighter, and the LED indicators will display the state of your battery and alternator. There are a total of six LED indications, three for the alternator and three for the battery.
This gadget will indicate whether the battery needs to be recharged, is fully charged, or is dead. It's a small device that fits neatly in your glove box or center console, giving you quick access to determine whether a problem is with your car's alternator or battery.
#7 Ancel Automotive Load Battery Tester (BA101)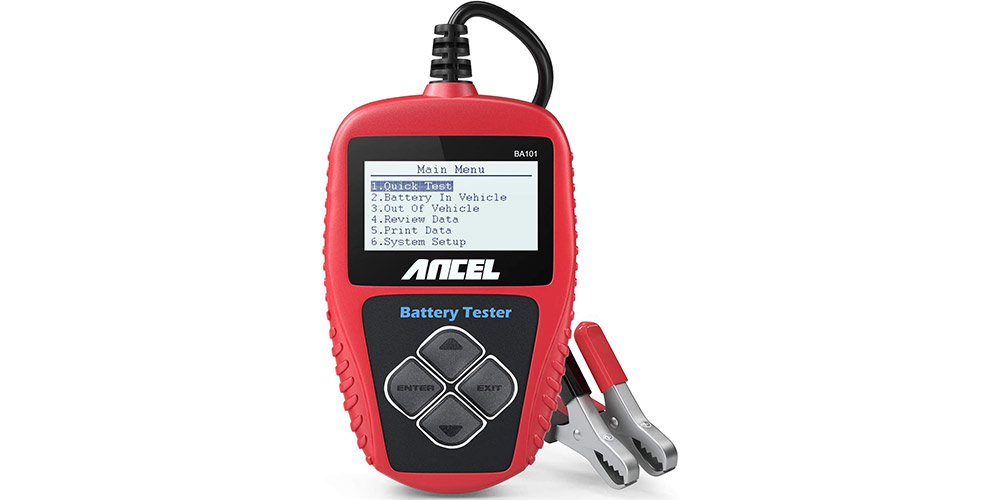 Brand: Ancel
This small tester complies with important battery standards like JIS, SAE, EN, DIN, and IEC and may be used on a variety of 12-volt batteries. It is made to measure the battery's actual cold cranking amps capacity as well as the battery's condition easily, quickly, and accurately. The battery's CCA or AH value, charge percentage, voltage, internal resistance, and battery health % are all displayed for each reading.
This device will never discharge or drain the battery because conductance is directly correlated to battery capacity.
#8 Suner Power Car Battery Tester (AE300)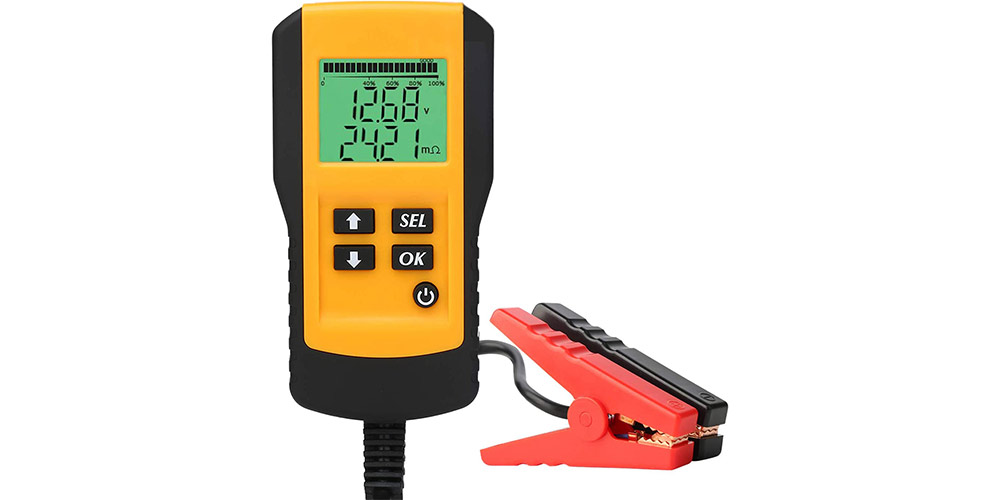 Brand: Suner Power
It is intended to test and examine your 12-volt battery load system in order to determine the health of your batteries. This will display the voltage, resistance, CCA, and percentage of battery life. With safety features like reverse polarity and over-voltage protection, you can test the battery repeatedly without fearing that you'll harm it.
This tester can operate in the CCA (100-9999), SAE (100-2000), EN (100-2000), IEC (100-1300), and DIN operating ranges (100-1500). Numerous batteries, including Flood, AGM, Deep Cycle, and Gel, are compatible with it.
#9 Foxwell Battery Tester (BT-705)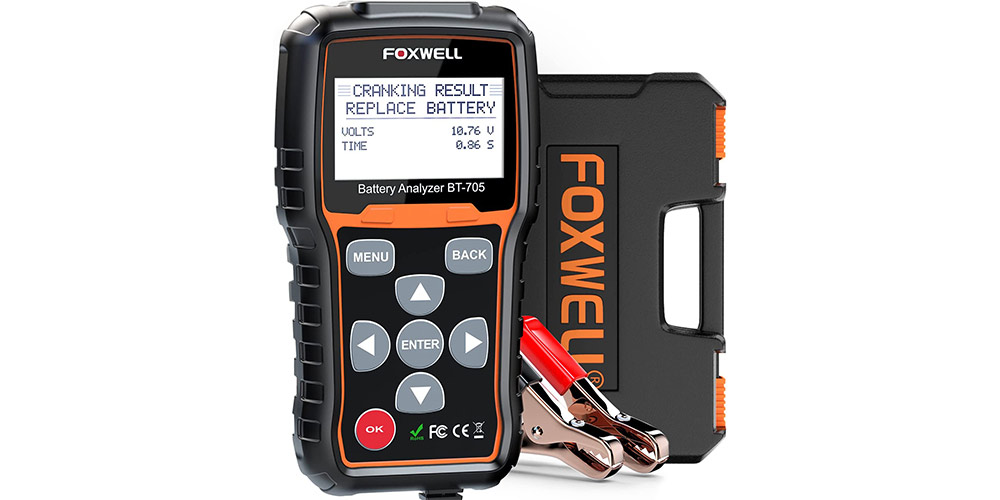 Brand: Foxwell
The Foxwell Battery Tester will accurately test standardly Flooded, AGM Flat Plate, AGM Spiral, and Gel batteries, enabling the user to assess the battery's health status and determine the battery's actual cold cranking performance and aging state. Various rating systems, including CCA, BCI, CA, MCA, JIS, DIN, IEC, EN, SAE, and GB, are supported.
Also, it checks the rectifier diode's functionality, the generator's output voltage, and the charging current for both 12-volt and 24-volt charging systems.
#10 Online LED Store Automotive Battery Tester
Brand: Online LED
The battery tester's clamps are larger than those of the competition for a more secure fit, and it works with 12-volt and 24-volt batteries. It features a bright, easy-to-read LED display that shows you the exact status of the charge of your battery or alternator. Three distinct tests can be performed by this device: battery, alternator, and external charge checks.
The alternator check will let you know the status of your alternator based on the measured voltage, while the battery check will let you know whether or not your car's battery is functional.
Essential Information About Car Battery Testers
A car battery tester is engineered to test the status of your battery. Now that you have read about our top picks, you will notice that car battery testers offer various options. Some of them are extremely basic, while some offer more data regarding a vehicle's electrical system. There are even complicated testers that can test a vehicle's alternator and verify potential issues. Whatever you choose is basically up to you, but we recommend getting a tester that is handy enough so you can check your battery before it goes entirely drained.
The Importance of a Car Battery Tester
Having a car battery tester provides you with a better chance of routinely checking the status of your vehicle's battery. You will have better insight into whether your car's battery is almost out, and it will give you enough time to get a replacement before it completely runs out of charge. The majority of car battery testers are reasonably priced.
This is one minor investment your sure would need if you don't want to potentially get stuck hopelessly on the side of the road and panicking for a battery replacement. There are countless scenarios that you may get stuck with if you don't have any idea about your car battery's state.
So, if you don't want to experience any on-road emergency, it would be best to get a hold of a car battery tester. Having a car battery tester also helps lessen anxiety as you will feel at ease, knowing that you have enough charge, especially for a long road trip.
Picking the Best Car Battery Tester
With the options mentioned earlier, you now have an idea about the variety of car battery testers. Choosing one depends on your specific needs. You can get a simple or basic car battery tester with no frills, or you can opt for one loaded with features. When it comes to pricing, most car battery testers are conveniently affordable. You won't have a hard time choosing a reasonably priced car battery tester from our top 10 list above.
Thankfully, numerous manufacturers offer high-quality and reliable car battery testers today. You can also verify product reviews and ratings via online sites like Amazon. Read reviews to get a better hold of the car battery tester's pros and cons. Aside from quality, always verify the accuracy of the car battery tester that you will be purchasing. You will want the most accurate data with these types of products.
Just some additional tips. As soon as you've chosen and purchased a specific car battery tester, make sure that you read the detailed instruction so you'll know how to properly operate the device. Never forget to wear a pair of rubber gloves and goggles for safety when you start testing your battery.