Have a pocket full of sockets as you walk from the garage to your car, so you don't have to keep making round trips?
Whatever the reason, disorganized sockets cost you time and stress. If you frequently work on your car and find yourself grabbing sockets of various sizes, you should consider purchasing a socket organizer. Socket organizers, despite their simple form, help keep everything neat, in the appropriate spot, and easy to find the next time. Save yourself the trouble of finding that ten or 12-mm socket the next time you work on your car.
We came up with a reliable list of the top 10 best socket organizers available today. Check it out so you could narrow down your options and save you time picking one.
#1 OEMTOOLS Six-Piece Socket Tray Organizer Set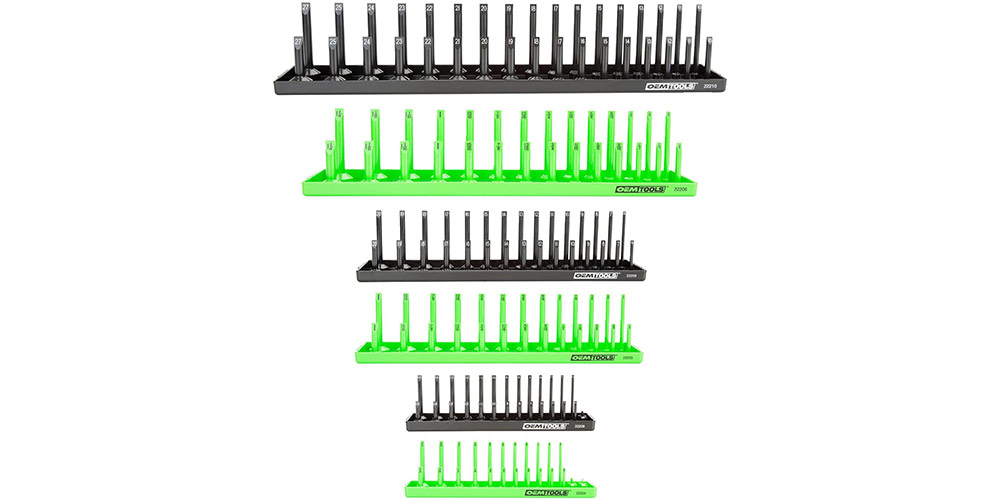 Brand: OEMTOOLS
Simply put, this six-piece socket tray organizer kit from OEMTOOLS is simple, basic, and practical. A simple tray with posts coming from it, long posts for deep sockets, and short posts for standard-size sockets. The set includes 1/2-, 3/8-, and 1/4-inch drive socket trays, with bright green for SAE sockets and black for metric, so you can tell which tray you want even before you look at the numbers.

#2 CASOMAN Six-Piece Socket Organizer Rails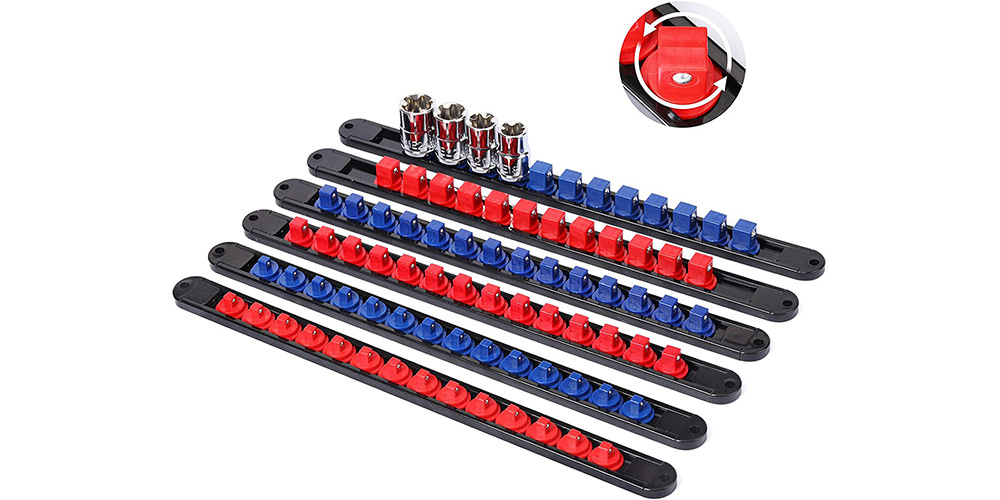 Brand:  CASOMAN 
This set eliminates necessity since the clips swivel to allow you to attach a socket in any location you like. It not only makes replacing sockets easier, but it also allows you to line up the size marks on all of them, eliminating the need to look in frustration at socket markings that are out of place and out of vision. The kit includes all three drive sizes and can contain up to 80 sockets. Each clip also has a spring-loaded ball bearing to assist and keep your sockets in place if you transport the rail in a portable toolbox, and mounting holes allow you to connect the kit to your workbench or larger toolbox permanently.

#3 Auwey Socket Organizer Tray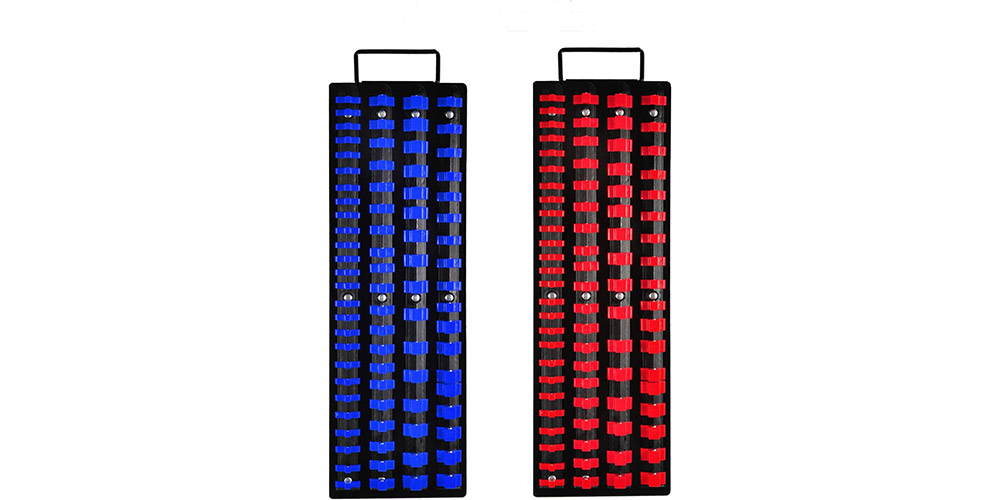 Brand:   Auwey
Auwey has created a socket rail set that allows you to keep all of your sockets on one convenient tray. Each tray can contain up to 80 sockets, with holders for (26) 1/4-, (30) 3/8-, and (48) 1/2-inch drive sockets set in four sliding rows on one large tray with a handy handle for mounting or carrying. Ball bearings secure your sockets, and the flat-mounting tray allows you to keep it in your toolbox drawer, one of the shallow drawers, or even hung on a pegboard.

#4 Olsa Tools Aluminum Socket Organizer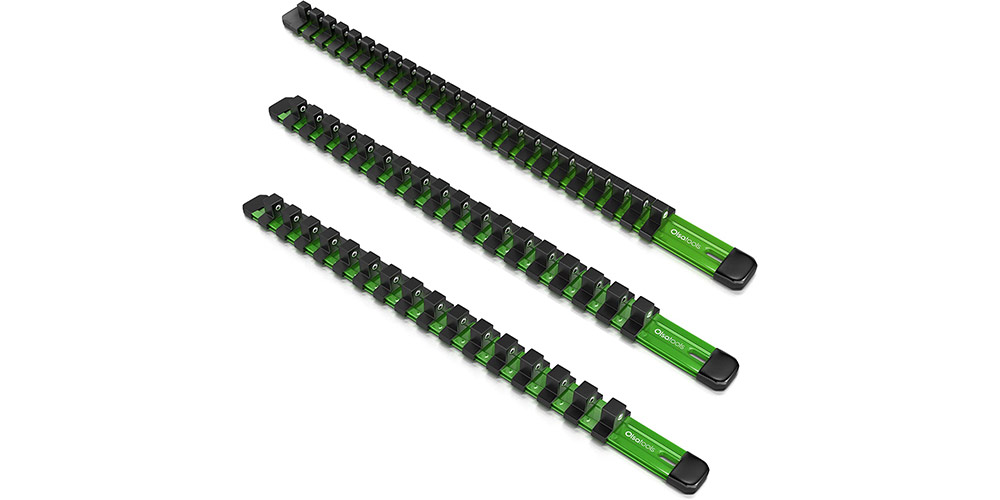 Brand: Olsa
This kit from Olsa Tools allows you to make your sockets portable while still having a place to keep them on the bench. Because of the replaceable clips, this set can contain up to 58 sockets. Remove the surplus if you don't have enough to fill each holder.
Each socket clip contains a spring-loaded ball bearing that keeps the socket in place. Pick up the socket rail and bring it over to the vehicle, keeping everything close at hand.

#5 Olsa Tools Three-Piece Magnetic Socket Organizer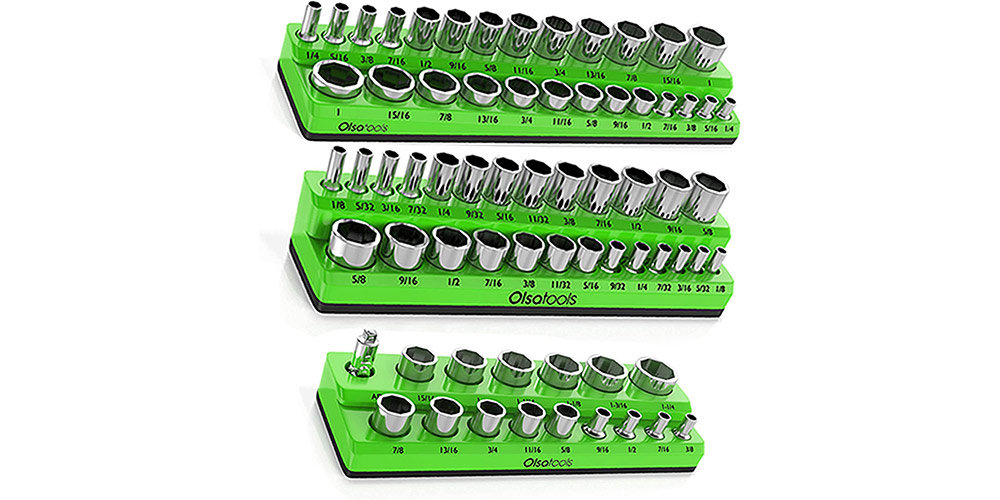 Brand: Olsa
This magnetic socket holder kit allows you to swiftly and effortlessly drop your sockets into the holder, where the magnetic base will keep them in place. Even better, the magnetic base holds the socket holder in place on your toolbox.
This alternative is rubberized to prevent scratches, so you could also glue it to your jack or whatever component of the vehicle you're working on. The set is available in three typical drive sizes, as well as SAE and metric, with socket sizes labeled on each position.

#6 Olsa Tools Portable Magnetic Socket Organizer Tray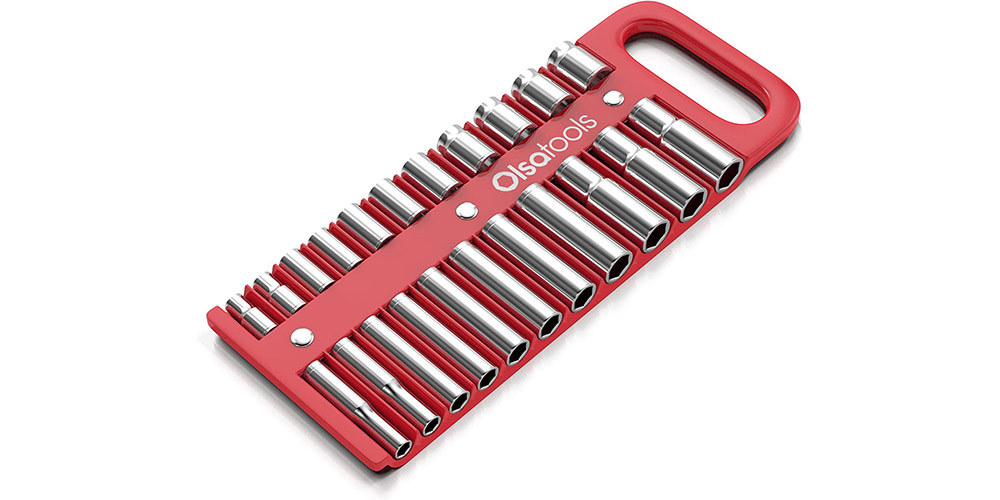 Brand: Olsa
The magnets will also keep the tray in place as you work, allowing you to keep your sockets close to your work area for convenient access. The trays are available in 1/2-, 3/8-, and 1/4-drive sizes, but the individual sockets that go inside are not labeled. The tray can hold up to 22 sockets, and you can install more shallow sockets on the deep side if your business demands it.

#7 HORUSDY Three-Piece Double-Sided Socket Organizer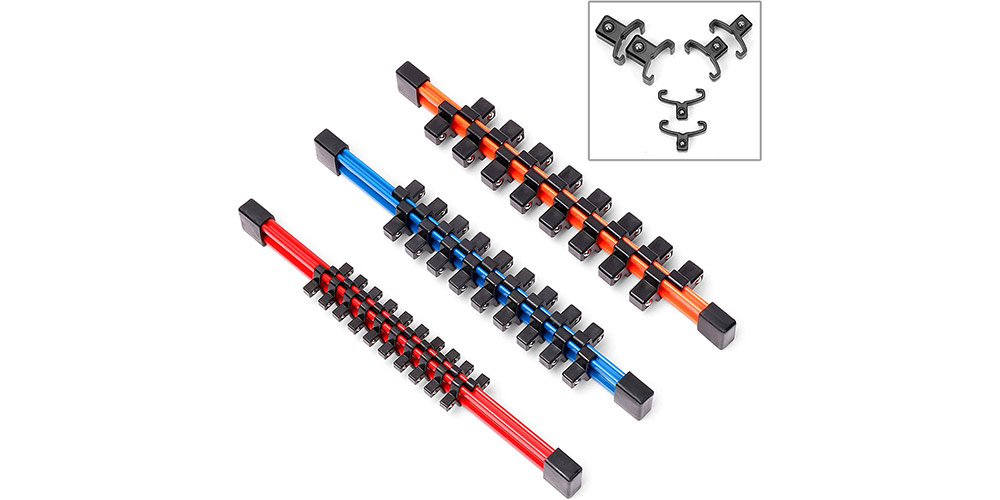 Brand: HORUSDY
HORUSDY allows you to use both sides of the rail, allowing you to accommodate all three drive sizes on one rail. Do you want a tiny kit for your motorcycle as well as one rail for your truck? No worries. You can even make a rail completely of 10mm sockets in every style available, so you're never without one.
These double-sided rails allow you to separate SAE and metric sockets, deep and shallow sockets, six points and twelve points, or even normal hex and e-Torx, triple square, or whatever other unusual sockets your car requires in whichever combination works best for you. When it comes to tool storage, versatility reigns supreme, and this provides you with numerous benefits.

#8 Tool Sorter Socket Organizer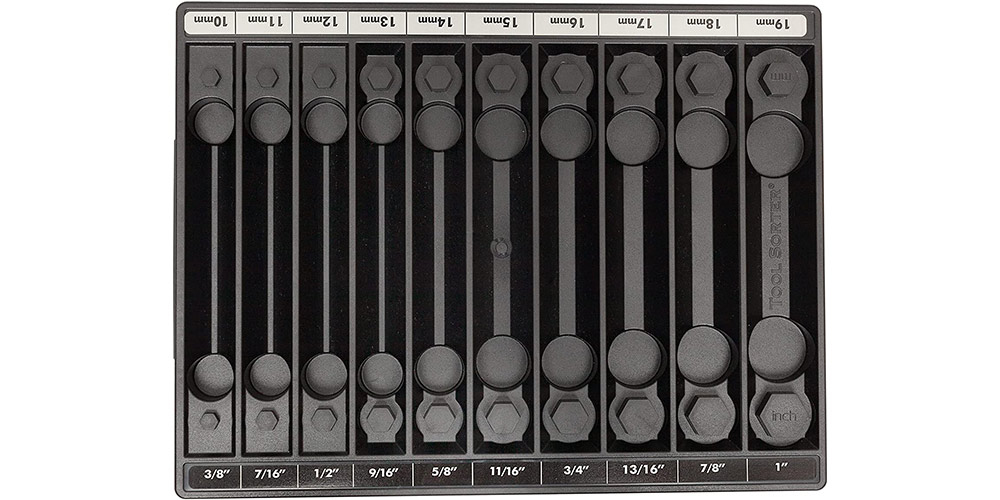 Brand: Tool Sorter
This tray is among the most creative we've seen. It's intended to keep your sockets and assist you in measuring them if you can't read the labels on your sockets any longer, and it also allows you to keep all of your drive sizes in the same tray. Each slot has a metric connector on one end and an SAE connector on the other.
The hex-shaped imitation bolt allows you to fit your sockets even if the laser-etching or printing on their walls has long faded. The shallow socket can thus be stored upright, and one or more shallow or deep sockets can be stored on their sides.

#9 Six-Piece Socket Drawer Organizers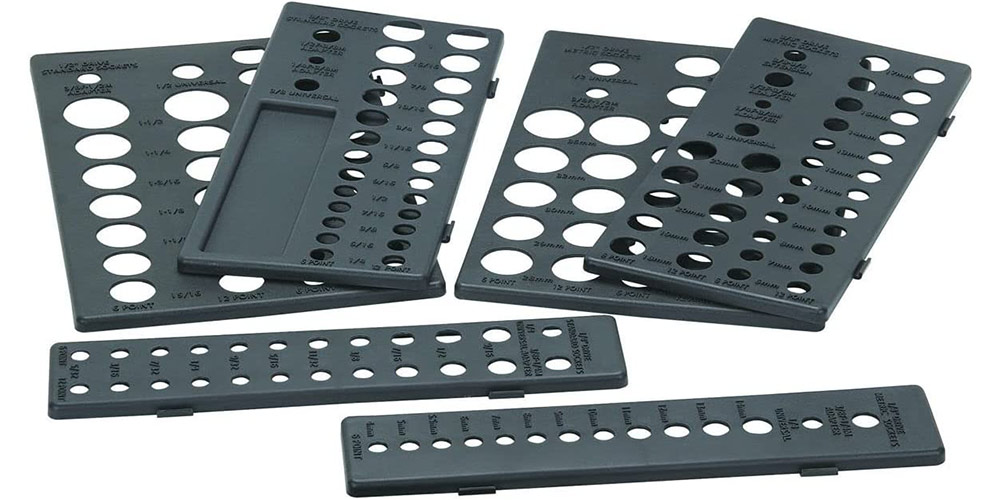 Brand: Six-Piece Socke
The organizer set includes two of each size, small, medium, and large, one with metric tool marks and the other with SAE. While there are marks to differentiate between six and twelve-point sockets, you don't have to follow them and could simply use them for whatever sockets you need to store. A tiny tray keeps extensions, universal sockets, adaptors, swivels, and other socket accessories easily accessible. The kit's leg attachments allow you to hold deep sockets as well by lifting the organizer so they fall securely into position.

#10 Neiko Socket Holder Rail (03969A)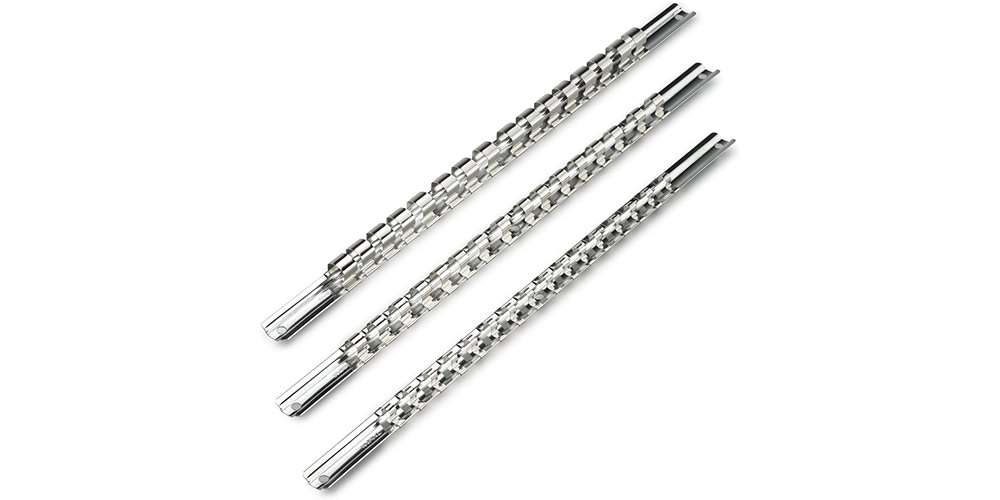 Brand: Neiko
These are simple, basic, and easy-to-use socket holders that do the job without breaking the budget. They're made of nickel-plated steel and are engineered to withstand temperature extremes that would shatter plastic holders. Because your sockets are already hefty, they're lightweight, and each socket rail comes with robust clips that can slide side to side or be removed totally from the rails.
This kit includes all three drive sizes, as well as three mounting holes for mounting to a wall, board, or bench. The spring-like construction of the clips is intended to secure each socket without the use of supplementary elements such as a ball bearing, which can break or become trapped.