Despite the complexity of many modern automobiles, you can perform many routine repair and maintenance tasks on your own, even if you just have basic tools and limited experience working on your own vehicle. More significantly, you can readily diagnose problems with car components such as the brakes and suspension since you receive what you see, whether it's worn brake pads, a cracked spring, or a leaking shock absorber. When you believe that anything is wrong inside your vehicle's engine and causing it to perform poorly, things become more challenging.
The most certain way to determine the root of an engine problem is to disassemble it and inspect its internal components. However, that is a difficult task that you should undertake.
#1 BlueDriver Compression Tester Kit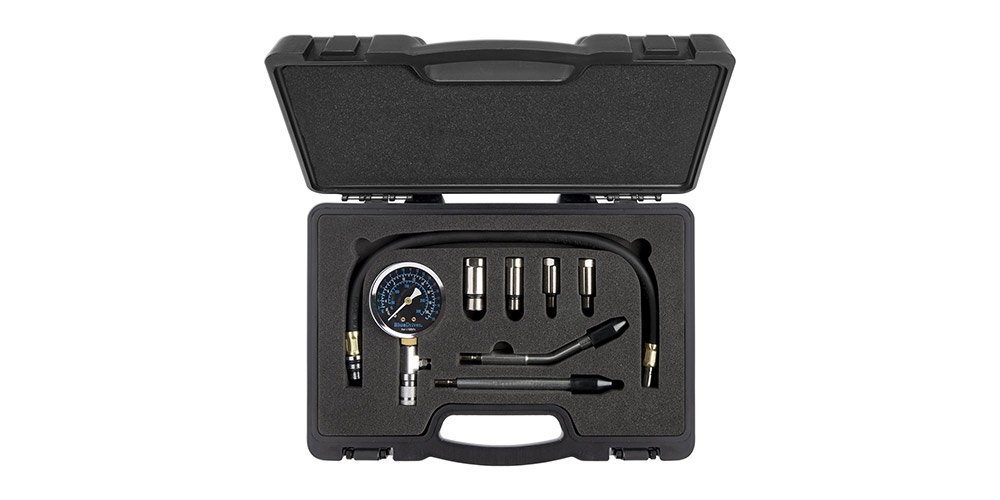 Brand: BlueDriver
This comprehensive compression testing kit is manufactured by Lemur Vehicle Monitors and sold under the BlueDriver brand of equipment. At first glance, this compression tester appears to be a solid-looking kit appropriate for professional use, and it only gets better with closer scrutiny.
A hard plastic box houses an eight-piece kit that allows you to test the compression on practically any gasoline engine you can think of. To operate in your preferred unit of measurement, the 2.5-inch gauge is marked with three scales: 0 to 300 PSI, 0 to 21 kg/cm2, and 0 to 20 bar. The gauge also has a pressure release valve and a 16-inch rubber hose connection.

#2 INNOVA Compression Tester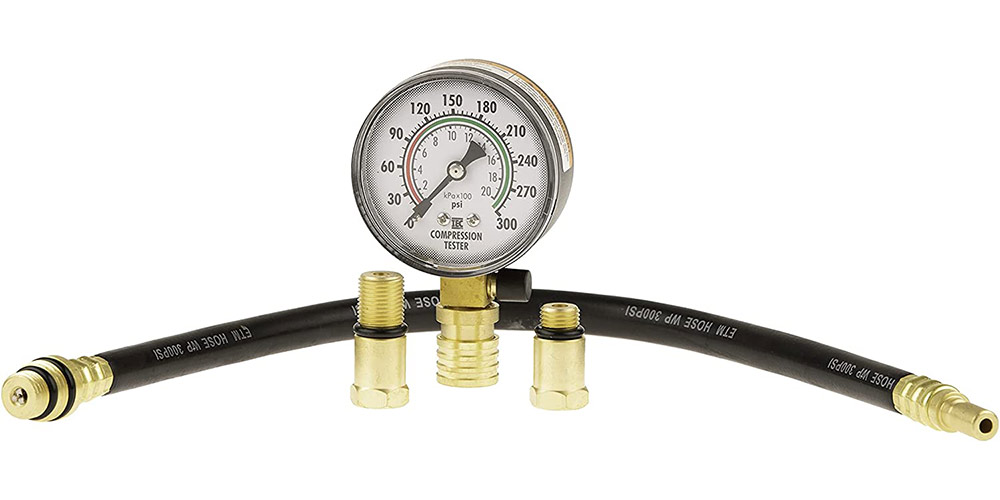 Brand:  INNOVA
The gauge face is color-coded, with red indicating low compression and green indicating increased compression. A gauge with a 2.5-inch diameter is easy to read at a glance. There's also a release valve to bleed accumulated pressure before unscrewing the tester from the spark plug hole in your engine. INNOVA's product is quick and simple to use, thanks to a quick-disconnect fitting.

#3 OTC Compression Tester Kit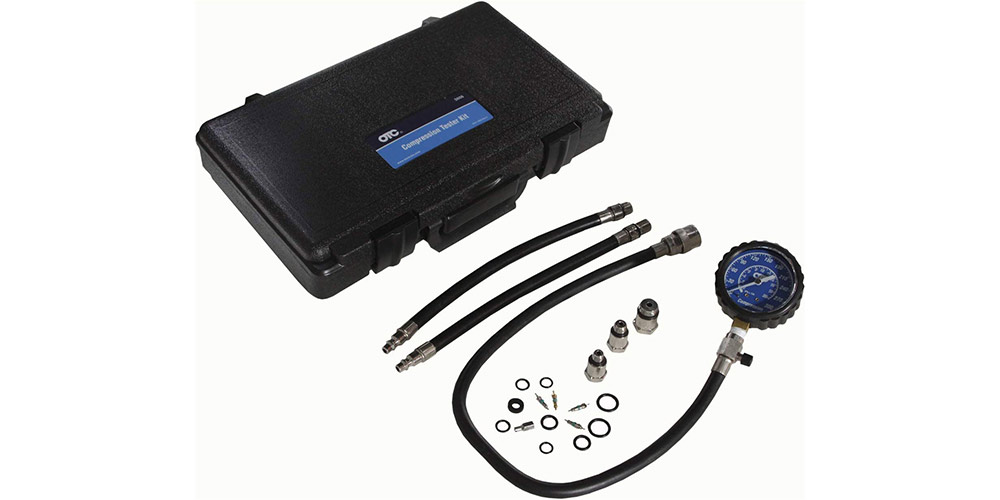 Brand: OTC
Connect a 25-inch flex hose with a 14-mm fitting to the gauge—one of the longest of any of the kits we've shown here. OTC also includes 10-, 12-, and 18-mm adapters, allowing you to use the compression tester on a wide range of engines, including those with tapered and flat spark plug seats.

#4 JIFETOR Compression Tester Kit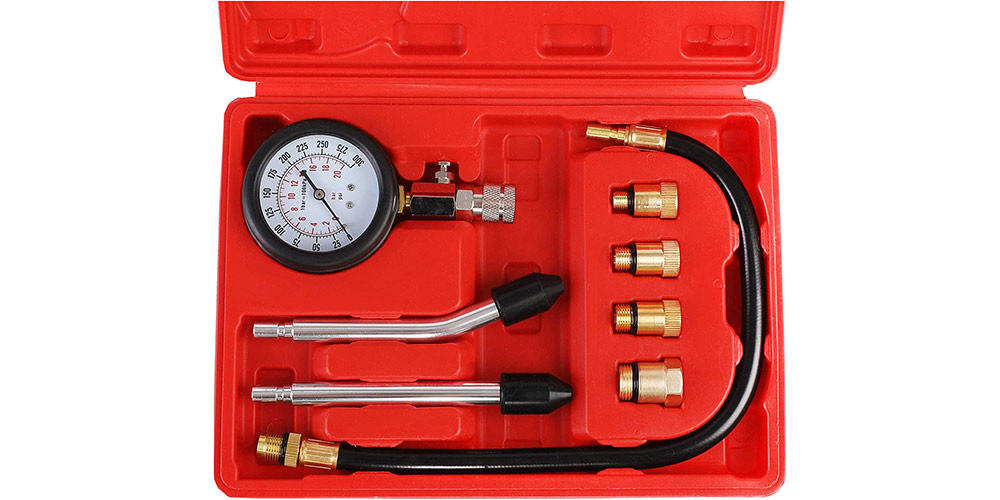 Brand:  JIFETOR
According to JIFETOR, its eight-piece engine compression tester is designed for use on any gasoline automobile or motorcycle engine and includes certain important components that we believe will make this kit easier to use. JIFETOR's spark plug hole adapters measure 10, 12, 14, and 18 mm in diameter, just like the other kits we've provided here. That means you should be able to fit this tester into practically any gasoline engine. You also receive a three-inch dial with a rubber cover that measures 300 PSI and 20 bar.

#5 Lang Tools Compression Tester Set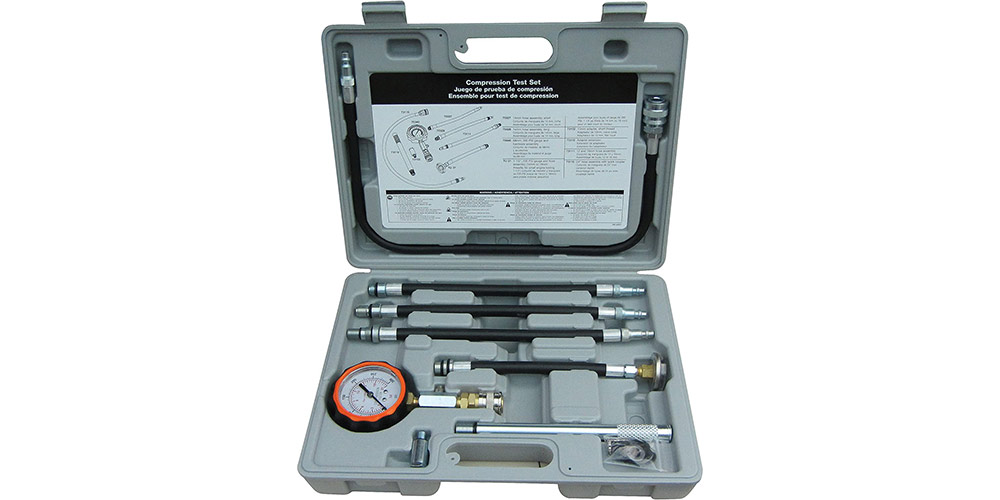 Brand: Lang
With a package that would look right at home in any professional auto repair shop, Lang Tools joins our list of engine compression testers. Lang's system is centered around a 2.5-inch gauge with a pressure release valve and a rubber protective bezel that reads from 0 to 300 PSI and 0 to 21 bar. The kit's four flexible rubber hoses are connected via a quick-release connector.

#6 Mityvac Professional Compression Tester Kit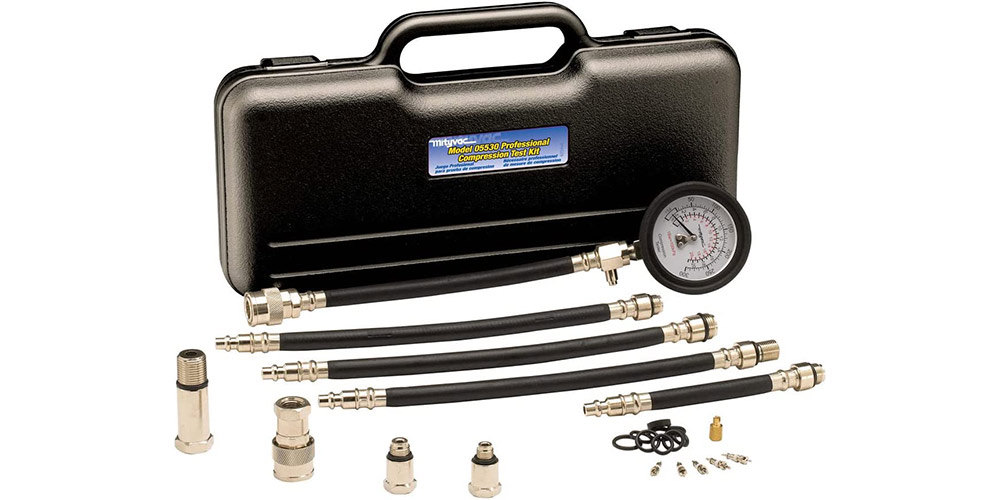 Brand: Mityvac
The Mityvac 5530 is a multi-piece compression testing kit designed to work on practically any gasoline engine, according to the company. A 2.75-inch gauge labeled in four distinct scales—bar, PSI, kPa, and kg/cm2—is housed inside a compact, durable black container, allowing you to operate in the unit of your choice. Mityvac's gauge, like the majority of the testers on this list, has a maximum pressure of 300 PSI, 20.7 bar, 21.1 kg/cm2, and 2,068 kPa. The gauge has a rubber shell for enhanced grip and impact protection, as well as a durable Bourdon tube movement with a pressure release valve.

#7 BETOOLL Compression Tester Kit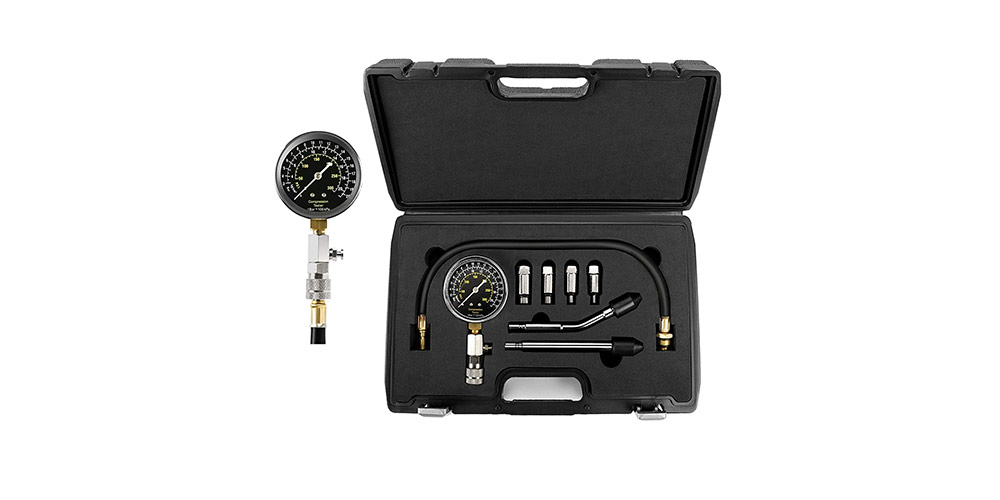 Brand: BETOOLL
With this eight-piece package, the automobile repair tool professionals from BETOOLL make our list of the best compression testers. This is one of the most adaptable kits on our list. For one thing, the gauge provides readings in PSI (0 to 300), kg/cm2 (0 to 21), and bar (0 to 20), which is equivalent to 0 to 2,000 kPa on this gauge.
A fast-release fitting connects a 16-inch rubber hose to the gauge. You can attach your choice of 10-, 12-, 14-, or 18-mm threaded fittings to the other end, providing you the ability to diagnose practically any gasoline engine. The fittings are all composed of corrosion-resistant brass, ensuring a long service life.

#8 J&R Quality Tools Compression Tester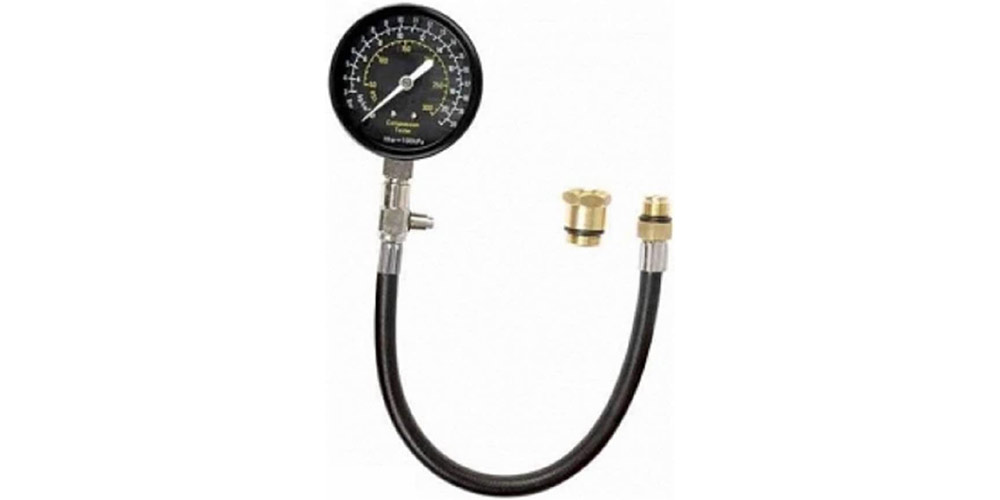 Brand: J&R
One of the most straightforward tools on this list comes from J&R Quality Tools, and it's a good pick if you're a newbie home mechanic just getting started in the realm of DIY auto repair. With a three-piece kit that comprises a compression gauge with a 13-inch flexible hose and 14- and 18-mm spark plug hole adapters, J&R has reduced the engine compression tester to its bare essentials. The adapters have quick-release fittings, allowing them to be readily swapped out for usage on different engines.
The gauge has a 2.5-inch front and is calibrated for PSI and kPa readings; its measurement range is 0 to 300 PSI or 2,000 a. Each scale is color-coded to make it easier to read in the unit of your choice.

#9 OTC Cylinder Leakage Tester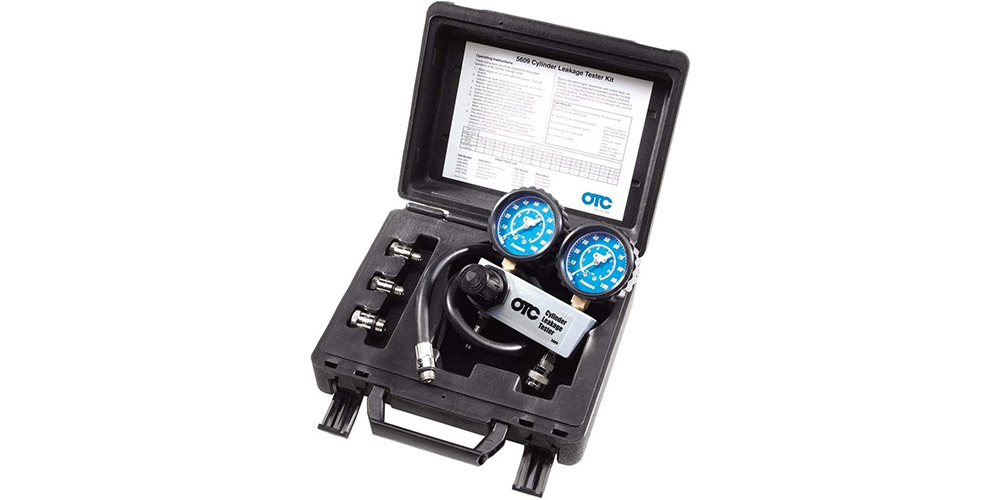 Brand: OTC
OTC joins our list for the second time with a cylinder leak-down testing instrument that supports compression testing in engine diagnostic procedures. You can use this instrument to inject compressed air into your engine's combustion chambers to see how well it holds that pressure over time.
Many of the components below are interchangeable with compression testers. A 24-inch flexible hose is included, as are spark plug hole adapters in 10-, 12-, 14-, and 18-mm sizes.

#10 Lang Tools Cylinder Leakage Tester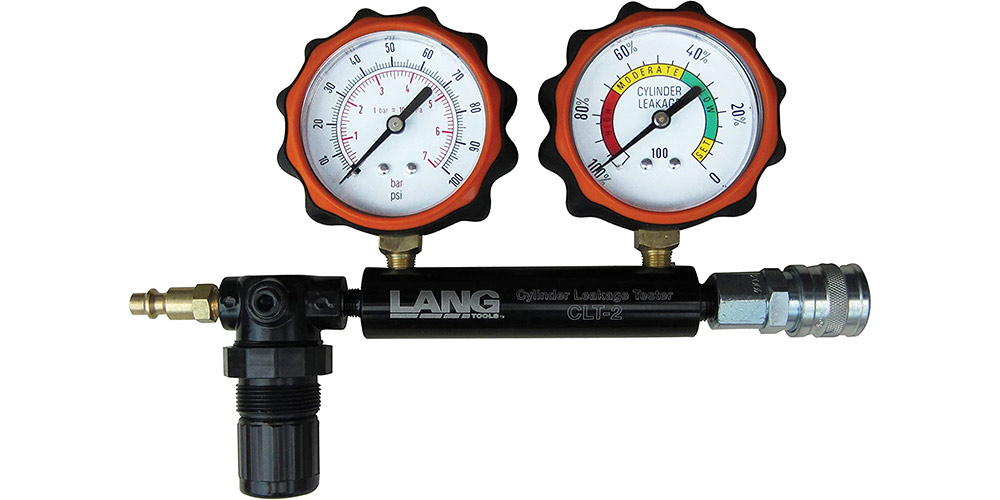 Brand: Lang
Lang Tools makes a second appearance here as well, with a cylinder leak-down tester. Lang appears to take a similar approach to OTC with its dual-gauge system at first sight, but this one operates a little differently. While both gauges on OTC's leakage tester measure air pressure, Lang's tool's right-hand dial displays the rate of leakage.